Ocean Spray's Cranberry Bog Exhibit is a Feast for the Eyes at

2012 Epcot® International Food & Wine Festival
Cranberry cooperative shares the secrets behind the taste, health, and heritage
of the exceptional cranberry
LAKEVILLE-MIDDLEBORO, Mass. (Sept. 26, 2012) – What do you get when you combine the imagination and magic of Walt Disney World with the mystery of fall's favorite fruit? A truly exceptional exhibit- an over 1,300 square-foot free-standing cranberry bog to be exact! From Sept. 28 to Nov. 12, visitors to the 2012 Epcot® International Food & Wine Festival will have a chance to feast their eyes on the beauty of the cranberry harvest and discover the cranberry's secrets – from its unique taste to its rich heritage and long history of health benefits.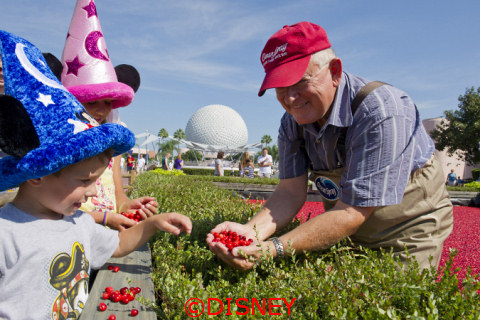 Multi-generation Ocean Spray® cranberry growers and Disney cast members will be on hand to share the mystery of the cranberry through this awe inspiring display complete with 1,500 pounds of fresh, floating cranberries. Visitors will also have an opportunity to sample Ocean Spray® Craisins® Dried Cranberries, the official fruit snack of the Walt Disney World® and Disneyland® Resorts, and enjoy them in an assortment of menu items at participating restaurants inside the theme park.
"The cranberry is an exceptional autumn fruit that people know very little about," said Larry Martin, vice president global marketing, Ocean Spray. "Our collaboration with Walt Disney Imagineering on this exhibit gives us an opportunity to showcase the cranberry to thousands of visitors who may never have the opportunity to see how truly stunning a cranberry harvest is, and then show them how to incorporate cranberries into everyday dishes and cuisines around the world."
In addition to the harvest demonstration, guests visiting the Epcot® International Food & Wine Festival are encouraged to explore culinary demonstrations by Disney chefs, who will share their secrets on how to transform ordinary fare into full-flavored dishes using Ocean Spray® Craisins® Dried Cranberries.
For more tasty cranberry secrets and recipes, visit www.oceanspray.com.
Cranberry lovers are also encouraged to share their exceptional secrets with Ocean Spray at Facebook.com/oceanspray or @oceansprayinc on Twitter.
Discover the Secrets of the Exceptional Cranberry
– Cranberries are one of only three native fruits cultivated in North America.
– Inside the cranberry are four secret chambers. These tiny air chambers help the cranberries stay afloat when the bogs are flooded for harvest.
– If you strung all the cranberries produced in North America last year, they would stretch from Boston to Los Angeles more than 565 times.
– Over the years, there have been more than 1,000 cranberry recipes added to Ocean Spray's Cranberry Kitchen.
– Cranberry products contribute to whole-body health and are rich in powerful nutrients. Find out more at www.cranberryhealth.com.