I took my first-ever ride on a Segway through the crowds at Epcot this week, and I have to say, the prospect was a little daunting. I mean, how many guests can you clip before they expel you from the theme park?
Rest assured, though, that safety is a top priority at Walt Disney World, so cast members are not going to allow you to do anything too risky.
I was signed up to take Epcot's new "Keep Moving Forward: See the World, Share the Dream Segway Tour," which debuted on Sept. 17. This guided tour starts in Future World and then covers most of World Showcase in the three-hour experience. Beginning Sept. 28, times for the three-hour experience shift because of the Epcot International Food & Wine Festival; you may start at 7:45, 8:30 and 9 a.m.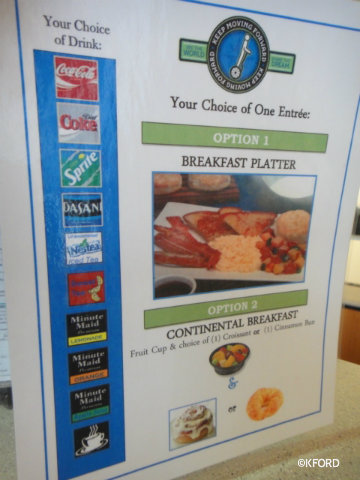 My fellow travelers and I met at Guest Relations inside the park, where we checked in, signed a waiver and were asked to select from two breakfast options, which would be ready for us after our training. The offerings include a full breakfast platter or lighter fare with a pastry and fruit, plus a beverage of your choice. I was very happy to see plenty of caffeinated options for my morning commute.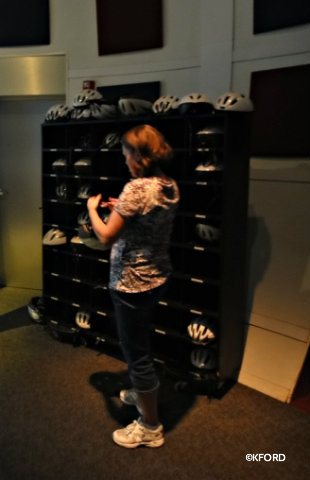 Afterward, it was time to head over to Innoventions West for our training. The seven of us first were fitted with helmets, and we listened to a cast member explain the basic operations of the Segway. Then, we had to face the thrill (or our fears, depending on how you look at it) and get on the two-wheeled vehicles.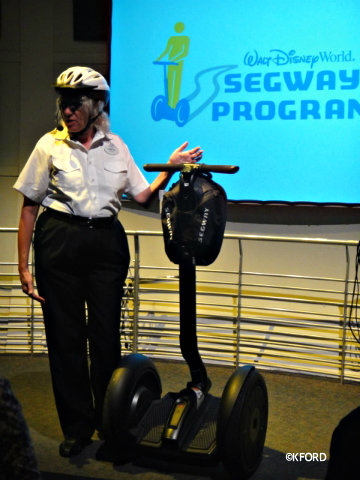 The Segways really are not complicated to operate, but you do have to get used to balancing on a moving platform, which at first is harder than it looks. You ride forward by pressing your toes down and leaning your whole body ahead, and you stop by leaning back on your heels. (When you book this tour, the reservationist will tell you to wear flat-bottom shoes.)
Epcot's Segways are programmed to only go 6 miles per hour, so you're not going to be racing the monorail, but you still can get hurt if you're not paying full attention and remaining balanced. For this reason, guests riding on Segways are not allowed to have anything in their hands, such as cameras or cell phones, or any purses, backpacks or fanny packs on their bodies. There is a pouch attached to the front of the Segway where guests are asked to put such items, and the weight limit for them is 10 pounds.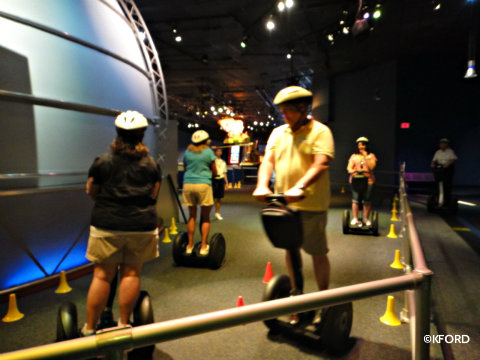 During the practice session, we learned to propel ourselves backward and forward, go up and down ramps, duck under drooping tree branches, and even complete an obstacle course with cones. Not one of us fell off the Segways or crashed them into anything. Off to a good start!
Next, our tour guide led our parade of Segways out into Epcot and over to The Land pavilion for breakfast. It was exhilarating and at the same time nerve-wracking. Remember the first time you drove a car, and you worried about everything that could go wrong? I just knew some little princess was going to jump in front of my Segway and I wouldn't be able to stop in time. Of course, that never happened because the two guides with our group helped warn guests about our approach.
We rode our Segways "backstage" and parked by the door to The Land that is near the restrooms on the ground floor. We were taken to a reserved seating area and served the breakfasts we ordered. At first, I hoped we could skip the breakfast so we would have more time to ride, but I realized that after the practice, our legs and feet already were a bit stiff and sore and we needed a break. The previous Epcot tour did not include breakfast, though the price was the same.
About forty minutes later, our guide gave us headsets and we got ready to tour World Showcase. The headsets are another new addition and really worked well. They were small enough to be unobtrusive and they allowed the participants even at the back of the line to hear the guide. The tour itself takes about an hour, beginning at the Mexico pavilion and traveling around to Canada. The guide points out interesting historical facts and details about Walt Disney's plans for each country in World Showcase. In addition, the tour is designed to allow riders to test their newfound skills with such activities as "slaloming" through the columns in Italy, navigating the winding path through the miniature village in Germany and circling through The American Adventure gardens.
The guide takes everyone to one location for a quick stop and will take photos of guests on their Segways, if they wish. All too soon, it's time to return to Innoventions West and park the Segways.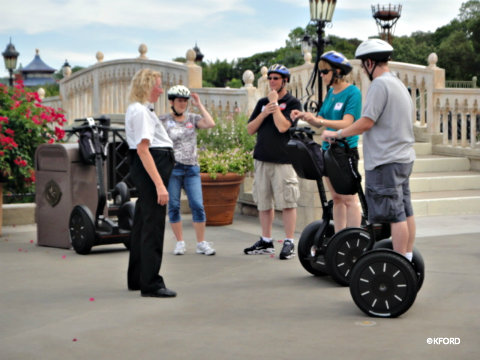 "Keep Moving Forward: See the World, Share the Dream Segway Tour" is $99 plus tax. Annual passholders and Disney Vacation Club members will receive a 15 percent discount and Disney Visa Card members get a 20 percent discount.
This Segway tour is limited to those 16 and older. (Guardians must be present for ages 16 and 17.) Participants also must weigh between 100 and 250 pounds and are required to sign a waiver. To book, call (407) WDW-TOUR (939-8687).