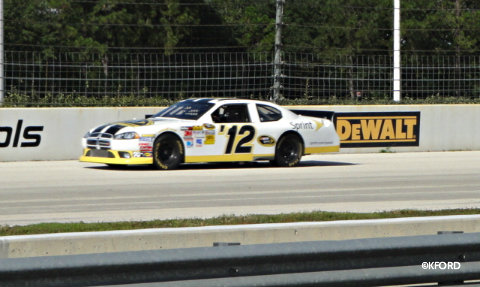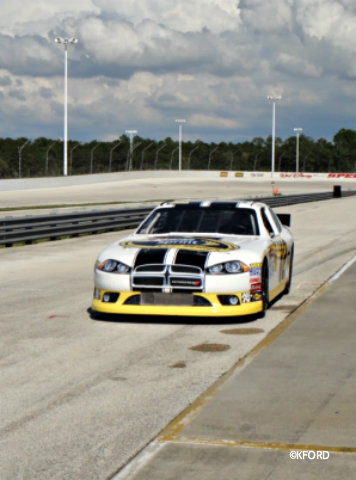 A new experience at Walt Disney World puts children in the front seat of a real NASCAR vehicle with a professional driver and allows them to feel the thrill of racing. Recently, my 8-year-old daughter was quick to volunteer to try it, so she could discover the excitement for herself.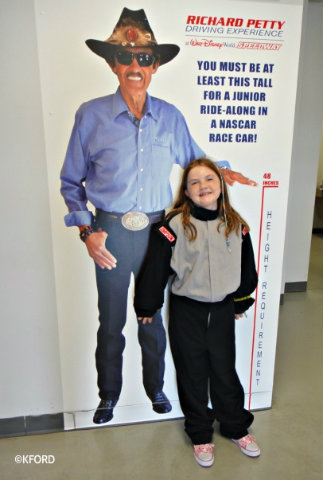 Junior Ride-Alongs debuted June 17 at the Richard Petty Driving Experience location at Walt Disney World Speedway. The experience is open to children ages 6 to 13 years who are at least 48 inches tall. It costs $59 plus tax for the three laps.
My daughter, who loves to ride Rock 'n' Roller Coaster and usually is game for just about anything, was a little nervous when we arrived at the track for her Junior Ride-Along. I think that had to do more with not knowing what to expect than with any anxiety about the speed of the car. You'll see how uncharacteristically serious she is at the start of the video below.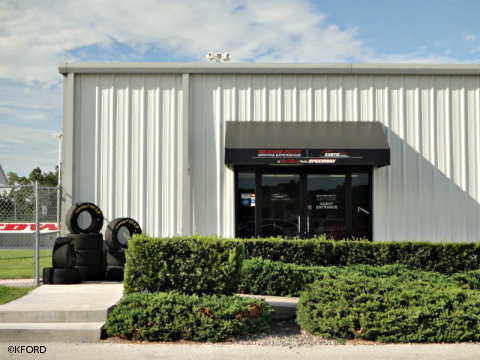 The check-in for all Richard Petty Driving Experiences is located at the infield, so guests drive under the track before parking in the center of the action. Once inside the building, parents will need to sign waivers for their participating children.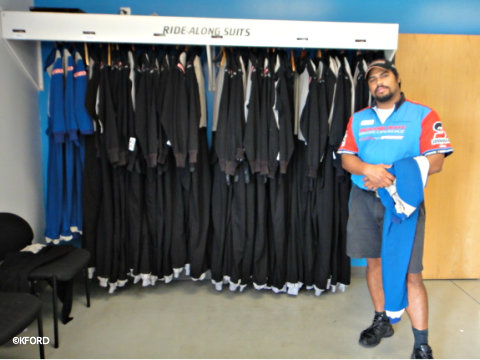 Then, it's time to suit up. My daughter was helped into a one-piece, long coverall to protect her from any parts of the car that may have heated up in the Florida sun. Next, we headed outside to pick up her other safety equipment. She was given a soft, knitted cap to go under the snug-fitting helmet, and a HANS (Head and Neck Support device) was fitted around her neck and attached to her helmet.
She looked like a professional before she ever got in the car!
With a little assistance, she slid into the car seat through the window. Watching her, I had flashbacks to "The Dukes of Hazard." Then she was buckled into a special five-point harness. Her seat was custom-built for this children's program by The Joie of Seating, which makes racing seats for professional drivers. Two of the 20 or so race cars at the Richard Petty Driving Experience at the WDW Speedway are outfitted for children.
My daughter's friendly driver, Justin Simpson, was quick to explain that she could tell him each lap how she was feeling by giving him a "thumbs up" or "thumbs down," and he would adjust his speed accordingly. Professional drivers typically go about 100 miles per hour for the Junior Ride-Alongs and up to 160 miles per hour for the adult ride-alongs.
Although she was apprehensive in the beginning, she soon was giving him multiple thumbs-ups as the car sped around the track. By the end of the ride, my daughter was grinning from ear to ear and asking to go again. The whole experience was complete in 20 minutes.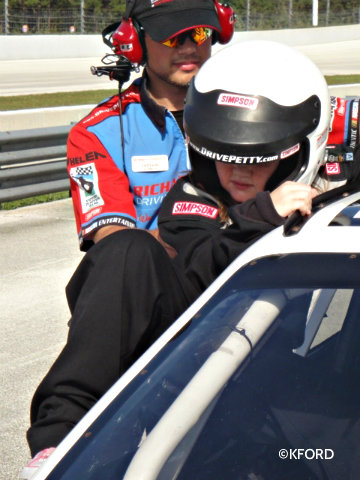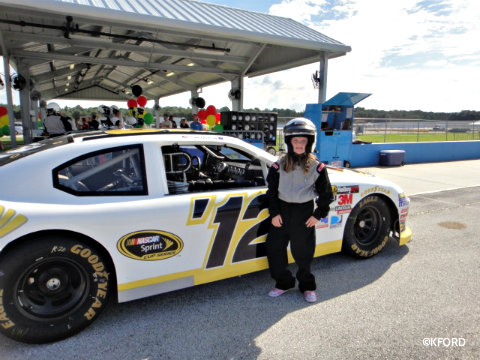 "[The Junior Ride-Alongs] are a great way for us to increase the Disney atmosphere and family experience at the track, and that's what we're all about," said Simpson, who also is the operations manager at Orlando's Richard Petty Driving Experience.
He explained that adding this experience for kids allows the whole family to participate in a sport they may follow together at home.
Fans who want to take home a souvenir of their once-in-a-lifetime experience can purchase a video like the one below for $49; photo plaques for $39 and $69; or a 5 x 7 photo in a themed folder for $17.50. Adult ride-alongs cost $99.
Reservations are not necessary for ride-alongs, which are available from 9 a.m. to 4 p.m. daily.
Although the Walt Disney World Speedway is the only location to offer the Junior Ride-Alongs so far, the Daytona International Speedway is expected to start the program by early 2013.
For additional questions, visit DrivePetty.com or call 1-800-237-3889.
DISCLAIMER: My daughter was a guest of the Richard Petty Driving Experience. This did not influence my review, and my opinions are my own.