It's beginning to look a lot like winter in one corner of the Magic Kingdom. Tinker Bell's Magical Nook in Adventureland, home to meet-and-greets with the Disney Fairies, has taken on a sprinkling of snow and ice, along with the usual pixie dust.
The new environment has been created especially for frost fairy Periwinkle, who joined the character lineup at Walt Disney World on Sunday. Periwinkle makes her first appearance in the newest Disney Fairies direct-to-DVD movie, "Secret of the Wings," which will be released on Oct. 23. In the meantime, Periwinkle and her long-lost sister, Tinker Bell, are signing autographs and posing for photos with guests daily.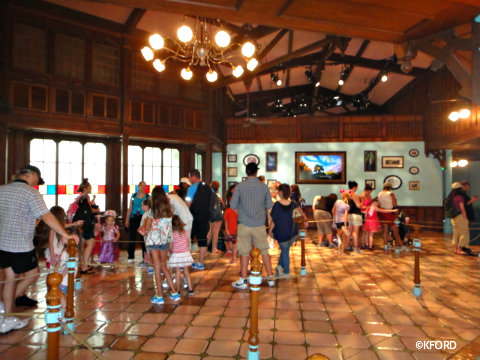 Much of the experience is unchanged from when it moved from the now-defunct Mickey's ToonTown Fair section of the theme park. The queue winds through the main room, where there is fairy art on display. It's interesting, but certainly not enough to capture little ones' attention for the duration. (Waits of 45 minutes are not unheard of at the Magical Nook.)
When guests reach the front of the queue, they are escorted around the corner to line up in front of the tall grass that frames the entrance-way. In the fairy room, the sets are designed on a large scale so that guests feel like they are the size of the fairies. It works, but I found the technique that was used in ToonTown more fun. There, guests walked down a long hallway where the scale changed from human-sized to pixie-sized before they entered the fairy room.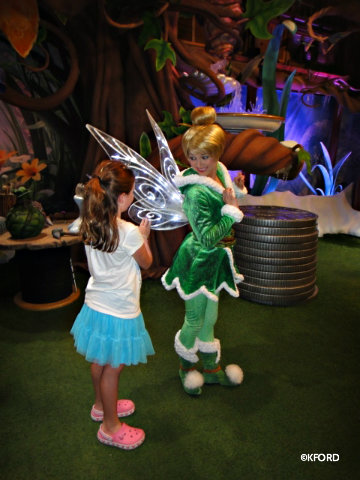 Still, once inside, guests will now feel as though they stepped into Pixie Hollow and Winter Woods, where Tinker Bell meets Periwinkle. Tinker Bell is wearing her winter costume, complete with long sleeves, tights and boots. Her wings light up, which fascinated my daughter, and they had a talk about how that happens.
Periwinkle's set looks more wintery, with blue and while elements, like her costume. There also are snow drifts and powder on the trees, and the lighting helps set the tone for a few shivers.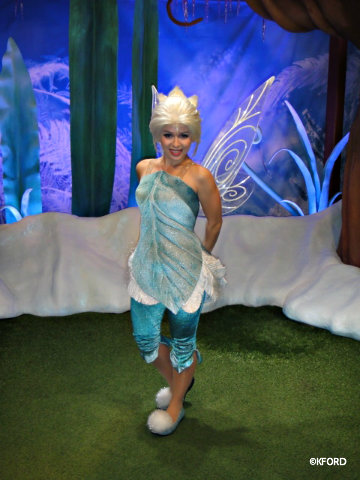 Disney World officials plan to change the Magical Nook sets and fairies seasonally, a Disney spokeswoman told me. Periwinkle is expected to be available for the winter season, and no end date has been announced so far.
On a related note, I'm told that Disney World will not host complimentary screenings of "Secret of the Wings," as it had with other movies in the Tinker Bell series. For several years, passholders were invited to sign up to preview the movie on a large screen inside one of the theme parks.