Yesterday, I discussed the plans that never materialized for the castle located at the back of the Japan Pavilion. Today I'll begin with what exists here today.
When entering the castle, guests are greeted by a Japanese host or hostess at a Kidcot station. This is the spot to get your Epcot Passport stamped. And remember, these passports make good souvenirs for adults as well as kids.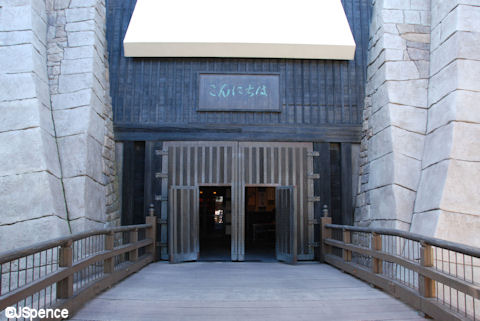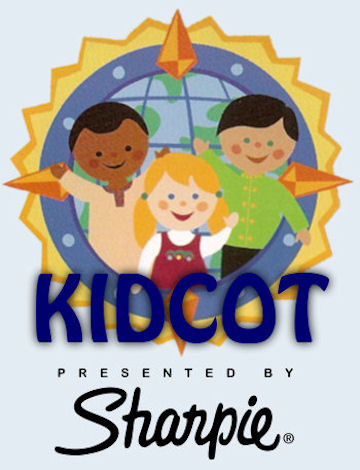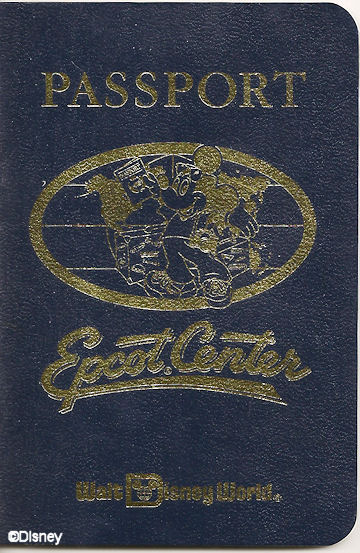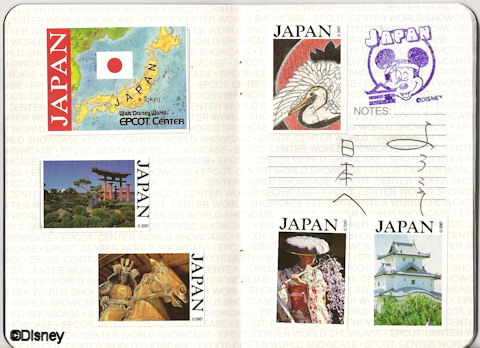 Across from the Kidcot Station is Bijutsu-kan. This museum presents cultural exhibits and the displays change every two to five years, most recently on September 24, 2009. Currently being presented is "Spirit Beasts: From Ancient Stories to Anime Stars."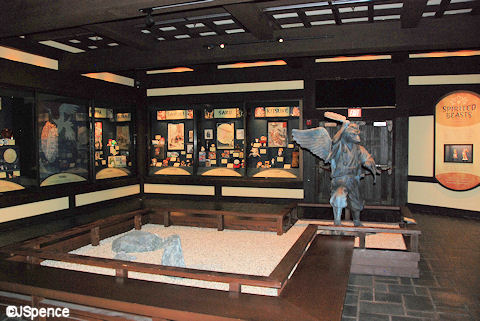 For centuries, Japanese stories and art have featured heroic animals and magical creatures. Today these characters have become pop culture superstars in manga (printed cartoons and comic strips) and anime (Japanese animated cartoons). This transition is the topic currently on display at Bijutsu-kan. Below is an example of this transformation from fable to modern-day hero.
Legend tells of a rabbit who, having no food to give an old beggar, offered himself instead. The beggar was actually a deity and he rewarded the rabbit's compassion by enshrining him in the moon. This story was the inspiration for an updated animated television miniseries entitled "Densha Otoko." This modern story tells of an ordinary school girl, Mina Tsukishiro, who is transformed into a superhero rabbit and leader of the lunar-based Rabbit Force who are responsible for enforcing treaties and capturing offenders. The Moon Rabbit and Mina Tsukishiro are seen at the museum as a handmade paper collage.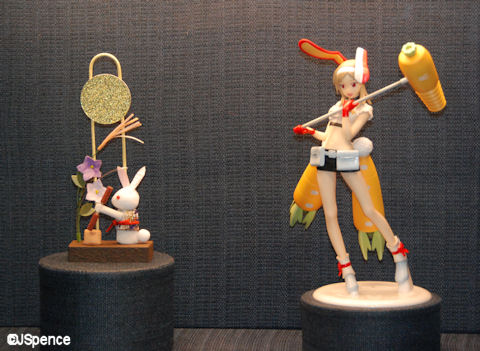 Let's move back to the front of the Japan Pavilion and take a look at the rock garden.
Rock gardens (Karesansui) are associated closely with Zen Buddhism. Unlike traditional gardens, rock gardens have no water feature. Instead, gravel or sand represents the sea, ocean, rivers, or lakes and sometimes the sky. Raking the stones provides two benefits. First, the patterns are esthetically pleasing and represent waves or ripples. However, achieving this "perfection" is not easy and raking allowed Zen priests to concentrate and meditate while performing this task. When viewing the rock garden at the Japan Pavilion, ask yourself, "Are the large rocks islands in the water, or are they the tops of mountains protruding above the clouds?"
Near the rock garden is a stone lantern. This lantern represents the more than 3,000 lanterns found at the Kasuga Taisha Shrine in Nara.
These lanterns are illuminated three times each year — once during the Setsubun Mantoro Festival in February and twice during the Obon Mantoro Festival in August. The deer on the side of the Japan Pavilion lantern represents the famous Nara Deer Park adjacent to the shrine.
Near the entrance to Mitsukoshi Department Store is an unassuming stage. But magic happens here.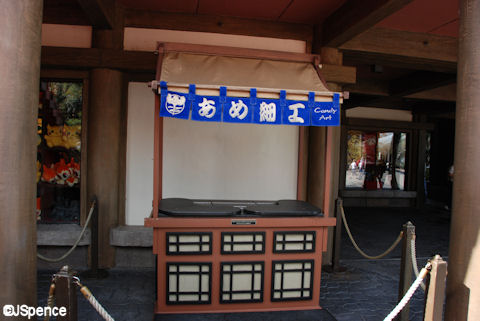 Seven times a day, five days a week, Miyuki amazes audiences as she takes heated (200 degrees) rice dough and transforms this putty-like substance into amazing creatures. Flamingos, dragons, flowers, scorpions, and more come to life before your eyes.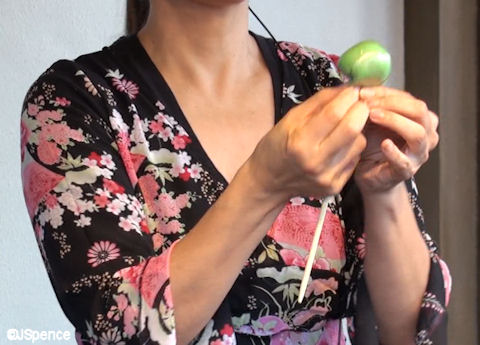 The act of candy sculpting is called Amezaiku. This art form goes back hundreds of years and has been passed down from one generation to the next. Working with simple tools like tweezers and scissors, the artist must complete his or her work in less than three minutes or the heated candy will begin to harden as it cools.
At one time, these candied works of art were given to the children in the audience at the Japan Pavilion, but this practice was discontinued in early 2010 due to health regulations.
Across the courtyard from Miyuki and her magic candy is Garden House. This spot sells sake, Japanese beer, green tea, plum wine, and soft drinks.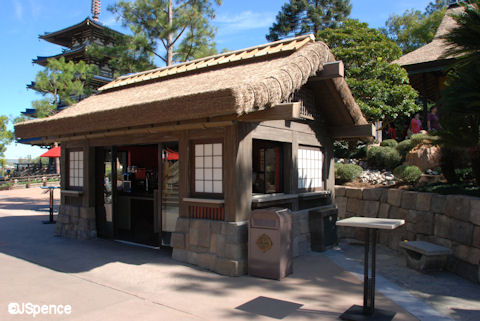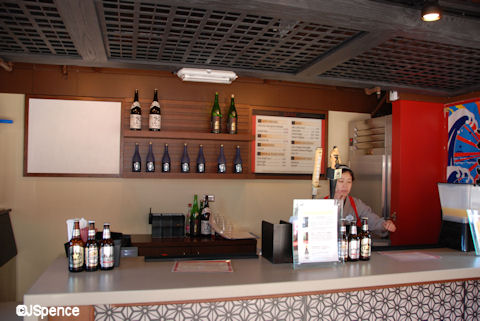 The large, imposing building of the Japan Pavilion was modeled after the Gosho Imperial Palace in Kyoto. The Shishinden, or Hall of Ceremonies, was built in 794 and is said to be one of the first true styles of Japanese architecture. (Epcot first picture, Shishinden second)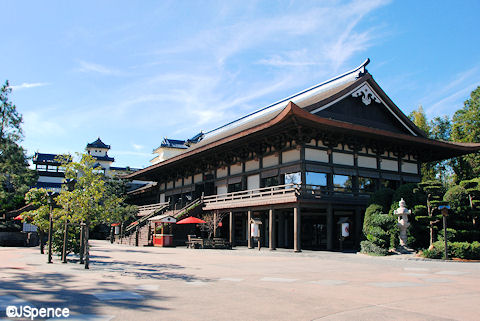 At the Japan Pavilion, this building houses two restaurants (upper level) and the Mitsukoshi Department Store (lower level). We'll start with a little shopping.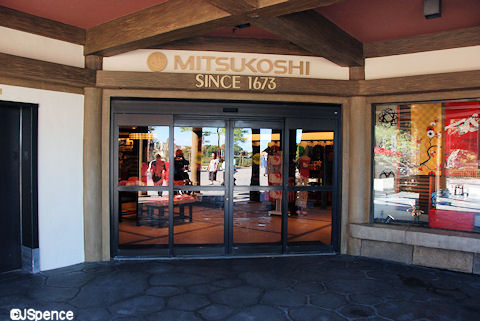 In 1673, Mitsukoshi was founded in Edo (Tokyo), as a traditional Japanese clothing store under the name of "Echigoya."
In 1904, the company operated the first westernized department store in Japan.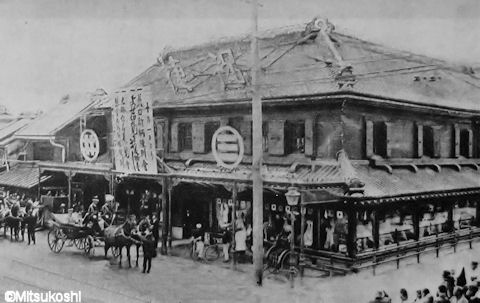 For more than three centuries, the Mitsukoshi Organization has striven to impart the spirit of "Hospitality with Sincerity" in every aspect of their business. Today they are a leading department store in Japan with an impeccable reputation. Below is a picture of their main store in Tokyo.
Shopping at the Epcot branch of Mitsukoshi can be a learning experience if you do more than give a cursory glance at the merchandise as you pass by. To help you get more out of the experience, a number of signs have been placed around the store, providing you with a history of some of the goods offered. In addition, the cast members are more than happy to chat with you and share stories about their country. Here are a few things at Mitsukoshi that I think you might find of interest.
For over a hundred years, the Mikimoto Company has been farming cultured pearls and creating beautiful jewelry. This harvesting process can be witnessed and you can own a genuine pearl for just $15 at Mitsukoshi.
But before I go on, let me explain a little about how pearls are created.
The creation of a pearl inside a mollusk is actually a defense mechanism against unwanted substances entering the shell. When this happens, the creature deposits layers of calcium carbonate over the foreign matter to isolate the unwanted substance from its internal organs – this creates a pearl. Pearls occur naturally in nature and almost any bivalve can create a pearl. However, pearls of value can only be produced inside certain mollusks and need man's intervention to produce them in any quantity. In the case of oysters, man introduces a bead or piece of shell into a mature animal. The bigger the object inserted, the bigger the pearl produced. The oyster is then returned to the ocean where the pearl is allowed to grow from one to three years before harvesting.
At Mitsukoshi, you select an oyster you find tantalizing from one of two tanks. Then, with a little pomp and ceremony, the cast member will open the oyster and dig out the pearl. The pearl will then be measured for size and presented to you in a small plastic bag. A bit of drum playing by the cast member will end the occasion. Children find this show especially fascinating.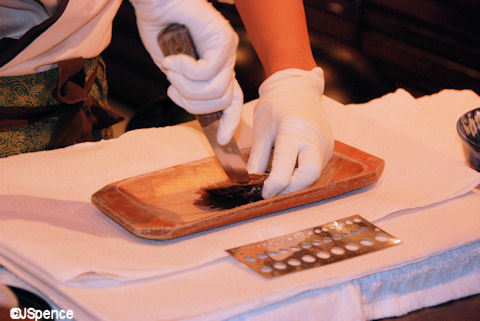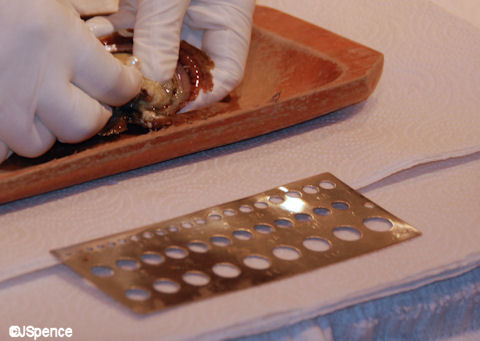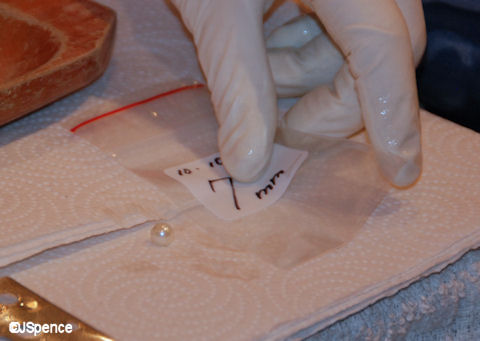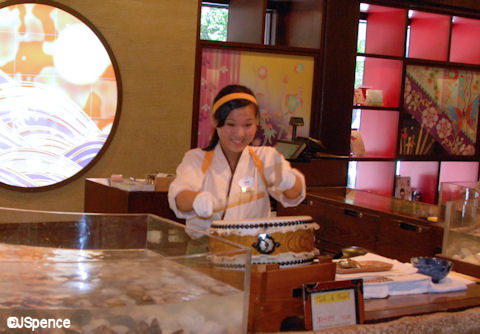 If one pearl gets you excited, then be sure to seek out the separate room nearby and gander at some of the jewelry created by Mikimoto. Here they have price tags to match the beauty.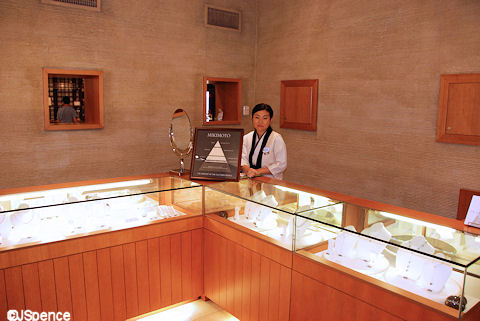 Bonsai is the art of growing miniature trees in small containers. Almost any perennial tree or shrub that produces real branches can be used. All it takes is careful crown and root pruning and a lot of patience. A small selection of these trees (already well underway) is available at Mitsukoshi. How-to books are also for sale.
You can't help but notice a number of ceramic cats for sale at Mitsukoshi. These are called Maneki Neko, which literally translates to Beckoning Cat. However, this feline is also called Welcoming Cat, Lucky Cat, Cat Swipe, Money Cat, or Fortune Cat. The people of Japan love to display these felines as mascots. They are often placed at the entrance of the house or in store windows.
Maneki Neko dates back 500 years, but its exact origin is unknown. However one legend tells of a woman and her beloved pet cat. One day, she invited a swordsman friend of hers over for tea. While enjoying their brew, the cat suddenly became frantic and started clawing at the woman's kimono. Believing the cat had gone mad and was attacking his friend, the swordsman severed the cat's head which flew through the air and lodged its teeth into a highly poisonous snake peering down from the rafters. The woman was distraught over the loss of her pet and would neither eat nor sleep. In an effort to make amends, the swordsman went to the best woodcarver in the land who made him a replica of the woman's cat with its paw raised in greeting. When the swordsman gave the carving to his friend, she was overjoyed and put her grief behind her and began to enjoy life once again.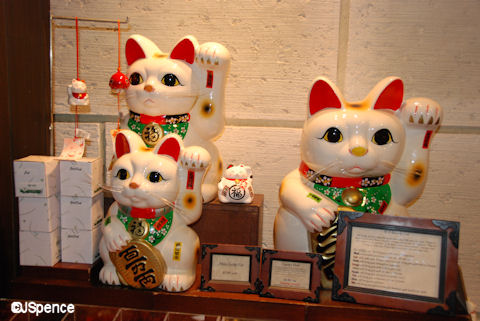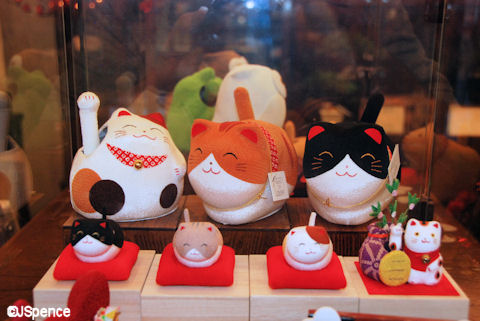 Different colored cats will bring you different bits of fortune. For example, the white cat will bring you good luck and happiness while the orange cat will protect you during your travels. Lists explaining all ten colors can be found on signs near the cats.
Just as the France Pavilion offers wine tasting, the Japan Pavilion offers sake tasting. At a booth at the back of the store, a selection of this rice wine can be sampled for prices ranging from $5 to $10. And if you like what you sample, a large assortment of sake is available nearby. You can also purchase traditional sake drinking cups and for $2 more have your cup personalized with your name printed in Japanese characters.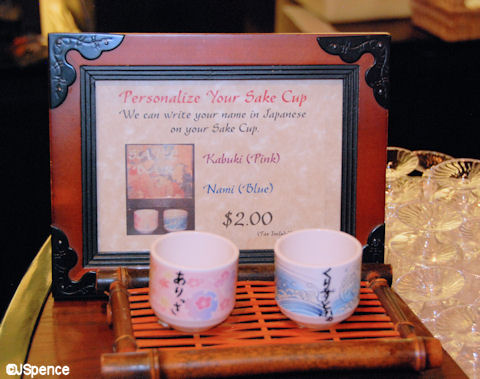 The Mitsukoshi Department Store is one of my favorite shopping adventures in World Showcase. The store is large and offers a wide array of merchandise. Even if you're not into Japanese goods, a lot of fun can be had here exploring the many items for sale. I found this next item especially intriguing.
Next to the large stairway that leads to the second floor of "Hall of Ceremonies" is a booth manned by cast members. Here you can make reservations for Tokyo Dining or Teppan Edo located on the second floor of the building. If you already have reservations, you can check in at this podium or in the lobby upstairs.
If the imposing stairs are too much for you, an elevator can be found next to the main entrance of the Mitsukoshi Department Store.
The Tokyo Dining and Teppan Edo restaurants open each day at noon. A few minutes before this time, many of the chefs and servers enter the lobby and conduct a small ceremony, welcoming you to the restaurants and to the department store downstairs. This is not a "must see" show, but it is a wonderful way to start your meal. I highly recommend making noontime reservations just so you can witness this three-minute ceremony. Be sure to arrive early!
It is interesting to note, this ceremony is not a tradition at restaurants in Japan, but it is something that is performed at some of the better department stores.
Tokyo Dining combines elegance and comfort into one package. The restaurant is well ordered with somewhat austere furniture and perfectly folded napkins, yet there is a sense of well-being here. It exudes warmth and friendliness. The tables situated by the windows offer unparalleled views of the World Showcase promenade during the day and Illuminations in the evening. And you couldn't ask for more charming servers who provide the best in Japanese hospitality.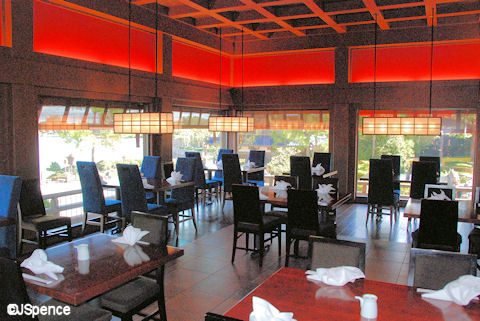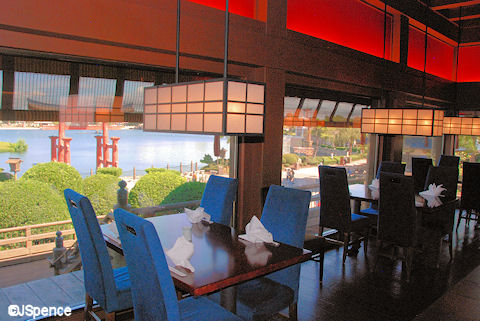 This table-service restaurant offers a nice selection of tempura, as well as grilled meats and seafood, crusted chicken breast, pork chop, and bento box combinations. The same menu is used for both lunch and dinner. To see the complete offering, click here.
At the Teppan Edo restaurant, each table seats eight guests who are positioned around a grill. Smaller parties will be seated together, but that's okay. Teppan Edo isn't about intimate dining. It's about fun and showmanship. In no time at all, you'll be conversing with your fellow tablemates. And if you're shy, there is a surefire opening question you can ask to get the conversation going, "Where are you visiting from?"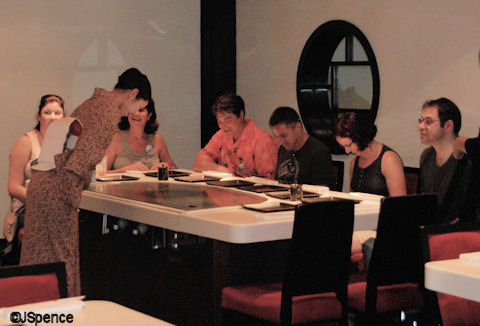 The restaurant features teppanyaki style cuisine. Teppan means iron plate and yaki means grilled, broiled or pan-fried. Here, a chef entertainingly prepares your meal at the table, while you watch. The concept originated in 1945 as a way of introducing western-style foods to the Japanese. However, the concept quickly became more popular with foreign visitors to Japan than with the Japanese themselves. So as time progressed, the chef's performances became more elaborate and amusing to continue attracting tourists.
This tradition is continued at Teppan Edo. The chefs here all have a sense of humor and good dexterity. They can handle a knife, toss a spatula, and create an onion volcano all while keeping up an amusing banter.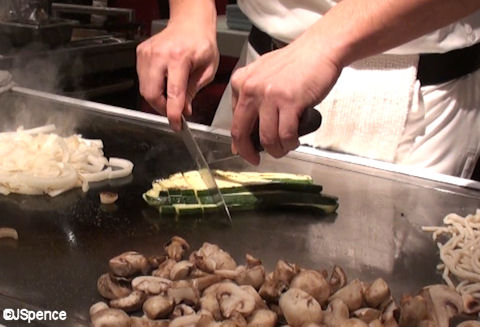 The same menu is used for both lunch and dinner. To see the complete offering, click here.
If you arrive at noon at either Tokyo Dining or Teppan Edo, you should be able to secure a table with little or no wait. However, reservations are always a good idea and absolutely necessary later in the day.
That's it for the Japan Pavilion. This amazing place has so much to offer, see, and explore. It would take a full hour to tour the museum, see the shows, and shop at Mitsukoshi Department Store, and you'd still be missing many of the other details offered here.
As always, I have created a video highlighting the pavilion. Enjoy.