By Heather Przystas
So it seems the second week of January for me is 'pain week'. Last year, I found myself curled up on my bed, feeling sorry for myself. I'd been swept off the course of the Walt Disney World half marathon, skipped the Team All Ears meets completely, fought with my traveling companion and spent the last 24 hours of my Disney trip locked in my room at the Wilderness Lodge.
This year, I found myself curled up on my bed, howling as my best friend peeled my shoe from my swollen foot, staring in horror at the black and blue of a blood blister that took over my little toe.
Luckily, they were two completely different worlds of pain.
After last year's pity party, I was done with running. The image of the race officials stepping in front of me and taking me off the course was burned into my eyelids. What made me think I could do something like a half marathon?
Then one day a box arrived. It wasn't huge, it wasn't fancy. But inside, I found all kinds of goodies: a Team AllEars magnet, postcards from Deb Wills, and most importantly, a Team AllEars medal that the team insisted I had earned. I hung it up next to the Donald medal I felt I HADN'T earned. For days, I stole constant glances at the two medals, hanging side by side. Eventually, a friend invited me as her guest to her gym. I agreed to go, intending to swim when I got there, but the pool was being used by a class.
I made excuses for not running. She wouldn't take them. I refused to run, thinking back to how much I was crying on the sweep bus but she refused to let me sulk. Reluctantly, I agreed to walk. The images in my mind began to change. I saw the look on Deb's face when she saw me at mile one of the half marathon. I saw the Team AllEars medal. I saw the total amount of money raised by the Team. I started to trot. My friend saw me. "See, you're still a runner."
I guess I am.
When asked if I'd like to return to Team All Ears I said yes. I needed to. When registration for marathon weekend opened, I signed up for the 5K. My mouse hesitated over the half marathon registration button. I looked at the Donald medal. I looked at my Team medal. I registered.
Soon, the news broke about the new Chip and Dale relay marathon. Seemed like a cool idea and I asked my friend, who had now become my coach, if she wanted to relay with me but she already had plans. The idea stuck. I watched other teams form and thought about how much I wanted that new medal that no one else had. I finally found a relay partner in Jan Lurey Pepe. I became a Pirate. One with Purpose. We were registered!
I started training using the Jeff Galloway run/walk method. I like this guy! He doesn't think I need to RUN a whole race to finish. I stuck to the training. My health interfered. I tried to slow down but couldn't. Eventually, my body said I had to. It felt strange when I wasn't running, like I was missing something. I got the all-clear to run again but it was harder now. Maybe this isn't a great idea after all. Maybe I should just give up.
But then who would run with Jan? Lace 'em up, you big baby! Get Going!
It got a little easier. I bought a treadmill. Distances got longer, times got shorter, and that 15 minute mile was attainable. Melanie Camphouse, my mentor, was right behind me the whole time, asking questions, giving encouragement. I had to do this for her, for Jan, for my daughter, for ME.
Marathon weekend had finally arrived! I was traveling with my best friend. We hung out with my All Ears teammates. What incredible people! I probably stayed later at the YeeHaw Bob meet than I should have, but the 5K isn't THAT early, right? I walked the 5K with my best friend and Tammi Trout from the team. We had a BLAST! I'm so proud of the two of them for finishing! A short day in the parks, and then we were back at the resort to rest up for the half marathon. I laid everything out and tried to calm my stomach. I couldn't sleep. At 3AM, Stitch called to wake me up. I was scared.
During the pre-race festivities the Team was so supportive. They were sure I was going to beat this thing, finish the race, and earn the duck. Deb gave us a pep talk. Sometimes I think that's the biggest reason I do this. They sent off the corrals, one after another. I heard Team AllEars announced over the loudspeaker so many times! I was proud to holler every time.
When it was my turn, I took one last deep breath and tried to center myself. The fireworks went off, and I began running. My iPod was playing but didn't put my ear buds in because I wanted to hear AllCheers at mile one! I felt good, and the amount of 'beep beep's around me told me that I wasn't the only the only interval runner. We reached mile one, and I heard the cowbells! I remember this moment from last year, and smile. I wave, and tell them I'll see them in a couple of hours at mile 11.5.
I never put my ear buds in because there is too much to hear and see. I wave at the monorail going by, and suddenly there's the Magic Kingdom arch! I take a picture, same as last year. It's getting close now… around this corner… this is where they swept me. My stomach lurches and I start to panic. And then, it's gone. There are no flags, no bikes, no one screaming for me to go faster… just the bridge, with the banner… "You can go the distance!"
I can see the Contemporary. Now we're turning onto Main Street USA! I want to cry but I'm smiling too much. More cowbells! There they are! They're yelling – they're calling MY name! I'm running through Cinderella's castle! This is so much fun!
We've left the Magic Kingdom and now I'm starting to get tired. We're at mile 10!? Just a 5K left? I've done lots of 5Ks! I make it to 11.5, and I hear the magic cowbells again! I'm so happy to see everyone. I didn't get this chance last year! My best friend walks a bit on the grass next to me, and I cry a little. "It hurts…" I whine. He knows. He can see the hill I'm facing, and he gives me a hug, tells me he'll see me at the finish.
Up the hill… that awful hill! One more mile"¦ Half a mile"¦ I start offering deals to the people on the sides of the course: $50 for that medal around your neck , $25 if you push me in that stroller to the finish line! They cheer back. I'm almost there, the duck is almost mine! And then he is. He's mine, and I did it! A little slower than I'd hoped, but I did it! I see Mel, and my best friend and they hug and congratulate me. I break down. After almost a year of agonizing over whether I can do this or if I'm a fool, I've done it!
Later that day, I get to sit next to Jan at the Team meet. I'm trying not to look terrified. Today was so hard, and tomorrow it isn't just me, it's her race too. I can't let myself worry anymore; it's time to have fun.
At Downtown Disney, with my medals clanging together, people congratulate me, wish me well. I didn't get to do this last year. Deja Vu at the resort: I'm putting my race stuff back together, pinning on my third number and hoping my stomach can survive one more day of this.
A phone call from Stitch wakes me up again. I find the Team and Jan at the pre-race meet and everyone looks ready. We chat for a while with the team until it's time for the Leg 1 runners to head to the corrals. I head over to the Polynesian resort with the other Leg 2 runners to rest before our part of the relay begins. I get the best hour of sleep I've had since before the 5k, and then I wake up to the text that not only is Jan doing well, she's BLAZING through the course. I have to hustle over to the transition area to meet her. There's my girl!!!! I hop out, give her a big hug, and point her to where she can go get her chipmunk bling. I head out, over the mat, and mix in with the big kids: marathoners, Goofy Challengers… these are the REAL runners! What am I doing here!?
I hear the beeps again from the interval runners. This is just like yesterday. I survived then, I can survive now. Chug along. Take pictures of all the mile markers, in case each one is the last one I see that day. Mile 14, 15, 16. As I hit Disney's Animal Kingdom, I hear another runner from my over my shoulder. "Third park, we got this."
By the time we hit the out and back, near Wide World of Sports I'm tired. I text my friend, "I'm out of gas." It must be obvious how tired I am, because racers around me are encouraging me, patting me on the back as they go by.
I make it into Hollywood Studios. I look around but I don't see much. I hurt. I'm so tired. There's Mike and Sully, and a mile marker. I take another picture, but it's blurry because I can't hold the phone still. I keep telling myself that seeing the sweepers would be a blessing at this point. I can't go anymore but my feet keep moving. I'm too tired. Why won't my feet stop? I'm waiting for the sweepers but I'm still moving forward.
I see the Sorcerer's Hat. I should stop. I'm so tired.
Then I see them… the officials on the side of the course, with a big thick rope. Sweepers, closing the course! Oh, thank goodness! Hold on, a minute, why am I suddenly running? Before I know what's going on, I'm dashing up Hollywood Boulevard. I'm RUNNING from the sweepers.
My body and my brain start to have a conversation about who wants what, because there's a bus RIGHT THERE with Caribbean Beach on it… I could be back in my room in less than an hour. Forget this running stuff! But my body is in charge now, and I'm heading to the Boardwalk instead of my resort. I hear cowbells. They can't still be out here, can they?
I hear my name. Deb's yelling through her megaphone. I think I smile. I try to, anyway. That little boost of energy gets me into Epcot. I remember this part from last year, only back then I was on the other side of the cones, watching and moping. But here I am, still moving. People are cheering and clapping as they spend their day in the World Showcase. Encouraging words are coming from everywhere. American Experience, into Italy, past my favorite stand in China. As I approach the Christmas tree I hear the sweepers on bikes approaching. At this point, I don't want to see them anymore, what are they doing here? One of them asks me if I'm okay. I tell him "Unless you're here to take me off the course, I'm fine." He promises me, the only way off the course at this point is across the finish line.
I keep moving toward Spaceship Earth, and I hear another cow bell. I look over, and there's my best friend . I want to hug him, but I tell him "I think if I stop now, they'll take me off the course!" and I keep going.
The sweepers are an honor guard now, cheering me on. A couple of TNT coaches come to see if I need anything and they tell me they're proud of me. Backstage, there's a choir singing. I joke to one of the sweepers, "Am I dead??? Is this heaven???" She responds, "I bet you didn't know you'd be going to church today!" and I tell her I've certainly been praying! Cast members are still clapping for me. How do they stand out there all this time?
A few people are still along the sidelines clapping and screaming. The sweepers peel off, letting me do the last stretch by myself. They call off the TNT coaches, saying I've been here before, I know where I'm going. I see the finish line and start to cry and smile at the same time. I hear Rudy Novotny announcing my name, where I'm from, and that I'm part of Team AllEars. Mickey and Minnie are waiting for me. Minnie kisses me on the cheek and I get a high-four from the big cheese himself. I cross the finish line and a young lady finds me and puts my medal around my neck. I can't believe the weight of it.
It took five hours to finish, most of those spent convincing myself that it was okay to get swept this time, but I still kept going. I will be forever in debt to Jan for running an incredible first leg to give me the time I needed to finish. And there she is! She's waiting for me, with my best friend. It's so good to see them. The TNT coaches find me again, tell me they're proud of me. They point toward the Goofy tent and tell me to remember where it was, so I'd know next year. I laugh.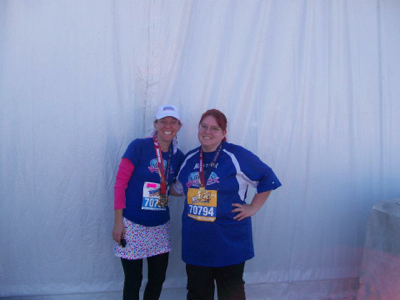 The second week of January may hold pain for me, but it also means I get to see my teammates, run in the most magical place on earth, and accomplish things even my own mind and body don't think I can do.
So, is it January yet?