My wife Holly signed up for (and completed) her first Goofy Challenge in 2010. That was the inaugural year of Team AllEars Running and her first time being a member of a charity team. It was also Holly's first time attempting something like Goofy – a half marathon on Day 1 and a full marathon on Day 2. We knew we were going to make a personal financial contribution to fight breast cancer, especially since we weren't sure how much we would raise from our family and friends. So we decided to find a way to make donating ourselves both fun and meaningful.
We had discussed that since she was stepping up her number of running sessions to train for Goofy she should get "paid" for each training run. We came up with $5 a run and $10 for a race. We picked $5 because she trained for 5 days a week – so $25 a week. That was less than a Friday night dinner out, which would now be replaced with a pasta dinner at home. She wouldn't get paid for skipping a run, which meant she wasn't helping people fighting cancer – and that's not nice. We've been doing this for five years now and I can count on one hand the number of times we skipped a payment.
We wanted a visible indicator of how we were doing at collecting the money, so we needed some form of a piggy bank. One day I came home from a successful trip to Michael's with a jar and stickers. The jar was born! It sits on the kitchen counter as a daily reminder to us that we are doing something to help others almost everyday and it's also a conversation piece we use to guilt people into a donation. Conversations go like this:
Guest: what an attractive jar! I love the stickers. What's it about?
Us: we are members of a Disney-focused running team that raises money for Avon's Breast Cancer Foundation. That's money we put in every time Holly does a training run. Would you like to contribute?
Gonzo, from the Muppets, has become the Team AllEars fundraising mascot. He was kind enough to fly out to Illinois to do a photo shoot with the jar. And yes, before you ask, I do still have the stickers and could update the year on the jar. I choose not to because…….ok, I'm just lazy.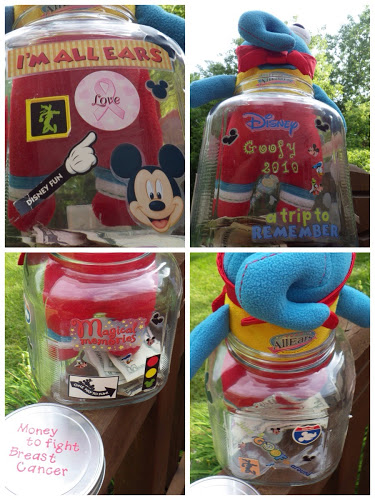 Here's another saving technique I recently learned. This can work for fundraising or saving for that next trip down to Orlando. Each night when you come home empty your wallet of all $1 bills. Put them in a jar or somewhere safe and see how much you have after a month. The one time we did this we had $71. Not too bad over a year's time. If you're looking for a good cause to put that money to consider donating it to your favorite Team AllEars member, or spread it around…… Use the following link to find our individual and team pages on Avon's Do-It-Yourself Fundraising pages.
We take credit card!
http://info.avonfoundation.org/site/TR/DIY/General?pg=team&fr_id=2350&team_id=122630