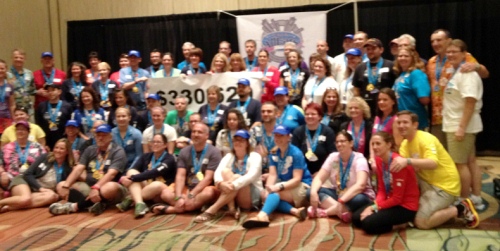 by Mike Scopa and Michelle Scribner-MacLean
Team AllEars did not exist before cancer"¦but it was forged because of cancer.
Yes, the adopted charity for Team AllEars was Deb Wills' Avon Walk for breast cancer, which had already established it's own incredible legacy"¦but cancer is blind and comes in many forms and from any angles.
That is why Team AllEars grew, and grew with passion. Every member of Team AllEars has his or her own story as to what led them to this team and the fire that continues to burn inside of them to do whatever they can to help those who cannot help themselves, and to protect those who may be prone to cancer's clutches in the future.
Many years ago, during an awards presentation, an honored recipient stepped up to the podium to receive a distinguished award and acknowledged that he would not be there if not for a contingent of supporters.
But instead of mentioning each and every one of those supporters, he gazed into the audience and made eye contact with every pair of eyes gazing upon the stage and said, "First, if I were to name everyone who has contributed to my success then we would be here all night. Secondly, I would not want to risk missing out naming any one individual because you all, in your own personal way, have brought me to where I am today. In fact, we are a team"¦a successful team, and for that I thank you."
In the same manner, it would be impossible to recall all the great contributions that so many of the Team AllEars members have made to this team that I hesitate to attempt such a chore.
There are some moments in general that will always remain fresh in our memories:
"¢ Walking to the corrals with Deb Wills and looking into the lights and recognizing that it was sleeting"¦in Orlando"¦in Florida"¦as we prepared to run a half marathon.
"¢ The times, oh so many times, on FaceBook, when one of the members told us that a family or friend had been stricken by Cancer"¦or even worse"¦.had been taken by this demon.
"¢ The Annual Meetings in which we shared why we were there"¦and the courage of one man talking about the son he and his wife never had the opportunity to hold"¦because of this wretched, heartless monster.
"¢ The pink tutu that saw two races one year, and barely made it through the second one"¦but survived, like so many of those who will, partly because of the efforts of Team AllEars.
"¢ The applause and tears as each year's numbers were revealed giving hope to helping those who need just that"¦hope.
"¢ The many team calls in which ideas were shared and team building took place.
"¢ Seeing dear friends complete a 5K and not fighting the tears, realizing hope important that accomplishment was to that friend.
To borrow a line from the American Adventure, when we first started to gather, "we were stained and tinted (by cancer) with all colors…but as we grew as a team we became "more alike than different" as we all stood for the same cause"¦for the same purpose.
There was, however, never an indication of what other dividends lay in wait for this team.
The one dividend that was expected was that of friendship, a bonding if you will, of individuals teaming up for the same cause"¦but that was only the beginning.
As the years unfolded, it became apparent that this team was not just becoming another part of the overall army in fighting cancer. It was more than that…we supported each other"¦we had fun with each other"¦we laughed together and we cried together"¦many times.
We were not limited to just Orlando races"¦we also ran together in Anaheim, and who can ever forget the laughter during one Pirates of the Caribbean attraction and enjoying ice cream on Main Street USA, possibly standing on the same spot Walt Disney stood on some 50 plus years ago.
It went beyond runDisney as other races in other states began to see the Team AllEars logo and word soon spread about this amazing team and what it stood for"¦and what legacy it was building.
Then of course the first time we heard race announcer Rudy Novotny yell out "Team AllEars is in the House" to the 20,000+ waiting in the corrals"¦.we had arrived"¦.and then things really took off.
Pretty soon while running a runDisney race we would hear cheers from the folks volunteering, and cast members"¦"Way to go Team AllEars."
Since the inception of Team AllEars there have been countless numbers of teams that have sprouted up. We don't have to list them here. We salute all of them for their efforts to their individual causes and wish them well. But let us not lose sight of the fact that none of them will ever be like Team AllEars.
Team AllEars has served as a model for these teams, although these teams will be hard-pressed to forge what Team AllEars has worked ever so hard for over these years to produce not just dollars for the Avon Walk for Breast Cancer"¦but also camaraderie"¦friendship"¦family…love.
Finally, as much as this has been an education for all of us we have also done an amazing bit of mentoring for a most important group of individuals"¦our children.
As our families have grown, our children have learned an important lesson"¦that is to help those who are less fortunate…to give to help those who need our help"¦to let those who are struggling know they are not alone"¦..to let those who are wounded by cancer know there are those standing by them to help fight the battle.
Our children have learned and that"¦.that is also part of the legacy of Team AllEars that we should all be proud of as we look back over the years.
Everything runs its course and so must Team AllEars"¦but this is not a day of sadness"¦it is a day of triumph because it is recognized that the efforts of Team AllEars has made a difference in the lives of those who never help coming, and this will continue"¦.Deb's Avon Walk for breast cancer efforts will continue as long as Deb Wills and her incredible drive to fight this beast lives on"¦and we will always be there to support her.
So look forward and continue to work individually on what we have all collaborated on for these last five years"¦continue to look to help others who are unable to fare for themselves"¦continue to do whatever you can in the battle against Cancer"¦continue to teach your children that the most important duty we have in our lives is to reach out and help others!
Team AllEars has raised over $330,000 in the five years for the Avon Walk for Breast Cancer.
Continue"¦to run with purpose!!!