With fans spending 24 hours in the Magic Kingdom, Walt Disney World has announced their entertainment, attraction and restaurant schedules.
A variety of special park merchandise will be available for purchase. Embroidered Mickey Ears will be offered for sale at The Chapeau, Curtain Call Collectibles, and Sir Mickey's at Magic Kingdom Park in Florida. The nice part is that these apparel items will also be sold via the Disney Parks Online Store from February 29 through March 1.
The Leap Day logo will also be found on an artisan watch that will be offered at Uptown Jewelers at Magic Kingdom Park in Florida. There will also be cupcakes, caramel apples and cake pops with the Leap Day logo being offered at both parks.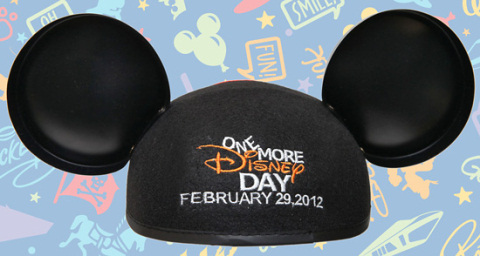 In addition to regularly scheduled park entertainment, Magic Kingdom Park guests on One More Disney Day will be treated to:
• Two performances of the Main Street Electrical Parade, at 10 p.m. and midnight
• Four showings of "The Magic, The Memories and You!" at 7:45 p.m., 9 p.m., 11 p.m. and 5:30 a.m. (March 1)
• The Frontierland Hoedown near Country Bear Jamboree, at 2:45 a.m., 3:30 a.m. and 4:30 a.m.
• Disney's Dance the Night Away Party at Cinderella Castle, from 1 a.m. – 5:30 a.m.
• Character greetings throughout the night, including:
• Phineas and Ferb in Tomorrowland
• Snow White and the Seven Dwarfs in Fantasyland
• Mickey and Minnie Mouse in Town Square, wearing their pajamas for the party in Florida before heading out west to visit guests at Disneyland park
Please remember that all show times and Disney character appearances are subject to change. Be sure to check the park Times Guide on that day for show times and character availability.
These Magic Kingdom restaurants will be open during One More Disney Day on February 29th:
Casey's Corner (11 am Wed. until 6 am Thursday);
Columbia Harbour House (11 am to 10pm);
Cosmic Ray's Starlight Café (10 am Wed. to 6 am Thursday);
Pecos Bill Tall Tale Inn and Cafe (10:30 am Wed. through 2 am Thursday);
Pinocchio Village Haus (10:30 am to 10 pm);
Tortuga Tavern (11 am to 3 pm);
Plaza Restaurant (open til 3:00 a.m. on Thursday).
Breakfast will be available from 3am to 6am at The Lunching Pad, Main Street Bakery, Sleepy Hollow, Westward Ho Refreshments, and Cosmic Ray's Starlight Cafe.