For those not familiar with it, Napa Rose is the signature restaurant at the Grand Californian, with dishes featuring seasonal ingredients inspired by the wine country. The restaurant is beautifully decorated, with lots of wood and interesting light fixtures. I find it elegant but comfortable. There is an open show kitchen, and guests can book dining at what they call the Chef's Counter, which overlooks the kitchen. There are eight seats available, with two seatings per night.
Lee and I have dined at Napa Rose a couple of times before, but this time I was able to book seats for us at the Chef's Counter for the 5:30 seating. We arrived a few minutes before 5:30 and took a seat in the lounge until someone came to take us. We were seated at the right end, which gave us a great view of the pastry chef's work area as well as one of the stoves where the sous chefs were hard at work on entrees.
It was really fascinating to watch them work – and the flames were always exciting. 🙂
Executive Chef Andrew Sutton was off for the evening, and Chef Alex was in charge of the kitchen. Soon after we were seated he came over and asked us if we wanted to order off the regular menu, or if we wanted to do the "tasting menu" where he would come up with dishes for us. We definitely wanted to try the tasting menu, and he took note of our dislikes. (I have to admit that my list was longer than Lee's. 🙂 )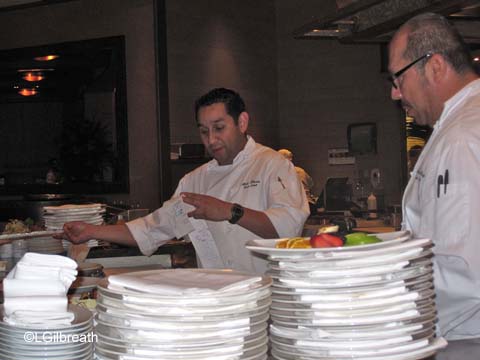 We also opted to add the Wine Pairings with each course. Our server quickly came around with our first wine – a flute of Scharffenberger Brut sparkling wine, which he said cleanses the palate. (I wish all cleansers were so tasty!) I had no idea Scharffenberger made wines – I was only familiar with their chocolate. (Interestingly, the chocolate brand is Scharffen Berger, and the wine label is Scharffenberger Cellars.)
Served with the wine was the amuse bouche – this was mascarpone cheese, herbs and ham in a little sesame cone. Very tasty.
Our first course came fairly quickly after that. I had a variation of the Smiling Tiger Salad: no beef, and it came with tempura shrimp instead of tempura lobster. The tempura was so light, and the greens and vinaigrette very fresh. It disappeared quickly. (Lee and I did share our dishes – but maybe only a bite or two. 😉 )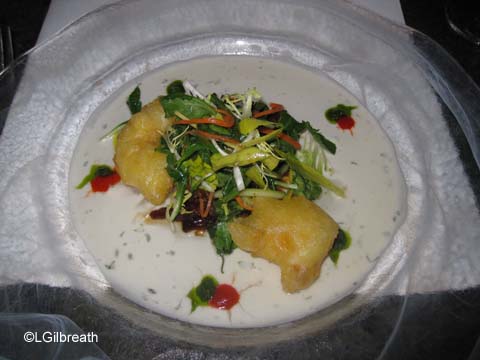 Lee was presented with the Artichoke Pesto Crusted Pacific Yellowtail – Potato Gnocchi, Artichokes and Laughing Bird Shrimp in a Lemon Broth. This was one of the items on the Vintner's Menu (which changes weekly), that looked really interesting, and I was very glad we were able to try it. It was really good – other than dessert this was my favorite course of the evening. OK, so maybe I had more than two bites of this one…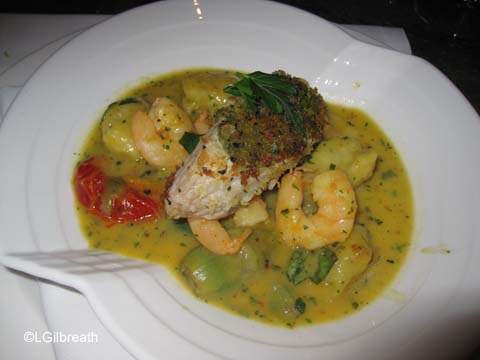 I'm afraid I didn't take any notes on the wines other than the first one. Other than this first wine and the dessert wine we each had something different each time – two whites and two reds. (Yes, I managed to drink most of six glasses of wine and could still walk straight at the end of the evening!)
We had quite a long wait for our second course – the kitchen was very busy, and they had an incident with a broken plate where they had to redo everything that was nearby. We think our second course got caught up in that. I was trying very hard not to fill up on the yummy bread and cracker bread that we had been served. But in the meantime we were really enjoying the "show" in the kitchen. At one point we watched them plate a whole bunch of the same Black Angus New York Steak dish.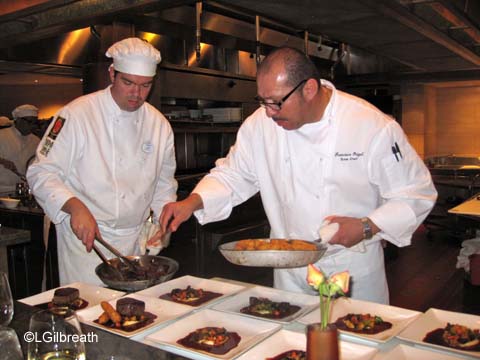 Second course for me was another salad (that's ok – I love salad). This was the Honey Roasted Pear and Brie Salad with Frisee, Endive, Upland Cress and Cranberry Honey Vinaigrette and a polenta-crusted piece of brie. The pears were just wonderful – sweet but not overwhelming, and the roasting gave them a very nice texture. The brie was a little crunchy on the outside but soft and creamy in the middle – yum. I enjoyed the greens, and loved the cranberry honey vinaigrette, which had real fresh cranberries in it.
Lee had the Pan Roasted Diver Scallops with a lemon and lobster sauce. He really enjoyed this, since he really likes scallops. I tried a bite, but scallops always taste fishy to me for some reason. As you can see it was a really beautifully presented dish.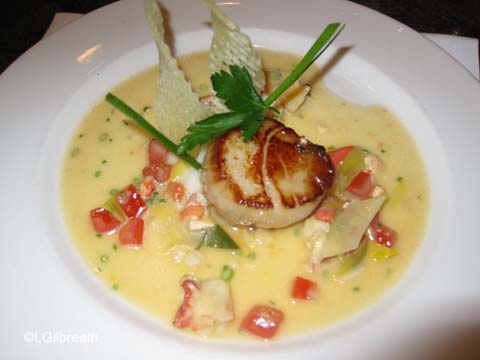 My third course was something I never would have ordered myself, but it was good – the Rabbit Meatloaf with mushroom ragu and carrot puree. It was different, though I couldn't tell you how – but it definitely did NOT taste like chicken. 🙂 Probably not something I would go out of my way to order, but I wouldn't refuse to eat it, either.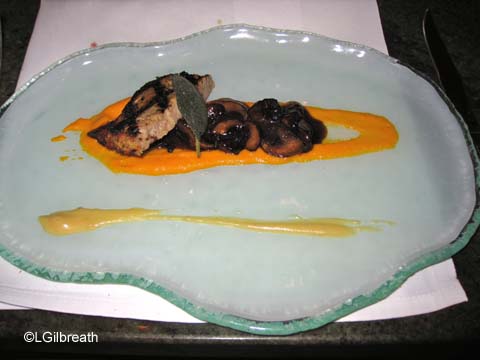 Lee's dish was also a "game" dish: Smoked Pheasant Dumpling with Cranberry Lemongrass Glaze. I would have called this an empanada or turnover rather than a dumpling. It was very good – the smoky flavor of the pheasant was very nice. Having tried it, this is definitely something that I would order for myself in the future.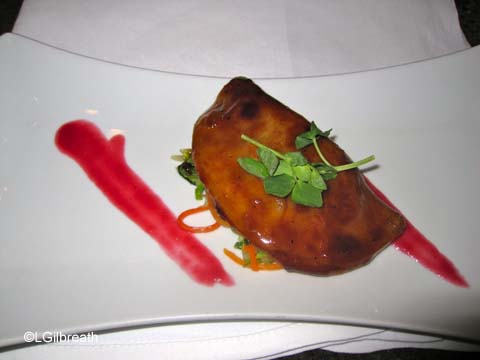 The fourth course was our main course. Mine was the Roasted Venison Loin with Sage & Bacon Whipped Sweet Potatoes and Black Trumpet Mushroom Essence. (If you've been paying attention, yes, I did in fact eat Bambi and Thumper. 😉 ) I've had venison before and this was good, very tender and not gamey at all. It was a little too rare in the middle for me, so I didn't finish that part. Though to be honest, the part I enjoyed the most of this dish was the whipped sweet potatoes. Mm, mm, good!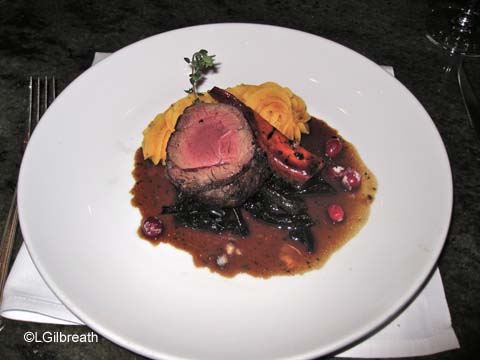 Lee's entree was the Pan Roasted Petit Filet Mignon with roasted parsnips, served on a white cheddar fritter. I didn't get to try the parsnips, but the fritter was very good. And he enjoyed the filet.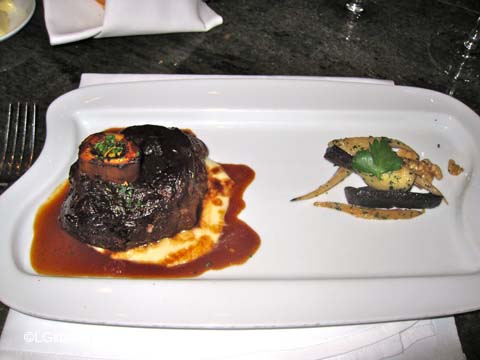 Dessert was the only course where we were asked what we wanted. We'd been watching Jasmine, the pastry chef, make various desserts all night, and the one that really intrigued Lee was something that had some freshly made fritters. It was called Best Ever Hot Chocolate, and came with a cup of very rich hot chocolate in addition to the hot and fresh fritters. He loves fried dough, so really enjoyed the fritters. Each had different fillings – fruit fillings in two and custard in the other. The hot chocolate was flavored with orange, which ruined it for me, but he liked it, though I think it was richer than he prefers. (As you can see, we were celebrating our anniversary – #25!)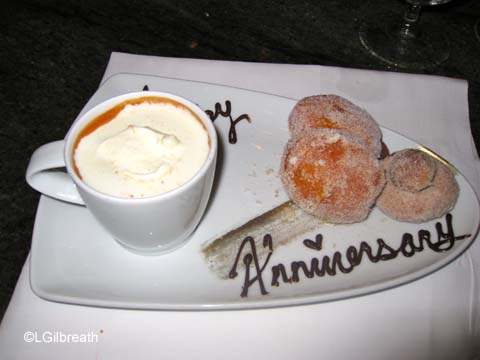 For me there was one obvious dessert choice: Scharffen Berger Chocolate Pate. And I was not disappointed. This was rich but not heavy, creamy and smooth and melted in the mouth. Makes my mouth water just remembering it! My plate was pretty clean – I even scraped off and ate some of the anniversary chocolate. 🙂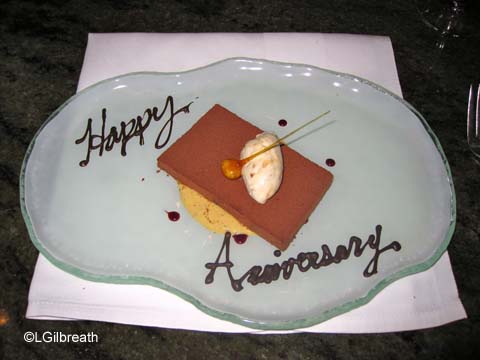 We were served a small glass of what I think was ice wine with dessert. I know some of you find that much too sweet but I enjoyed it.
It was really a wonderful dinner and very entertaining to watch the kitchen at work in front of us. It was definitely a leisurely dinner – just about 2:45 from the time we sat down until the time we left. Although we had five courses (plus the amuse bouche) they were of a size that I wasn't just stuffed when I left – I was pleasantly full but not uncomfortable. While I wouldn't want to eat like that all of the time it was a wonderful treat and a great way to celebrate our anniversary.
The price for the "tasting menu" is $90/person – the same as the four-course Vintner's Menu. The wine pairings are $45/person.
To book the Chef's Counter you must call the Napa Rose restaurant directly. Though in my case I called Disneyland Dining to book another reservation and they transferred me to Napa Rose. I believe you can book at least 60 days in advance, though I booked less than 30 days prior.