Caroline Burmester:
Diane Ramos left on her first Disney cruise yesterday! Quick, everyone wave Bon Voyage and she'll see it when she gets back!
Chris Kelly, I would send you a candy apple if I could! 🙂
Here was last week's Challenge:

And here's the answer:


Copyright © 2011 Erin Blackwell Canon PowerShot ELPH 300 HS, 22mm, 1/1000s shutter, f5.9, ISO 400
The chicken thing, as Tom Hermes so wisely called it – :), is the rooster from the Germany Pavilion's Cuckoo Clock/Glockenspiel. Every hour, the bird comes out and flaps its wings while the Hummel boy and girl come out below , as Agnes Ciotti perfectly described it , just like the famous Glockenspiel in Munich. Sometimes, though, the clock doesn't work perfectly and you don't see the large Hummel figures come out, but the rooster does.
Let's hear it for Susan of Team Hill who wisely corrected her husband that this was not a penguin. You go, Susan! 🙂
NOW!
For all the Players who dared to play the Grass challenge, the answer is: Fort Wilderness Resort and Campground, right outside the paddocks for the Tri-Circle D ranch where you can take horseback rides. Here's the full sized picture with my husband and little nephew who is helpfully pointing out that the Epcot bus just pulled up and we should go start his first Disney day.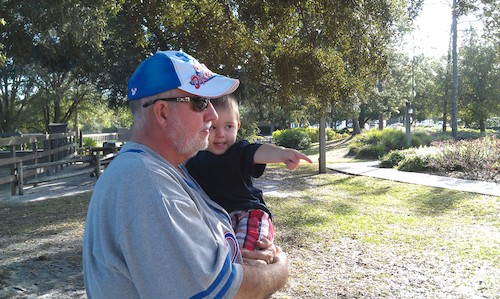 Steve Jordan was the first to send in the correct answer for the second week in a row! Congratulations to Steve and to all the readers who got the answer right: Bill Mckim, Diane Tredore, Larissa Huda, Tracy Henkel, Sara Campbell, Belicia Cullen, Scott Cullen, Danielle Ciotti Harsley, Brian Haas, Craig, Penny, Sharon Pierce, Tim Johansen, Tiffany Gibb, Doug Olson, Mark Haraway, Paul Dickson, Chris Kelly, Emily Hudson, Kerry A., Curtis Bille, Louise Barton, Mary Beth Tarbet, James And Kathy Berry, Linda Scrivano, Maryann Eckenrode, Evanna Huda, Angela Blevins, Kellie Harpel, Hoekzema Family, Scott Otis, Julie And Kody Rider, Theo Newton, Patti Mccaffrey, Tom Hermes, Jennifer Rupert, Kerry Mccaffrey, Tom Buck, Amanda Perkins, Anna Keene, Walter N. Clark, Kenny, Les Stewart, Nota Hudson, Mike O'brien, Mike Cerce, Vera Williams, The Kertes Family, Clay, Tim Jeltes, Team Hill, Heidi Goodhue, Nikki Parker, Troy Parker, Kerri Coggins, Will Gallagher, Elyssa H., Agnes Ciotti, Joseph M Zafia, Ashley Pizzino, Kelly Smith, Matt Cofone, Sharon Dale, Barclay Bakkum, Tom Higbee, Sarah Holodick, Jeremy Mccaffrey, and Josh Weiss. Each of you are entered in this month's winners' drawing.
_____________________________________________________ _____________________
Challenge #218: Where in the world is this?
For the people who got a good laugh out of the grass challenge, I present one like it (and this will be it, promise. :):
Where in Disney World is this seagull? 🙂

Photo by C. Canady
Now, here is Challenge #218:

Do you know? Do you have a guess? Please send in your answer, before the end of the day on Thursday, February 23rd, by clicking on the blue box below. Please do not post answers using the Feedback Form link at the bottom of this post. Remember to be specific with your answer – just naming a park will not get you into the drawing.
See you next week, Players!


_______________________________________________________________________
Everyone who sends in a correct answer to a Where in the World Challenge this month will be entered in a drawing at the end of the month for some special AllEars® goodies!