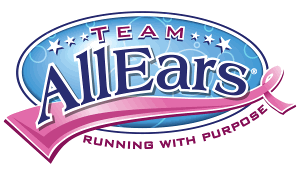 It happens every spring"¦the snow melts"¦clocks spring ahead"¦pitchers and catchers report for spring training"¦but more importantly it's that time of year to launch a new year of Team AllEars.
In the Beginning
The Team AllEars Running Team was founded in 2009 with several goals in mind. One was to motivate those who have wanted to acquire a more active and healthier lifestyle through walking, jogging, and running. However, the team was also constructed for a purpose"¦and that was to not just get healthier but to help others. We are talking about those battling in the fight for survival from breast cancer.
Team AllEars would become a force committed to increasing breast cancer awareness by raising funds for Deb Wills' Avon Walk for Breast Cancer .
Regarding launch of Team AllEars for 2013, Deb Wills expressed:
"I am so excited to announce Team AllEars for 2013. The Team has exceeded all my expectations. Each year new people make a decision to get healthier and off the couch and join the team. Also, as a Team that Runs with Purpose, Team AllEars has raised over $140,000 in three years to fight breast cancer. Many lives have been saved through everyone's hard work and determination. I am so proud of everyone involved."
A Team Becomes a Family
At the annual team meeting this past January at the Walt Disney World Dolphin Resort in Orlando, Florida, Team AllEars Co-Captain Michelle Scribner-McLean used "family" as the proper word to define what Team AllEars has become over the years. As she expressed it to the team members, "A family answers questions when people have issues or worries, or their it band is blown, or they're nervous about a race, or they don't know how to get from one resort to the other. That's what a family does and you have given me so much and, I really feel that we are a family, and you are my family, and I really appreciate everything you do."
The team's support mechanisms for the fight against breast cancer, support for their fellow teammates, and in fact the support they have given all runners at the Walt Disney World Marathon Weekend, has prompted Rudy Novotny, the voice of runDisney, to remark, "The AllEars Team was a fabulous "addition" to the entire weekend of events. RunDisney, and in fact, the running community as a whole, is better for having Team AllEars out on the roads. All of those that are touched and benefit from AllEars fundraising efforts surely appreciate the blessing you all bring more than you will ever know."
So what does it take to become part of Team AllEars?
First, team members commit to running in one of the various races held in January, during the Walt Disney World Marathon Weekend. These races range from a 5K distance (3.1 miles), to a half marathon (13.1 miles), and finally to a full marathon distance (26.2 miles).
Secondly, team members commit to raising $500 in funds for Deb Wills' Avon Walk for Breast Cancer. The team has fundraising experts who assist team members with ideas on fundraising events and, in fact, the entire team shares ideas in this area, which in turn aids towards the success of the team.
The team gathers in January to run and celebrate their achievements over the previous 12 months and to hold their annual team meeting where they share what motivates them to "run with purpose".
Mike Scopa, Co-Captain for Team AllEars, described the annual meeting as, "The culmination of all those miles on the road, all those hours training, and all those efforts throughout the year to raise funds"¦it's understandable why everyone is emotional at this meeting. Not only do we get to share our success as a team, and as a family, but we are also reminded how each one of us has been touched by cancer. As we end the meeting you can see the determination in everyone's faces"¦faces that seem to say, "I'm not done"¦the fight goes on."
During that weekend the team spends time with the annual Team AllEars YeeHaw Bob Meet at Port Orleans Riverside, and other get togethers such as meals and desert parties.
Team AllEars includes Team AllCheers who support the Team AllEars runners and their efforts by also attending the Walt Disney World Marathon Weekend and rooting them on.
Beyond the Walt Disney World Marathon Weekend in January, team members join up throughout the year to run in other races around the country to enjoy friendship and support.
So as Team AllEars moves into it's fourth year, the energy, the drive, and the motivation to get healthier and to fight the battle against breast cancer is stronger than ever before. Each year sees some change in the numbers and names of those on the team, but there is no denying, that although the numbers and names and faces may change slightly"¦one thing never changes"¦this team Runs with Purpose.
How to Join
For you to join the Team AllEars 2013 you must first be registered for one of the 2013 Walt Disney World Marathon Weekend races.
Secondly, you are asked to committing to raising $500 or more to Deb Wills' Avon Walk for Breast Cancer, along the way raising breast cancer awareness as well.
Member Benefits
Team members will receive official AllEars® Running Team Newsletters that will feature special articles along with some tips and hints on preparing for the big race.
Team members will be encouraged and welcomed to contribute to the team newsletter with questions regarding training and to share their success stories in the team blog.
Team members are encouraged to participate in the private Team AllEars Facebook page (open to members only).
All team members will be invited to special team events during the 2013 WDW Marathon Weekend.
If you would like to become a member of the Team AllEars Running team please send an email to Team AllEars Co-Captain Michelle Scribner-MacLean at [email protected]
Remember, the only way to run is to Run with Purpose.
Lift off!