by Christine Griffin
I suppose you could say I started running to get away from the law. No need to fret – Deb, Michelle, and Mike are not harboring a fugitive among their merry band of runners. Allow me to explain"¦
At this time last year, I was more than halfway through my first year of law school. As my Team AllEars teammate Heather Melito-Dezan knows, the first year of law school is the academic equivalent to being placed in a gigantic pressure cooker. Professors utilizing the Socratic method, competing against your classmates for grades and interviews, and a general lack of sunshine and fresh air make for an interesting atmosphere. I had never been in great shape, although in college I participated in many fun extracurriculars – ballroom dancing! rock climbing! snowboarding! Zumba! – the things you could get credit for as an undergraduate! But any athletic progress I made before starting law school came to a screeching halt once my legal studies commenced. My first semester, I did absolutely nothing in the way of exercise – unless you count hauling those heaving textbooks back and forth from my locker to the library (Which may be a valid point, but I digress).
I realized, however, that I had to start doing something, if not for my physical health then at the very least for my mental well-being. So, once I settled back in for the second semester, I joined a local all-women's gym with the intention of taking one or two Zumba classes a week, since Zumba was one of the few forms of exercise I did not equate with torture. Soon, I branched out to other areas of the gym – the elliptical, the rowing machine, the stationary bikes and weight machines. I avoided treadmills like the plague, though.
One day, in the middle of a Zumba class, it occurred to me that if I could do fast-paced dancing for an hour without croaking, then surely I could complete a 5K. As an avid AllEars.net reader, I remembered reading the TAE blog posts recounting the running adventures of Mike, Michelle, Deb, Laura, Lee, and others in awe, living vicariously while thinking that I could never complete a half marathon. Much to my delight, I discovered that TAE members, in addition to meeting their fundraising goals, only had to complete the 5K during Marathon Weekend! No half or full marathons required! And if anything could get me to run, it was a trip to Disney World. Additionally, my aunt is a breast cancer survivor and TAE raises money for breast cancer research. It was a match made in heaven.
I cannot remember which came first, my signing up for the WDW Family Fun 5K or my email to Michelle, one of the team's co-captains. She assured me that TAE consisted of runners, walkers, and run-walkers of all abilities. At some point in this process, massive quantities of pixie dust clouded my judgment and I did the unthinkable – I registered for the WDW half marathon. I rationalized it to myself, saying I could power walk to stay in the 16 minute-per-mile required pace. But, as someone who couldn't run even a half-mile at the time, even I thought I was crazy. I told very few people of my crazy plans at first, mostly just Michelle and my family.
My credit card sufficiently walloped (Disney races may be magical, but come cheap they do not), I had no choice but to begin running. A friend from school brought me to a running store to get fitted for my first pair of proper running shoes. I sheepishly confessed to him that I signed up for the half marathon, some eight months away. But something funny happened – he didn't reply with incredulous disbelief like I expected. Instead, he fully believed I could do it, which meant a lot since I hadn't yet convinced myself I could. At around the same time, I found the perfect quote to put on my team t-shirts: "It's kind of fun to do the impossible." It was as if Walt himself offered encouragement.
Additionally, I received loads of support and encouragement from my mentor, the wonderful Michelle Scribner-MacLean, who took me on as a mentee despite her other, less-important jobs, namely being a college professor, mother, and TAE co-captain. But in all seriousness, we connected instantly, both being Boston girls. I'm pretty sure Michelle is actually my long-lost aunt and I will be forever grateful for her support and guidance.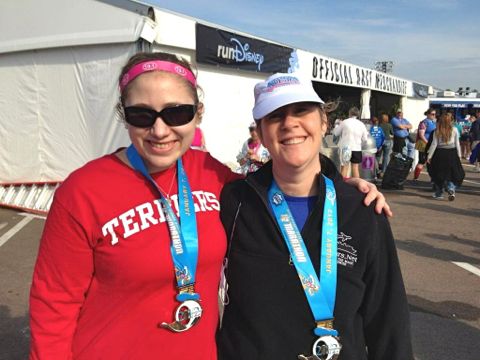 The more I ran, the more it occurred to me that running has quite a bit in common with law school. In both pursuits, you learn new 'languages' – caveat emptor, enfeoffment, and "the myrmidon of res judicata" are some choice terms in legalese, while running taught me fun new words like Gu, Zensah, and overpronation. Studying for a law school exam is a lot like training for a long race. Much as you cannot cram for a law school exam, you cannot fake hundreds of miles of training come race day. Finding a good mentor is invaluable, whether they are a respected attorney or a fellow "runnah."
As spring turned to summer and summer turned to fall, I began participating in local races – a few 5Ks, a 10K, and at Michelle's suggestion, a hilly, seaside half marathon. It wasn't pretty, and it certainly wasn't fast, but my mentor's advice was spot-on – completing a half at home made me much more confident in the weeks leading up to WDW.
Before I knew it, I finished the first semester of my second year and headed down to the World for a whirlwind week of races and TAE love. The excitement of the race expo and meeting all of my teammates in person was amazing. My mother, sister, and father participated in the 5K, the first ever race for each of them. I laid out my running gear the night before the Half, since I knew my 2:30am wake up call would come early.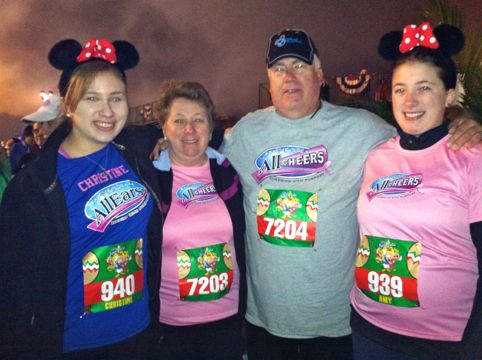 Come early it did, and after a never-ending bus ride I found myself waiting in Corral C with Michelle, Mike, Mandy, Heather, and Helen. The corral gods work in mysterious ways – the TAE New England coalition was well-represented in C and being surrounded by my mentor and teammates I knew well helped to keep my nerves at bay. Words cannot describe the atmosphere of a runDisney race; I believe it's something everyone should experience at least once in his or her lifetime.
Just as Michelle promised, the miles flew by. In the blink of an eye, we were running through the gates of the Magic Kingdom; however, by far the highlight of my fledgling running career came when Michelle and I ran through the castle together. Before I knew it, I crossed the finish line and received my (surprisingly hefty) Donald medal.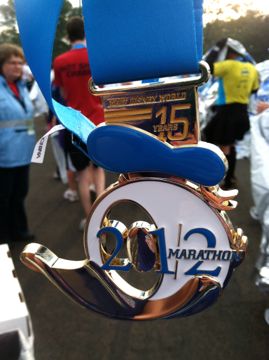 Before I conclude, I'd like to make a few shout outs to everyone who believed in my running, even when I didn't – my family; my wonderful mentor Michelle; Mike, Deb, the Ear Buds and the rest of TAE; Pat; all my Body to Soul girls, especially Pasqualina and Tracie; my law school classmates and running buddies; and last but not least all my friends and neighbors whose generous support of my TAE fundraising efforts floored me. Your encouragement and enthusiasm made all my hard work and training worthwhile.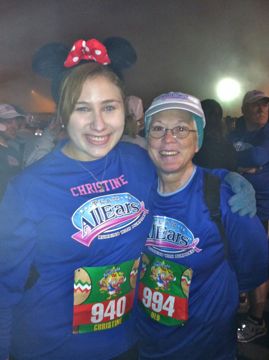 Clichéd though it may sound, joining TAE changed my life. Over the course of a year I went from someone who could not run a mile to someone who has run many 5Ks, a 10K, and two half marathons and actually (gasp) enjoys running. I am far healthier and happier than I was at this time last year. Most importantly, I have acquired a new extended family, one that offers unconditional support, loves Disney as much as I do, and fights breast cancer. I rejoined TAE for 2013 and am looking forward to training for the WDW full marathon. Whether you are a seasoned runner who would like to try a longer distance, a casual walker or jogger, or a complete novice, I highly encourage you to join TAE for our 2013 season. The team has all the support, advice, and camaraderie you could ever need, and besides – it's kind of fun to do the impossible.