The latest exhibit to debut in Innoventions is called Habit Heroes – created to teach families how to live a healthy and active lifestyle. It is presented by Florida Blue and Anthem Blue Cross and Blue Shield. I experienced the new exhibit on February 3rd, the first day of soft openings.
Situated across from the Sum of All Thrills, the exhibit walls are filled with very colorful Marvel comics that help set the tone!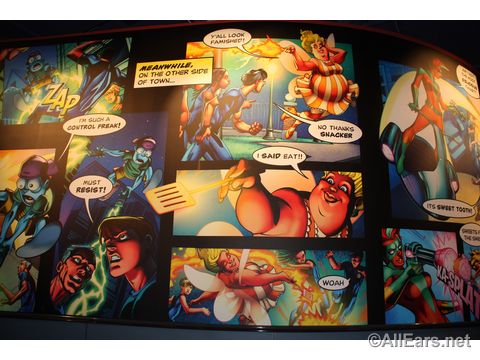 This interactive multi-media exhibit will keep you entertained as you learn to fight bad habits and become a Habit Hero.
As the story begins, we are at the entrance of a 100 year old gym, apartments above and periodically spot lights shine down below. ( I kinda felt like I was in a gangster sequence in the Great Movie Ride.)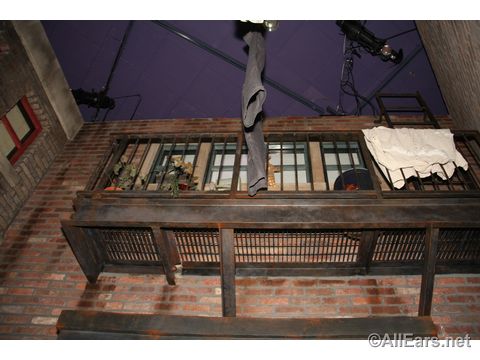 Enter Will Power's gym, an abandoned fitness facility where there are photographs and trophies from 100 years ago.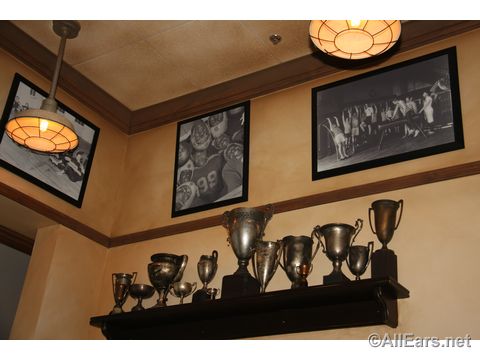 A black and white movie sets the stage for how a band of dedicated heroes once fought to keep folks healthy. Unfortunately, those days are long gone; and the narrator pleadingly asks "Oh Habit Heroes where are you when we need you most?"
Suddenly we flash forward in time and meet our hosts Will Power and Callie Stenics. They want us to become the new Habit Heroes.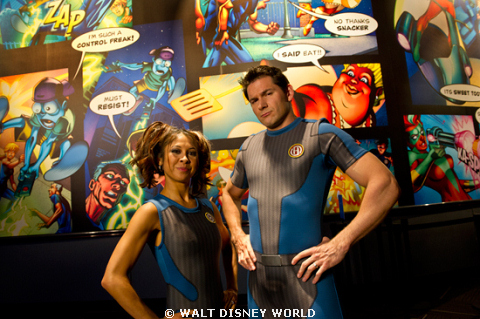 Our goal is to save a teenage boy who spends too much time behind the computer and on the couch and eats poorly and is out of shape.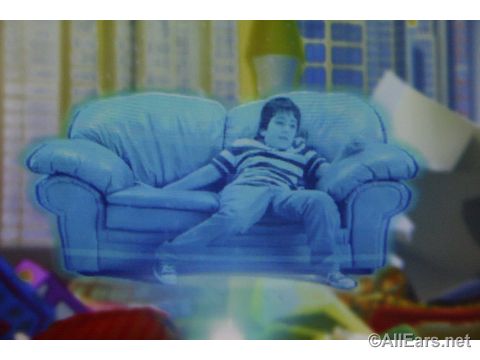 A Cast Member gives everyone a colored wristband which signifies what team you are on in the next room – called "Control Freak".
Time to battle the "control freek" who controls the TV.
This was the one room that was very confusing. We had just been led to believe we were on a special colored team and yet inside the room, we all just stood trying to determine where to go/what to do. Each station had all the colored lights on. Suddenly, the TVs start falling from above via a huge screen. It was hard to see the TVs as you had to really look up and strain your neck. Not sure how little ones would do. Thinking I was on the "yellow team", I only used the yellow button. Soon a Cast Member came over to tell me I could use all the buttons. Someone else said we were to run to the station closest to where our TV color was falling. By the time I figured it out, it was time to move on to the next challenge. Either way, it it is soft opening and this part needs more explanation. We also felt as though in this room and the next, we should have gotten a score of how well (or not) we did.
Sweet Tooth and the Snacker! With Toy Story Mania Spring-Action shooters, it is our turn to blast away and destroy all the calories we can! My shooter had broccoli and carrot bulls eyes to use! This was fun, but again, we were almost too close to the screen and no score.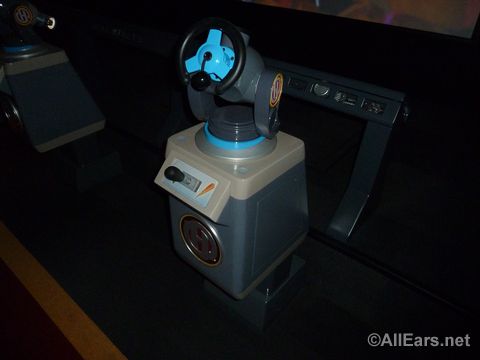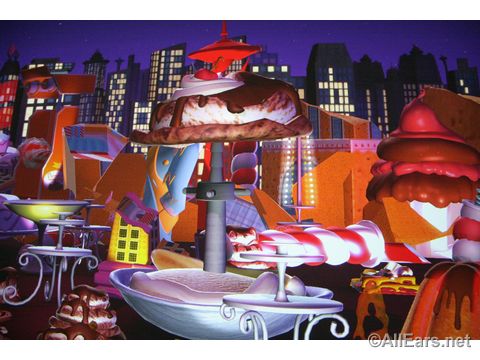 Our last challenge was entitled Lead Bottom. Our job was to exercise and get Lead Bottom to, well, shake his booty. This was a really fun segment and as I looked around, many people were moving and following the exercises! I could see some might not like this part, but on this day, it was fun to shake it up.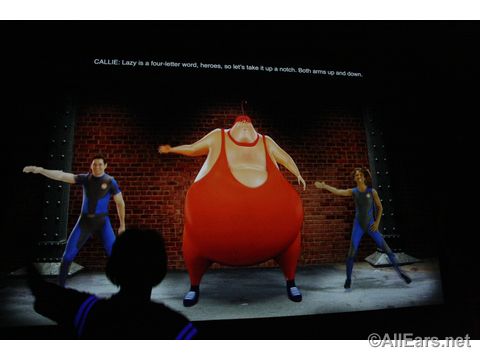 At the conclusion we see we have saved the couch potato teenager and all is well!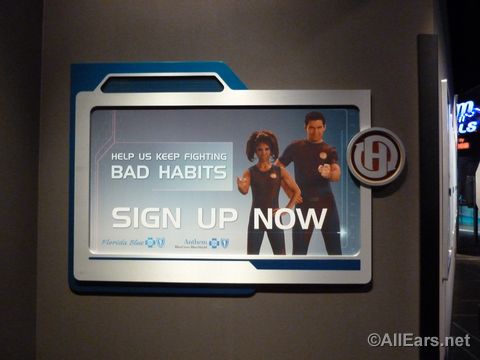 Habit Heroes is still in soft opening mode and there is some tweaking that does need to be done. I think once everything is ironed out, it will be a fun exhibit to experience. I plan to go back in a couple weeks and see if things have been "fine tuned".
Other observations and notes:
The areas are all very dark with low lighting.
Some cast members had their "roles" down pat, others need more training.
I liked how subtitles were part of every video.
Just let loose when you get to Lead Bottom – it's a lot of fun!
Leave a comment with your thoughts about the Habit Heroes Exhibit!