Most of my longtime readers know that my blogs are usually 95% fact and 5% opinion. I try to stay noncontroversial. But today's blog will be a little different. Today my opinion will be strong – and I'm sure it will generate more than a few opposing views. The question I broach is this: Should the Disney Company have built the City of EPCOT as originally envisioned by Walt?
In a 1970 promotional booklet titled "Preview Edition – Walt Disney World – The Vacation Kingdom of the World" the short and long term plans for the company's recently acquired 43 square miles in Central Florida were laid out. In the booklet, the first five years of the undertaking (Phase One) was presented in great detail. The project was to encompass the Magic Kingdom, five hotels, a campground, a monorail, and recreational facilities. With the exception of three hotels (the Asian, Persian, and Venetian) this all panned out as planned.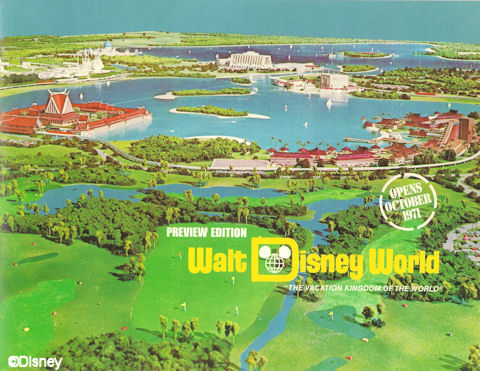 The long term plans for the property (Phase Two) were also presented in the booklet, but with far less detail. Briefly mentioned was the Airport of the Future, Industrial Parks, an extensive Transportation System, and a city to be called EPCOT, the Experimental Prototype Community of Tomorrow. Inhabitants of this new city would be required to work somewhere on property in order to live there. The estimated population was to be 20,000. These were the grand plans Walt had shared with his Imagineers before his death four years earlier on December 15, 1966.
For a number of reasons, far too many to mention here, the idea of building the City of EPCOT was abandoned. In the end, the Company decided to build EPCOT Center, a theme park that would encompass the ideals of Walt's grand city. In addition, these ideals would be applied to the entire Disney property and are administered to this day by the Reedy Creek Improvement District.
I often hear guests and Disneyphiles lamenting that the City of EPCOT was never built. They say things like, "If Walt had lived longer, he would have insisted that EPCOT be built and it would have been magnificent." This may or may not be true. We'll never know. Walt was always tweaking his ideas and looking for better solutions. If he had lived another ten years, who knows what the plans for the City of EPCOT would have looked like at groundbreaking, estimated to begin in 1976. When Walt died, his dream died with him. His brother Roy and the other executives of the company did not share his enthusiasm to build a city.
For a long time, whenever I've heard people criticize the Company for not completing Walt's final dream, I've kept quiet. It's easier to hold my tongue rather than getting into a long, drawn out discussion. But I, for one, am happy that the City of EPCOT was never built. I have no doubt that it would have been great, especially if it had materialized as Walt envisioned it. But I have selfish reasons for my opinion. You see, I like the theme park of Epcot. I like Disney's Hollywood Studios. I like Disney's Animal Kingdom. I like Blizzard Beach and Typhoon Lagoon. I like Downtown Disney. I like the Yacht and Beach, Port Orleans, and the Pop Century resorts. I like all of these things that never would have materialized if the City of EPCOT had been built.
Walt said that there was room enough to hold all of his Company's dreams, but building an entire city would have eaten up most of his land. Walt wasn't really motivated to build more theme parks – been there, done that. He was only interested in building the Magic Kingdom as a means to eventually build the City of EPCOT. If the City of EPCOT had been built, Walt Disney World would not be the vacation destination it is today. For the most part, this was an either/or decision. Built a city or build a destination vacation kingdom.
Let's jump across the country to the Disneyland Resort. Even with two parks and a shopping district, most people do not plan their entire vacation around this single destination. There simply aren't enough activities at the Disneyland Resort to fill more than three days (for the average guest). When visiting Southern California, most people augment their Disney stay with trips to Knott's Berry Farm, Hollywood, Universal Studios, and the many other attractions found in the area.
If the City of EPCOT had been built, the same thing would be true in Central Florida. People would only plan on spending two, maybe three days at the Magic Kingdom, Bay Lake, and Seven Seas Lagoon. Then they'd spend the rest of their vacation at Kennedy Space Center, Sea World, and Gatorland. And in reality, they probably wouldn't make yearly trips (or more) to Orlando.
Sure, if the City of EPCOT had been built, we'd all want to ride the monorails and PeopleMovers through this magnificent metropolis. But after we did it once, we wouldn't really want or need to do it again. If you stop and think about it, the trains at the Orlando Airport that transport you between the terminals and the gates are PeopleMovers. Yes, they're modern and efficient, but once you remove a PeopleMover from a theme park environment, it becomes utilitarian and rather boring. The same would have been true with the transportation within the City of EPCOT. After you rode the PeopleMover through EPCOT suburbs, would you really need to do it again and again on subsequent trips to Disney World?
Take a look at the community of Celebration, the town that Disney built on the south edge of their property. Have you taken the time to drive through this town? And if you have, do you have a need to see it a second time? It's a wonderful community, but it's not what most people want to see while on vacation. I'm the first to admit, Celebration doesn't compare in scope to what was envisioned for the City of EPCOT, but it was a planned community built by the Company we all love. In addition, the people of Celebration really don't want hordes of tourists traipsing through their town. The citizens of the City of EPCOT would have felt the same way.
Walt touted his City of EPCOT as a blueprint that other communities could learn from. But would other cities have taken the time to learn? Possibly. I don't know. But I do believe that all of the lessons that the City of EPCOT could teach us are available at Disney World without a city. Since the EPCOT philosophies are guidelines for everything built at Disney World, a city really isn't necessary.
But getting back to my selfish reasons, I like how Disney has developed their property. Sure, there are a few things I think could have been done better. And sometimes I ask myself, "What were they thinking?" But overall, I believe Walt Disney World is a fantastic place. A place that many people come to year after year. A place where one week isn't enough time to experience everything there is to offer. A place where people can buy Disney Vacation Club memberships. If the City of EPCOT had been built, this wouldn't be the case. As I said earlier, you'd only visit every couple of years for two or three days. I like visiting for a week or more on a yearly basis.
So there you have it, why I think the City of EPCOT should not have been built. If you would like to share your thoughts on this subject, feel free to leave a comment. And don't forget, you must type the word "BLOG" in the appropriate space or your comment will end up in our Junk Bin.