Please note, this article is about the Contemporary "Hotel" only. I will not be discussing Bay Lake Tower or any of its facilities.
As a kid in the 1950's and '60's, I loved Tomorrowland over all the other lands. The ultra-modern architecture and futuristic rides fascinated me. I remember asking my dad, "Why don't real cities build buildings like this and install monorails?" If he answered me at all, I'm sure I didn't find his explanation satisfactory.
In May of 1971 I started working at Disneyland and in June of that year I graduated from high school. As with most of the schools in Southern California, my school took part in Grad Night celebrations at Disneyland. For two weeks each June, Disneyland welcomed graduates to all-night parties (10pm to 6am). For the price of a special ticket, parents could rest assured that their kids were celebrating safely. I took my girlfriend, Marianne.
We started out in Tomorrowland, but somehow we ended up in New Orleans Square, sitting at a quiet table and talking. It was at this moment that my love for Tomorrowland gave way to the romantic captivation of less modern surroundings. I think it was also at this moment that I realized that there was more to Disneyland than riding rides. You see, this was the very first time I slowed down and smelled the roses.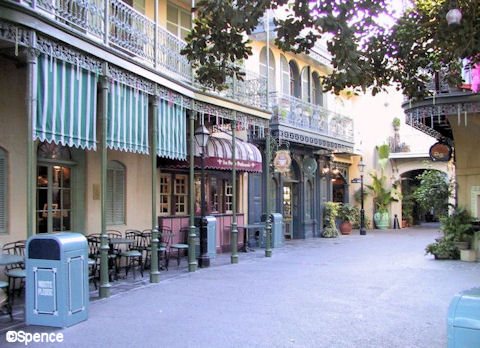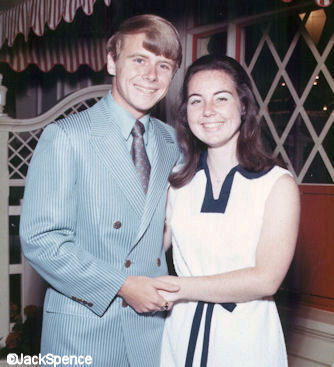 So what does all this have to do with the Contemporary Resort? I'll get to that in a few minutes.
In the autumn of 1971, Disney announced a deeply discounted trip to Walt Disney World for the cast members of Disneyland and the Burbank Studios. The trip would take place in early January 1972 and would include airfare, five nights at the Contemporary Tower, backstage tours (including the tunnel system under the Magic Kingdom), a Polynesian Luau, meals at several restaurants, a trip to Kennedy Space Center, and a trip to Cypress Gardens. All for the amazingly low price of $200. Even though I was only making $1.71 per hour, I had enough money in the bank to afford this trip. This was the first time I had ever traveled by myself and the first time I had ever stayed in a real hotel (rather than a motel). Although I was not impressed with the Magic Kingdom (as compared to Disneyland), I was blown away by the Contemporary.
The Imagineers very intentionally placed the Contemporary where they did. They wanted its ultramodern design to be a backdrop to Tomorrowland in the Magic Kingdom. And during the 1970's, it fit in perfectly. But people's concepts about the future began to change during the 1980's. People started to realize, straight lines of concrete can be cold and unwelcoming. Although Tomorrowland has gone through a transformation to change its outward appearance, the exterior of the Contemporary has not. It still conveys the mindset of a bygone era.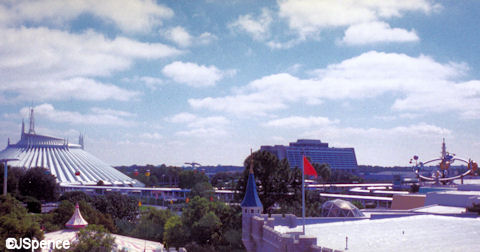 In the many years since my first trip, I have stayed at every Walt Disney World resort, but to this day, the Contemporary is my favorite. I'll admit, my preference may be influenced by the fact that I stayed here on my first visit to Orlando. As we know, emotions and memories can affect our perspective. But I think this fact only plays a small part in my affection for this great hotel. I have many "logical" reasons for calling the Contemporary home.
Back to my Tomorrowland/Grad Night story"¦
I still love New Orleans Square over Tomorrowland, but I'll take the Contemporary over the Grand Floridian any day. Disney has done much to transform the Contemporary over the years. Of course, the building's exterior cannot be changed and limits motif possibilities. Let's face it, a Tuscan décor would not work here. It is necessary to convey a "contemporary" theme throughout the resort. But "contemporary" doesn't necessarily translate to the "cold and sterile" world of 1971 Tomorrowland. I'll be the first to admit, there are more romantic resorts at Disney World, but the Contemporary has a lot to offer — enough so that you should give it serious thought. Don't let its outward appearance put you off.
Note, there has been one significant change made to the front exterior of the hotel. The trees shaped like upside-down Dixie Cups have been allowed to grow naturally. This is another example of how the Contemporary has mellowed over the years.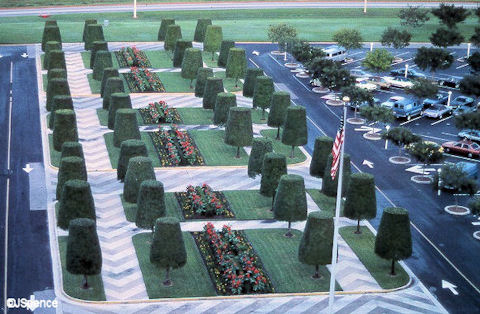 The original name for the hotel was to be Tempo Bay Resort Hotel. However, during construction, everyone kept calling it the Contemporary. Finally, it was Roy Disney who asked, "What's wrong with calling the hotel The Contemporary Resort?" Who was going to question the boss' wisdom and the name was officially changed.
Let's start my description of the Contemporary with the monorail. I know the monorail services the Polynesian and the Grand Floridian, but it is a part of the Contemporary. How can you think of the Contemporary and not think of the monorail? They're a package. Who doesn't rubberneck when passing through the Grand Canyon Concourse on their way from the TTC to the Magic Kingdom? And when you're shopping or dining on the hotel's fourth floor, it's hard not to marvel as the monorail quietly passes by. I hope the Imagineer who first conceived the idea of having the monorail travel through the Contemporary got a big bonus.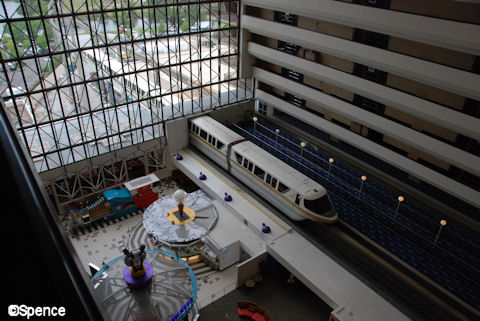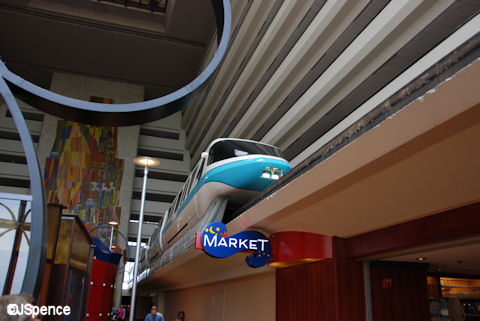 And not only is the monorail cool to look at and fun to ride, it makes trips to the Magic Kingdom and Epcot especially easy when staying at the Contemporary. It also "combines" the Contemporary, Polynesian, and Grand Floridian into one large resort. Want to have dinner at 'Ohana or a spa treatment at the Grand Floridian? It's easy when all you have to do is hop aboard the highway in the sky. (Please note, swimming pools are intended for guests staying at their own resort only.)
The Contemporary is also the only resort from which you can walk to the Magic Kingdom. It's about a ten to fifteen minute stroll from the lobby.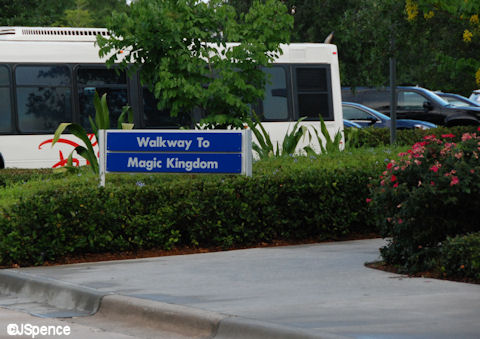 Another transportation option offered at the Contemporary are the small boats that ply Bay Lake. If you have tickets for the Hoop-Dee-Doo Musical Review at Fort Wilderness Campground or dinner reservations at Artist Point at Wilderness Lodge, riding these enchanting watercraft is far superior to traveling via bus transportation offered at the other resorts.
Next there are the views from the Contemporary Tower. As I've said to many people who do not like this resort, "I'd rather be sitting on my balcony at the Contemporary looking at the Grand Floridian, than on my balcony at the Grand Floridian looking at the Contemporary." The views of Bay Lake and Seven Seas Lagoon are fantastic. Even the lower floors offer great vistas. And if you have a Magic Kingdom view room, you can enjoy your own private viewing of the fireworks each evening.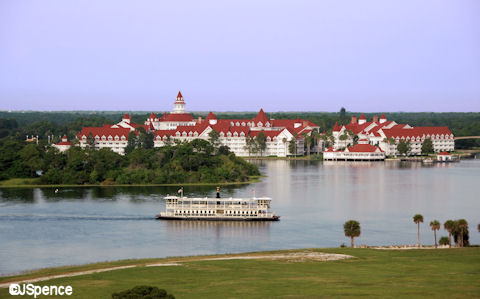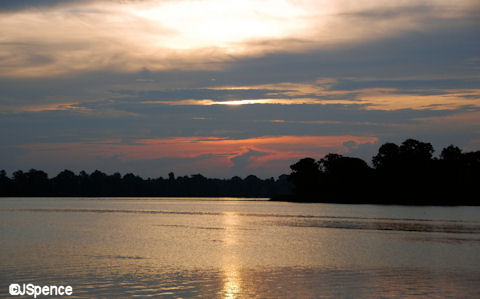 The Contemporary has six dining options. First there is The Wave. Located on the ground floor, this restaurant serves breakfast, lunch, and dinner. The Wave opened three years ago and replaced the Concourse Steakhouse which was located on the fourth floor. Although I think Disney could have done a better job with the restaurant's décor, I've always been pleased with the food and the service. On the other hand, I think the lounge/bar is extremely inviting and is a good place for an intimate drink. Reservations are suggested, but I've rarely had a problem when arriving without. Hours: Breakfast 7:30am to 11am. Lunch 12 noon to 2pm. Dinner 5:30pm to 10pm.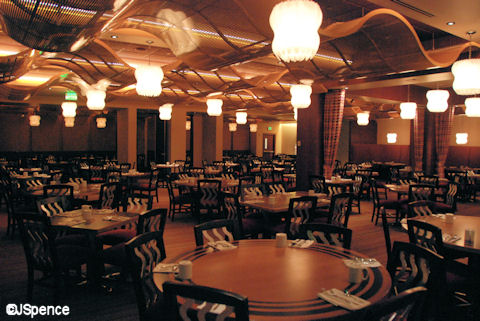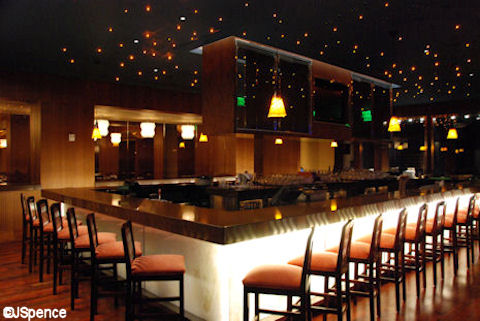 Also on the first floor is Contemporary Grounds. This coffee bar serves gourmet coffee drinks, smoothies, and assorted rolls and muffins. This is the perfect spot to grab a quick bite to eat when rushing to catch a bus to Disney's Hollywood Studios or the Animal Kingdom. Hours are 6:30am to 5pm.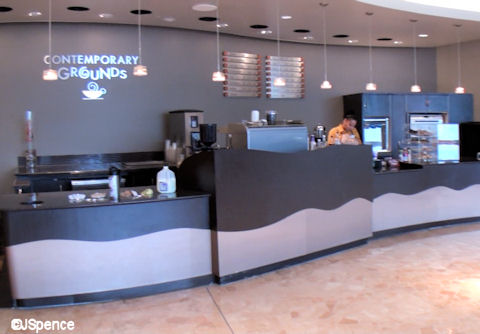 On the Grand Canyon Concourse (fourth floor), you'll find the Contempo Café and Chef Mickey's. Contempo Café is open for breakfast, lunch, and dinner and offers grab-and-go items as well as cooked-to-order meals. Guests use touch sensitive screens to place their orders. Once everyone has made up their mind and entered their selection into the computer, you'll receive a receipt. Before heading to the cash register with this receipt, pick up any other items you might want. Fountain drinks are ordered at the register. When paying, you'll be given a pager to let you know when your food is ready. Then find a table and relax until beeped.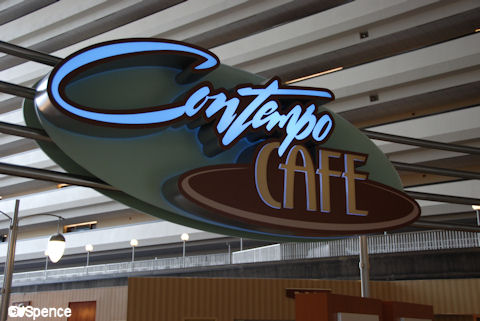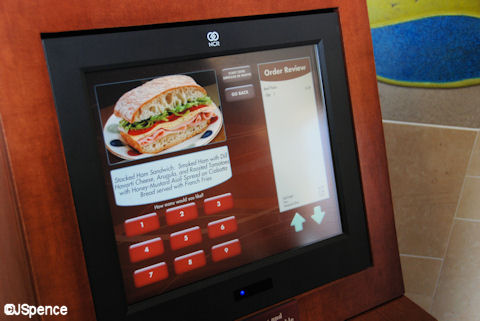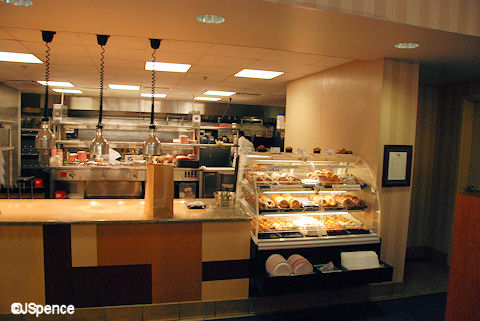 I think the lunch/dinner selections at the Contempo Café are excellent. Everything is prepared to order and arrives at your table hot (or cold). Disney is striving to serve more upscale and tastier "fast food." I think they succeed at the Contempo Café. Since this is a quick service restaurant, meals are served on paper plates. The Contempo Café is open from 6am to midnight.
One of the most popular character meals at Walt Disney World can be found at the Contemporary — Chef Mickey's. Breakfasts and dinners book up months in advance and reservations are an absolute MUST if you want to eat here.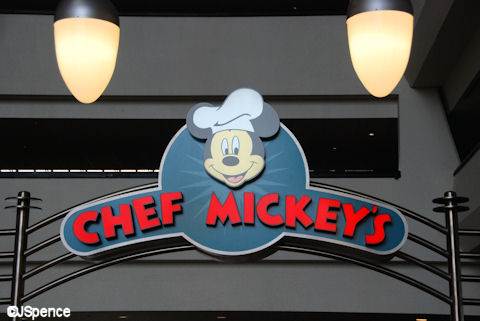 Shortly after you arrive you'll have your picture taken with a statue of Chef Mickey. This photo makes a great souvenir. Don't hesitate to ask the photographer to use your own camera if you want a "freebee."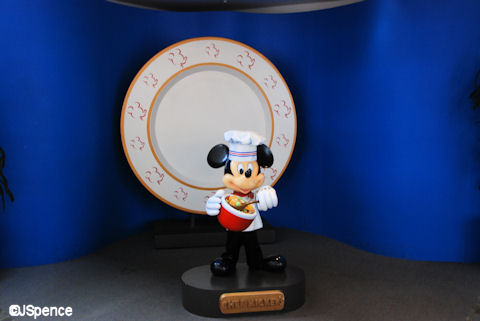 Tables at Chef Mickey's are scattered throughout several rooms. This helps breakup the enormity of this establishment. Meals are served via a central buffet, which can get crowded at times. And of course Mickey and his friends make the rounds while you dine. Breakfast is served from 7am to 11:30am. Dinner is served from 5pm to 9:30pm. Note, this eatery is noisy — but what do you expect when you combine excited children and Disney characters in a cavernous structure like the Grand Canyon Concourse.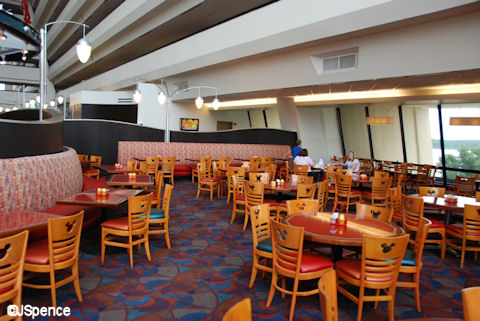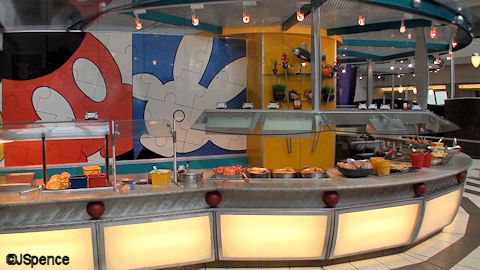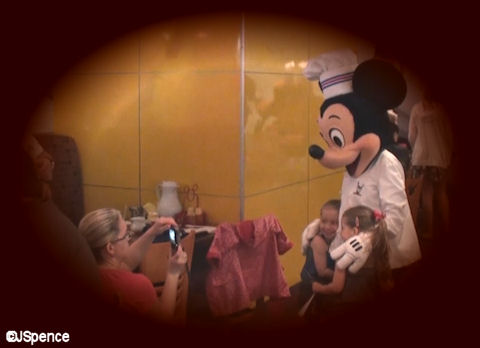 Although not an eatery, The Outer Rim must also be mentioned while talking about the Grand Canyon Concourse. This small cocktail lounge sits window side and offers wonderful views of the Contemporary's swimming pool and Bay Lake. I love sitting here with friends, talking about our day. And remember, you do not need to order alcohol to use this facility. Soft drinks are just fine. In fact, ordering nothing is also okay. These comfortable chairs are open to everyone. The bar is open from 4:30pm to 10pm.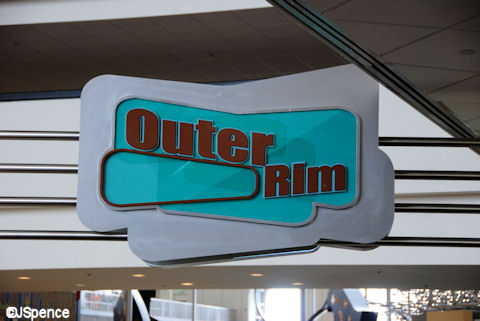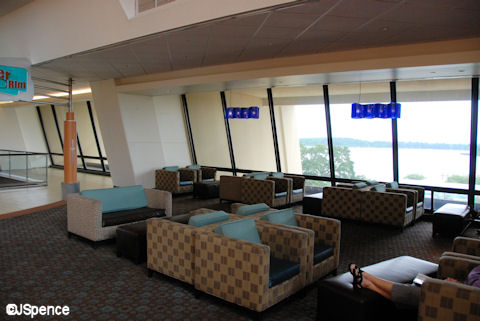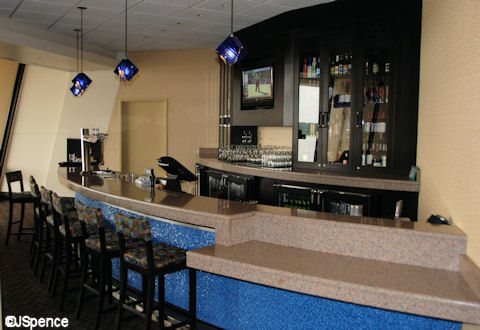 As I mentioned earlier, the Contemporary offers one of the most popular character meals on property with Chef Mickey's. It also boasts one of the most sumptuous restaurants at Disney World. The California Grill is located on the fifteenth floor and offers outstanding food, attentive service, and magnificent views of Seven Seas Lagoon and the Magic Kingdom. The California Grill earned the 2004 Disney Magazine Reader's Choice Award for Best Overall Walt Disney World Resort Restaurant for Adults!
Guests check-in at a reservation desk located on the second floor. Once your table is ready, a host or hostess will secure an elevator for your ride to the top.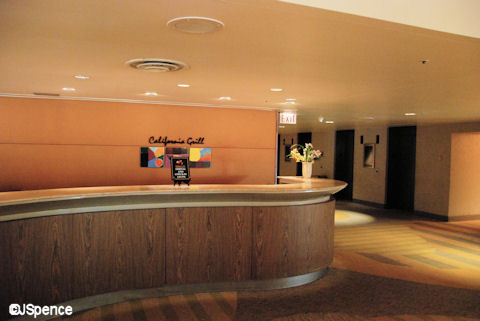 Note, elevators are programmed NOT to go to the 15th floor without special access provided by a cast member. At one time, guests not dining at the California Grill were allowed to use the rooftop catwalks that flank the restaurant to view the fireworks. However, their presence became annoying to diners paying a high premium to eat here. Because of this, access to the 15th floor has been restricted to patrons of the California Grill only. If you would like to watch the fireworks from the Contemporary and you're not dining at the California Grill or have a Magic Kingdom view room, a viewing spot has been set aside for this purpose. On the north end of the fourth floor, a special viewing area is available, complete with chairs. Although not as spectacular as the view from the 15th floor, this is a good spot to watch the nightly display.
The California Grill is beautiful. For me, this is another example of how the Imagineers have removed any "1970's futuristic" feel from the hotel and replaced it with warmth and elegance. Light woods and muted tones provide a casual atmosphere while crisp tablecloths add sophistication and formality. The combination works wonderfully.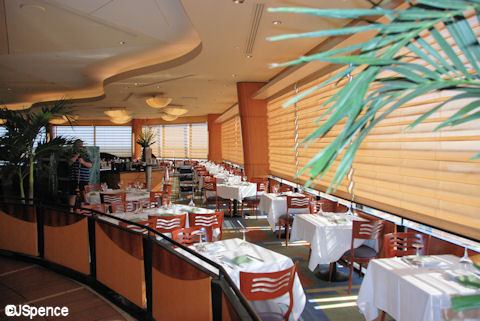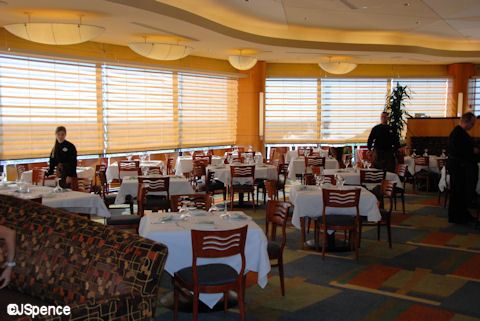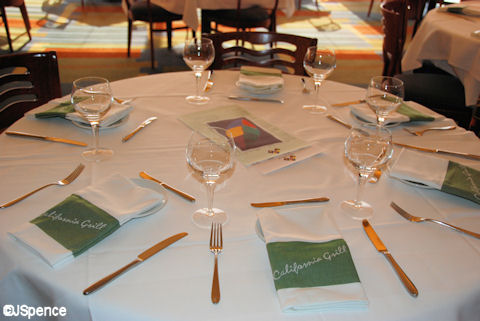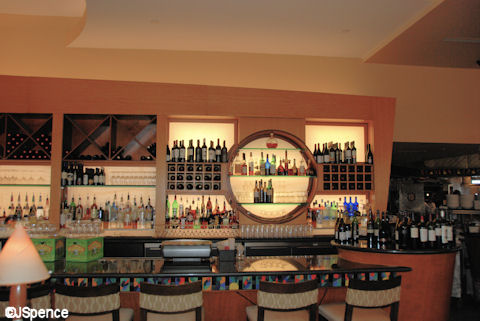 The food here is prepared in an open kitchen and features California Fusion cooking. The menu changes frequently so that only the freshest produce and products are used. Some of the offerings include sushi, brick oven-baked flat breads, handmade Sonoma goat cheese ravioli, oak-fired filet of beef with Teriyaki barbeque sauce, oak-fired pork tenderloin and Valrhona chocolate cake; warm chocolate cake with molten center and house-made ice cream. An extensive wine list features numerous selections from the Golden State and several sommeliers are on staff to help you with your choice.
There is a dress code at the California Grill.
Men: Khakis, slacks, jeans, dress shorts, collared shirts. Sport coats are optional.
Ladies: Capris, skirts, dresses, jeans, dress shorts.
The California Grill is open for dinner only (5:30pm to 10pm). Reservations are necessary and can be made online or by calling (407) WDW-DINE. If you can't secure a reservation by phone, you can always stop by the check-in desk around 5 and see if they can squeeze you in. But please understand if they say no. This is an extremely popular restaurant that fills to capacity nightly.
The last eatery at the Contemporary is the Sand Bar. Located next to the pool, this spot serves hamburgers, hot dogs, turkey sandwiches, Caesar salads, chicken nuggets, drinks (soft and hard) and various desserts. Hours of operation are 11am to 7pm. The bar is open from 12 noon to 7pm.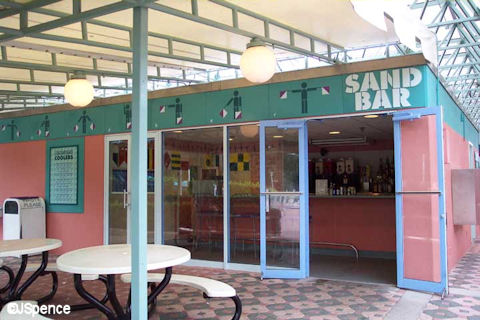 The Contemporary offers several shopping options on the fourth floor. Bay View Gifts (B-V-G) sells clothing, housewares, souvenir items, artwork, jewelry, and fine candy. I find it interesting, the shop's name implies that you can see Bay Lake from within, yet Disney has gone to great lengths to cover every window in this shop with shelving to block the view. What a shame. Bay View Gifts is open from 8:30am to 11pm.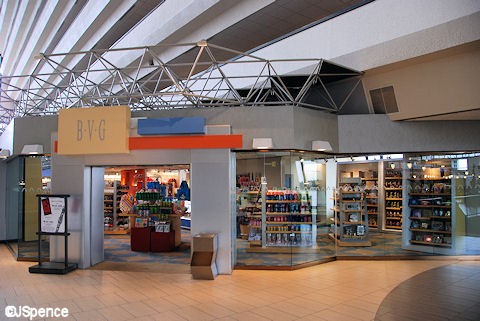 Next to Bay View Gifts is Fantasia. This whimsical shop is a recent addition and sells pins, Disney kitchen items, and toys. Fantasia is open from 7:30am to 11pm.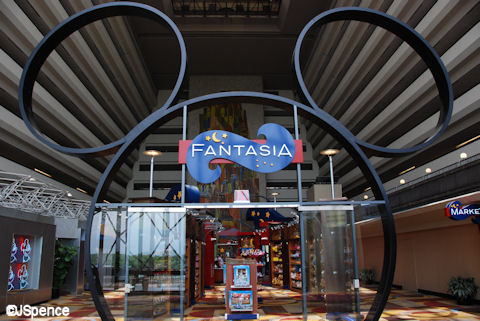 Also nearby is Fantasia Market. This is the spot to buy liquor, sundries, reading material, and snacks. In addition, real food items like milk, bread, and eggs are available. These needing-to-be-cooked foods are intended to be used by guests staying at the Bay Lake Tower and who wish to cook their own meals in their villa kitchens. Fantasia Market is open from 7:30am to 11pm.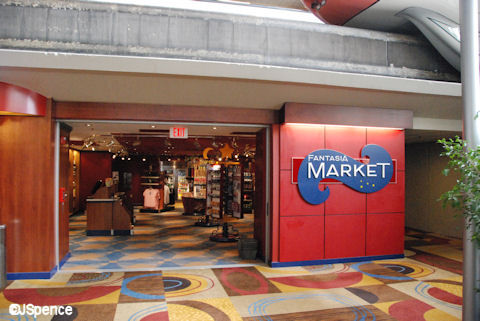 Next to Fantasia Market is The Game Station. As the name indicates, this is the spot to lose yourself in electronic gaming wizardry. Hours of operation are from 8am to 11:30pm.
On the third floor, which can only be accessed by elevator, you'll find the Olympiad Health Club and Contemporary Styling Salon. The Olympiad Health Club offers a full range of weight training equipment and several cardiovascular machines, including elliptical machines, treadmills, and stationary bikes. The center is open 24 hours a day and can be accessed with your room keycard. Massages are available at the center or in your room. Touch MASSAGE/HEALTH CLUB on your in-room phone for pricing and availability.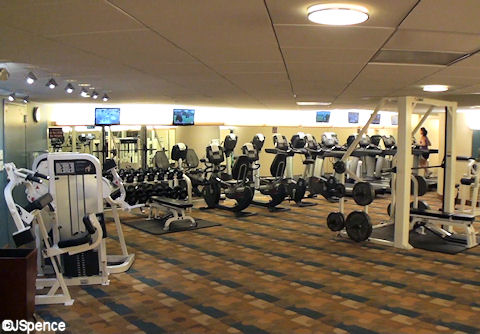 The Contemporary Styling Salon offers facials, haircuts, manicures, and other beauty services. The Salon is open from 9am to 6pm and is closed on Sunday.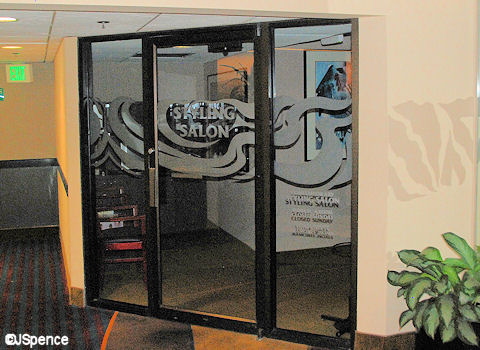 That's it for Part One. Check back tomorrow for Part Two and videos of the resort and rooms.