You've been home a whole 17 minutes since returning from vacation and your legion of online community pals are already requesting, nay, demanding to see your photos. Geesh! Once you've settled in and started loading up the 101 million images you shot while skipping around Frontierland singing, "…and blood all around and a great big puddle of blood on the ground," you select pictures to share. Uh oh! This photo need some serious cropping because you were super excited and forgot proper framing
Look at all that space around Gloria (adorable human on the right) and Dale (XL chipmunk on the left). No need to waste tears, it's an easy fix.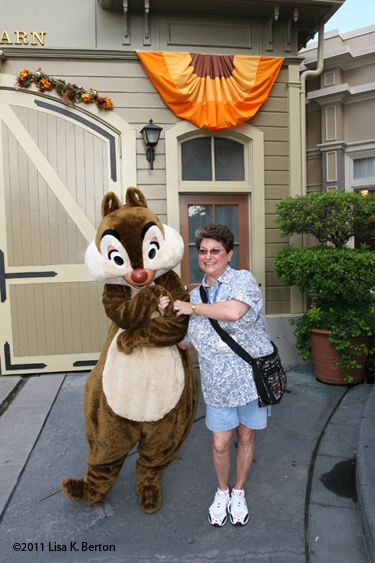 Open up whatever photo editing software you have. Pull up the photo that needs attention. For instance, I have Adobe Photoshop CS3, it's software designed for professionals, students, and advanced hobbyists. All photo editing programs (free or for sale) offer cropping capability so don't fret,
The cropping tool, circled in purple on the left, is what you'll be using. The standard icon for cropping is the box-like shape with lines coming out. When dragging the crop tool over the image, the area that will be cut out is darker than what will remain of the original image. With that said, your software may reverse it, making the portion that goes lighter than that which stays.
After choosing carefully, I approve the crop. Voila! A full body shot perfect for posting and/or printing.
Should you decide to crop the photo differently, say for framing, make sure you go back to the original image. Always start at the beginning because that's the highest quality.
Adobe Photoshop allows users to choose how they want to view images. In this instance, it was best to go with Fit on Screen. The original photo is on the right and that red box indicates which part of the photo is showing center-screen. Once I select Fit on Screen, those 2 faces shrink back down. Too much cuteness causes cavities.*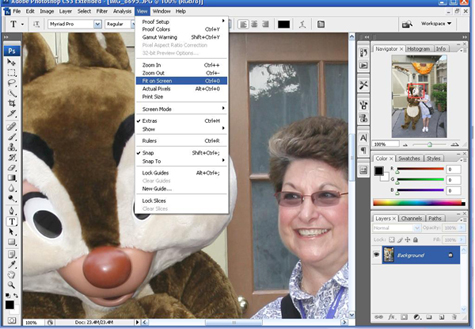 If you've got a horizontal frame, picture-less, patiently waiting on the bookshelf for some love, crop the image to fit. Leave some extra room because most frame designs will cover up a small portion of any photo.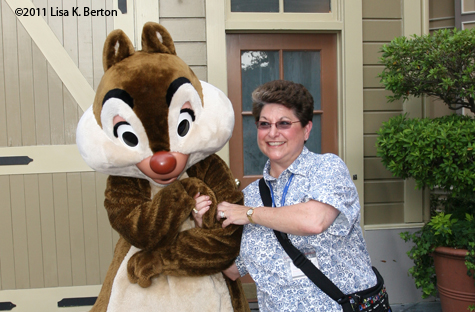 Going vertical? Crop the image accordingly and again, leave some extra room.
*I'm not a dentist but I did just have an examination, cleaning, and x-rays. No cavities!
Today's model is Gloria "Glo" Konsler of Ears to Ears moderator fame. Yep, Glo's an AllEars.Net teamster.
Come join me and Jack Spence on Saturday, September 3rd for a meet-and-greet before taking on Dinosaur at Disney's Animal Kingdom. We'll be there at 10:30am.
Keep up with my freelance writing and photography via my Facebook page.