Yesterday (August 5, 2010) Disney held grand opening ceremonies for its newest Epcot restaurant, Via Napoli. I was on hand to capture the festivities and sample the food. Yea!

Located in the Italy Pavilion, this restaurant is operated by Nick Valenti, Restaurateur and CEO, Patina Restaurant Group and will be the first authentic Italian pizzeria to ever open in the park. The Patina Restaurant Group currently has over 50 restaurants in California, New York and Las Vegas.
The company was formed by combining two organizations: the public restaurants of Restaurant Associates in New York and the Patina Group in California. The company was established as Restaurant Associates / Patina in 1999 under the leadership of CEO Nick Valenti. In 2006, Valenti and his partner Patina Group Founder Joachim Splichal bought the company and named it the Patina Restaurant Group. The Shidax Corporation of Japan is also an investor.
Pictured here are Nick Valenti on the left and Joachim Splichal on the right.
As with every grand opening at Walt Disney World, the occasion was marked with a big celebration. The morning began with two hilarious Italian women clowning around and stomping a few grapes. This was followed by Disney Ambassador Clay Shoemaker welcoming us to the event. Next came Epcot Vice President Dan Cockerell and Nick Valenti sharing their excitement about the opening of this new venue. And of course no celebration would be complete without Mickey and Minnie joining in. Instead of a traditional ribbon cutting, a grape vine was cut to officially open Via Napoli.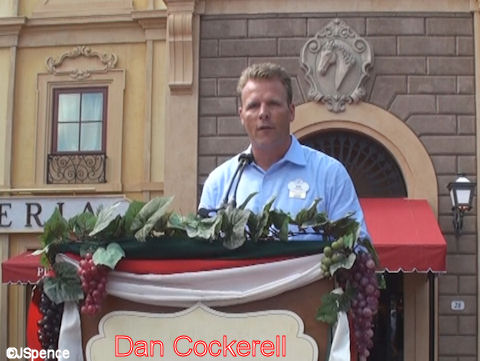 If you'd like to see the festivities for yourself, check out this seven minute video.
The Italy Pavilion is the smallest of the World Showcase pavilions. To me, it always had an incomplete feel about it when you entered the back areas. But with the addition of Via Napoli, this area takes on new life. The architecture and design is based on a mix of traditional Italian styles. Florentine architect Stefano Nardini (of Magris & Partners) working in conjunction with Rick Swisher Architect created a stunning addition to the World Showcase landscape.
The interior of the restaurant is very spacious (9,760 square feet) and the tables are spaced a good distance from one another. I like this as I hate to be seated so close to another party that I can overhear every word they say. The dominate feature in the dining room is the extremely long table. It was never explained whether this table would be used for very large parties or shared by numerous groups. Via Napoli can seat 250 inside and 50 on the outside, covered patio.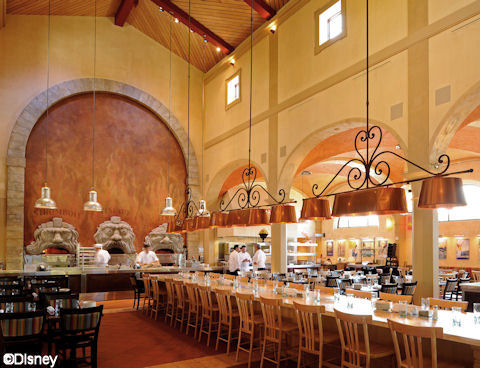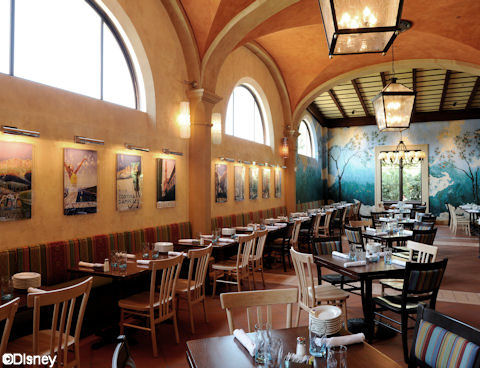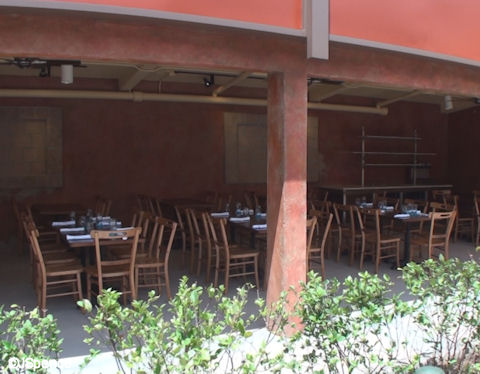 Via Napoli also features a show kitchen that invites guests to walk up and watch the chefs create their magic. Architect Nardini brought some whimsy to the kitchen by creating three wood-burning ovens and named them after the active volcanoes in Italy, Mount Etna, Mount Vesuvius and Stromboli. Each oven was given a face reflecting the gods whose mythology surrounds each volcano's history.
For a better idea of what the restaurant is like, check out my two minute video which shows the exterior and interior seating areas and the kitchen.
Before we sat down to eat, I spent a few minutes talking with Epcot VP Dan Cockerell. I asked him why Disney was adding more restaurants to World Showcase. I figured that there were already enough eateries to satisfy everyone. But apparently I was wrong. Dan told me that there is enough interest and demand, especially at dinner, to justify more restaurants. Epcot has become known for a place to find a unique dining experience and reservations go quickly at some of their more popular spots.
The full name of the restaurant is "Via Napoli Ristorante e Pizzeria." So as you might expect, pizza is the main focus of this establishment. But for those of you who would like something else, other Italian fare is available like lasagna, chicken, and pasta dishes. To see the complete menu, click here.
My experience at Via Napoli yesterday is not what you'll enjoy when you eat here. Since I was an invited guest to a press event, I did not order off of the menu. Instead, servers wandered the restaurant passing out samples of some of the offerings.
The first item I tried was the Fritto Misto. This is an assortment of just-fried seasonal vegetables, calamari, and cheese. This appetizer sells for $24 and is meant to be shared by the table. For me, the best item here was the corn-crusted asparagus. It was great. Please note, for the most part I cannot attest to the portion size that you'll be receiving since we were being served "all you can eat" samples.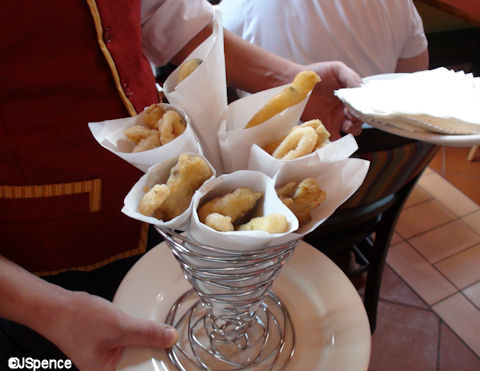 Next I tried the Arancini. Cheese lovers rejoice. Here you get four fresh risotto balls filled with mozzarella and a side of meat ragú dipping sauce. I thought these were delicious and so did everyone else, but I think $10 is a little steep for only four.
We were not offered any non-pizza entrees, but we were provided with a good quantity of pizza to sample.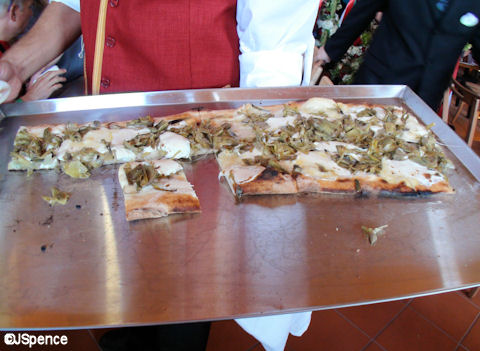 Overall, I'm a fan of thick-crust pizza but this thinner-crust pizza was excellent. And the variety is wonderful. This is not what you'll take home from Dominoes. This is gourmet, Neapolitan style pizza with toppings like calamari, artichoke, eggplant, prosciutto, and arugula. Of course, traditional toppings like pepperoni and mushrooms are also available. We were told that one of the reasons the crust is so wonderful is because the water is calibrated specifically to the pH found in Naples.
The pizzas come in three sizes, Individual $16, Large $27, and ½ Meter to Share $36. I felt these prices were a little high, but I spoke with some friends who ate here a few days earlier at a "soft opening" and they said the pizzas are large. They got the ½ Meter for four people and were stuffed by the time they were done. $36 divided by 4 is $9 so that's not too bad.
We sampled several desserts but I have to say, the Tiramisu, was to die for. $8 Once again, this is a sample size shown here. I had seconds of this taste treat.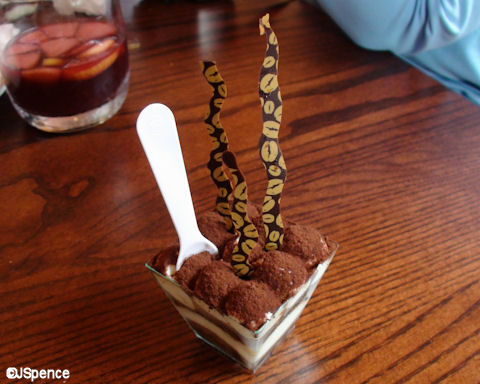 The Gelato Frizzante is billed as Ice Cream Soda "Italian Style". It's made with San Pellegrino's "Aranciata" and vanilla gelato. $9 I liked this dessert. It had a sparkling quality about it. It was almost "fun" to eat/drink (it's served with a spoon and straw).
I was disappointed with one dessert, but I think that's because they only served us half of it. The Zeppole id Caterina $10 consists of ricotta cheese fritters served with whipped cream and chocolate sauce. Unfortunately, they only offered us the fritters. This item really needs the dipping sauces to be experienced correctly.
A gluten-free dessert is also available. This is chocolate cake with whipped cream. If they hadn't told me it was gluten-free, I never would have known. It was wonderful.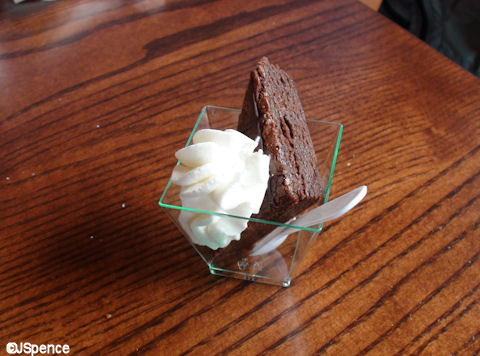 If you like sangria, then give Via Napoli's a try. I enjoyed the one glass that I sampled, but unfortunately, couldn't find a waiter with a second glass. Darn. I had to make do with a glass of sparkling wine instead. Shucks.
Also offered are Acqua Fresca. These are Via Napoli's signature house-made seasonal fruit juice coolers. Please note, a glass costs $5 for 14 oz. and there are no refills. I tried the Limonata. To me, it tasted like lemonade – and $5 is a lot to pay for ONE glass of lemonade. One of my dining companions tried the Strawberry flavor and was treated to real bits of strawberries in the glass. This helped justify the price.
Overall, my impression of Via Napoli is very good. I like the atmosphere and the food was outstanding. I have heard complaints that the pizza is too expensive. But others tell me the portions are large. The rest of the prices are typical of all Disney restaurants. If you're looking for a bargain, then look for a restaurant off property. But if you're looking for a unique Disney experience, then give Via Napoli a try. I certainly intend to go back and dine here as a regular guest.
Via Napoli, will begin taking reservations August 6th for September 10th arrivals and later. The restaurant will be in a "soft opening" walk-in phase with no reservations from August 5th through September 9th. This restaurant is part of the Disney Dining Plan and accepts Tables in Wonderland.
I want to draw your attention to one more thing. Allears reader John Kurowksi's experienced this restaurant a few days earlier and wrote a great report. He covers a few things I have not. Click here to read it.
Here's a picture of me and a Mickey Mouse pizza that was made specifically for the press event.
Buon appetite!