by Debra Martin Koma
AllEars.Net Senior Editor
It was a cold, rainy Saturday that found me traipsing through a near-deserted Epcot, touring along with Eric Darden, horticulture manager for the annual Flower and Garden Festival. Gone were the blue skies and sunshine of the previous day, but never mind — the show must go on, and Darden was more than happy to give me, along with several other local journalists, a behind-the-scenes preview of what to expect from the 2010 festival, whose theme is, somewhat ironically on that miserable day, "Celebrate the Great Outdoors."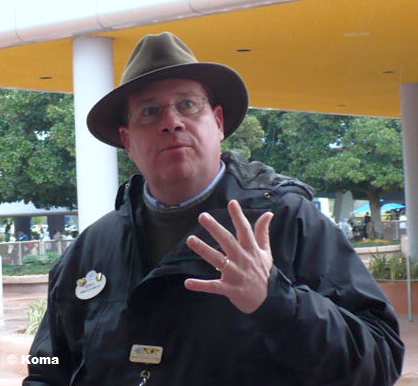 "We are prepared for the cold weather," Darden explained as we trudged along through Future World. "We've had to cover the topiaries, but really it's done little damage to our festival-specific plants. We've lost some tropical plants, some shrubs, but in some ways the festival actually looks BETTER this year because of the freeze."
Better? My ears perked up, anxious to hear how he was going to spin this gardener's nightmare into a good thing.
"No, really, it's had a positive effect in many ways," Darden claimed. "We took the opportunity to replace some things that needed to be replaced — and it's made a drastic improvement in some cases."
Darden pointed out one area in particular where overgrown plantings had been killed by the extended extreme cold. They had been replaced by low shrubs, effectively opening up the area so that the view was much less obstructed. That, Darden said, was how the view was always intended to be. "The sight-line is clear now. It's so much better, thanks to the cold weather."
That wasn't something I had expected to hear, given that this year the Orlando area has experienced one of the coldest winters in memory, with many nights dipping well below freezing. I had, in fact, assumed I'd hear more about how starting the festival a few weeks earlier than usual (March 3 this year as compared to last year's March 18 start date, and 2007's April 5 start) had caused a lot of problems.
"Did it (the cold) cause more work? Yeah," Darden admitted. "But we were ready for it. And if you're ready for one frost, you're ready for 10. I think this year's festival is as fine as any we've done."
That kind of preparedness doesn't happen overnight. Darden, who is in his seventh year as festival manager, said his team begins working on the 75-day event a year in advance. With the earlier start this year, the group was faced with several new challenges, which Darden asserted was actually a good thing.
"Starting early forced us to use other plants — pansies and other winter bedding plants, which have great color," he explained. "I think eight out of 10 gardeners will tell you that it's hard to beat a viola, which is in the pansy family. Our biggest challenge was protecting the topiary."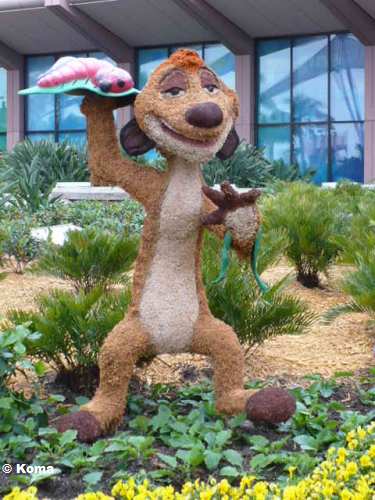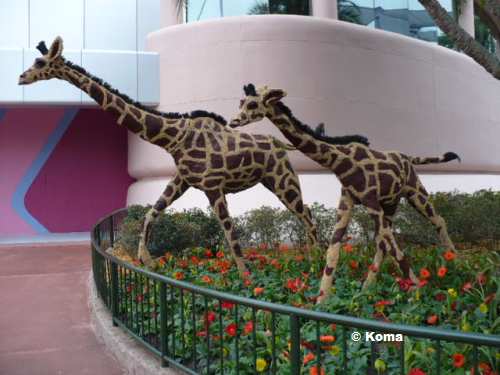 Topiary, for the uninitiated, are those large statue-like figures made of all organic material — moss, grasses, ivy, and other plants shaped around a metal frame to look like a 14-foot tall Goofy, or American Gothic Mickey and Minnie, or, my personal favorites, Bambi and friends (they're in the Canada pavilion).
According to Darden, the cold weather required that the horticulture staff keep the topiaries indoors longer to shelter them from the elements. Unfortunately, "keeping them in-house is never as good as outdoors," and such cool, wet conditions are perfect for growing fungus, which can destroy the plants. Not something they want to deal with, given all the hours it takes to construct a single figure, and also given that the topiaries are among visitors' favorite aspects of the festival.
Epcot is displaying about 75 topiaries this year, from the aforementioned Mickey and Minnie Mouse, and Goofy, to newer characters like Tinker Bell's pixie friends found in the expanded Pixie Hollow Fairy Garden. Darden explained that while they do re-use topiaries from festivals gone by, they like to add new ones, even though it's a long, involved process.
To construct a new topiary, a Disney artist makes a maquette, or a small scale model, of the figure, just as they do for an animated film. After making castings of the maquette, they take the design to a welder who fabricates the frame, working with the artist. The whole process can take four to five months, then the plants are added, anchored in place by hair pins, but, as Darden said, "planting is the easiest and fastest part."
As we stopped in front of the Scar (the villain in The Lion King) topiary, I marveled at the level of detail. Long, dark Black Mondo Grass gave the lion his shaggy mane, while closely cropped variegated ficus and other greenery covered his face and body, which Darden said weighs in around 1300 pounds. Even without being told I could have identified this Disney bad guy, a testament to the amount of hard work, attention, and money, that go into designing the figure.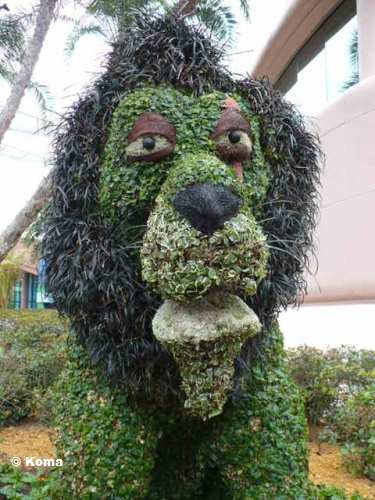 "Disney really cares about the integrity of these characters," Darden added. "That's why you won't see actual faces on human characters like Snow White or Sleeping Beauty — we wouldn't be able to get them the way we want them, so we leave the face up to your imagination."
In addition to the topiaries and the abundant, colorful plantings around Epcot, a number of themed gardens caught my fancy. My favorite was the Pixie Hollow Fairy Garden, which includes Fawn's (formerly Minnie's) Butterfly House. The pixie topiaries are bright and whimsical, and once the butterflies are released in the enclosed area I look forward to seeing them flitter around. I especially want to be sure to spend some time watching new butterflies emerge from their chrysalises in the little house located off to one side of the Butterfly House.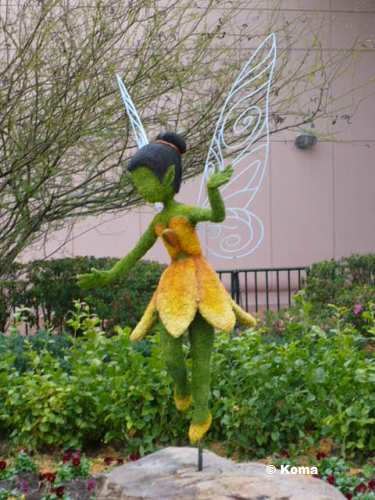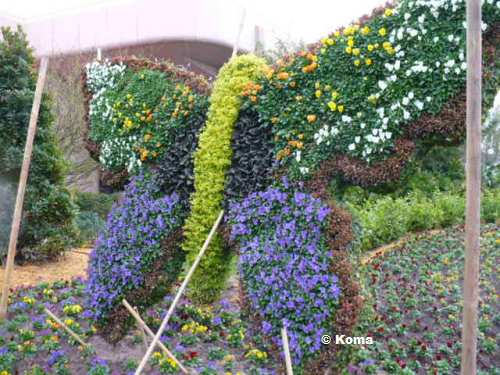 Other gardens that we had a chance to see in progress included the Tuscany-inspired Art of Green Living, which plants all sorts of ideas in your head as to what you can do in your own back yard, and the children's play area, Let's Get Moving, located along the Rose Walk between Future World and World Showcase, and the brand new Princess Tiana's Wedding Bayou. Vegetable gardeners are not forgotten, as some exhibits include "edible landscapes" with plants such as olive trees, and many pots and beds feature herbs, cabbages, kale and other veggies.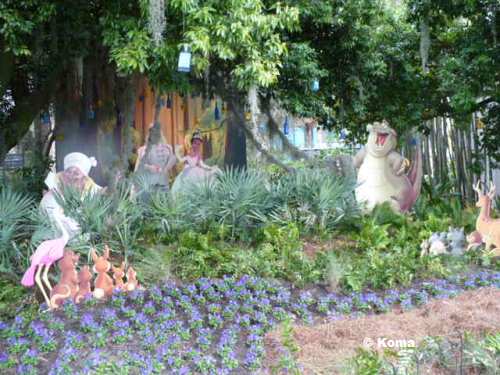 We also saw the unfinished Guerlain Fragrance Garden in the France pavilion. This year, the popular "lift and sniff" scent boxes that are usually a part of this exhibit will be divided between two locations — their usual spot near the buildings in that pavilion, and another location more prominent on the promenade. In addition, the boxes have been redesigned for easier use — instead of lifting a lid, there is a knob to turn that will release the scents.
The biggest area left to our imagination, though, was the entrance display, which wasn't to be installed until Monday, two days before the festival opens. Darden called the unveiling of that welcoming display one of his favorite days of the festival. This year, the exhibit features a 14-foot Goofy hooking his own pants with a fishing pole, Pluto in his "pup tent" (pun intentional), Donald Duck as a Mountie, and Daisy Duck roasting marshmallows, along with a six-foot waterfall.
The tour concluded with lunch at Tutto Italia in World Showcase's Italy pavilion. As we approached the restaurant, I noted the gorgeous topiary of Lady and the Tramp, surrounded by pots of pink, purple and white blooms. Even on the coldest and dampest of days, Flower and Garden Festival managed to warm my heart.