by Debra Martin Koma
AllEars.Net Senior Editor
"We want to make you feel like you've made the big time."
Ken Potrock, senior vice president of Disney Sports Enterprises, and George Bodenheimer, president of ESPN, were just two of several speakers who repeated this mantra yesterday during the day-long relaunching of what was formerly known as Disney's Wide World of Sports complex.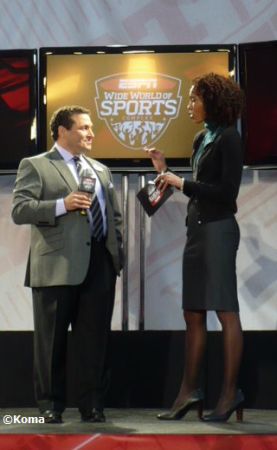 Now christened ESPN Wide World of Sports, the 220-acre complex hosted a number of members of the media (including yours truly), as we toured the facilities, which encompass two field houses, a baseball stadium, soccer and softball fields, clay tennis courts, and much more. During the tour, we were treated to an inside look at all the recent changes that have taken place at the complex recently to "merge the two powerhouse brands of ESPN and Disney" in an effort to create an "immersive experience" for guests.
What's New:
–The Innovation Lab. This lab actually opened in October of last year, but what's new is the announcement that this location will be the hub for developing and testing ESPN's 3D technology. Chuck Pagano, Executive Vice president of Technology for ESPN, called the lab a petrie dish for growing and testing methods of "all things broadcast". We were given a sneak peek of 3D television, which ESPN will debut officially in June, when ESPN covers the FIFA World Cup Soccer games held in Johannesburg, South Africa.
— ESPN Wide World of Sports Grill. The former All Star Sports Café has been completely renovated and rethemed with ESPN décor and slogans.
— Playstation pavilion. Adjacent to the grill is the new Playstation pavilion, which houses 64 gaming stations (16 pods, each with four games), plus a kiosk featuring the game Singstar. Five different games are currently available for play, including brand new titles not yet available to the public. Visitors to the pavilion will be able to register a unique gamer name and pay for play time in increments of 30, 60 or 90 minutes. The Playstation pavilion is the first of what the ESPN WWoS complex is calling a "wait buster." As it was explained, this area will be the perfects time-killing location for athletes at the complex who have a game early in the morning and then another in the afternoon. That gap is not enough time to go to the theme parks to play, so they can visit the pavilion to while they wait for their next event.
–Customized Tee Shirts. Through a partnership with Champion the WWoS complex now has several locations at which athletes can design their own t-shirts to commemorate specific achievements or events. For example, if they have participated in a tournament, they could design a tee with their particular bracket, or scores. One such location is in the Josten Center, but others are mobile units that can be positioned at various spots around the different fields.
In addition to all the recent changes at the complex, speakers like Potrock and Bodenheimer revealed what's in store for the complex in the future.
— At least 25 new events that will appeal to a wide range of guests, including untraditional events like "major league gaming." Other events will include a new baseball tournament in partnership with Rawlings called the "Golden Glove"; and other events that will focus on the health and wellness of children.
— New and enhanced partnerships with corporate sponsors such as Josten's, which is now the exclusive medal and trophy provider for ESPN WWoS, CIGNA, CLIF energy bars and gels; and others.
The overall goal, as restated time and again throughout the day, is to make an athlete who comes to the complex loving sports, walk out knowing "that sports loves them back."
As the sun began to set, a host of sports celebrities and ESPN personalities assembled, walking the "green" carpet at the complex entrance. Notables including football star Chad Ochocinco and golfing great Annika Sorenstam stopped for photo ops and autographs, then joined the fans and others to watch the official opening ceremonies.
Walt Disney World President Meg Crofton, Potrock, Bodenheimer, and Florida governor Charlie Crist, stressed the significance of this "reimagined" effort. Crist also emphasized that this complex's rebranding and new events would help boost the state's economy through growing tourism and jobs. He concluded, "It's the right thing to do, and the right time to do it."
After the officials' remarks, Garrett Hartley, kicker for the 2010 Super Bowl-winning New Orleans Saints, came out to "kick-off" the opening by booting a football (brought out by Football Player Mickey) through the entrance's "goal posts" accompanied by fireworks and a shower of confetti.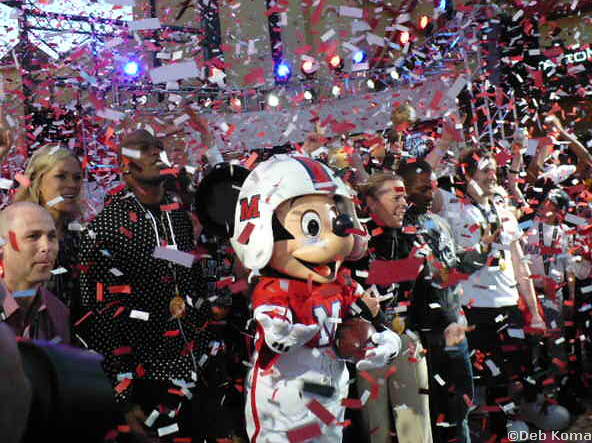 The day's events concluded with a special performance of the Harlem Globetrotters, hosted by "coaches" Mike Golic and Mike Greenburg of ESPN. After more than an hour of slapstick tomfoolery, it came to no one's surprise that the Globetrotters won the game.