Who
Yours truly, the self-appointed Disney fanatic with 20+ visits to Walt Disney World. My mom Sheryl whose last visit was in 2004. She'd never been to Animal Kingdom before. My mom's best friend since they were 16 years old, Judi. She's like my 2nd mother. Her last visit to WDW was in the early 80's.
Why
Last year my mom surprisingly announced that she wanted to go with me to Mousefest. Sorry, but Mousefest is no place for parents. I knew I'd be running all over the place, up early, and out late which would leave her on her own and that's not the makings for an enjoyable vacation.
I offered to take her to Walt Disney World as her 60th birthday present instead. A few months went by and I brought up my offer again, before her birthday. I knew we wouldn't be able to go on her birthday because Passover was close to it.
On my mom's birthday we went out to dinner with my grandparents and Judi. I brought along a calendar (thank you, thank you) and told her and Judi to pick the dates they wanted to go. I should back up real quick and let you know that I had invited Judi to join us for the trip and to pay for her airfare. They selected a week in September that included Judi's actual birthday.
Where
Making use of my parents' soon-to-expire timeshare week by extending it for 6 months, I tried, and tried, and tried to find a Disney Vacation Club resort, no matter which one it was. Nothing was available so I exchanged the week for Wyndham Bonnet Creek.
We had a 2 bedroom, 2 bath unit with a full kitchen, living room, washer, dryer, and balcony facing parking and another building. It was very comfortable and enjoyable except for the phone calls which I will get to later in the What section.
How
We flew Southwest from Warwick, RI to Orlando, FL. I rented a car using Priceline's bidding option and saved money over the cheapest rental I could find.
I had 4 yard sales in 3 different locations prior to leaving. Those gave me enough cash to pay for my meals and most of my mom's.
What
Our morning began just like any other except for our alarm clocks going off at 5am, dragging luggage downstairs and then placing them in the trunk, picking up Judi, driving to the airport one state over, and flying to Orlando.
As we waited in the comfy, stuffed chairs (I went all out on this trip) until boarding, I handed to my mothers, one goodie bag each. While most parents give their kids treats before/on flights to keep them happy and add a little pixie dust early on, I had reversed the roles. The bags contained Mickey Mouse raisins & dried cranberries (Target), Cars tissues (Christmas Tree Shop), Tic Tacs, trail mix (coffee & chocolate for Judi, caramel for Mom, Target), an individually wrapped character cookie (Building 19), and a Mickey Mouse thin tip marker (local dollar store). They loved them. Judi even took a picture of my mom & I with it.
:pretend you see the photo here:
The flight was fine except for minimal turblence like the tiniest drop on Splash Mountain. Dude, the bathrooms are itsy bitsy on planes these days. Who is putting airplanes in the dryer for too long?! The lead flight attendant kept trying to crack jokes. My mom didn't find her amusing. After we landed she reminded everyone to stay seated until we'd reached the gate and the pilot had turned off the seatbelt sign followed by "Not yet," "Not yet," "Not yet," "Not yet," "Not yet" to the point that when the light went off I leapt out of my seat just for effect.
After the tram ride I went into the Disney shop to buy Disney Dollars. My nearby Disney Store was all out. They do things a tad bit differntly and rather strange, in my opinion at the airport shop. Normally I would ask for x amount of Disney Dollars, the Cast Member takes them out of a drawer behind the register, scans the barcode from a book, rings it into the register, I pay, and I'm given a receipt along with my purchase. At the airport they acted like I was buying bars of gold by going into the back, getting someone else to bring out a burlap bag, asking for my money upfront, and handing me the Disney Dollars. Nothing was rung through the register. I left feeling like I'd just robbed them because the steps they took were far from anything relating to a sale.
In the garage we checked all options for a midsize car and just as we were about to load up, a freshly returned vehicle made it's way towards us. A pale mint green Pontiac G6 with 4 doors and a good sized trunk. When you rent a car, it's a tremendous advantage to have a color that stands out amongst the rest.
With my trusty Sunpass we zipped by all 2 of the tolls on 417 and checked into the resort around 1:15ish pm. The unit was ready, we were given keys, maps, directions, and info on dining options (which were pathetic for a place of such magnitude), and told to pick up a parking pass. Ah yes, the "parking pass." It exists and it comes with a free non-stop attack from 3 sales people trying to schedule you for the "breakfast" which is accompanied by a sales pitch. No thanks. Suffice it to say after my mom and Judi very graciously declined repeatedly and the guy wouldn't quit, I finally looked at him and said, "We're here on vacation to celebrate their birthdays not attend meetings. We have to go." :sigh: Don't worry folks, the pushy sales tactics continue for the next 2 days.
Settled in, unpacked, the air conditioning fixed before we even had a chance to call down, and hungry, I made the executive decision to hit Epcot. Judi said it didn't matter where we went, she was starving. Based on approximation to the front entrance, we ate at The Electric Umbrella where I finally realized they actually have electric umbrellas for lighting decor. What a strange new world. In an effort to demonstrate "Disney magic," I showed them the talking trash can. They thought it was funny and silly and it somehow mesmerized my mom because from that moment on, she waited to see if every other recepticle would speak to her and when they didn't, she voiced their thoughts for them. Ha! And you thought I was weird.
As the tour guide, I lead them to the attractions they wanted to see but in a manner that didn't involve any criss-crossing of the park. Our first attraction of the trip was Spaceship Earth and as we ascended into the long dark tunnel, I leaned forward between the seats and directed my mom and Judi to put on their seatbelts.
Then we walked down to the Living with Nemo and His Friends in the Seas building. It was a total walk-on. Then we went to wait for the next Turtle Talk with Crush show and as we looked around, Judi in all seriousness asked me if the stingrays were real or animatronic. Whoo! I'm still laughing over that one. That was some funny…stuff. They even became interested in Bruce's Sub House and poked their heads into Bruce's mouth for a photo. I used Judi's camera so
:imagine that picture here:
Two Jews walk into a shark…
I need to rethink this trip report because at this rate I'll be writing a separate blog for each day and I'm leaving for CA in 6 days, 2 days from the time this posts. And now, the Edited Version which is still long but not as long as it would have been had I not made an effort to not write a paragraph about nearly everything that we ate, saw, did, and thought…starting now!
Over in the Land edificio we watched Circle of Life then I expected to grab FastPasses for Soarin' but the posted wait time was 10 minutes so we waited. They're both afraid of heights so I requested row 3. They did OK, my mom had to keep looking straight ahead, meanwhile I'm looking down, and up, and over. I lived in CA for 4 years and was at Disneyland all the time so when that final scene came up I pointed to the screen and said to my mom, "There I am!" She laughed.
It was pouring out so we waited a bit until it stopped and visited with Figment then as we walked along the path to World Showcase we heard thunder and cringed. We explored Canada, watched Martin Short's new panovision movie, and tried to get into Le Cellier but they weren't taking walk-ups and I couldn't get a reservation over the phone. My brilliant plan was to get a little nosh to hold us over as a late dinner seemed to be on the horizon. Root beer floats for everyone at Fountain View Cafe. During our sugary appetizer I called Disney Dining and got us in at Kona Cafe where we had a lovely dinner, Chef Noah took care of my dietary restrictions, and the subject of the next day's breakfast came up followed by a review of Kona's breakfast menu and me running downstairs to Guest Services where they booked us for the morning. Say all of that in one breath!
If you'll excuse me for a few minutes, I need to go harvest my grapes.
Day 2
Our morning began with a phone call from Bonnet Creek's office. Long story short they tried once again to convince my mom that we should all attend the free breakfast and seminar. She told them she wasn't interested in owning another timeshare because one was more than enough and some years it goes to waste.
Where did we go for breakfast? Kona Cafe. That's correct! Thank you for paying attention. I had the blueberry pancakes, Judi had Tonga Toast, and my mom tweaked her meal so much that I can't remember what it started out as. A hearty breakfast is a great way to kick-off a day in the parks.
Today we explored Magic Kingdom beginning with taking my mom to City Hall for a birthday pin. Heh heh. It took her awhile to get into the flow of strangers wishing her "Happy Birthday" but she was cool. Later in the day she tried to scare me by saying I should wear one the next day. Pft! I'd wear one nearly every day if I could.
Characters were out and about on Main Street, U.S.A.. I got wicked excited because I'd only seen one of them before.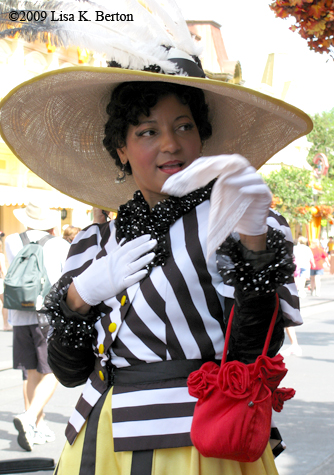 We continued along, turned right by the castle, made a left at Fairytale Garden, and up and into Fantasyland. I picked up FastPasses for Peter Pan then we enjoyed Mickey's Philharmagic which suddenly had a long line because a tour group was ahead of us. From there we sailed thru it's a small world where I pointed out the living dolls I had previously interviewed and then back to Peter Pan to use the FastPasses. A woman ahead of us was on the moving sidewalk and going back and forth between 2 ships unable to decide which one to board. This stalled the rest of us. Yes, it took her that long. Truthfully, I was waiting for her to either fall off or crash into the Cast Member who is at the end checking safety bars.
Next thing ya know we were in Tomorrowland zipping around on the Tomorrowland Trans…People Mover. It is really cool and spooky to ride through Space Mountain with the lights on and the narration turned off. It's like being in a sci-fi movie as you fear what's around the corner. Also, it was on this attraction that the auto focus on my camera began to wane.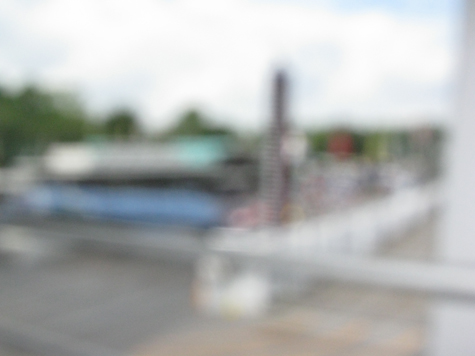 Lines were short everywhere, it was fantastic. We defeated Emperor Zurg and rewarded ourselves with lunch at Plaza Restaurant. Now, as you recall my mom was wearing her birthday pin. Our server and the chef who came out both wished my mom a happy birthday. We saw that someone at another table was given a cupcake for their birthday. Our server Salvador didn't bring my mom anything. On the way out I asked the hostess if they still do that or is it one of those random things. She reassured me that they do indeed celebrate birthdays and wanted to know who the server was and asked us to go back and sit down but we were already packed up, paid, and leaving so we left.
The parade was passing by so I motioned for them to wait so I could try to get some photos not knowing if or how my point and shoot would continue to work. I'll tell you now that it finally gave out a few days later.

Aladdin wants me to call him!
We spent the rest of the afternoon at the outlets, grocery shopping, and resting. They wanted to have dinner off-property :faint: so I drove us over to Crossings at Lake Buena Vista to see what was there. The twinkly lights caught my mom's eye and upon further inspection realized it was a mini-golf course. Alright, that's not going to work. Finally, we wound up at Sweet Tomatoes, a place we'd never been to before. I give it a thumbs up for value. After dinner I dragged them to Pleasure Island so I could see what changes had been made in the past 9 months.
There's a new restaurant called Paradiso 37 where the live act butchered Ritchie Valens' La Bamba. The speakers carried the music loudly out into the street and into the Harley Davidson shop. Local police officers were out in higher numbers than I'd seen before but they were all in the same general area and nothing peculiar was happening.
That was about it. Time to call it a night.
Next week: Days 3 and 4 Another birthday goes without dessert
Dear Readers,
I can't believe it's already October and very soon I'll be flying to California for 10 days worth of sun, fun, friends, the first AllEars.Net Disneyland meet, the CHOC Walk, and of course Disneyland.
When I was in CA this past March celebrating my birthday, my friends told me I'd have to come back in October for the CHOC Walk. It's funny because I got them into it just 2 years ago. They've latched onto it since and we've gone from a group of 6 to a dozen plus as they keep recruiting more of their co-workers, family, and friends to take part.
I'm writing to ask if you'd be interested in sponsoring me. CHOC is the acronym for Children's Hospital of Orange County. They have hospitals in Orange and Mission Viejo and are highly recognized for having fantastic care, doctors, and nurses. CHOC treats every patient regardless if the family has health insurance and can afford medical treatment, surgery, and so forth.
This will be my 3rd time participating and my goal is to raise $1,000.00. I'm at 40% of my goal right now and the event is on October 18th.
It truly amazes me when I get in the midst of the crowd and see everyone from babies to grandparents taking part. It blows my mind when the parents who have lost their little ones to disease hold up signs and wear T-shirts in memory of and keep up the good fight for others.
I know firsthand that times are tough financially. If you can spare a few dollars you'll be helping a wonderful cause and will have my thanks and appreciation.
http://www.chocwalk.net/faf/donorReg/donorPledge.asp?ievent=314791&lis=1&kntae314791=FD8A4907DF3946C78608E061374C0144&supId=263896053
With Grace and Gratitiude,
Lisa