This was Challenge #64:


And here's the answer: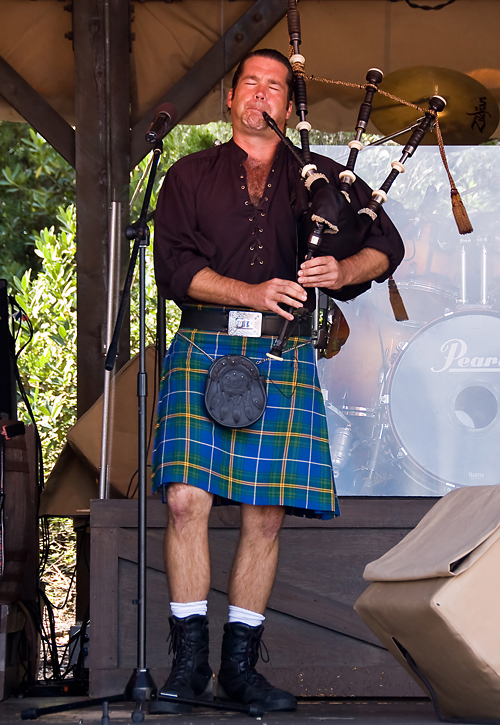 Copyright © 2007 Barrie Brewer, Nikon D50, 18-200VR, 1/160s shutter, f6.3
Off Kilter is a fabulous Celtic rock band that entertains guests near the Canadian pavilion in Epcot. This is Jamie Holton, the band's bagpiper and front man. I wasn't sure what kind of answers I was going to get this week. What I found amazing was that not only did folks know that these legs belonged to someone in Off Kilter, several people actually identified them as Jamie's legs. Now that's a little scary!
Bryan Timko was the first to send in the correct answer this week! Congratulations to Bryan and all the readers who got the answer right: Dusty Cheatham, Deb Ragno, David Wickware, Sandra Shaw, Jennifer Lazzaro, Jacquelyn Law, Alan Law, Deb Gallo, Erika Loboda, Devin, Austin O'blenis, Angie Young, Sherry Klinefelter, Leslie Dameron, Ed Aleszczyk, Kye Layton, Brian Harrigan, Patrick Albrecht, Sharon Pierce, Sharon Lee, Debra Kuklinski, Kathy Love, Dennis Dunkman, Ken Maikowski, Lori Posey, Kim Davis, Lauri Phillips, Brian Gallant, Jen Cerce, Jeremy Hardy, Jeff Kulisek, Mary Beth Tarbet, Trish Babler, Jackie Purcell, Melissa Demonbreun, Kelly Jean, Clarissa K, Joyce Tofflemire, Lisa Edmonson, Debbie Poole, Tim Wingfield, Joanna Snow, Shannon Milair, Hayley Lawson, Amanda, Michelle Wilinski, Dawn Bach, Kevin Toomey, Jeffrey Dunne, Gregg Mcglasson, Dallas Hamilton, Melesia Love, Krystal Pound, John Dupr, Robert Mcclean, Greg Gallo, Tim Rachuba, Elizabeth Scarborough, Debbie Hicks, Siobhan Mason, Jude Toups, Karen Schlumpf, Dan Mangini, Wendy Snelgrove, Sarah Haas, Nicole Lassiter, Carla Leger, Paula Bender, Evelyn Wilson, Glenn Meyer, Cheri Palmisano, Karen Dresser-smith, Rick Shea, Keith, Lisa, Tommy Montgomery, Luis Rodriguez, April Tucker, Anne Hainsworth, Allison Caputa, Marie Bertini, Angela Brown, Gloria Keenan, Heather Stevens, Janet Guay, Joanne Snoots, Matt Cofone, Patti Sturgis, Ken Taylor, Kathy Berry, Harry Wilson, Bob Sertic, Katie Fry, Kevin Cowdell, Morgan Stalker, Kristine Gallatin, Melissa Boyle, Sam Mortellaro, Lisa Zitek, Lisa Hoffman, Kelli Vancil, Kim Steiner, Patricia Ovesny, Regina L Tipton, Ruth Cookson, Patricia Siebert, Kurt Schmidt, Mlke Verlinghieri, Kirk Hardy, Terri Thornton, Cari-ann, Liz Patterson, Tere Rudy, Nancy Ahlsen, Lauren Foss, Mickey Eckert and Bruce Arnold. Each of you will be entered in the December winners' drawing.
I'll be taking the next two weeks off from the Where in the World challenge to attend MouseFest. That gives everyone some extra time to get your answers in for challenge #65. Challenge #66 will appear on December 28.
If you're attending MouseFest this year, don't forget to join Lisa, Scott and me at our Picture This! Photowalk meet on Saturday morning. You'll find all the details here.
_______________________________________________________________________
Challenge #65: Where in the world is this?

Do you know? Do you have a guess? Send in your answer, before the end of the day on Thursday, December 25, by clicking HERE!
_______________________________________________________________________
Everyone who sends in a correct answer to a Where in the World Challenge this month will be entered in a drawing at the end of the month for some special AllEars® goodies and a cool Disney book!