I moved my things over to the Beach Club (Thank you Dolphin Cast Members) and checked in; however my room wasn't ready. I had about an hour before our group was to meet up so I wandered the hotel.
I spotted the Beach Club's main man, Art the Greeter, or Admiral Art. This man has been at the Beach Club greeting guests for as long as I can remember. He is an absolute delight and joy to talk with. Art had been very sick a while back and he thanked me and said to thank all his online friends for all their thoughts and prayers. Talking about it, he had tears in his eyes, and so did I.
The resort is all decked out for the holidays including an amazing chocolate gingerbread carousel complete with it's own Hidden Mickeys!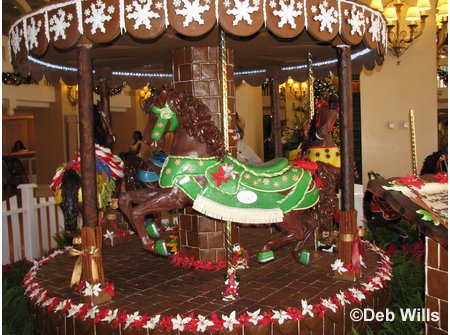 And the Beach Club Marketplace was selling all kinds of edible and non-edible holiday goodies.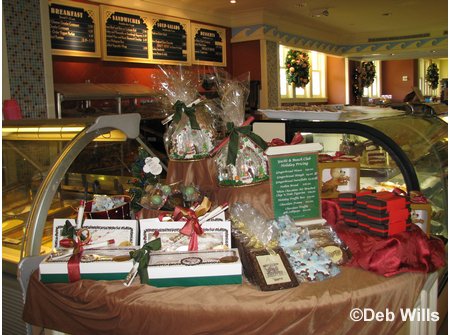 There are several Hidden Mickey in the Beach Club Villas public area including in this artwork.
Our group gathers and it turns out to be very small, which is quite nice. Kristen our DVC rep takes us on an amazing afternoon.
We had lunch at the Turf Club at Saratoga Springs. Their Caesar Salad with Chicken is my favorite lunch item. Everyone really enjoyed what they had as the plates were totally cleaned.
We went to the visitors center and met with DVC Guide Chris. He took us through the presentation that visitors receive to learn all about DVC.
We then toured the Models for Animal Kingdom Lodge Kidani and the Bay Lake Towers; studios and one bedroom for each. I really love the Bay Lake Tower One Bedroom. The studio has a very querky aspect because the bathroom sink is located in the same small area as the kitchenette, mearly feet separate them. Very odd indeed.
From here we drove over to the newest phase of Saratoga Springs, the Tree House Villas. We were joined by 2 Imagineers working on the project. Todd Thomasson Senior Construction Manager and Cathy Carver, who had designed the Castle Suite and I had met previously.
Photos were not allowed on the tour as we were backstage and in a hard hat area, but I was able to have a photo with Todd and Cathy at the end of our tour.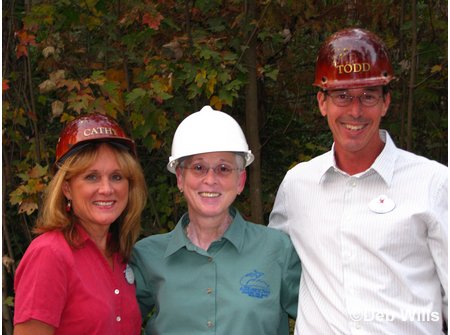 I have lots of info to share on the Treehouse villas which I will do after my trip. There are 60 units, 4 of which are ADA accessable. Each one is identical and they are modular construction. We were able to walk most of the grounds and actually went into 2 of the units. No furniture is in place yet, but I can tell you there are Hidden Mickeys in the Treehouse! Each one has a lovely deck which I imagine will be awesome to sit out on.
After our great tour we went back to the Beach Club Villas for about a 90 minute break. Much as I wanted to nap, there was hardly any time. My room was ready so I spent most of my time getting situated in the villa. I have a wonderfujl view of Spaceship Earth from my balcony!
We regathered in the lobby at 7:30 for our dinner at California Grill. We were in a private room (something new for me) and were joined by several other DVC Marketing Cast Members. It was a lovely evening capped off with a view of Holiday Wishes from the exterior walkway!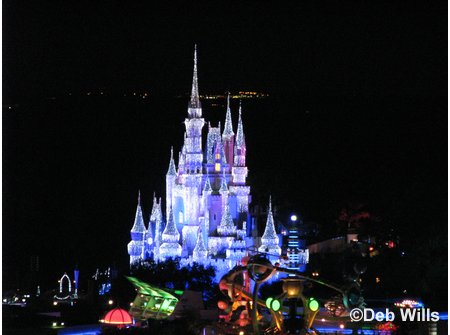 Back in the room after 10pm and went right to sleep!
Today is another full day including hard hat tours of the Kidani Village as well as Bay Lake Towers.