Our final Free Dining Plan table service meal was at Artist Point, in the Wilderness Lodge.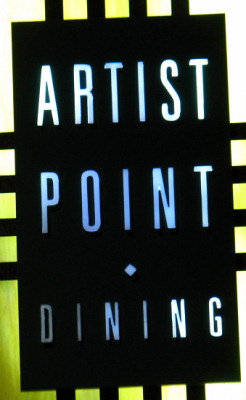 I had eaten there about 10 years ago as well, probably on the same trip as the San Angel Inn meal, and remembered being underwhelmed by the menu. I don't really care for game meats, and their signature Cedar Plank Roasted Salmon was not appealing to me in any way, shape or form.
I'm not a salmon fan to begin with (ask me about my trip to Alaska last year: Is salmon the only food available in that state??) so a fish cooked and served on a board that is usually used for moth-proofing closets does not say "good eats" to me at all. I was hesitant when Flo wanted to eat here, but she really REALLY wanted to try it, so I capitulated. What I didn't know at the time was that this meal would turn out to be THE best meal I've had on property for at least two years. From beginning to end, everything in this restaurant would be perfection.
We arrived for our ADR 15 minutes early as directed. There were three extremely charming hostesses at check-in. We chatted about Disney, the College Program, our home towns, and other topics while we waited to be seated. I mentioned that it was Flo's first time eating at Artist Point, so one of them disappeared for a moment and reappeared with a "My First Time" button. What a sweet thing to do!
When it was time to be seated, I asked if we could have a table by the window, since it was Flo's first meal here, and I wanted her to see the pretty view. We were given the table in the corner of the windows overlooking the waterfall and the wildflower garden. We could see a bit of Bay Lake and the geyser out the other side of the windows. Gorgeous!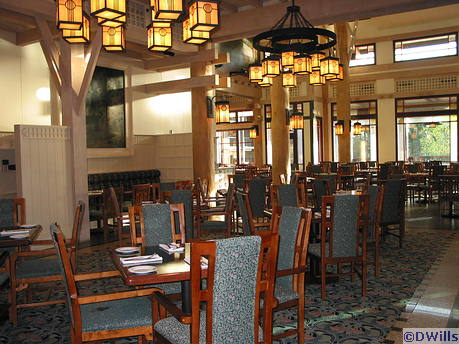 I was surprised to see how empty the place was on a Saturday night, but the Wilderness Lodge is kind of out of the way for guests without their own transportation, plus it was a slow time, after all. Also, Artist Point isn't as kid-friendly as many other Disney restaurants, as there are no characters or clever theming here. It does feature a kids' menu, however, and there were a couple of children dining with their parents that evening. Kids are definitely welcome here, but it does have an adult feel to it.
After we were seated, our server, Kyle, introduced himself. He brought us menus, the winelist and a basket of absolutely delicious hot crusty bread served with real butter. "OK," I thought, "If I can't find anything I like on the menu, I'll just eat this incredible bread all night and I'll be happy about that!"
Flo asked him to suggest a Reisling, and he brought us each a taste. Flo liked it, but I found it too sweet and asked for a Pino Gris instead. He brought me an absolutely delicious wine. I regretfully did not write down what it was, since I wasn't intending to write a review of Artist Point to begin with.
We sipped our wine, nibbled the yummy bread, and perused the menu. We couldn't decide what we wanted, so we asked Kyle for recommendations. He suggested the Buffalo Sirloin (yes, it's meat from an actual buffalo, not meat cooked in hot sauce like Buffalo Wings are.) We were intrigued by that, but another dish, the pork chop, featured Tillamook Mac & Cheese with Maytag (blue cheese, not the appliances,) crust as the side, which sounded sooo good–Much better than the sweet potato-hazelnut gratin that came with the buffalo. Kyle assured us we could have the buffalo with the mac & cheese if that's what we desired…and we did desire it!
On the appetizer list is an Artisan Cheese selection. Since I don't eat much sugar, I asked if I could have that for dessert, and was surprised to find that I could not. (I'll explain why later.) It was too big to have for an appetizer, so I didn't pursue it. Instead, we both went with the smoky portobello soup with shiitake mushrooms and chive oil, which arrived in a lovely geometric bowl. Oh…my…goodness, was this soup good! I tried not to lick the plate in public, but it was a struggle. The roasted mushrooms sprinkled on top were almost like bacon, and the soup was creamy and delicious and a perfect foil for that crusty bread and butter.
Just when I thought it couldn't get better, the buffalo sirloin and mac & cheese arrived. As I took my first tentative bite of buffalo, wondering if I would like it or not, I suddenly realized it was the best meat I have ever eaten anywhere at any time. It was tender and flavorful, and it was cooked and seasoned so perfectly it just melted in our mouths. The Tillamook mac & cheese was equally wonderful, with a creamy fresh-tasting cheese sauce and a crunchy crusty top with a bit of blue cheese tang that made the whole thing delicious together. This meal was so good, I could not stop eating. The portions are quite generous, and I finally had to push it away before I hurt myself.
As we ate, Kyle would stop by and check on us, chatting a little about this and that. Our water glasses magically refilled themselves, and plates arrived and disappeared without me noticing. I have a short list of criteria for judging great dining service. #1 on the list is: The server can do his or her job in a timely and efficient manner without being either too intrusive or completely oblivious to my needs. No matter how great a meal is, if the server either disappears altogether or hovers like the News2 helicopter, it can ruin the experience. Kyle has learned the art of returning to the table at exactly the right moment that his guests need him to. We never felt rushed, and we never felt ignored. A perfect balance!
#2 on the list: Does he/she know his/her stuff? Kyle does. He knows the menu, the winelist, what the chef can and cannot do for a guest, and he even knows what's inside the tea box that is brought around after dinner. Once I had gleaned just how much he knew, I began to ask him a series of questions from Anita's List of Most Annoying Dining Questions.
The first question I asked was why I could not have the the Artisan Cheese Plate for dessert, because I had discovered that it is also listed on the dessert menu. (I was simply curious, and not trying to be belligerent.) The answer was actually pretty simple: The Artisan Cheese Plate is one of the few items that is not included in the Dining Plan, because the profit margin for fine cheese is too small and the restaurant would lose money on it. This made sense to me. I then asked him a number of questions about the Dining Plan, the food, the wine, the tea, the dessert menu, what his favorite attractions in the parks were, and on and on. He never once looked or acted like I was taking him away from something more important. Which brings us to the last item on my short list of service criteria: #3 Make the guest feel like he/she is the most important person in the room.
Kyle at Artist Point wins the trifecta of great service! I was so impressed, I asked to see the manager. I never ever ask to see a restaurant manager, unless I've just been to Dining Hell and back, and even then not always. I explained to Kyle that I wanted to compliment his service, and not get him into trouble, so he needn't worry about my request to speak to the manager.
Getting back to the meal, Flo had heard rave reviews about the Artist Point berry cobbler, and ordered that. After looking at the menu and finding out that the only sugar-free item was the omni-present ho-hum vanilla ice cream, I asked if I could have the cobbler…without the cobbler, just the berries? And could I please have the sugar free ice cream in place of the sorbet? And could the chef put some of the cream it's garnished with on the side? (Yes, I knew I was pressing my luck, but it never hurts to ask.) The answer came back from the kitchen: No problem.
The cobbler-without-cobbler was served and it was tasty. Basically, it was fresh berries (not macerated or with anything added,) and sugar free vanilla ice cream, served with tiny bowls of cream and berry sauce on the side. It was exactly what I asked for. The berries were a bit on the tart side, but that was offset by the sweetness of the ice cream. Flo was somewhat disappointed with hers, finding the cobbler a bit dry and the berries too tart. Next time, she vowed to order the caramelized peach cake instead. I said she should, as long as I get to taste a bite or two!
Would there actually be a next time? Most definitely. As I explained to Restaurant Guest Services Manager Curtis Corneal, this was hands-down the best meal that I have experienced on Walt Disney World property in the two and a half or so years since the Dining Plan started that continuing decline of food quality and service. I also explained that it was absolutely the very best service I've ever had in any Disney restaurant in Orlando, Anaheim or Paris. I thanked him and his staff for the perfect evening, and told him I would tell anyone who would listen what a wonderful experience it had been. So, here I am doing just that. Artist Point gets an A+ for food and an A+ for service, and I'm giving it an A+ for decor simply because Craftsman is my favorite style. I can't wait to go back here again!