The following day, we were to meet some friends at the San Angel Inn in the Mexico Pavilion. We paid cash for this meal and did not use the dining plan, but wanted to share my experiences there.
I have to preface this part with an explanation of how we came to be at the San Angel Inn. The simple explanation is that when our friend Mickey made the ADRs, there was nothing left at Epcot except 9 Dragons and San Angel Inn. Neither of these would have been at the top of any of our culinary must-do lists, but we chose San Angel because it's so pretty in there. I had not eaten there in at approximately 10 years, and I was singularly unimpressed then. Since I live in an area of the country where wonderful Mexican food can be readily found on every street corner, Mexican food is not what I tend to seek out when I travel.
We were seated promptly at our ADR time, and we asked for a table by the "river." We were handed the menus, which I couldn't read because it's so darned dark in there! They should provide a small flashlight at every table!
After my eyes adjusted, I decided on the beef Tacos Al Carbon ($13.99) and a frozen lime Margarita ($8.00.) Tacos Al Carbon are basically beef skirt steak that is seasoned and char-grilled and cut up into small pieces, served in tortillas with grilled onions, pico de gallo, sour cream and/or guacamole.
This is a dish that is very common where I live, and it's one of my favorites. At home, the tacos are always served with a generous side of rice and beans, so imagine my surprise when my three (tiny!) tacos arrived looking very lonely on a plate all by themselves. I'm not sure I've ever seen such small tortillas. "Well," I thought to myself, "I just paid $13.99 for three tiny tacos I could buy at home for $1.50 each at a taqueria stand. Lesson well learned."
The Lonely Tacos weren't very tasty, either. They were overcooked and dry, and the hot peppers they were cooked in completely overwhelmed the beef flavor. No amount of sour cream could make them any more moist.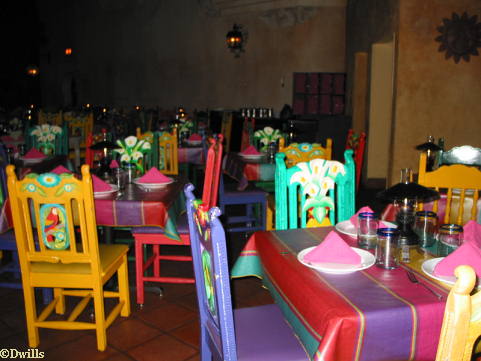 On top of it all, the service was spotty and slow as well, and we had to beg for tea, softdrink and water refills. The check took forever to come, and our server didn't look pleased that we had a Disney Dining Experience card for the 20% discount. All in all, the food was disappointing at best, the service was below par, and the Margarita was the best part of the meal. Next time, I'll skip the restaurant and get a [bigger] Margarita at the stand outside. San Angel Inn gets a C- for food, C- for service, and an A for atmosphere. I may try it again in another 10 years or so…or not.