For those of you wondering where the rest of Friday and all of Saturday's reports are, well, I'll have to fill them in later.
Today I want to tell you about the start of Celebration 25.
If you are just tuning in here are the previous blogs:
Part 1 – Epcot Turns 25
Journey into Imagination – a look back.
Epcot Celebrates 25 Years – a Chat with Adam Roth
This morning registration tables opened bright and early near Epcot's Kennel facility. When I arrived it was 9:40am and other folks were also still checking in. It was a very orderly process and everything went smoothly.
Here are the Roth's checking in an attendee.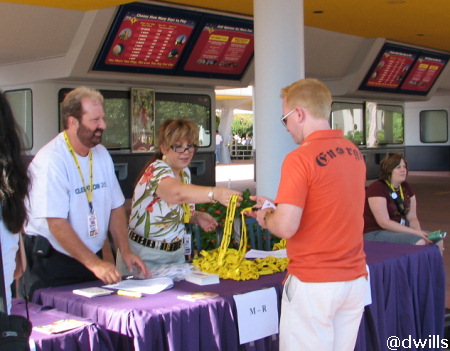 It was at this time I met Adam Roth and Jenn Waitt, the Celebration 25 co-founders as well as other members of this amazing team. Here is a photo of Adam and myself.
Jenn accepts an Appreciation postcard from attendee Chris.

Matt Pezzula, event videographer, interviews a couple in front of Spaceship Earth. The team is capturing attendee memories of their first visit to Epcot.

Today's events were primarily history walks hosted by John Corigliano (Mouse Times). John did an amazing job of keeping his presentations brief and concise. I think everyone attending probably learned some new things about the Future World attractions. John would talk about the original attraction and then how it has evolved into what you see today.
The first history walk began at 11:30 at Test Track. John spoke about the World of Motion pavilion.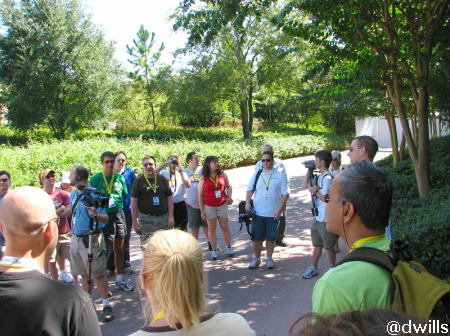 Next we went to Mission Space where John began with a discussion about Horizons.
The final stop in the Future World East tour was at the Universe of Energy.
Adam shares some historical facts as well.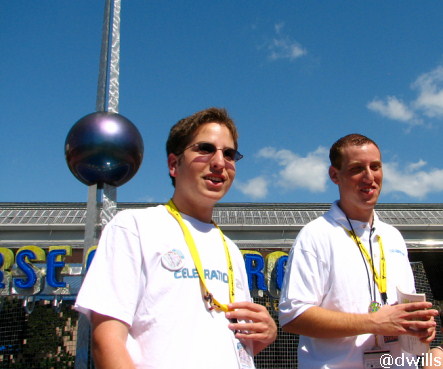 Before breaking for lunch, Jenn, Adam, John and Matt pose for a photo.
Next up…. the Future World West tour and a surprise visitor!