Pet-Friendly Resort Hotels at Walt Disney World
We all know a trip to Walt Disney World can be fun for the whole family, but what if your family includes furry friends you don't want to leave at home? Disney has some ways to say "welcome!" to your pet, and we're breaking them down here.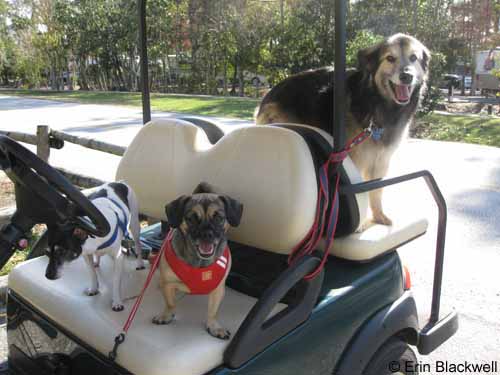 Pet-Friendly Rooms
Walt Disney World has designated four Resorts as "pet-friendly," meaning guests can bring their pets to stay in the hotel room with them. As of February 2021, Walt Disney World policy includes only dogs as allowable pets in these pet-friendly rooms. Not all rooms in these resorts are pet-friendly; Disney states that approximately 250 rooms (or less than 1% of all Disney Resort hotel rooms) are designated as pet-friendly.
Dog-friendly Resorts include: 
Designated pet-friendly rooms may vary with demand. Pet-friendly rooms will have easy access to walkways for exercise and green spaces with designated "pet relief areas."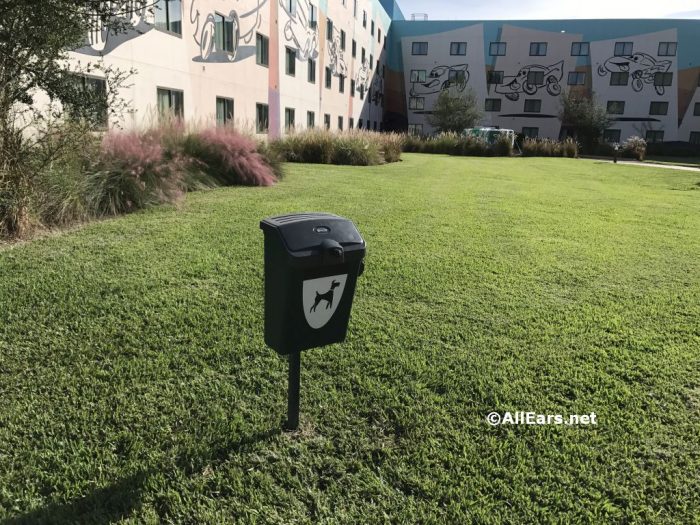 Pet-Friendly Areas and Pet Relief Areas
Pet-Friendly Resorts
The Cabins and Campsites at Fort Wilderness designate all loops as pet-friendly for exercise, while only some Cabins and Campsites themselves are pet-friendly. Fort Wilderness also offers the Waggin' Trails Dog Park.
At the other pet-friendly Resorts, only specified areas are pet-friendly. You can find Pet Relief Areas marked in the My Disney Experience app (look under Guest Services on the drop-down menu) or inquire at the front desk at your Resort.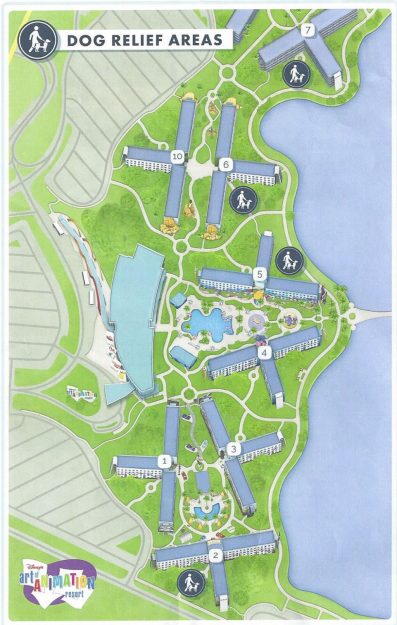 Theme Parks
There are Service Animal Relief Areas in the theme parks of Walt Disney World. Pets are not allowed in the theme parks. If you are traveling with a Service Animal, you can find these in-Park Relief Areas on the MDE app as well.
Pet-Friendly Resort Fees
Art of Animation
Pet-friendly rooms have a $50 per night pet-cleaning rate.
Fort Wilderness Cabins
Pet-friendly Cabins have a $50 per night pet-cleaning rate.
Fort Wilderness Campsites
Pet-friendly loops can be requested for an additional $5 per night.
Port Orleans — Riverside
Pet-friendly rooms have a $50 per night pet-cleaning rate.
Yacht Club
Pet-friendly rooms have a $75 per night pet-cleaning rate.
Doggy Day Camp
If you will be at the Parks all day, and you don't want your furry best friend to be cooped up from rope drop to the Kiss Goodnight, you can reserve space in Doggy Day Camp, provided at Best Friends Pet Care.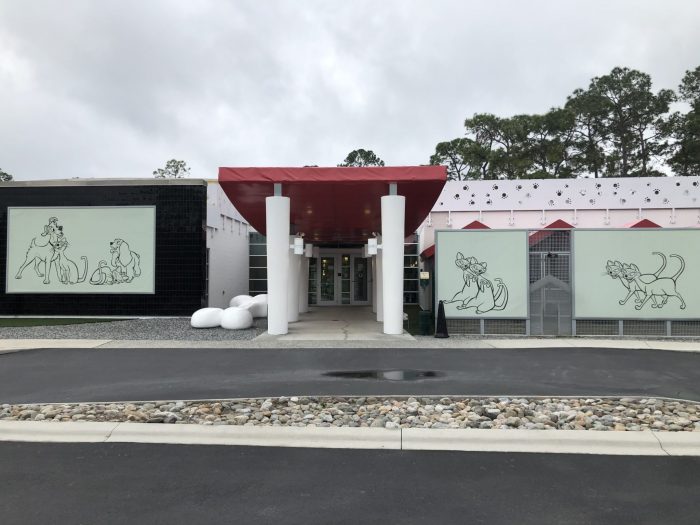 Best Friends Pet Care is a third-party-operated pet center onsite at Disney World that offers overnight accommodations as well as Doggy Day Camp. Doggy Day Camp costs from $26.50 per day to $30 per day, depending on the number of days you reserve the service. Learn more about Best Friends Pet Care here.
Pet-Friendly Resort Details
Dog-friendly rooms have a limit of two dogs per guest room.
Dogs must be up-to-date on vaccines.
Dogs must be leashed in public areas.
Dogs are expected to be well-behaved and silent when left alone during the day.
Dogs who are not quiet during the day may prompt a call to their owners, who will have just 30 minutes to return to their rooms to see to the dogs' needs.
Dogs (and their owner(s)) receive Pluto's Welcome Kit upon arrival.

Pluto's Welcome Kit typically includes a pet ID tag, a mat, bowls, plastic potty bags, pet pads, a Do Not Disturb door hanger with a picture of Pluto on it, and a dog walking map.

Guests will need to sign a Pet Agreement to confirm that they understand the rules for their puppy pal.
Mousekeeping will not service guest rooms unless human guests are in the room with their dog(s). Guests will need to dial Housekeeping from their in-room phones to request services.
Dogs are not to be left alone in excess of seven hours.
Only licensed service animals are permitted in Food & Beverage areas, Club Lounges, pool areas, fitness centers, and other public guest areas.
Dogs are not permitted at Disney Springs or in Disney theme parks; only licensed service animals are permitted in these areas.