Pet-Friendly Hotels at Walt Disney World Resort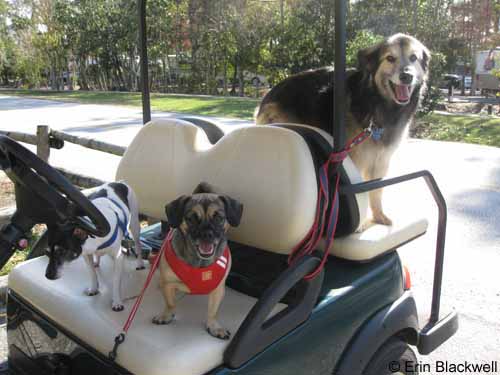 Pet-Friendly Rooms – As of October 15, 2017 Walt Disney World has made four hotels "pet-friendly," that is, guests can bring their pets to stay in the hotel room with them. This is an ongoing pilot program that may end at any time without notice.
The Official Disney Pet Friendly Hotel FAQ states: "Certain floors or sections of a hotel will be designated as dog-friendly, while the majority of areas will remain canine-free to accommodate Guests with allergies or other concerns. While there are no in-room services available at this time, Best Friends Pet Care does provide services like doggie day care at its nearby facility on Disney property if our human Guests are enjoying our parks for long periods of time."
The pet-friendly hotels are:
— Yacht Club – Designated floor and section of the hall for pets. Will change as pet-friendly room requests increase/decrease.
— Port Orleans Riverside – Designated section for pets. Will change as pet-friendly room requests increase/decrease.
— Fort Wilderness Resort and Campground – all loops are pet-friendly; only some cabins are.
— Art of Animation – Designated pet friendly-buildings are #2 (Cars), #5 (Finding Nemo), and #7 (Little Mermaid). Photos below from behind Building 2 Cars.
The following points apply to pet-friendly Disney hotel rooms:
There is a per night/per room pet-cleaning rate, as follows:– $75/night at Disney's Yacht Club
— $50/night at Fort Wilderness
— $50/night at Port Orleans Riverside
— $50/night at Art of Animation
A maximum of two dogs per guest room can be accommodated. Each guest room will have easy access to outdoor pet walkways for exercise and green spaces with pet relief areas. (Cats are not permitted.)
At check-in, you will receive Pluto's Welcome Kit, which includes mat, bowls, a pet ID tag, courtesy plastic disposable bags, puppy pads and dog-walking maps. Also included: a Pluto "Do Not Disturb" door hanger to indicate to hotel staff that a pet is in the room. Guests with pets will also need to sign a "Pet Agreement" document.
If you have a pet in your hotel room, note that housekeeping will only be provided when you are in the room. Dial Housekeeping on your in-room phone to schedule housekeeping services at your convenience.
While dogs will be allowed to stay in guest rooms, they will be expected to be well-behaved, leashed in public resort areas and properly vaccinated. Dogs are not permitted on furniture in public areas.
Dogs must remain silent when left unattended in your room. If noise is heard you will be contacted and will have 30 minutes to address the issue.
Dogs should not be left unattended in your room for more than seven hours.
Disney enjoys a partnership with Best Friends Pet Care, an on-property full-service facility that can provide assistance with pet daycare and other pet services (fees apply).
Guests with dogs are permitted to use SOME Disney resort transportation, including Magical Express and Minnie Vans. Dogs must remain in pet carriers for the duration of the transit. All other transportation, such as monorails and Friendship boats, are available to guests with service animals only.
Only licensed service animals are permitted in Food & Beverage areas, Club Lounges, pool areas, fitness centers and other public guest areas.
Dogs are not permitted at Disney Springs or in Disney theme parks; only licensed service animals are permitted in these areas.
For more information about the new dog-friendly trial program, including other restrictions and policies, contact 407-W-DISNEY. DVC Members should contact Member Services at 800-800-9800.