Live Entertainment at Animal Kingdom
Animal Kingdom has a variety of live performers who entertain periodically throughout the day at various locations. Not all entertainment is offered every day so be sure to check the park Times Guides for details!
Wilderness Explorers! The Wilderness Explorers program that encourages kids to learn about specific areas of their world by earning merit badges, similarly to how the group functions in the movie UP! Materials are geared toward kids ages 7 to 10.
You won't want to miss performance artist DiVine, the living walking greenery. You can find her in the Oasis area of the park. But be sure to look carefully or you will walk right past her.
Discovery Island hosts the Winged Encounters animal experience. It happens several times a day in front of the Tree of Life.
Discovery Island also hosts several musical groups, Viva Gaia Street Band, Sunset Serenatas, and Discovery Island Carnivale.
Discovery Island Carnivale – Dancers, stilt walkers and musicians.
Viva Gala Street Band – Multi-cultural troupe leading a Caribbean street party.
Africa hosts the Tam Tam Drummers of Harabe, Kora Tinga Tinga, The Karibu Sisters, Burudika, and the Wildlife Parti.
Burudika is Swahili for "to be refreshed". Join the Street Party to the drums and sounds of the band. Dancers also get guests involved.
Tam Tam Drummers – this lively group pays the congos as everyone dances along.
Pandora – The World of Avatar hosts the Swotu Waya Na'Vi Drum Ceremony with unique sounds and rhythms beating the "sacred place of song".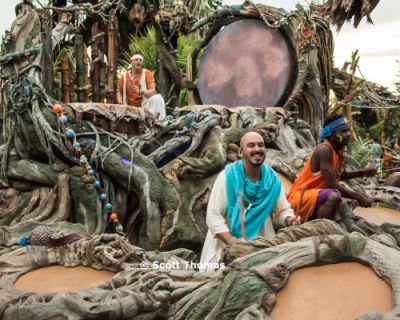 Asia — Chakranadi – theh simmering sounds of traditional Indian music via sitar and tabla.
If you have comments or tips to share with others about touring Animal Kingdom, please email us. Thank you.