AFRICA Overview Animal Kingdom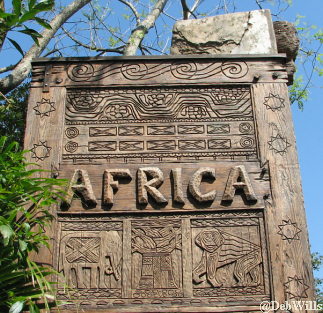 Walk across the bridge from Discovery Island into the village of Harambe in Africa. As you walk towards the Kilimanjaro Safari you see in front of you the 40 foot baobob tree (the traditional icon of the African savannah). Harambe was inspired by Lamu in Kenya but there are no exact replication of streets or buildings.
**********
ATTRACTIONS
Kilimanjaro Safari – Ride into the African Savannah and find animals all around you on this marque must see attraction!

Pangani Forest Exploration Trail – walk at your own pace and explore naked mole rats, okapi, meercats, gorillas and more.
Rafiki's Planet Watch – take a train ride to Conservation Station focused on the environment, conservation and animal well-being.
PLACES TO EAT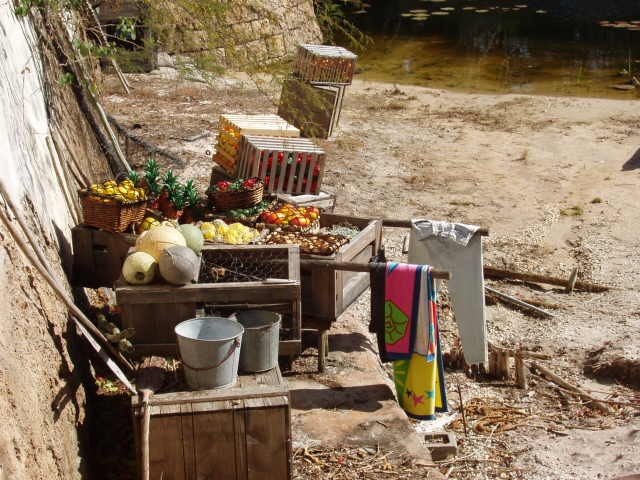 Tusker House – breakfast, lunch and dinner. Breakfast is a buffet character meal with Donald, Daisy, Mickey and Goofy. Lunch and dinner are served buffet style, featuring regular buffet fare with a few African-inspired dishes in the selection.
Dawa Bar – adult beverages – outdoor seating – tends to get crowded with folks waiting to get into Tusker House (especially for the Character Breakfast).
Harambe Fruit Market
Kusafiri Coffee & Bakery – coffee and bakery items offered from an outside window just past the Tusker House entrance.
Tamu Tamu – ice cream, smoothies and sodas. Along side of Tamu Tamu is a nice shaded area with tables…good place to relax and have a cool drink.
PLACES TO SHOP
Mombasa Marketplace/Ziwani Traders – Safari clothing, African Gifts, unique items here.
Daka La Filimu – your last stop for film and batteries before boarding Kilimanjaro Safaris
INTERESTING FACT
The roofs in the Village of Harambe were thatched by people from Zululand in South Africa.