Are you ready to spend some time in the warm, Florida sunshine?!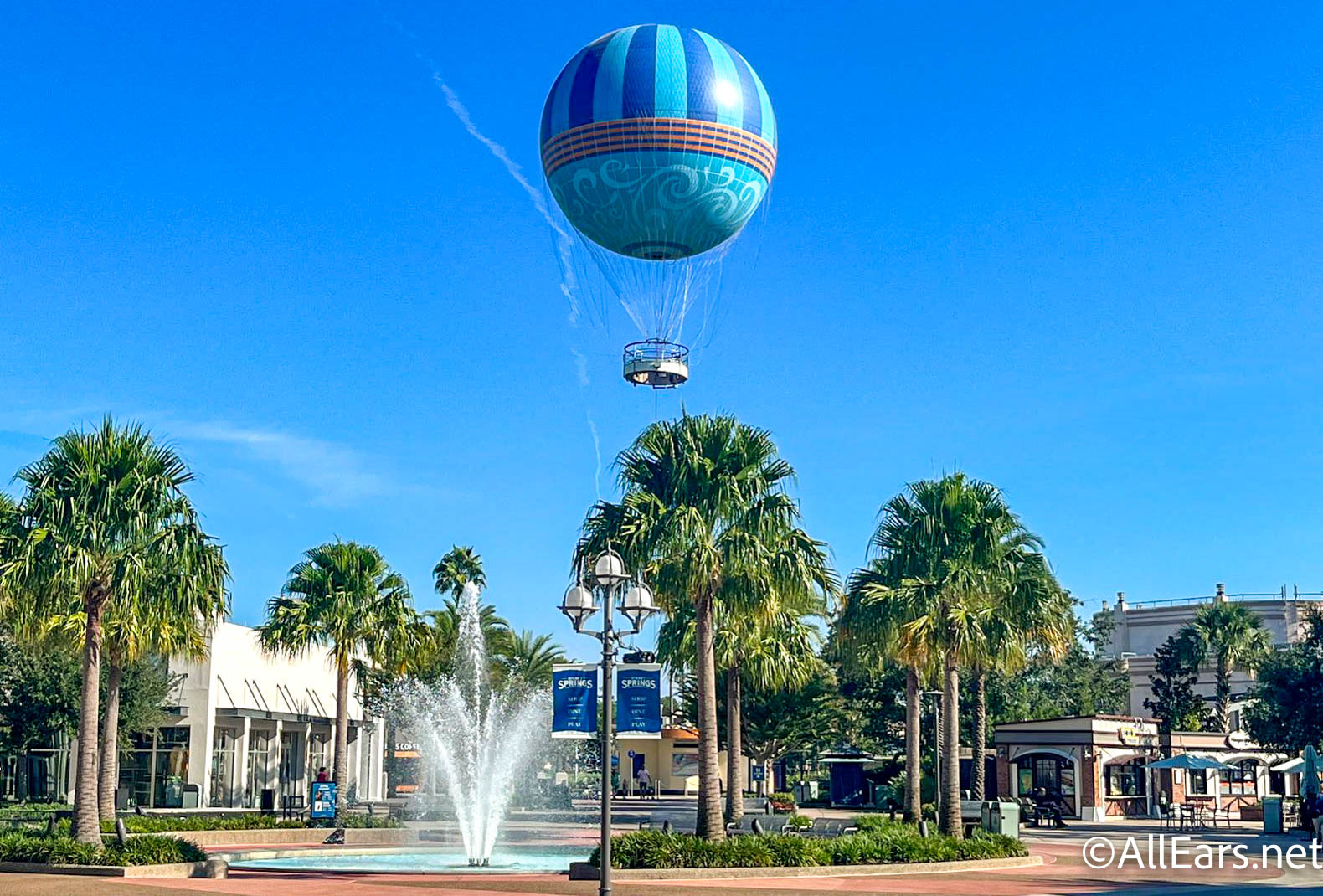 You're on your way to Orlando! But whether you're looking to do more than just visit the Disney parks, or if that's you're ENTIRE plan, but you're looking to save some money, we've compiled the best resorts in Orlando that provide a shuttle to the Disney parks. Because it's vacation, after all, time to take it easy and find fewer things to worry about, like navigating theme park parking lots and traffic.
Disney World has over 40 Good Neighbor Hotels, which are hotels that Disney has reviewed and "hand-picked" as options that offer guests value, convenience, and meet Disney's service standards. These resorts are permitted to partner with Disney to allow guests staying there to experience some of the "perks" that Disney Resort hotels experience, like Extra Morning Hours. One of the "convenience" metrics is that most of these resorts provide transportation to the Disney parks (though some do charge a fee).
We've dug through the Good Neighbor Resorts, and a few other bonus ones, to help you know which are the BEST resorts in the Disney area that provides free shuttles to the Disney parks. Now, shuttle frequency may vary from hotel to hotel, so be sure to check with your resort before you book, so you have a full understanding of what you can expect during your stay.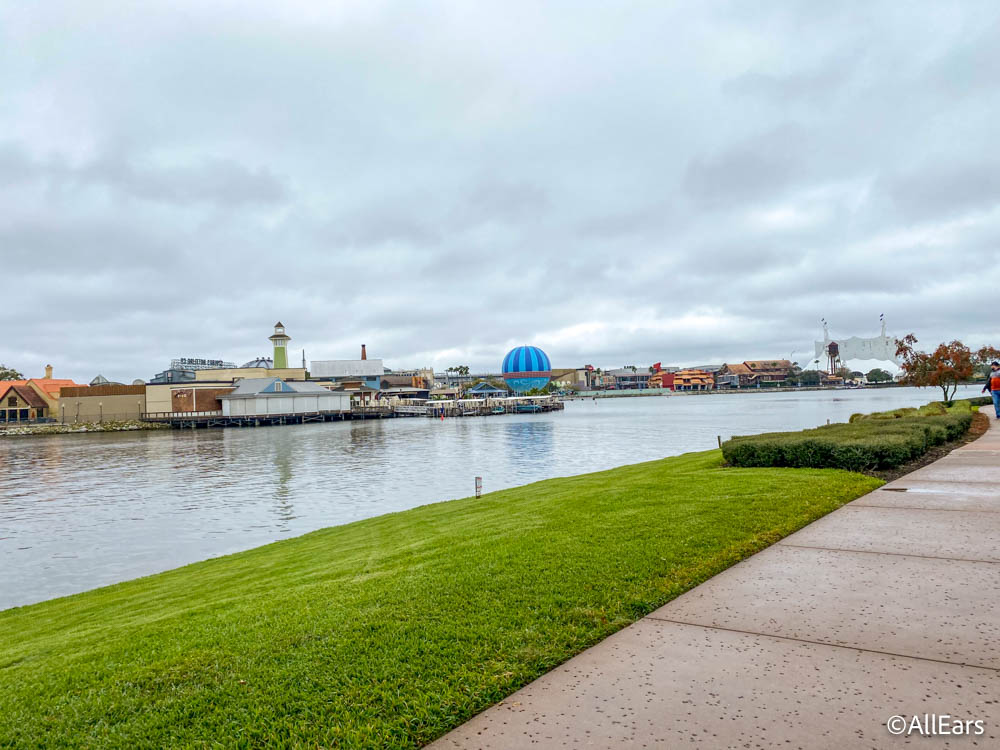 To help you find the BEST one, we're using Google for this, which bases reviews out of 5 stars. Let's get to it!
B Resort & Spa
The B Resort & Spa Lake Buena Vista is located near Disney Springs, and is considered a "boutique hotel experience" that blends sophisticated theming with family-friendly fun. It seems as though B Resort guests agree, as it received 3.6 out of 5 stars.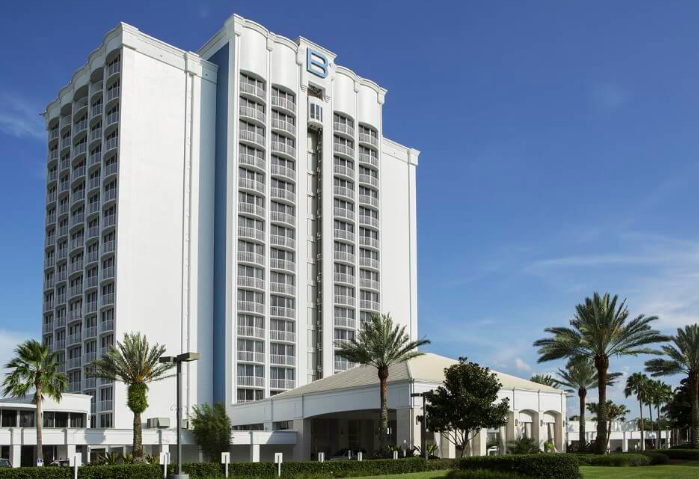 Rooms start at $127 per night, and you can take advantage of Early Theme Park entry and free transportation to the parks, or enjoy watching the fireworks from your room's window!
Caribe Royale Orlando
Popular among convention attendees, this resort provides business options but with some tropical vibes of vacation.
If you can pull yourself away from the pool, you'll find lots of amenities to enjoy and spacious rooms. Caribe Royal Orlando ranked 4.5 out of 5 among guests.
DoubleTree Suites by Hilton Hotel Lake Buena Vista
Starting at $109 per night, the DoubleTree Suites are a great option for those traveling in a larger group. There are one and two bedroom suites available — this is the only "all suite" hotel in the Disney Springs area.
Just like the other hotels on this list, the DoubleTree features Early Theme Park Entry and free shuttles to the parks — though you do need to reserve a spot! Guests rated this hotel a 4.1 out of 5.
Drury Plaza Hotel Orlando
One of the newest hotels to join the Disney Springs area opened in October 2022.  Who doesn't love a shiny, new hotel?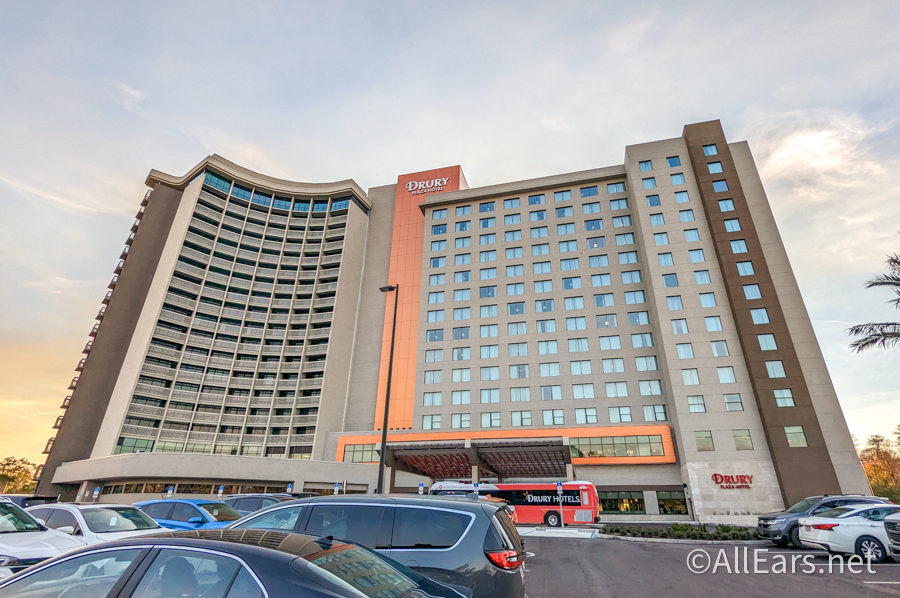 The second floor features a common area, and it will be a place that you'll want to visit! They will serve a FREE hot breakfast buffet here daily, along with FREE evening hot food and cold beverages starting at 5:30PM. Though new, its rating is 3.9 out of 5 stars.
Four Seasons Resort Walt Disney World Orlando
The Four Seasons has a reputation for luxury and posh resorts, and the reviews from its guests maintain that reputation.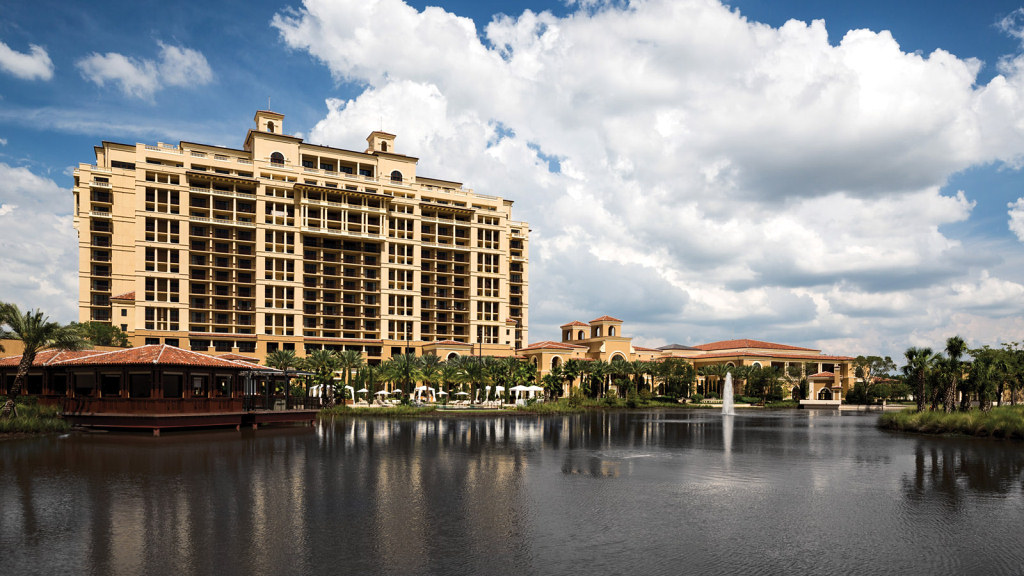 With 4.8 out of 5 stars, you'll be in the for the stay of a lifetime. But be sure to prepare your budget for this stay, because it's far from the Holiday Inn (which is nice but not really considered posh).
Gaylord Palms Resort
The Gaylord Palms is also racking the higher reviews with 4.4 out of 5 stars. This resort can be a destination on its own with its theming, activities, and dining.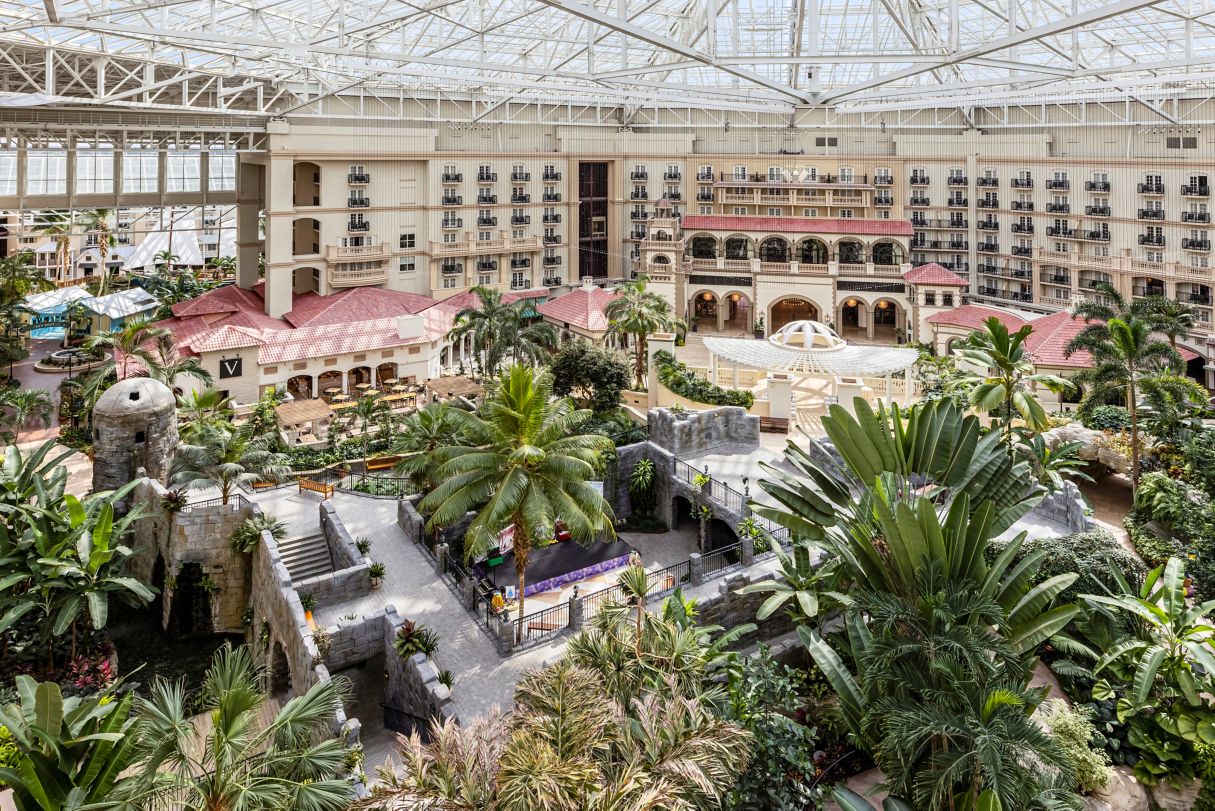 It's also super popular around Christmas time with its ICE activities and opportunities to meet Santa and decorate cookies with Mrs. Claus. So, if you need a break from the parks, you won't be bored at the Gaylord (ha! gotta love a rhyme!). Though it's not considered a "Good Neighbor Hotel" it's still a very nice option.
Hilton Orlando Buena Vista Palace Resort
One of the hotels on this list features a huge, "Float Lagoon" pool, complete with a splash pad for the kiddos! The Hilton Orlando Buena Vista Palace boasts a 4 out of 5 stars, and is within walking distance to Disney Springs.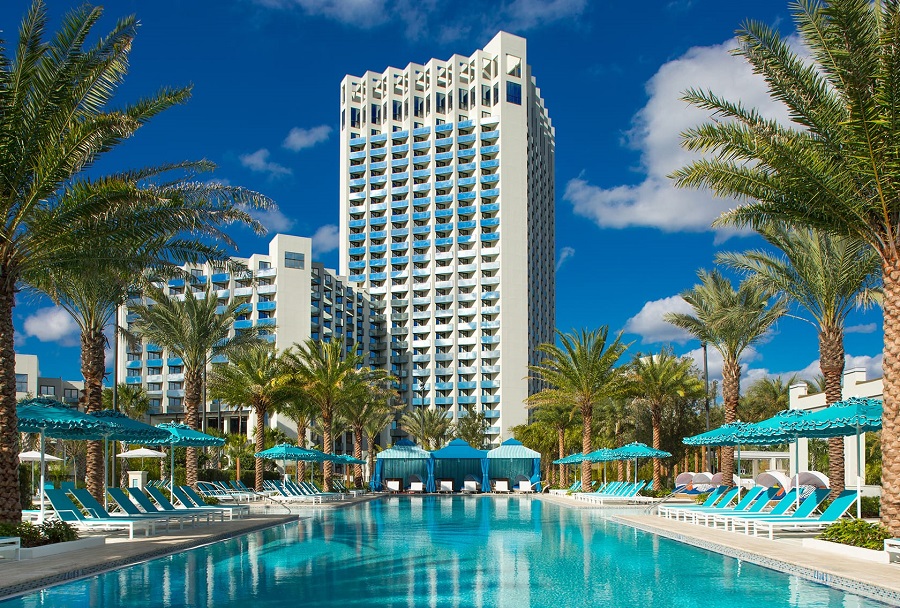 You'll also find three onsite restaurants, three heated pools, a lazy river, free shuttle service to the Disney parks, and exclusive tee times at Disney golf courses.
Hilton Orlando Lake Buena Vista
You can probably tell from the photo just how close this hotel is to Disney Springs, but the Hilton Orlando Lake Buena Vista takes the crown as the closest Good Neighbor Hotel to Disney Springs.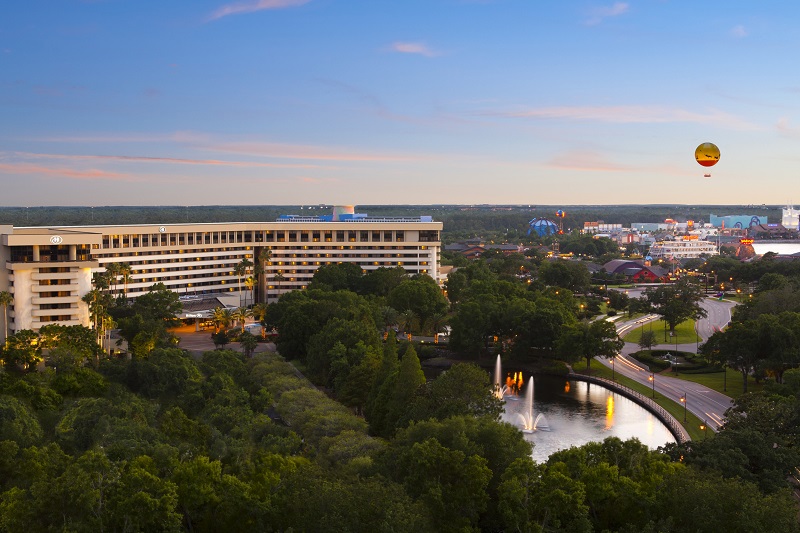 Enjoy transportation to the Disney parks, plus heated pools and Early Theme Park Entry! The close proximity to Disney Springs is what garners a 4.2 out of 5 rating from guests.
Holiday Inn Orlando
As Pitbull would say, "We at the hotel, motel, Holiday Inn" and in this case, he's right. The Holiday Inn Orlando is a popular choice for many guests looking to stay outside of the Disney bubble, as they've rated it 4.4 out of 5.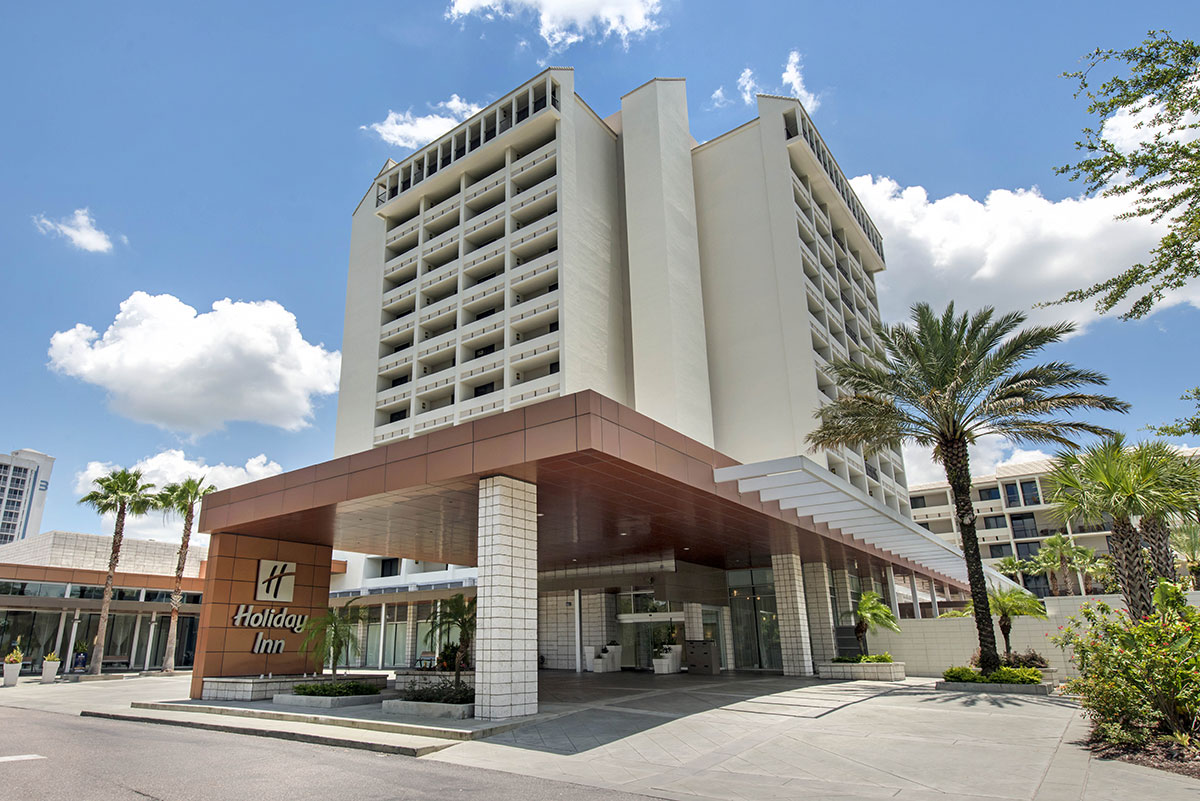 Hourly shuttles will take you to the Disney parks, but you will need to reserve a spot in advance. If you're heading to Disney Springs, though, you can walk there from this hotel — or take advantage of the swimming pool, hot tub, and Early Theme Park Entry.
Hyatt Place Orlando Lake Buena Vista
If you're ballin' on a budget, the Hyatt Place could fit the bill (literally). Nights start off around $115.
With 4.2 out of 5 stars, based on guest reviews, the common thread was that it was clean, reasonably priced, and conveniently located near many popular restaurants within walking distance.
JW Marriott Orlando, Grande Lakes
JW Marriott is the upper echelon of the Marriott brand of hotels, so you know when you're staying here, you're gonna pay a pretty penny, but you'll have a top-tier experience. And when you compare it's typical $325 or so a night to the prices of a Disney resort, it's a little easier to swallow.
And most guests agree, ranking this JW Marriott establishment at 4.6 out of 5 stars. Plus, you can put those Marriott reward points to good use.
Hyatt Regency Grand Cypress Disney Area Orlando
The Hyatt Regency comes in with the same ranking as the JW Marriott, with 4.6 out of 5 stars, but it's a little more than $100 cheaper per night.
It's got a loyal fan base, and is also a popular destination for convention attendees, which some guests say impacts the "vacation charm" of their stay, but overall still keep coming back year after year.
Sheraton Lake Buena Vista Resort Orlando
You may be able to stay here for less than $100 a night, and that's quite a bargain these days!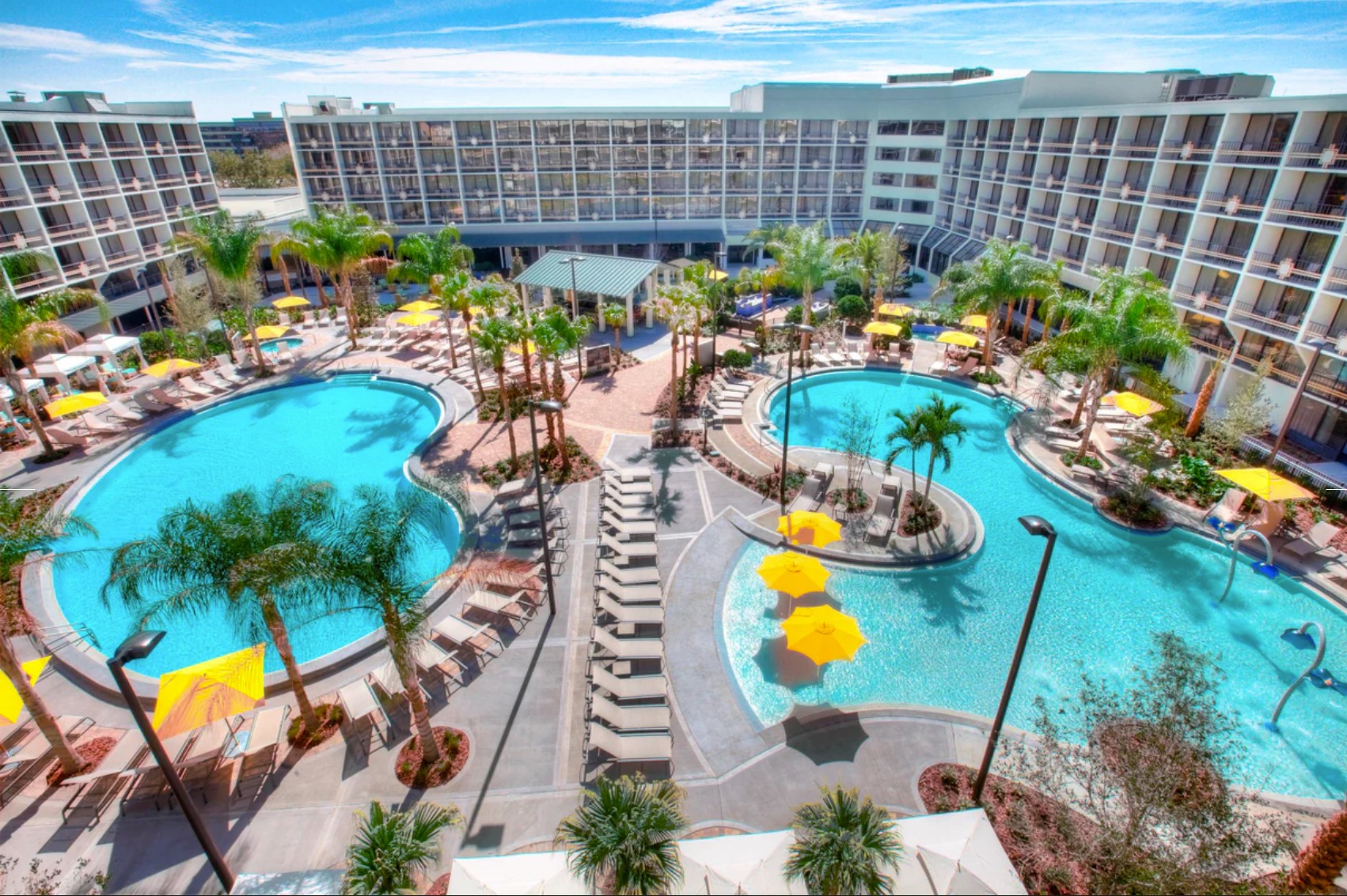 The reviews bring it in at 3.9 out of 5 stars, mostly commenting on some of the dated furnishings and comments about using artificial fragrance to cover up other aged smells. But overall, guests find it clean and comfortable. And for $100 a night, that's not a bad review!
Signia by Hilton Orlando Bonnet Creek Resort Orlando
Signia by Hilton Bonnet Creek Hotel is a recently renovated hotel located close to all the action but far enough away that you can take a breather.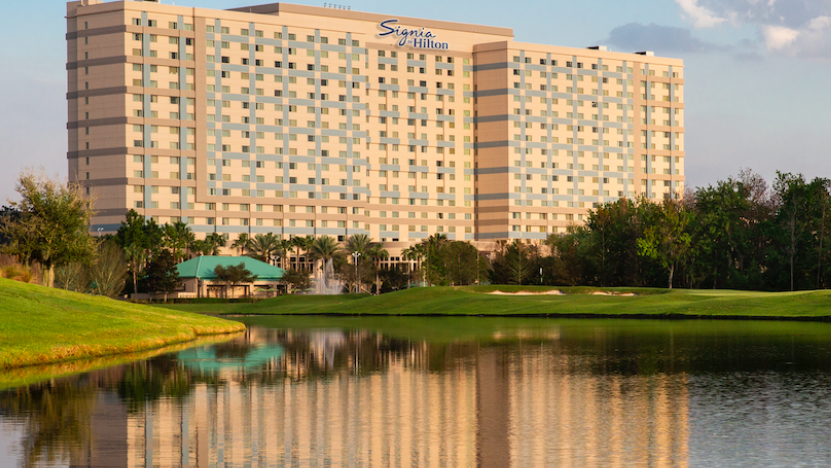 Boasting 4.5 out of 5 stars, this hotel offers free park transportation plus Early Theme Park Entry as well. Not only that, but guests can take advantage of highly-rated dining experiences, pools, and recreation as well.
Wyndham Garden Lake Buena Vista
This Good Neighbor Hotel is a place where you might find a deal for less than $100 per night! Special rates start at $76 at the Wyndham Garden Lake Buena Vista.
These rooms were recently renovated, plus you can check out the Oasis Aquatic Pool and FREE transportation to Disney World. Guests rated this hotel 3.9 out of 5 stars.
Wyndham Lake Buena Vista
Want to still get that Deluxe Resort feel while staying off property? The Wyndham Grand Orlando Bonnet Creek might be the hotel for you! It's located conveniently nearby the parks and features all sorts of luxurious amenities.
World-class dining, five pools, nine hot tubs, two lazy rivers, and two splash pads are just some of the reasons guests rate this resort 4.5 out of 5 stars.
As we mentioned, there are over 40 Good Neighbor Hotels, almost 500 hotels in the Orlando area, and even more vacation home and AirBnB rentals. So, you're sure to find the perfect one for your stay. But these are some of the top ones with FREE transportation to the Disney parks!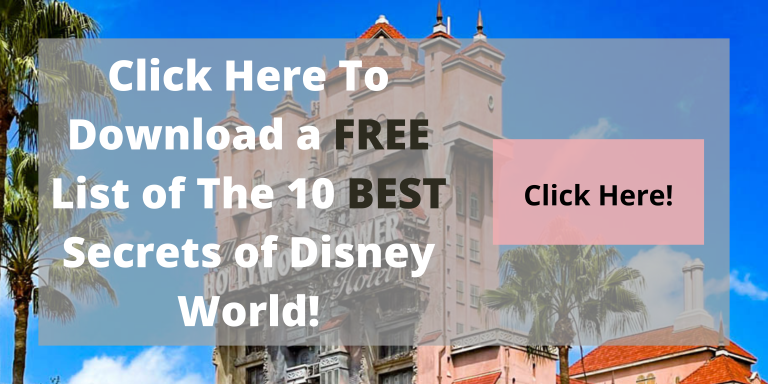 Have you stayed at any of these resorts? Which is your favorite? Let us know in the comments!