We've taken you on lots of tours of Disney World hotel rooms — from Disney's Grand Floridian Resort to Disney's Polynesian Village Resort, Disney's Art of Animation Resort to Disney's Port Orleans – French Quarter Resort. But have you ever seen inside the rooms at the DISNEYLAND Hotel?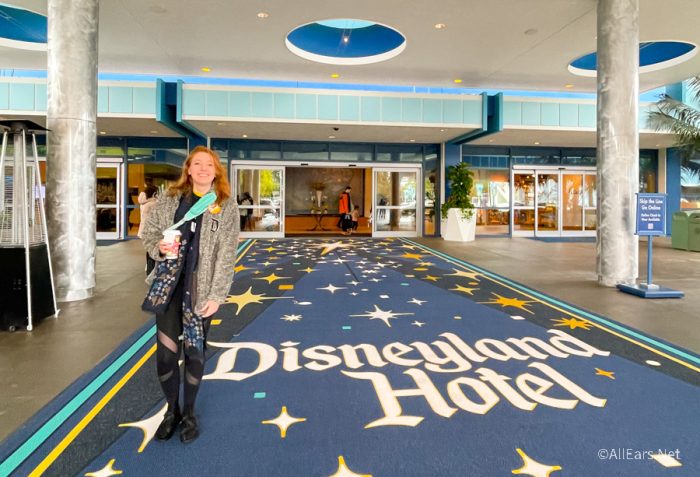 Quincy and Emma recently conquered all six U.S. Disney theme parks in ONE day, and to rest from their extreme day of park hopping, they stayed at Disneyland Hotel — one of three hotels on property. Come along with us to explore the rooms and find out if you should stay here during your next Disneyland trip.
The Disneyland Hotel is the mid-level hotel at this resort. If you're looking for a little more luxury (and are OK with a higher price tag), there's Disney's Grand Californian Hotel & Spa, and if you want a more affordable option, there's Disney's Paradise Pier Hotel (soon to be Pixar Place Hotel). Disneyland Hotel sits right about in the middle.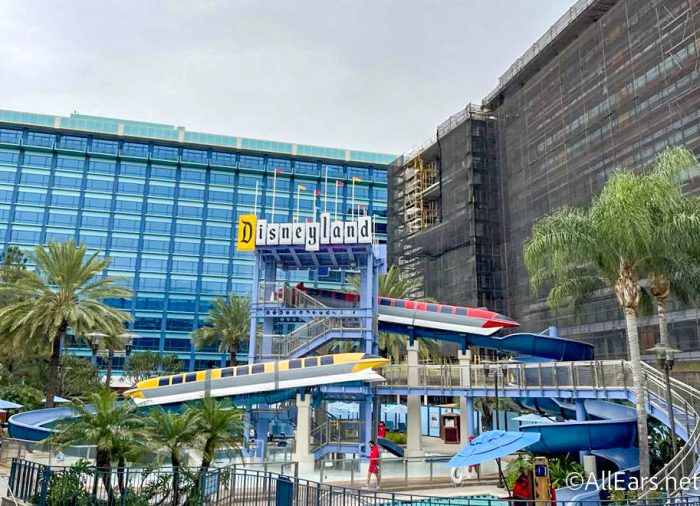 Disneyland Hotel is within walking distance of Disneyland, Disney California Adventure, and Downtown Disney (if you're used to the sprawling Walt Disney World, the walkability of Disneyland would ASTOUND you).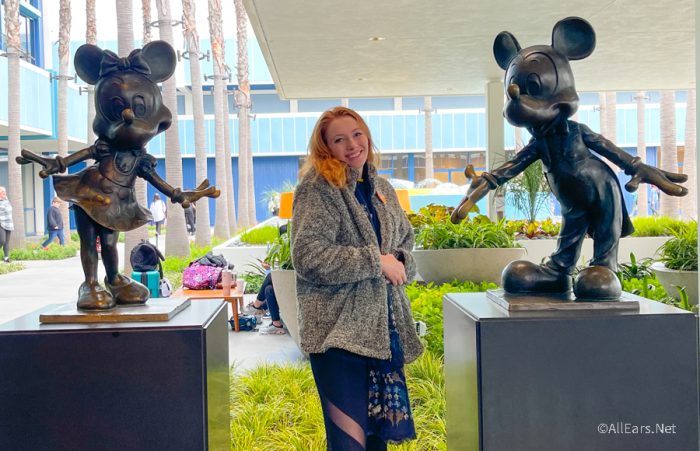 There are several restaurants at this hotel, including the fan-favorite Trader Sam's Enchanted Tiki Bar. Other options for dining include Tangaroa Terrace Tropical Bar & Grill and Goofy's Kitchen.
There are lots of amenities at this hotel, including a pool with two Monorail-themed slides and a gym with weights, exercise balls, ellipticals, treadmills, and more.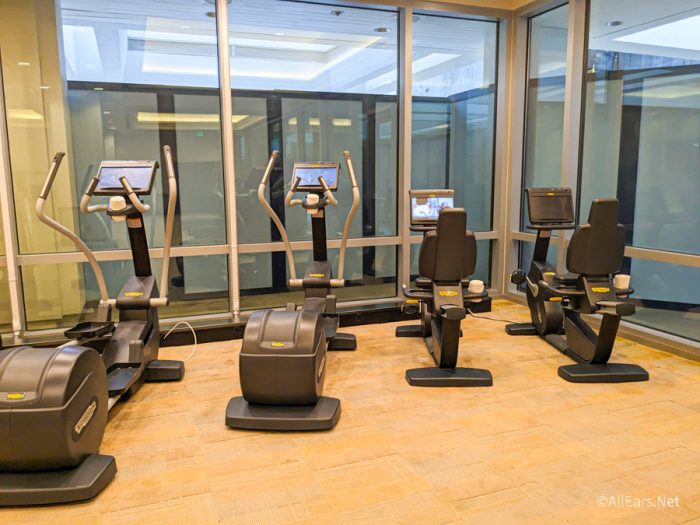 Now that you know a bit more about the hotel, let's go into one of the rooms!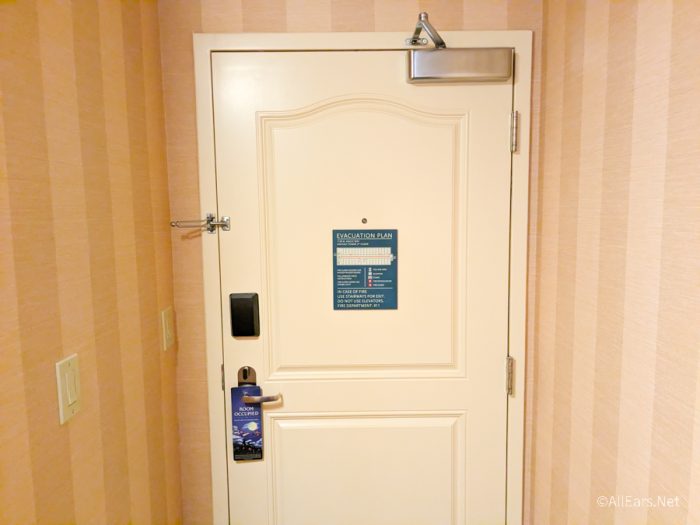 The door is fairly standard, with a latch lock…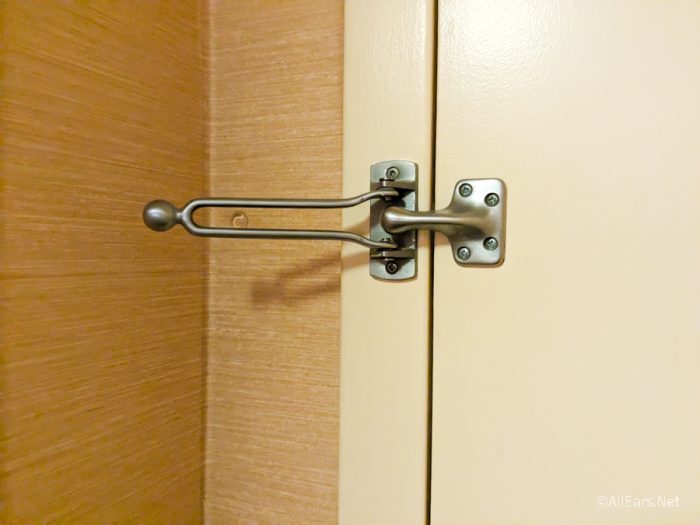 …and "Room Occupied" signs.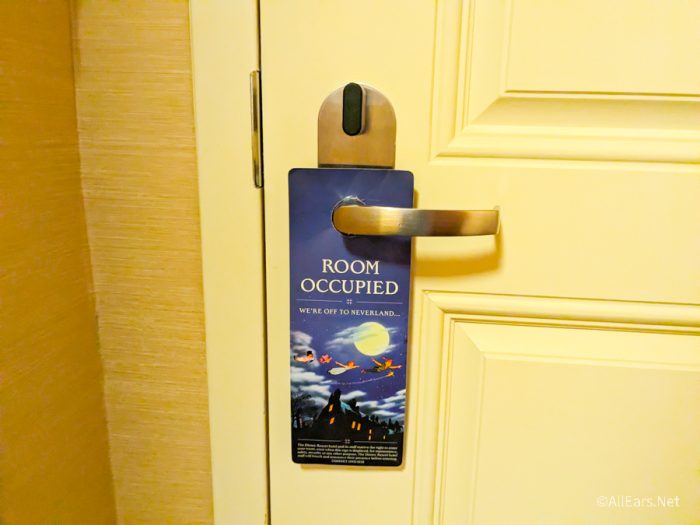 When you enter the room, there's a short hallway that leads into the main room, with the bathroom off to one side.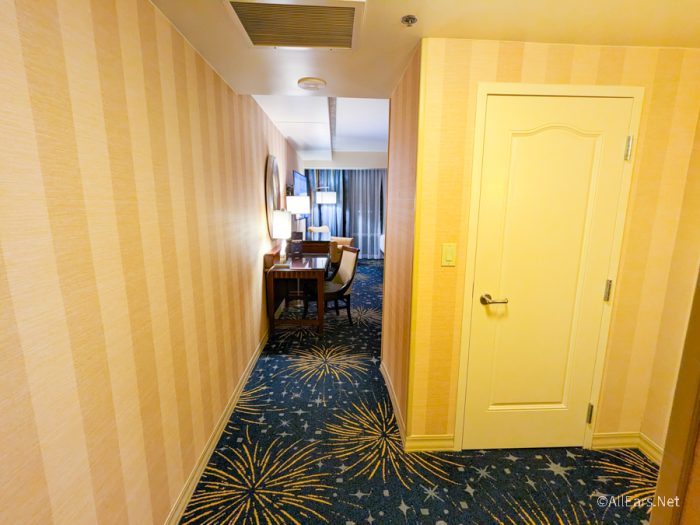 Heading into the bathroom, there's a shower/tub combo and vanity in one room, with a separate water closet for the toilet.
Take a really close look at the sink for the first of MANY hidden Mickeys in this hotel room. Do you see it yet?
Here's an even closer look! The faucet handles have little Mickeys on the end!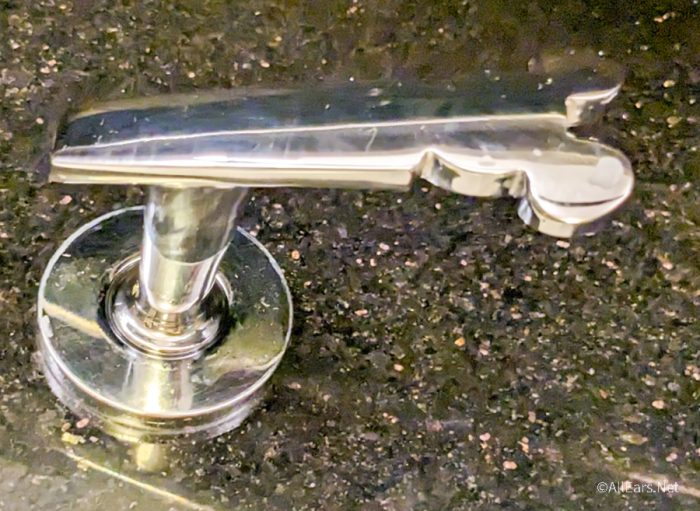 There are Disney's classic H2O products available, including shampoo, conditioner, body wash, lotion, and soap.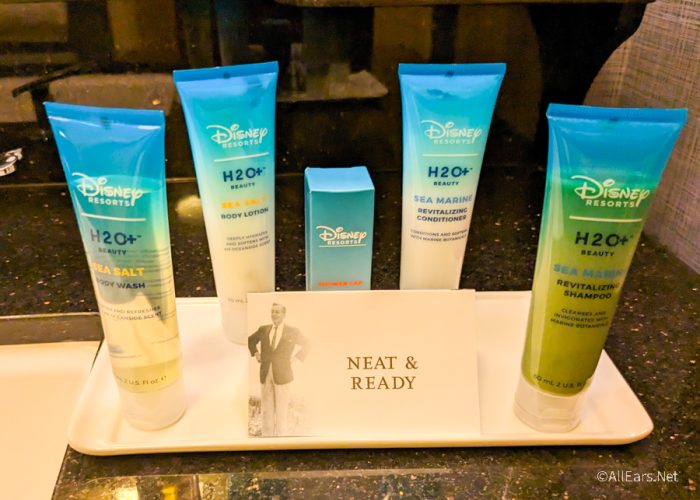 The vanity area has a hanging hand towel and an extendable makeup mirror as well.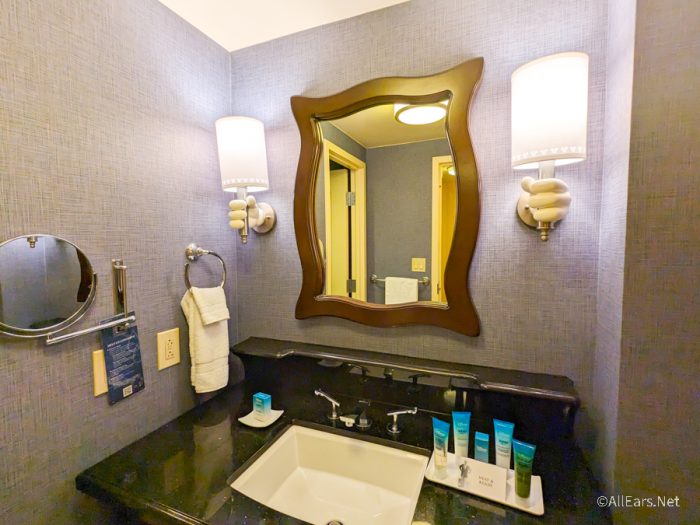 And did you see those sconces? Mickey himself is holding them up! The little details are on point in this hotel.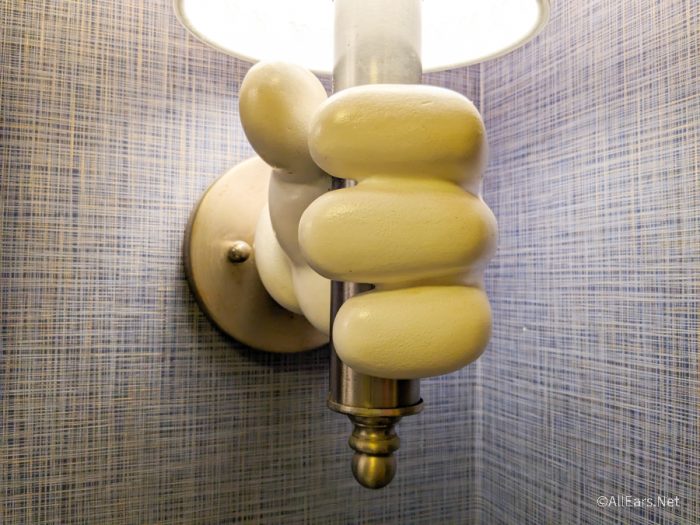 Underneath the sink, there are extra towels and toilet paper along with a hair dryer.
If you like to relax and unwind after a busy day in the parks, you'll be delighted to hear that the shower doubles as a tub — a luxury that's not necessarily guaranteed at most hotels.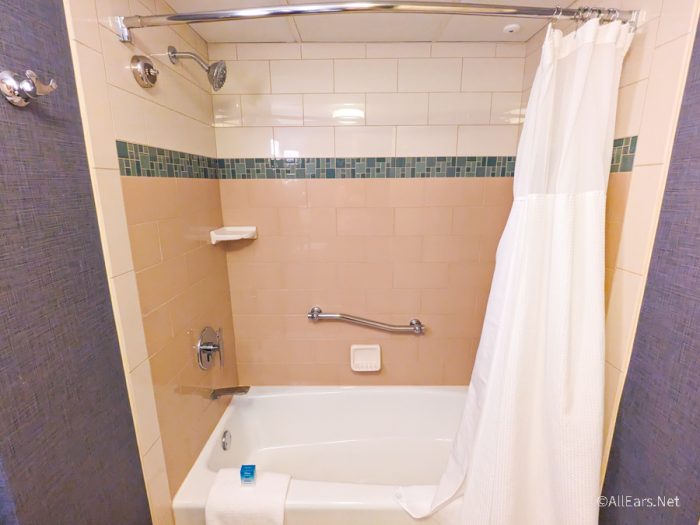 Are you ready for the THIRD Mickey detail in this bathroom? Look closely at those teal tiles and see if you can make out the subtle Mickey outlines.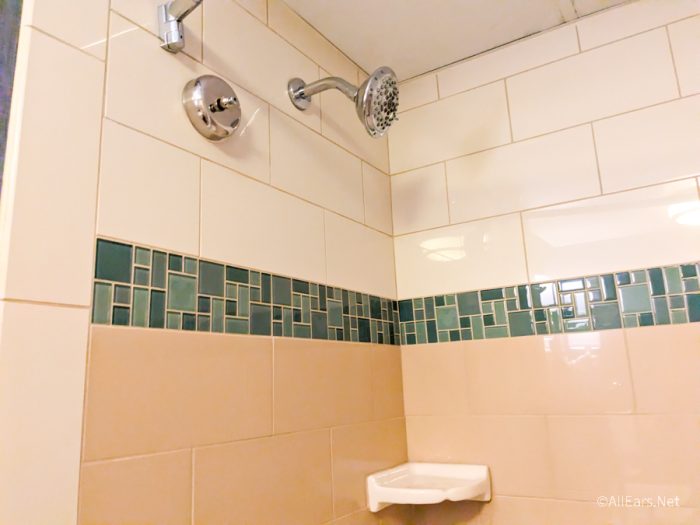 And look down at the shower handle to see that it has the same Mickey shape as the sink faucet.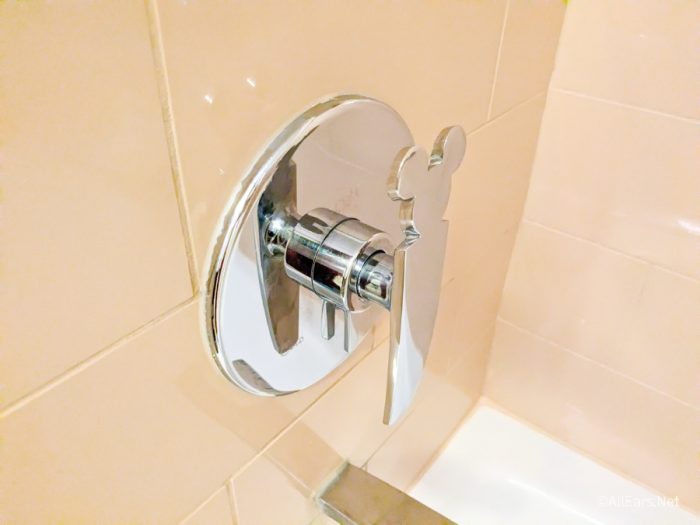 The tub is a decent size — not huge, but about your standard tub.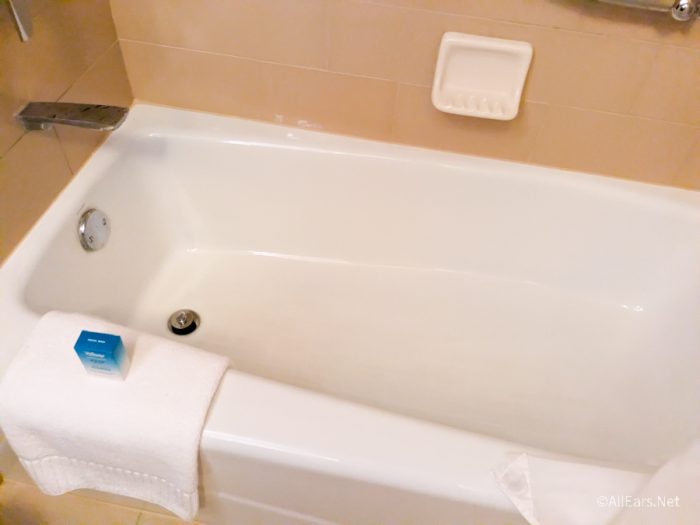 The water closet just holds the toilet. Not much to say about this part of the room, but it's definitely important to mention.
Heading outside of the bathroom, you'll find a morning bar that's stocked with all the essentials: a Keurig coffee machine…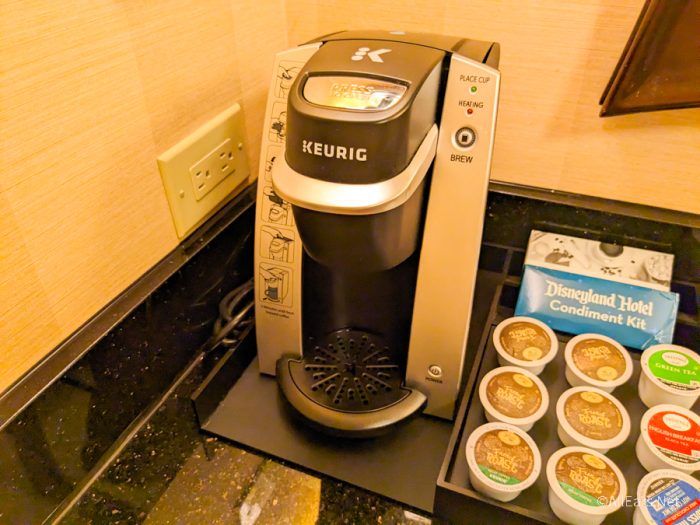 …along with various coffee flavors and cups.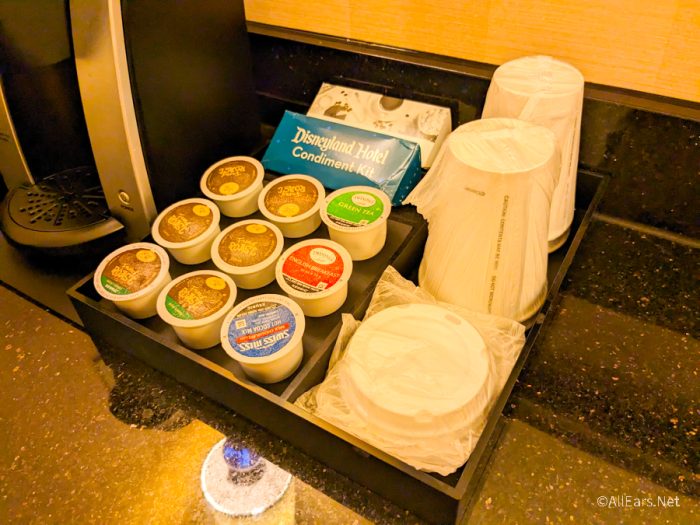 There's also a closet with an extra pillow and blanket…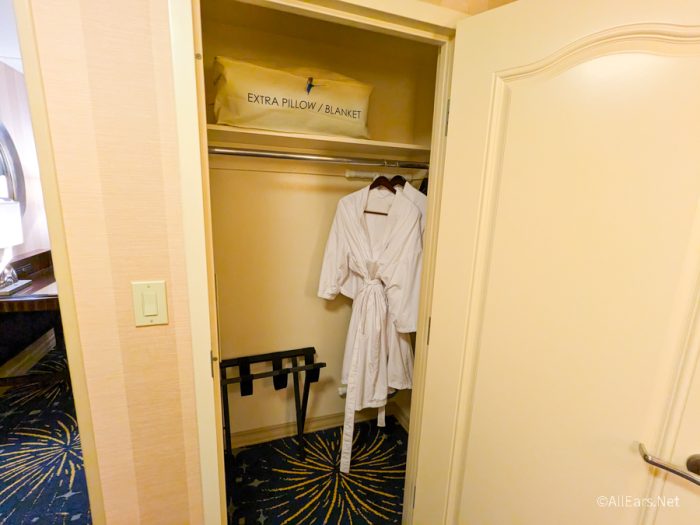 …Disneyland Hotel bath robes…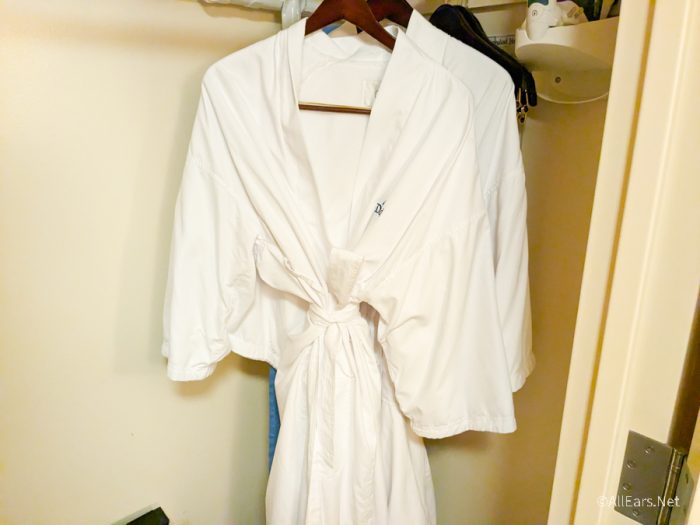 …a suitcase stand…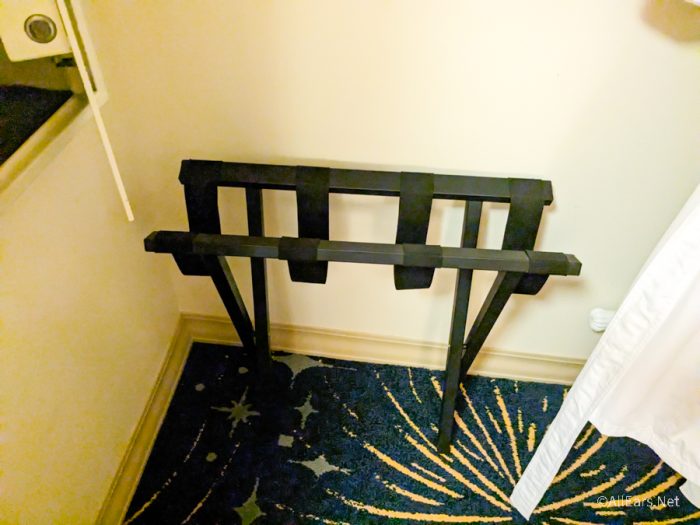 …a safe…
…and an iron.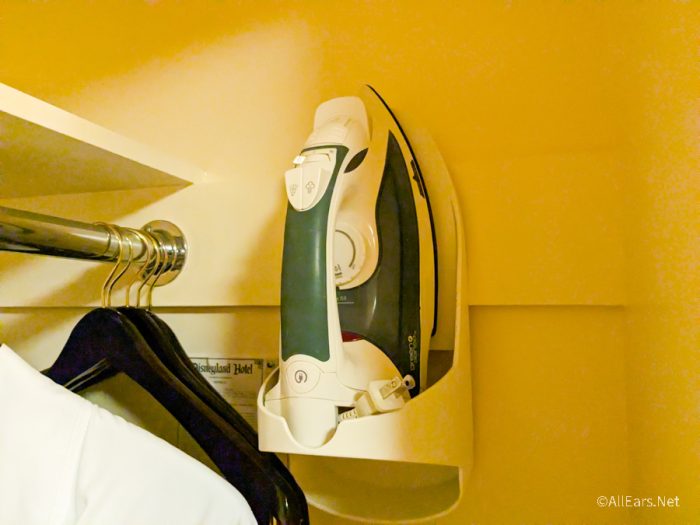 Let's head into the main part of the room now.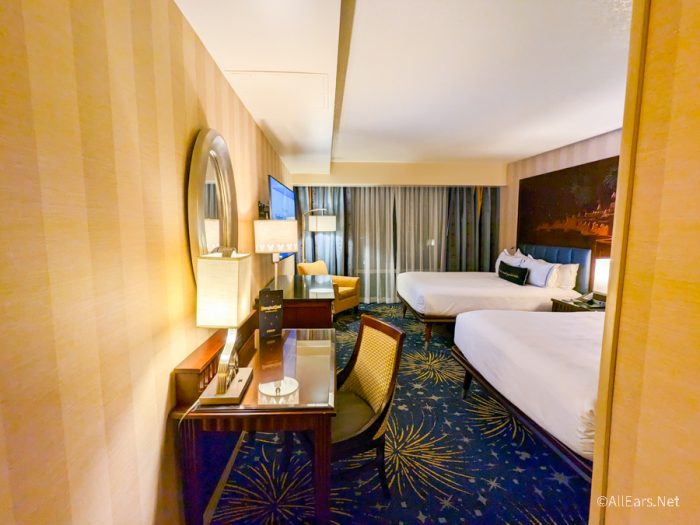 First, there's a desk area, which could double as another vanity if you have multiple people getting ready at once in the morning, since there's a mirror above the desk.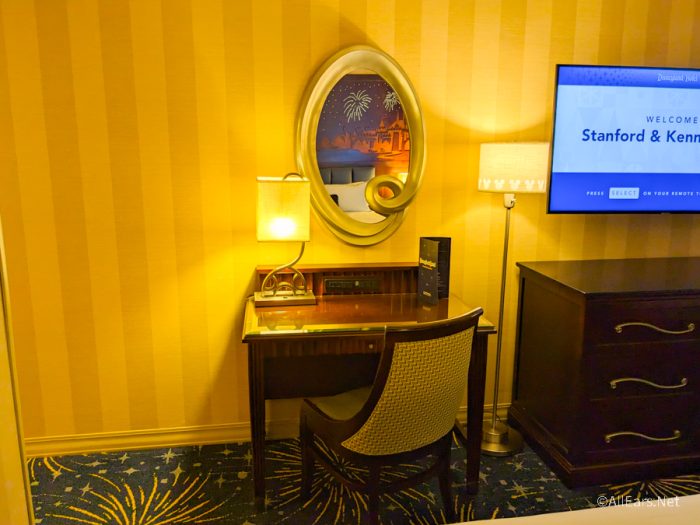 The desk is pretty small, but it would comfortably hold a laptop if you found yourself needing to work during your vacation.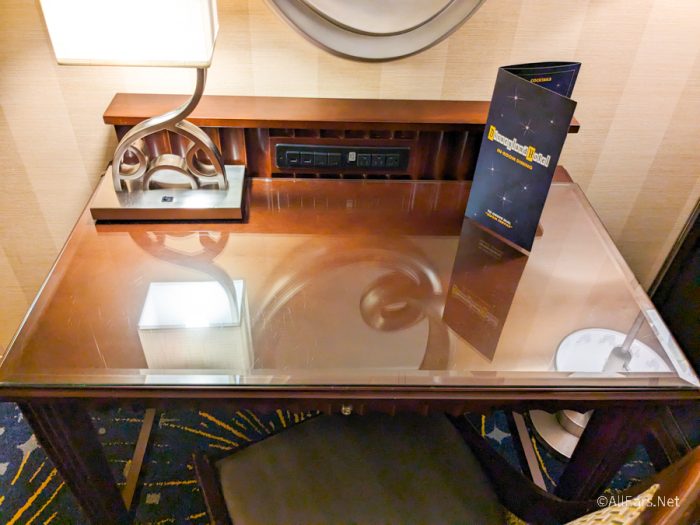 There are plenty of outlets here for all your charging needs, including some USB outlets.
Check out the lamp on the desk to find yet another hidden Mickey.
Next to the desk, there's some storage available, including three drawers.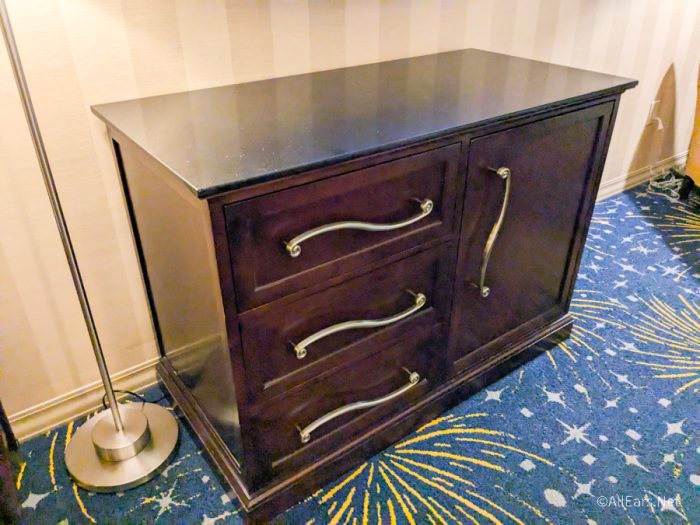 That cabinet opens to reveal a mini fridge.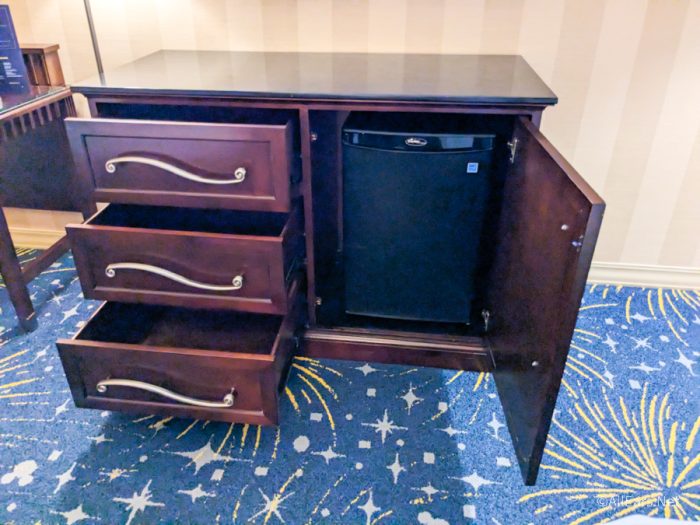 The fridge isn't very big, but it'd be able to fit some leftovers and drinks.
There's a TV above the drawers, directly across the room from the beds.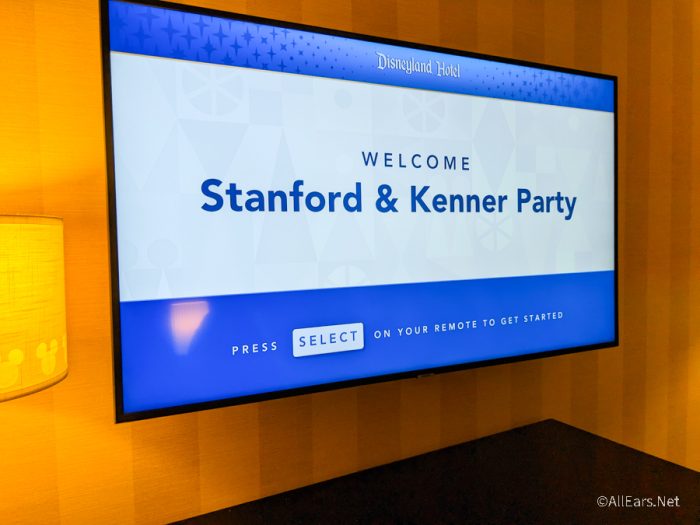 In the corner of the room, by the large window, there's an armchair with a lamp.
And here's a look out that window at our view!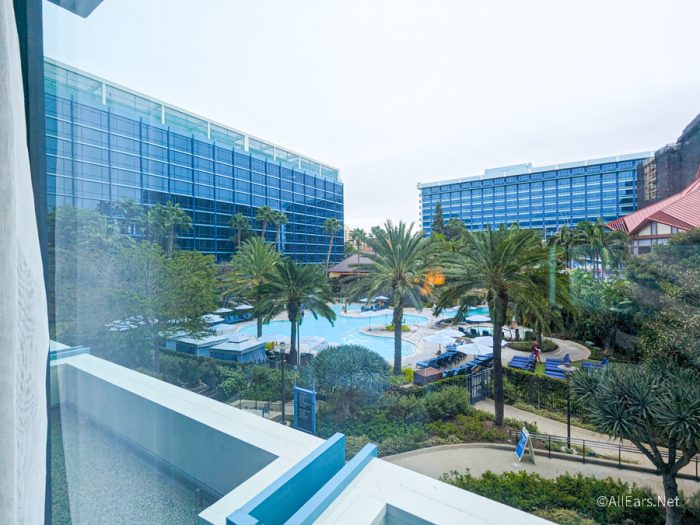 Back inside, we'll check out the other side of the room, which is decorated with two beds and a huge connecting headboard.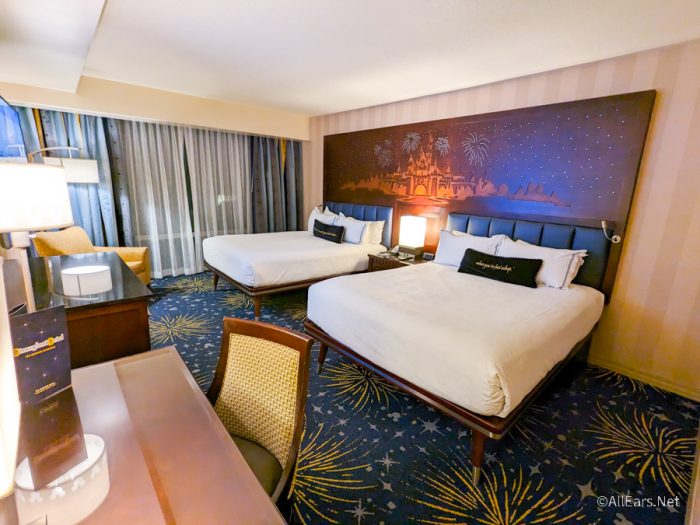 That headboard is actually pretty special — it lights up and plays music! You can listen to "A Dream Is a Wish Your Heart Makes" as you fall asleep.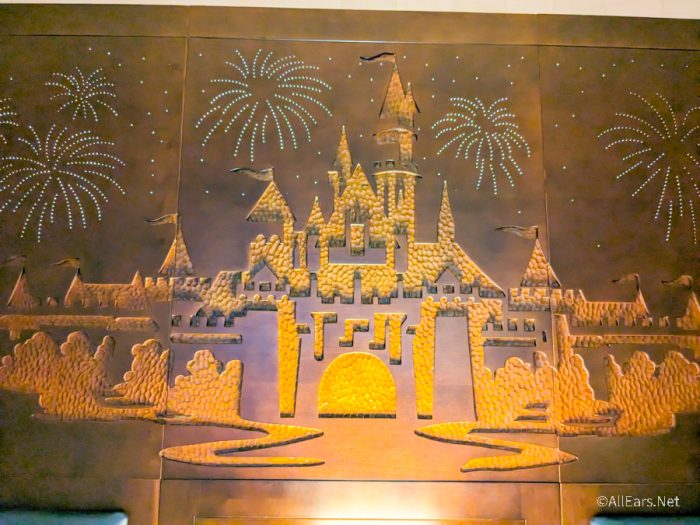 Each of the beds had four pillows along with a throw pillow, and they had smaller, more comfortable headboards in front of the elaborate fireworks headboard.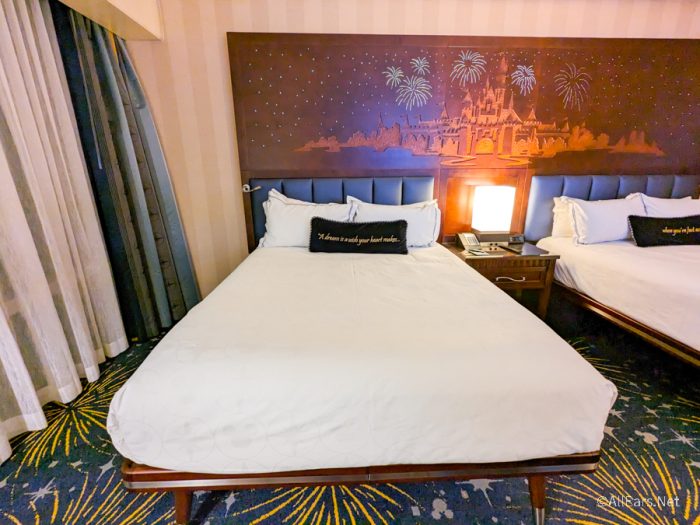 There's a nightstand between the beds, which has a light…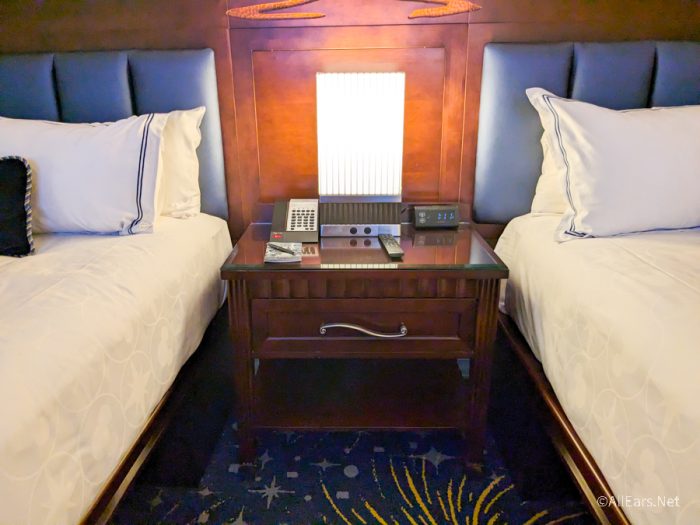 …a phone, a remote for the TV, an alarm clock, and a Disneyland Hotel pamplet.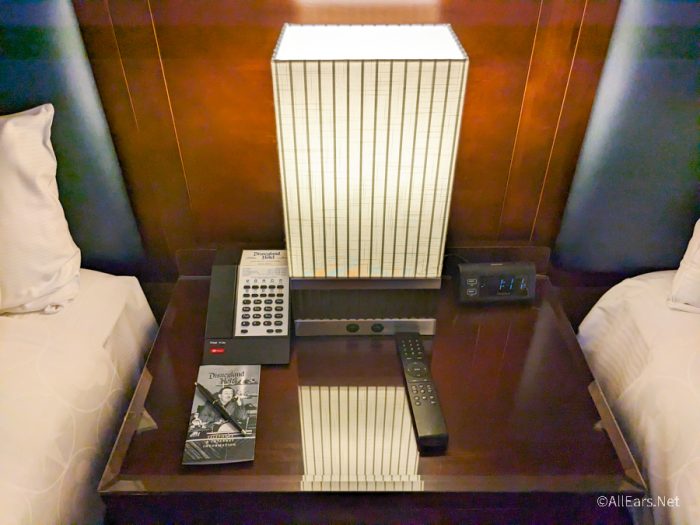 The pamphlet has some information about the hotel that you may need during your trip.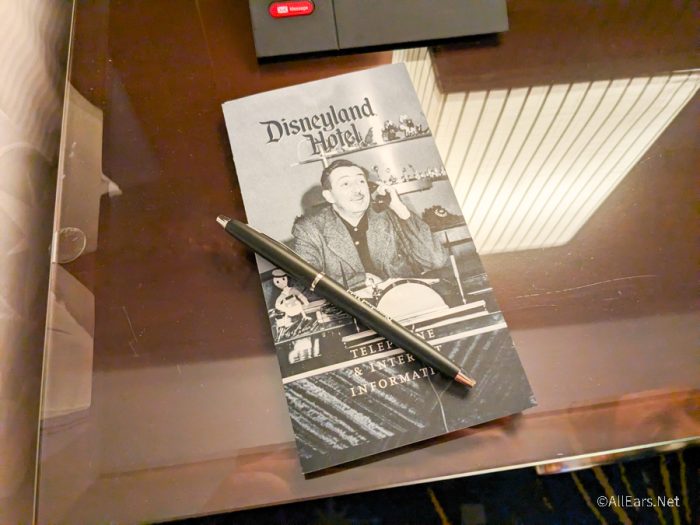 The drawer opens for some extra storage space.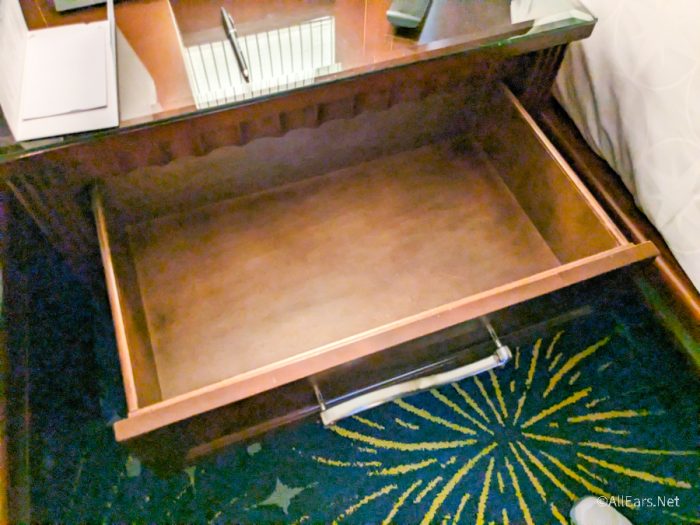 Note that there is quite a bit of space underneath each bed, so you can use that for storage for your suitcases, but don't forget to look under the beds before you check out to make sure you don't leave anything behind accidentally.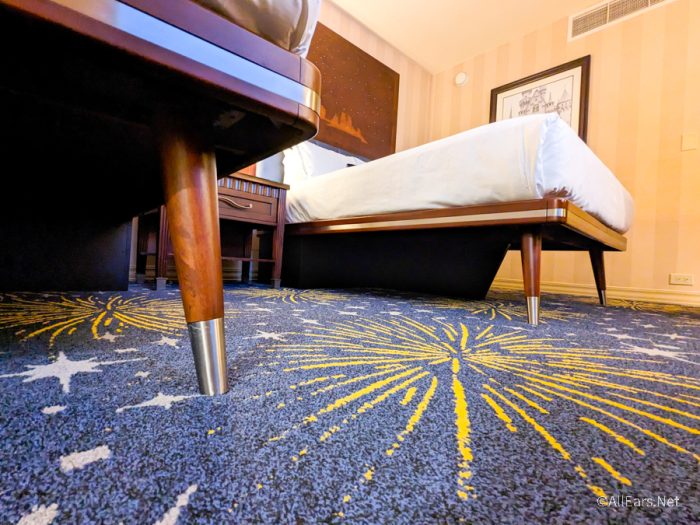 In addition to the light on the nightstand, there are also small reading lights mounted on the headboard beside the beds.
Are you ready for a few more hidden Mickeys? Seriously, this room is full of them. Look closely at the carpet, which has fireworks, stars, and a few Mickeys sprinkled in between.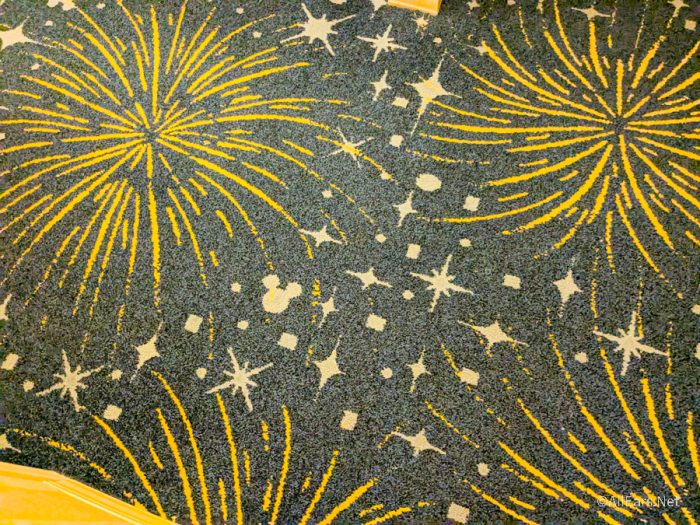 And that wraps up our tour of the Disneyland Hotel room!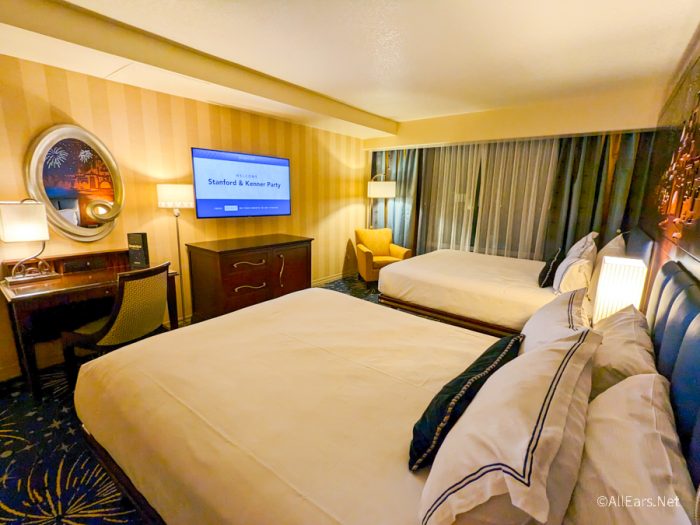 We'll keep watching for more news from Disney, and we'll be bringing you even more Disney hotel room tours, so stay tuned to AllEars for all the latest updates.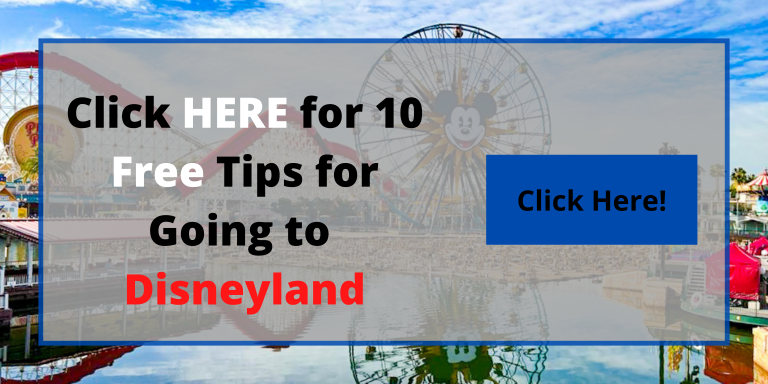 Have you stayed at the Disneyland Hotel? Let us know what you thought in the comments.