As a lifetime Disney World visitor, I know a LOT about the Orlando resort.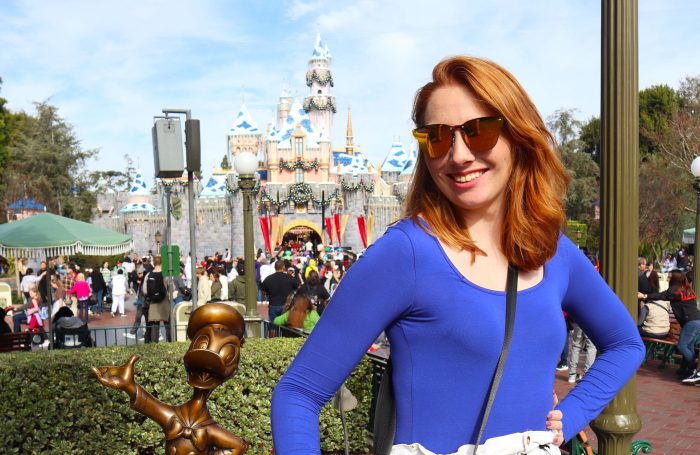 And now that my work takes me into Magic Kingdom, EPCOT, Disney's Animal Kingdom, or Disney's Hollywood Studios almost EVERY DAY – I consider myself a bit of a Disney expert. Well, until recently I had never once been to the original Disney resort – Disneyland in California and my first visit taught me a LOT of surprising things. 
I visited Disneyland as part of the 6 days in 1 park challenge which you can watch below!
1. There's no good way to get from the airport to Disneyland – you're probably just going to have to Uber.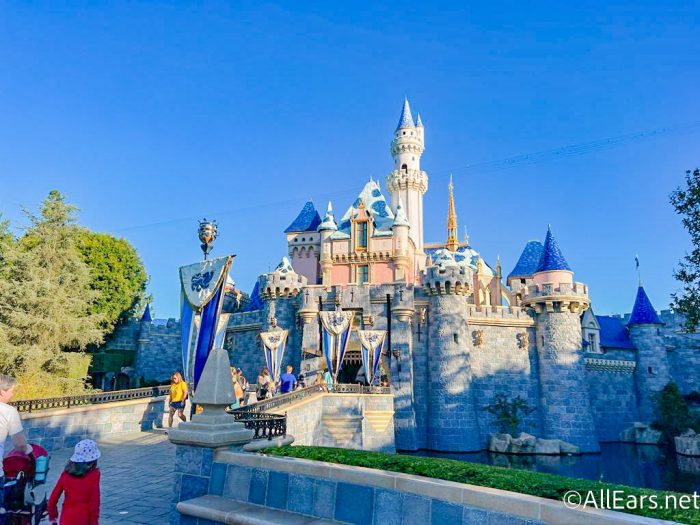 2. There are way fewer billboards advertising Disneyland compared to Disney World. 
3. The parks feel smaller but they also feel way more immersive. It feels like the lands rise up around you.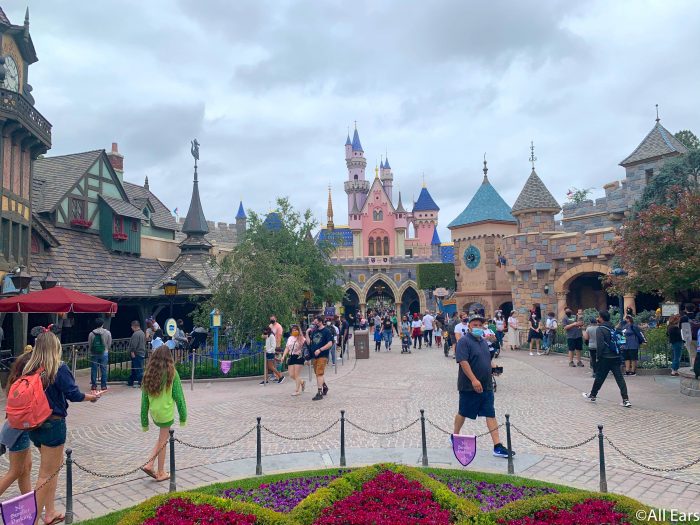 4. You never know when you might spot some serious Disney history. There was a Haunted Mansion exhibit that was totally empty featuring original art and sculptures from the Imagineers. 
5. The Abraham Lincoln animatronic is way more realistic than I expected. I see why people would throw pennies at the original version to see if it would flinch. 
6. It is totally possible to tire yourself out between just two parks. 
7. Characters are just around…? Mickey and friends were regularly hanging out in front of the park. 
8. Characters also wander and interact with each other. Watching Captain Hook photobomb pictures with Peter Pan was amazing.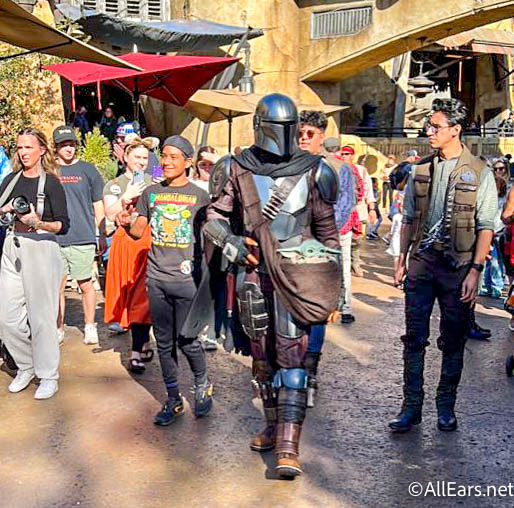 9. It's more difficult to get one on one time with characters. It's more interactive but if you want the photo or the autograph, you sometimes have to get lucky if there is no formed line.
10. There are so many rides in Disneyland Park that lines don't get as long. Even really popular rides hang out around 35-40 minutes with spikes up to about an hour on average days.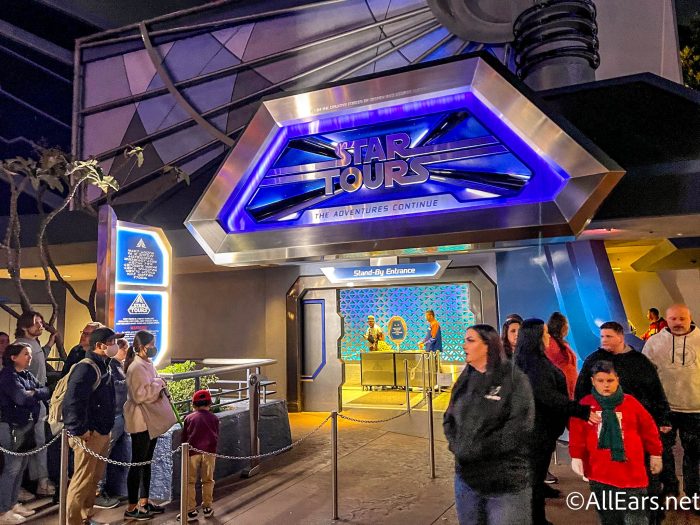 11. There are almost 60 attractions in Disneyland Park so it's pretty much impossible to do everything in one day. 
12. The Fantasyland dark rides really feel like going into the movies thanks to the art style and paint job. 
13. Dumbo is just better with Timothy Q. Mouse spinning in the middle. 
14. Seeing miniature versions of Disney locales is magical, but boy do I wish the Storybook Canal Boats had more back support.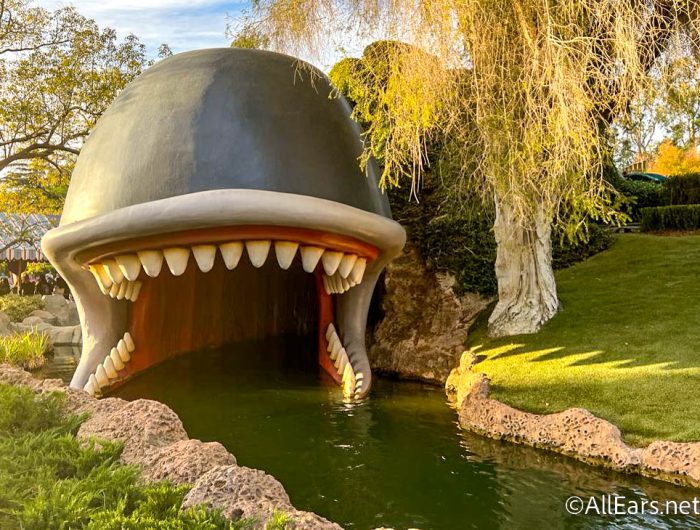 15. Be careful when booking a "walking distance" hotel near Disneyland. There's a big difference between a 20 minute walk and an 8 minute walk at 1AM. 
16. It is SO easy to get around. The parks are steps from one another, the hotels are all in walking distance, and there are several options for rideshare drop-off.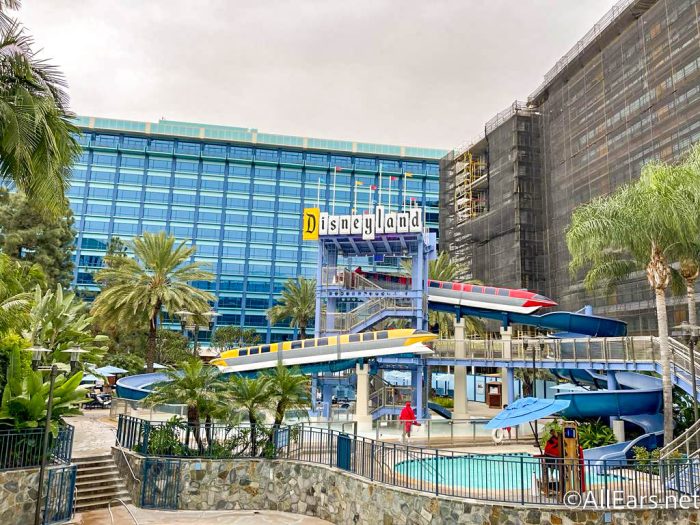 17. Bag check is old school. No fancy scanners. Instead, you'll have to open up every pocket. 
18. Disneyland security Cast Members are a delight!
19. You never know what characters you might see hanging out together. 
20. Most of the queues are VERY small so when they get long, you will for sure be waiting outside. 
21. Mr. Toad's Wild Ride is way more fun if you actually pretend to drive the car…yes, grown ups too. 
22. Benches on Main Street are SORELY missed in Disney World. 
23. You can sit on Main Street, U.S.A. for hours just snacking and taking in the sights.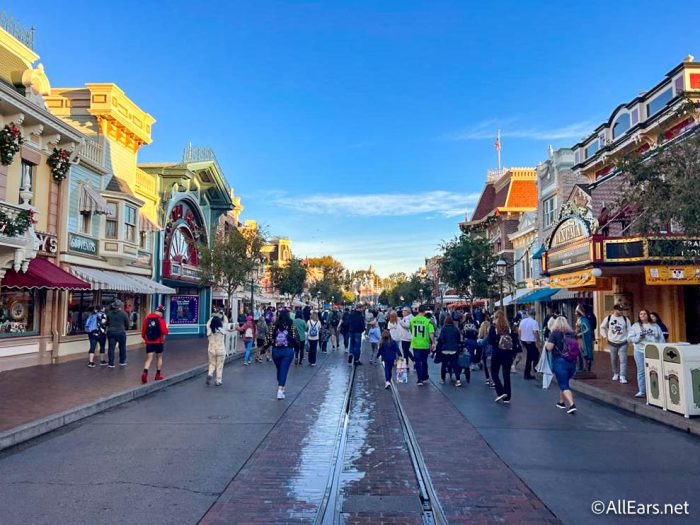 24. Main Street vehicles are underrated in Disney World and so, so magical in Disneyland. 
25. If you're in a bad mood, take a ride on the Fire Engine down Main Street and chat with the driver. 
26. Cart food is so good in Disneyland? Chimichangas, chile-lime corn, churros, hand-dipped corn dogs, pepperoni dip… AMAZING. 
27. Nothing is as competitive. Coming in with a Disney World mindset made me feel a little wacky when everyone else was just chill and enjoying their time. 
28. Disney Genie works so well – probably because there are so few attractions it can be used on. If you want to book a Lightning Lane at three, you can find them for some of the most popular rides within the hour. Refreshing isn't really needed. 
29. Disney California Adventure is a much more hodge-podge park than Disney's Hollywood Studios. 
30. Disney California Adventure is like EPCOT and Hollywood Studios had a beautiful Californian baby. 
31. Avengers Campus is amazing even if you're just a casual Marvel fan. It feels alive. There are always characters and shows to see. I felt like I could spend the whole day there even though it's small. 
32. Since Rope Drop isn't as aggressive, it's a GREAT time to take pictures. 
33. Nobody talks about motion sickness on Guardians of the Galaxy – Mission: BREAKOUT…but it's real.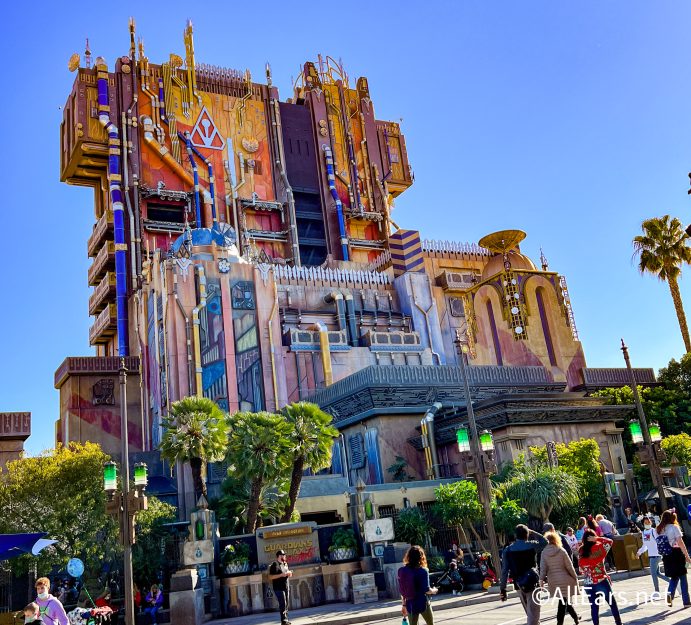 34. Disneyland feels a little bit like Disney World did 10 years ago. If you miss the old vibe Magic Kingdom used to have, it might be worth a trip. 
35. CHECK THE WEATHER. Anaheim gets a lot chillier than Orlando. 
36. Nighttime spectaculars are much smaller (and don't happen every night). It was one of the few things that I think Disney World beats Disneyland on HANDILY. 
37. Disneyland goes HARD for Christmas. There are decorations everywhere – so much so that my early January trip had me wishing they weren't there so I could really see Disneyland. 
38. You can march with Mickey and friends down Main Street, U.S.A. and it's the cutest thing in the world. 
39. There are some hidden gem spots where you can find coffee and espresso. We loved grabbing mochas from Jolly Holiday. 
40. Though the food isn't all that more exciting than Disney World's concept-wise, the ingredients are WAY better quality. Everything I had was shockingly good. 
41. The Dole Whip tastes the same…but creamier? 
42. It is VERY hard to get a reservation if you don't catch it in advance. Cancellations seem to happen all the time in Disney World but getting into Blue Bayou and Lamplight Lounge proved difficult for us. 
43. Indiana Jones Adventure does NOT feel like Dinosaur. When they say it's the same ride system, that's true, but the track is way more exciting and the sets are HUGE in comparison. 
44. Bengal Barbecue skewers are maybe the best quick-service food I've ever had.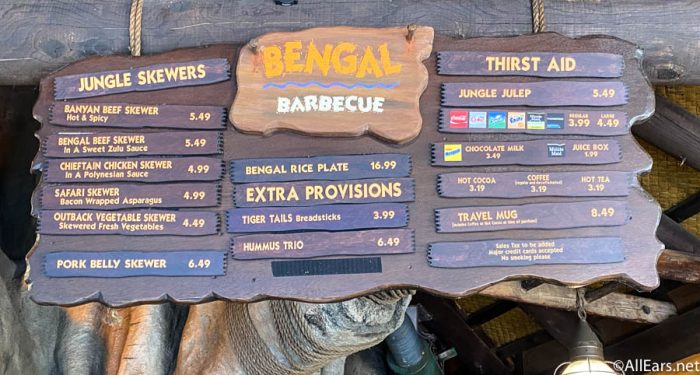 45. Pirates of the Caribbean has all the best parts of Florida's plus many, many more scenes. It's almost TOO long. 
46. Haunted Mansion Holiday does not feel like a ride overlay. It feels like an entirely different ride. There's a whole Jack Skellington animatronic! It puts every other holiday ride overlay to shame. 
47. The Hatbox Ghost is worth the hype.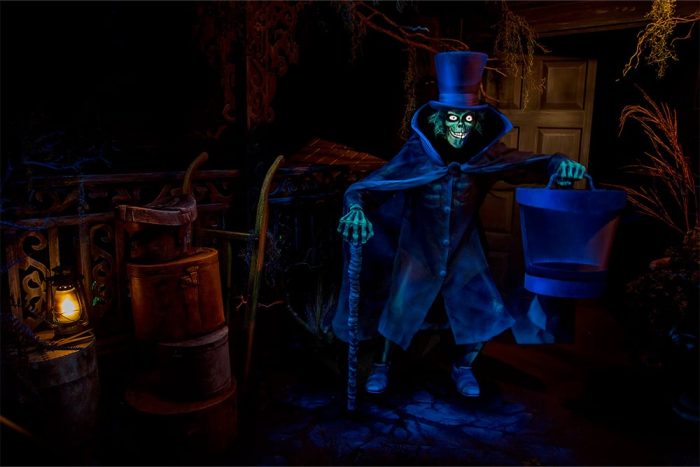 48. Eating at Blue Bayou IN Pirates of the Caribbean is definitely something I would splurge on. I was so jealous floating by. 
49. If you don't eat a lot of fried food, you are NOT making it through that famous Monte Cristo.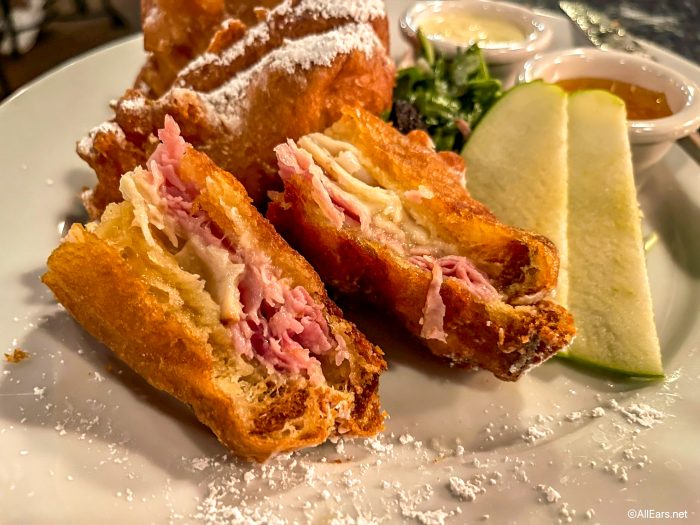 50. Crowd reactions to shows and nighttime spectaculars weren't nearly as hype. In Florida, the crowd goes WILD when Mickey magics himself around the stage in Fantasmic! In Disneyland, people just quietly enjoyed it.
51. There are hardly any clear sightlines for Fantasmic, even with fewer people watching. 
52. The pirate scene in Fantasmic ALMOST makes it better than Disney World's version. My jaw dropped watching them swing around the Sailing Ship Columbia.
53. Yes…the dragon is definitely way cooler in Fantasmic.
 54. The Mint Julep is worth the hype and the Mickey beignets…maybe aren't. I liked the ones from Port Orleans Resort in Florida better.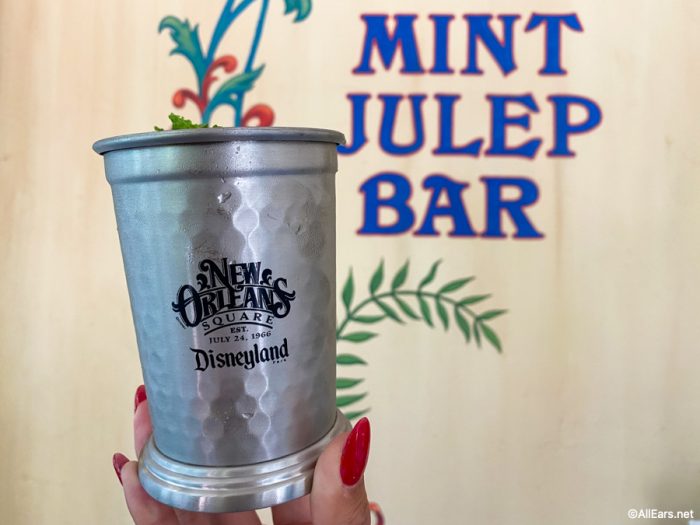 55. ALL THEME PARKS SHOULD HAVE A BREAD BOWL CENTRIC FOOD LOCATION.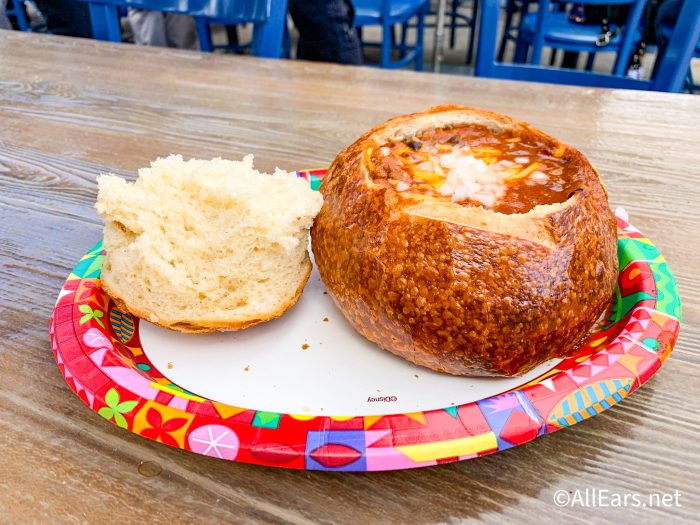 56. The coasters are better in Disneyland. 
57. Big Thunder Mountain Railroad has a surprisingly explosive story to it that adds a ton of fun. 
58. Every Disney park icon should have a cute walkthrough attraction inside. 
59. The vibes on Mad Tea Party are WAY better.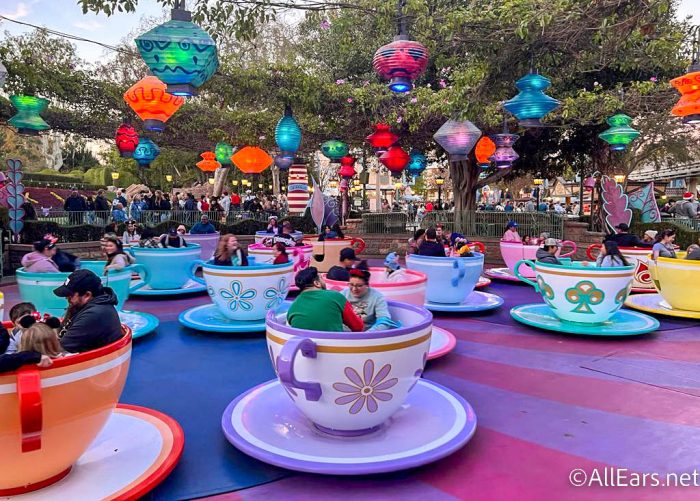 60. Matterhorn Bobsled is NOT as herky-jerky as Space Mountain is in Disney World and the yeti is surprisingly scary.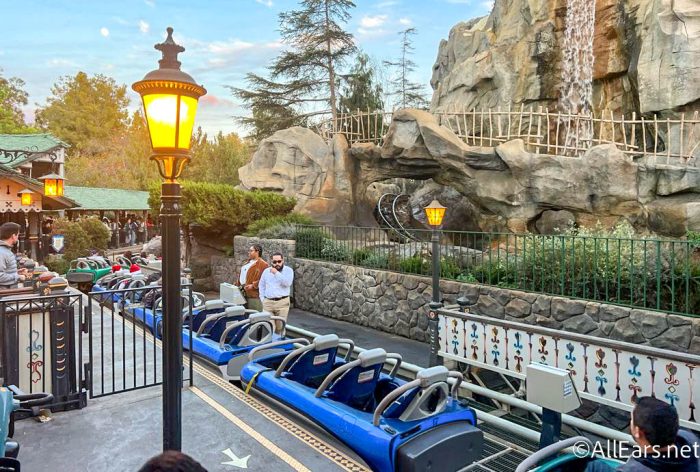 61. There is nothing more nostalgic than Mickey's Toontown theming. 
62. Finding Nemo Submarine Voyage is an attraction like no other that is worth doing at least once.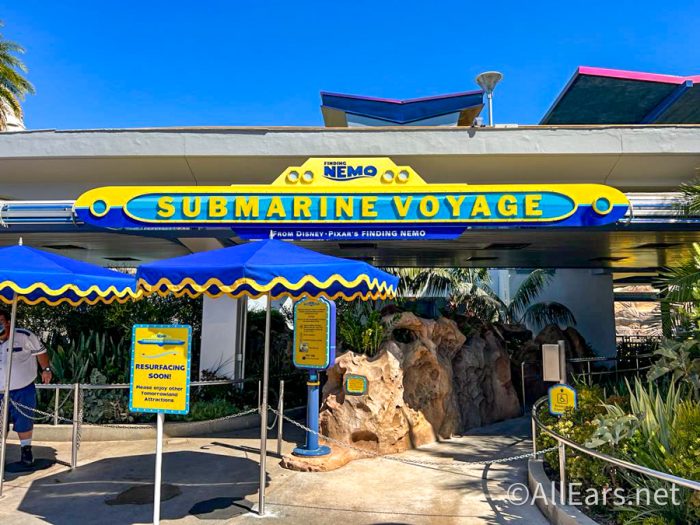 63. It is SO SAD that the PeopleMover track just sits empty above Tomorrowland. 
64. Space Mountain in Disneyland feels closer to Guardians of the Galaxy: Cosmic Rewind than it does to Disney World's Space Mountain. I am not a huge fan of Space Mountain in Florida but it was maybe my favorite ride of the trip in California. 
65. You CAN'T just hold down the trigger to keep shooting on Buzz Lightyear Astro Blasters like you can in Disney World on Buzz Lightyear's Space Ranger Spin.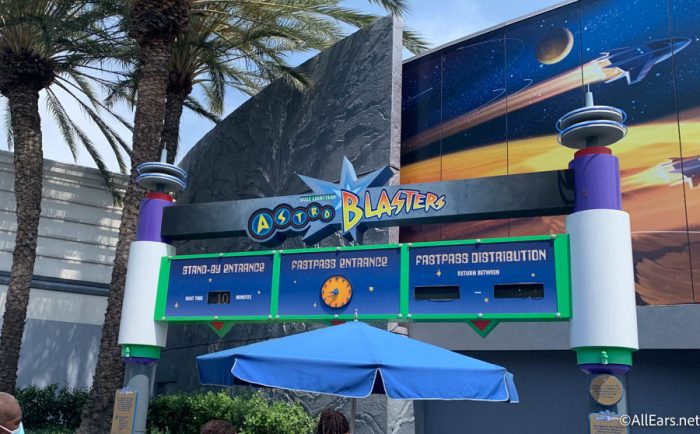 66. Rope drop and fireworks crowds are WAY more navigable. 
67. You can get CUSTOMIZED ice cream bars at Clarabelle's. Try the Blue Raspberry Bursts with Dark Chocolate!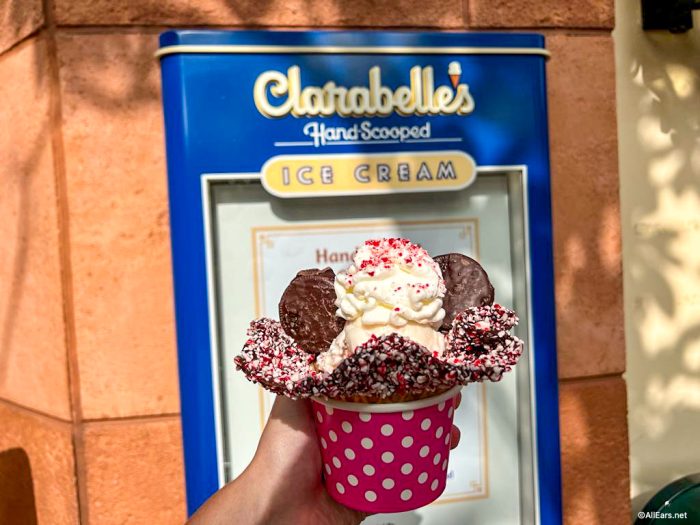 68. The Pear Martini at Carthay Circle Lounge – Alfresco Dining is a hidden gem – but all the drinks there are crafted very well. 
69. DCA is the best U.S. park for trying different alcoholic drinks. There are craft beers, Californian wines, fancy cocktails, Pixar-themed cocktails…you name it. They even have festivals like EPCOT. 
70. You have to get the Plaza Inn Fried Chicken.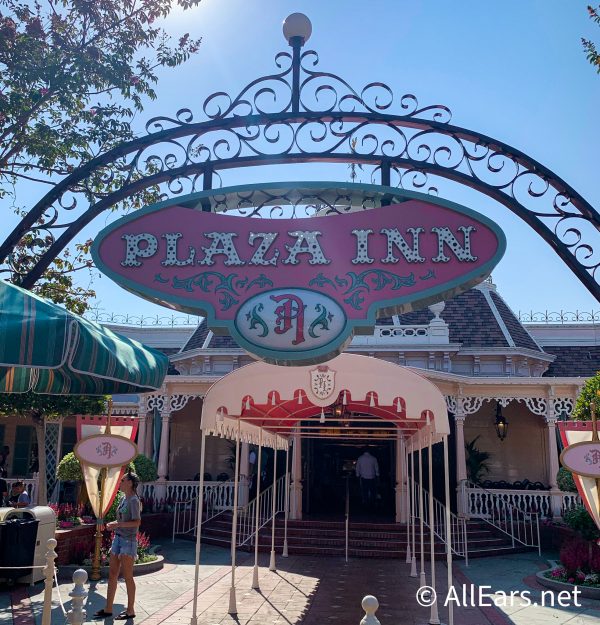 71. Animation Academy has Disney World's Animation Experience BEAT. You can check the schedules for what characters you're drawing and they even have some that are higher difficulty! 
72. There are a surprising number of personality tests? My favorite one was in Sorcerer's Workshop where I found out my personality was most similar to Eve from Wall-E. 
73. Roz talks to you at the end of Mike and Sulley to the Rescue! I guess she really is always watching.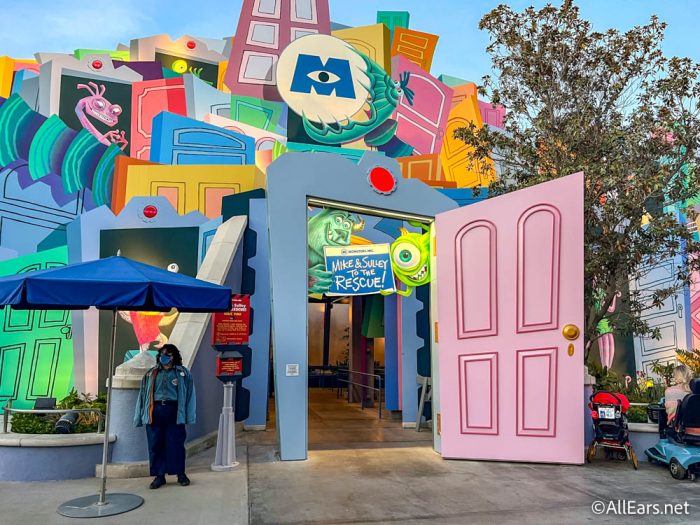 74. The beer cheese that comes with the pretzel at Pym Test Kitchen is fondue quality. 
75. Talking to Doctor Strange is just like talking to a regular guy from NYC when the other superheroes feel more out of this world. Which…I guess he is just a guy from NYC? IDK, this was an epiphany for me.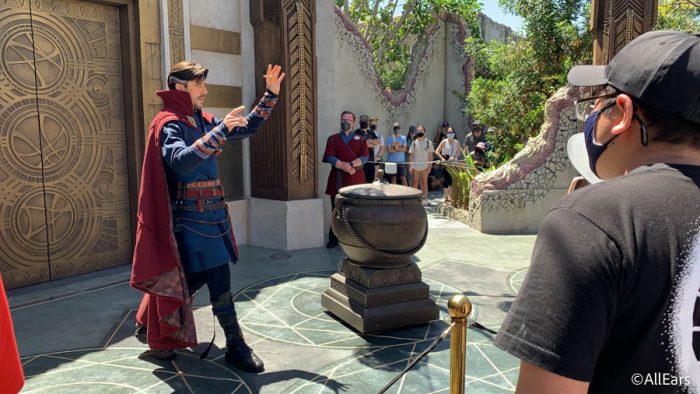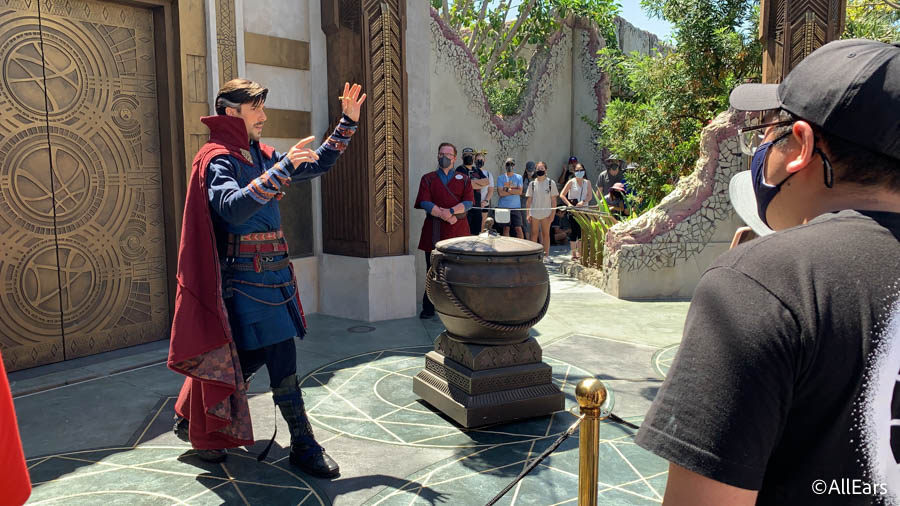 76. Videos do NOT do the Spider-Man stuntronic justice. 
77. Cars Land made me a Cars fan. I like Cars now. Kachow. 
78. It is a crime to compare Test Track to Radiator Springs Racers. 
79. Do Cars Land at night! 
80. You can really hide from the crowds in Grizzly Peak if you take the walking trail away from the main path. 
81. SOURDOUGH IS KING in Disneyland. 
82. Not must-dos but the old-school Boardwalk-style attractions like Silly Symphony Swings are honestly very charming and fun. Plus they have no wait! 
83. Many rides close early for World of Color in DCA and fireworks in DL! Don't miss out on something you wanted to do because of that!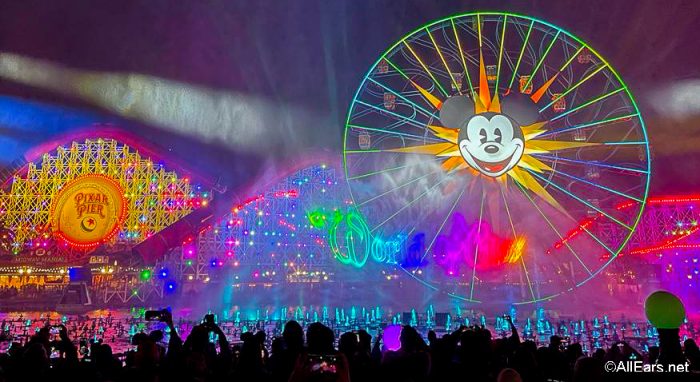 84. Pixar Pier does NOT feel like an overlay of the old Paradise Pier. It feels like it was designed to be the land it is now. 
85. Incredicoaster is the best Disney roller coaster in America.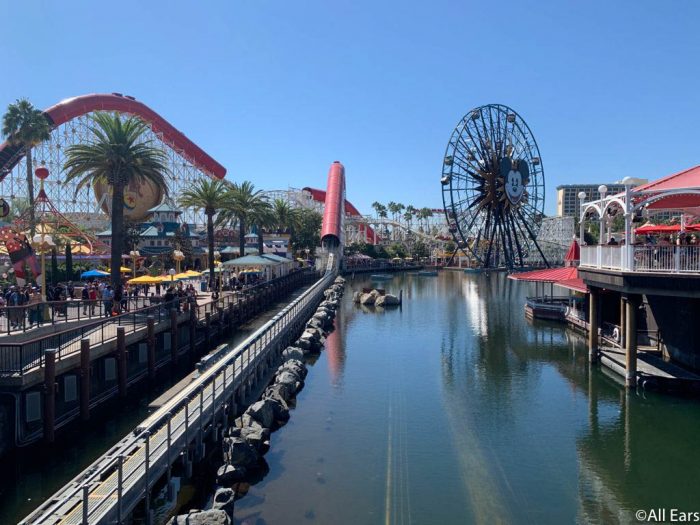 86. World of Color is BEAUTIFUL and you can get good views of it even walking up last minute. 
87. Downtown Disney is small but they have a LEGO Maleficent and a Pickle Corn Dog so I'm for it. 
88. The Disneyland-specific merchandise is pretty limited. My favorite stuff was the old-school Disneyland tees and the Disneyland Hotel merchandise. 
89. I've never thought to buy an autograph book in Disney World but it felt like the thing to do in Disneyland. 
90. Pin trading is HUGE. Disneyland could be the place to get in on this classic Disney hobby.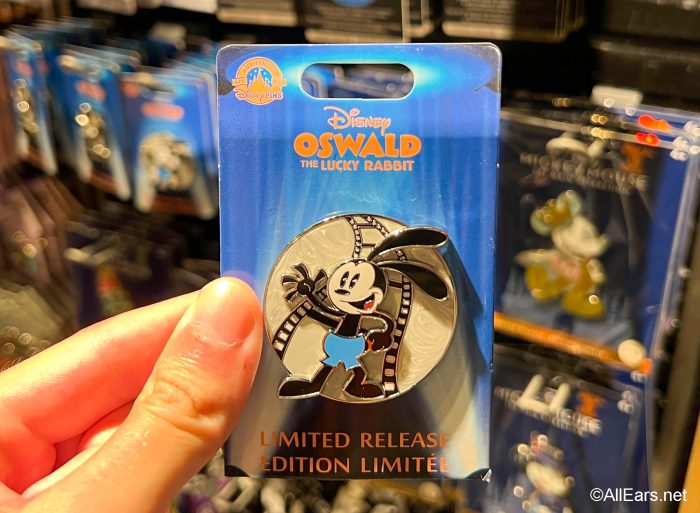 91. Disneyland Hotel blew most of the Disney World hotels out of the water (and I've stayed in all but one of them). Little touches like Bell Services bringing up our luggage, smart TVs, and room service made a huge difference. Add in the magical touches like Mickey's gloves holding the bathroom lights and LED fireworks in the headboard and it's an amazing experience. 
92. The beds are comfier in Disneyland than they are in Disney World. To me, it felt like a higher-quality mattress. 
93. There's a lot less to do at each hotel. Disney World hotels definitely feel more like their own resorts. 
94. The only room in Disney World that feels comparable to my $500/night Disneyland Hotel room is the $1000/night Contemporary Resort. 
95. Disney vibes and amenities are the only reason to stay on the property. The hotels across the street are just as close to the parks and MUCH cheaper. 
96. You WILL get exhausted going from park open to close…but it could be worth it. 
97. Share the snacks so you can try more. We had a LONG list to get through and couldn't make it through all of it. 
98. Genie+ is pricier and you can skip way fewer lines than in Disney World, but it feels more worth it because it isn't as competitive.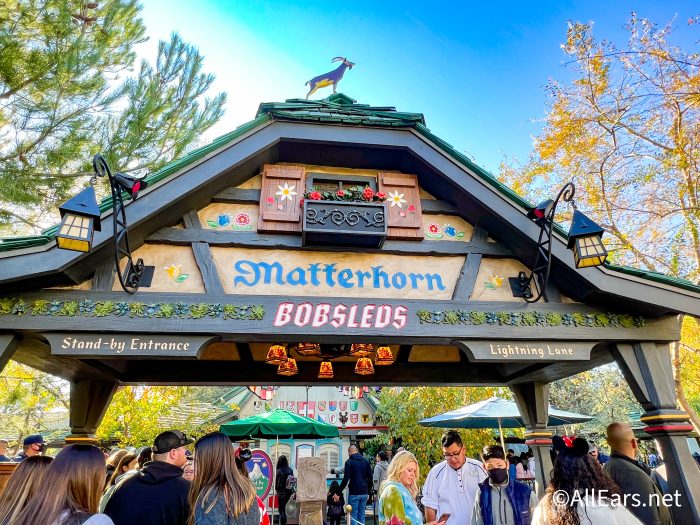 99. It's hard to compare Disney World and Disneyland. Disney World is probably the better vacation spot because there's more to do and it feels like a trip. But Disneyland Park is probably the best of the individual theme parks. 
100. As much as I thought I could be chill about being in the original Disney park – it certainly feels special to be there as a lifetime Disney fan, and I did get misty a few times.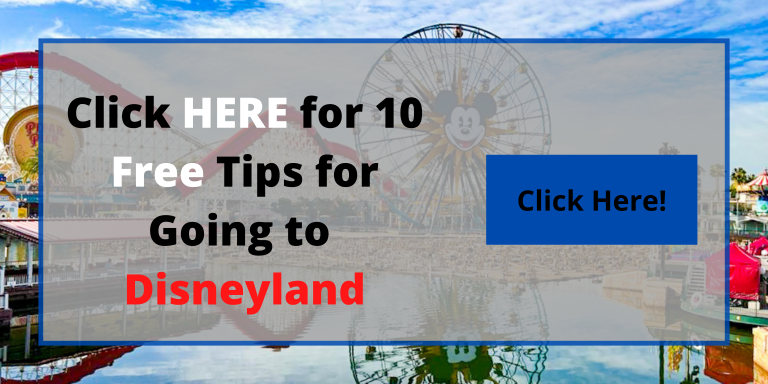 What is your favorite part about Disneyland? Let us know in the comments.