Mad Tea Party Fantasyland Disneyland
Introduction | Attraction | Touring Tips | Kids/Characters | Dining | Shopping | Interesting Facts
INTRODUCTION
A very merry un-birthday to everyone! At the Mad Tea Party each brightly colored teacup spins around the platform, and riders can use the wheel in the center to spin themselves even faster.
ATTRACTION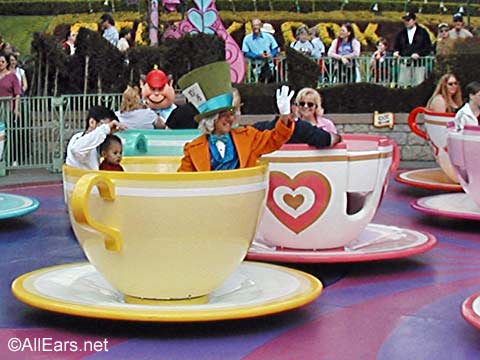 Inspired by the unusual tea party scene in the 1951 Disney adaptation of Lewis Carroll's "Alice in Wonderland," the Mad Tea Party is an original Disneyland attraction. It's located on the edge of Fantasyland next to Alice in Wonderland and across from the Matterhorn.
The queue and the ride are outside and exposed – it can get quite warm on a sunny day. Since it is uncovered the ride is closed when it rains.
There are 18 teacups that spin on three different revolving "platters" — each platter spins at a different speed, and the individual cups also have varying maximum numbers of revolutions. The orange diamond cup is regarded as the fastest spinner, followed by the purple cup. The two heart cups are the slowest.
Read about Walt Disney World's version of this ride HERE.
TOURING TIPS
Like most rides that are not continuously loading, lines for the Mad Tea Party can get fairly long. Try to visit this ride early in the morning for shorter waits.
Each teacup will hold three average-sized individuals fairly easily. There are no restraints, but there is a door that closes the teacup.
The ride is 1-1/2 minutes long.
There is no height requirement.
Those that are prone to motion sickness or have problems with spinning should probably avoid this attraction. Not only do the teacups spin on the platform, but turning the wheel in the center of the teacup makes it spin even more, and can make riders quite dizzy. It's probably wise to avoid this ride immediately after eating.
Wheelchair/ECV users enter via the attraction's exit and must transfer out to experience this attraction.
The closest restrooms are located down Matterhorn Way, beyond Alice in Wonderland.
KIDS AND CHARACTERS
Most kids love to make themselves dizzy and really enjoy this attraction. Children (and adults!) susceptible to motion sickness should probably avoid it, though.
Sometimes Alice, the Mad Hatter, Tweedledee, Tweedledum, and the White Rabbit will join riders in their teacups!
Tinker Bell and her pixie friends are available at nearby Pixie Hollow. Occasionally there are characters on the terraced area of Small World Way.
DINING
The closest dining establishment is Red Rose Taverne in Fantasyland. Kiosk and carts along "small world way" offer turkey legs, popcorn, pretzels and other snacks and beverages.
Disneyland Restaurants at a Glance
Menus Around the Disneyland Resort
SHOPPING
Mad Hatter sells a variety of character hats, including Mad Hatter top hats, as well as Mickey ears and Peter Pan hats with personalized embroidery.
Le Petit Chalet offers Disney character t-shirts, souvenirs, and other gift items.
INTERESTING FACTS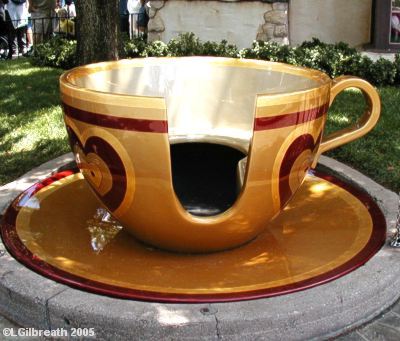 This is an original Disneyland attraction, and opened in July 1955.
For Disneyland's 50th anniversary celebration, a golden teacup was placed in the ride. There was also a golden teacup near the entrance to the Mad Hatter shop.
If you have comments or tips to share with others about touring Disneyland, please email us. Thank you.