Cars Land Disney California Adventure
Introduction | Attractions | Touring Tips | Dining | Shopping | Interesting Facts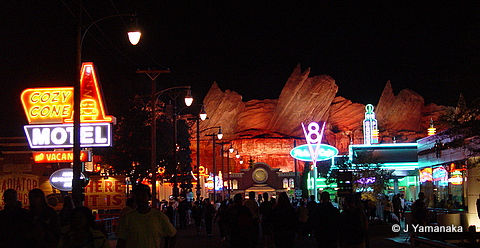 INTRODUCTION
Inspired by the Disney*Pixar film "Cars", Cars Land brings the animated world of Radiator Springs to life. The town has been faithfully re-created from the movie and guests will find themselves walking down Route 66 past familiar places like Mater's Junkyard, Sally's Cozy Cone Motel, Flo's V8 Cafe and Ramone's House of Body Art.
Behind Radiator Springs is the spectacular Ornament Valley, dominated by the 125-foot tall Cadillac Range, the largest rockwork created in a Disney theme park. It's also the location of Cars Land's signature E-ticket attraction: Radiator Springs Racers.
As visually appealing as Cars Land is during the day it's even more beautiful at night when the neon lights come on along Route 66 with the Cadillac Range illuminated behind it.
ATTRACTIONS and ENTERTAINMENT
Luigi's Rollickin' Roadsters – Luigi's cousins from Carsoli, Italy, take guests along for the ride as they demonstrate some of their choreographed village dances.
Mater's Junkyard Jamboree – Baby tractors pull guests in trailers as they spin and whirl to one of Mater's songs.
Radiator Springs Racers – Take a scenic drive in a convertible through Ornament Valley and a tour of Radiator Springs, followed by a thrilling ride racing side-by-side with another car.
Meet the Cars characters: Mater and Lightning McQueen alternate appearances at the Cozy Cone Motel throughout the day. Red the Fire Truck greets guests near Luigi's Rollickin' Roadsters.
DJ's Dance and Drive – Look for the ultimate party car and one of his impromptu dance parties on Route 66.
TOURING TIPS
Though Radiator Springs Racers is a Fastpass attraction, it's very popular and all of the Fastpasses available for the day are usually gone by noon, if not earlier. Fastpasses are distributed next to Ramone's House of Body Art.
The lines for both Mater's Junkyard Jamboree and Luigi's Rollickin' Roadsters are usually short within the first hour or two after park opening.
There are three ways to enter Cars Land: from Flik's Fun Fair, Route 66, and the Pacific Wharf. The Pacific Wharf entrance is considered the most scenic, and highly recommended for first-time visitors.
There's a "lighting moment" at dusk when the neon lights come on, starting from the courthouse and moving up Route 66 toward the parade route. To watch the progression, stand towards the end near Sarge's Surplus or Mater's Junkyard Jamboree.
The dining room at Flo's V8 Cafe features memorabilia from the Motorama Girls, including some of their gold records.
Disney Imagineers worked extensively with Pixar animators in building Cars Land, and there is a lot of detail in the buildings, rockwork, and even the vegetation (check out the cone-shaped flowers planted near the Cozy Cones!). Be sure to take some time just to look around and enjoy it.
Some of the merchandise in Cars Land is available only in Cars Land.
PLACES TO EAT
Cozy Cones – Each of the five cones serves different types of "cone-coctions", like Pop-cone, Chili Cone Queso and of course ice cream cones.
Flo's V8 Cafe – Lunch and dinner feature fried chicken, burgers, and sandwiches. A vegetarian pot pie is also available. Breakfast selections include bacon and eggs, French toast and chicken tamales.
Fillmore's Taste-In – Fruit market with both cut and whole fruits, bottled water, juice, and soft drinks.
Restaurants At A Glance
Menus From the Disneyland Resort
PLACES TO SHOP
Radiator Springs Curios – Pins and accessories, t-shirts, small souvenirs.
Ramone's House of Body Art – Apparel and items from the "Low and Slow" and "Champions Custom Speed Shop" Collections.
Sarge's Surplus Hut – Cars toys and merchandise.
Disney California Adventure Shopping at a Glance
INTERESTING FACTS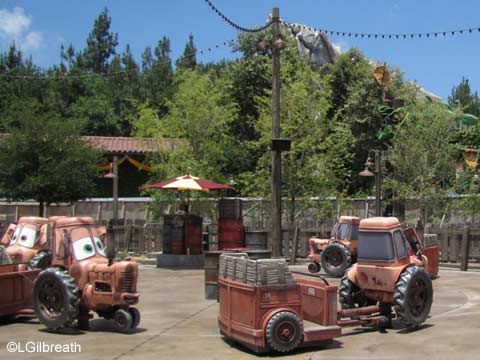 Cars Land was announced as a major part of the Disneyland Resort expansion project on October 17, 2007. Construction began on what was the last remnant of the original Disneyland parking lot in July 2009, and the grand opening took place on June 15, 2012.
The Cadillac Mountain Range is 125 feet tall at its highest point. The peaks represent Cadillac tail fins from 1957-1962. There is nearly 300,000 square feet of rock work.
Radiator Springs Racers covers almost 6 acres.
Larry the Cable Guy, the voice of Mater, recorded seven original songs for Mater's Junkyard Jamboree, backed by Billy Hill and the Hillbillies.
Luigi's Flying Tires was the original attraction at the Casa della Tires. It was a "flying saucer" type of ride where the tires rode on a cushion of air. Due to guest dissatisfaction and low capacity, Disney closed the ride on February 16, 2015, and replaced it with Luigi's Rollickin' Roadsters.
Cars Land receives special holiday decorations and attraction overlays for the Halloween and Christmas seasons.
If you have comments or tips to share with others about touring Disney California Adventure, please email us. Thank you.