Storybook Land Canal Boats Fantasyland Disneyland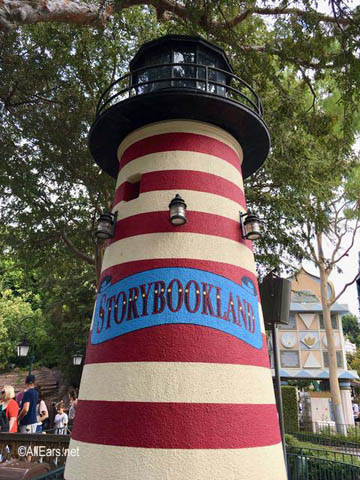 Introduction | Attraction | Touring Tips | Kids/Characters | Dining | Shopping | Interesting Facts
INTRODUCTION
Take a relaxing canal cruise in Fantasyland past meticulously crafted miniature scenes from classic Disney films.
ATTRACTION
As your boat travels through the mouth of Monstro the Whale (above, present day, and circa 1963 — ALL EARS® Senior Editor Deb Koma is the little girl on the right, above) and into Storybook Land, your live host will point out charming miniature sites that include:
–The houses of the Three Little Pigs
–Aladdin's Agrabah
–Snow White's cottage
–Alice's Wonderland
–The ball where Cinderella met Prince Charming
–The village of Arendelle
–Geppetto's cottage
–Prince Eric's Castle
Along with these scenes, you'll see some really wonderful bonsai plants — fine examples of the Japanese art of miniature gardening.
TOURING TIPS
This attraction closes 1/2 hour before the parade and reopens after the parade has passed.
At the exit of Storybook Land you'll pass by a waterfall on your left — if you look through it you'll see King Triton's underwater castle.
KIDS AND CHARACTERS
This gentle boat ride is ideal for the littlest visitors!
Children are sometimes permitted to ride on the front flat part of the boat.
DINING
Red Rose Taverne in Fantasyland serves burgers, sandwiches and flatbreads. Kiosk and carts along "small world way" offer turkey legs, popcorn, pretzels and other snacks and beverages.
Disneyland Restaurants at a Glance
Menus Around the Disneyland Resort
SHOPPING
Le Petit Chalet offers Disney character t-shirts, souvenirs, and other gift items.
Mad Hatter sells a variety of character hats, including Mad Hatter top hats, as well as Mickey ears and Peter Pan hats with personalized embroidery.
INTERESTING FACTS
This is one of only two Disneyland park attractions where a live host rides with you and narrates the attraction. (The other is the Jungle Cruise.)
Keep your eyes open for new scenes. This attraction is kept up-to-date with scenes from contemporary Disney stories.
All of the boats are named after female Disney characters except for Flower — the male skunk from Bambi.
Monstro's eye opens and closes, and occasionally steam comes out of his blowhole.
If you have comments or tips to share with others about touring Disneyland, please email us. Thank you.