World of Color Paradise Pier Disney California Adventure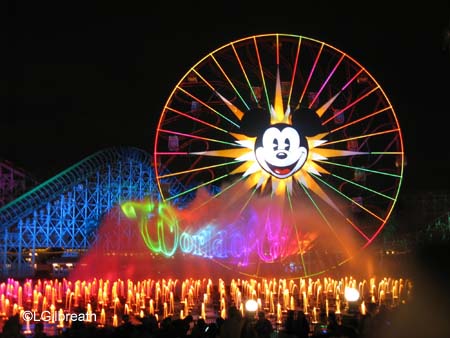 INTRODUCTION
World of Color is the nighttime spectacular show which takes place on Paradise Bay. It features hundreds of colorful performing water fountains, projections on a 300′ mist screen, Disney music and animation both classic and new, and even flames.

TOURING TIPS
The most complete viewing of the show is available from the Paradise Park area, since this area faces the projection screens. Viewing is available from all around Paradise Bay, but most of those areas can see the fountains only, or view the projections from the back side.
Everyone wishing to watch World of Color from the Paradise Park viewing area, which includes all of the space from The Lamplight Lounge (including the bridge) over to the Golden Zephyr, must have a World of Color Fastpass. Fastpasses are available beginning at park opening at the World of Color Fastpass distribution area near Ariel's Undersea Adventure.
Guests may not select which show they wish to attend. Fastpass tickets are separated into colored sections, corresponding to different sections of the viewing area, and large groups may find themselves split among two or more sections.
Each Fastpass ticket will designate the colored section that the bearer is to return to for entrance to the show: blue, red, yellow, green, or orange. Within each section, guests will have a choice of rows, so can choose not to go down to the "wet zone" if they don't want to. Fastpass tickets will also indicate when guests can return and be admitted to the viewing area. For those guests who arrive prior to this time, queueing areas are identified around the area by color.
World of Color Fastpasses may also be obtained by purchasing one of the Dining Packages.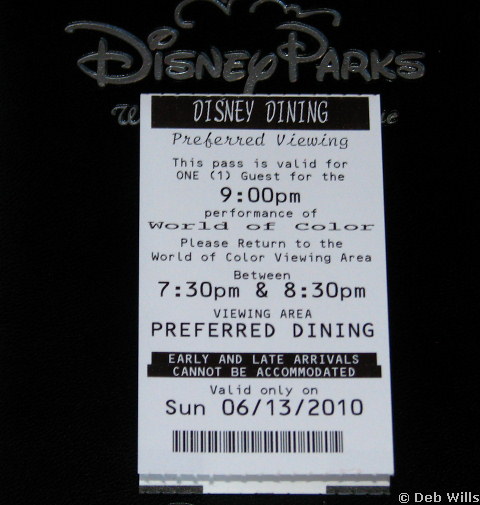 World of Color Prix Fixe Meals: Dining packages, which include a Fastpass for the Reserved Viewing Area, are available for lunch and dinner at Carthay Circle Restaurant and Wine Country Trattoria. Each location offers a fixed menu with choice of entree. Prices range from $29.99-$61.00 for adults (depending upon location), and $18.99-$23.00 for kids.
On days when there is more than one World of Color show your server may give you the option of which show you wish to see. In general, later reservations see the second show, but if there is availability you might be able to choose the first show instead.
World of Color Dessert Party: Package includes seating at a high-top table, a selection of desserts, cheeses, and fruit, and a glass of sparkling wine for adults. Sparkling cider is also available for those who prefer it, as well as those under age 21. The price is $79.00, including tax and gratuity.
Any of these packages can be reserved up to 60 days in advance (subject to availability) by calling Disneyland Dining, 714-781-DINE or reserving on-line at Disneyland Dining Reservations.
During peak times, World of Color shows twice a night, though on especially busy days Fastpasses will be distributed for a third show.
Those who do not have Fastpasses but wish to view the show from the boardwalk will have to view it from the area between the Incredicoaster and the Golden Zephyr. There's not much of a view of the projections from there, but it's an interesting perspective on the lighting and fountains. The area just in front of Ariel's Undersea Adventure is usually open for viewing by walk-up guests also. That is more centered and has some view of the mist screens and the higher fountains.
A side view is also available from the Lamplight Lounge. You'll need to arrive at least 60-90 minutes prior to the first show.
The show is about 27 minutes long.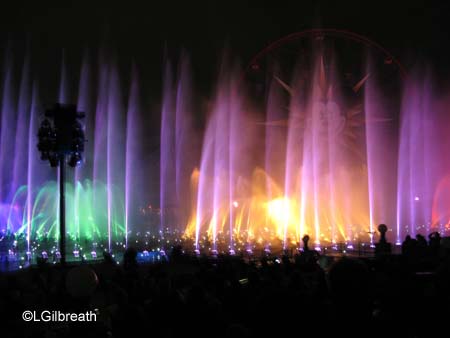 Except for the Dessert Party, there is no seating available for the show. Guests should expect to stand for upwards of 30 minutes, and probably closer to an hour. Cast members will ask everyone in the viewing area to stand 45-60 minutes before the show begins.
There can be significant mist from the fountains. Those closest to the water (on the lowest level of the viewing area) will get wet, and depending on the wind direction, might get VERY wet. Everyone in the viewing area should expect to feel at least some mist.
The viewing area is accessible to those in wheelchairs and ECVs. When obtaining Fastpasses please see a cast member if you or someone in your party is in a wheelchair or ECV. For those with dining packages, please consult a cast member when you enter the viewing area to be directed appropriately.
Most attractions around Paradise Bay close about 60 minutes prior to the first show, and remain closed for the evening. Ariel's Undersea Adventure, Goofy's Sky School, and Toy Story Midway Mania usually remain open.
KIDS AND CHARACTERS
Children must have their own ticket into the viewing area, and must be accompanied by an adult.
There are a couple parts of the show that might be disturbing/scary for children.
This area is very congested — please be sure to keep your children near to you at all times.
DINING
Dining packages which include World of Color viewing area tickets have been explained above. Other dining options around Paradise Bay are:
Boardwalk Pizza & Pasta – Pizza, pasta, and salads
Paradise Garden Grill – Mediterranean skewers
Corn Dog Castle – Corn dogs and hot dogs
Poultry Palace – Turkey legs, chicken legs, corn on the cob
Angry Dogs – Hot dogs and chips
In the immediate vicinity of the viewing area are various food carts and a coffee/pastry kiosk.
SHOPPING
World of Color merchandise is available at locations throughout the park, including Embarcadero Gifts, Seaside Souvenirs, and Elias and Company.
INTERESTING FACTS
Original planning for World of Color began in July 2005 and was inspired by Walt Disney's first color TV series, "Wonderful World of Color". The show premiered on June 11, 2010.
The large projection mist screen is 380 feet wide and 50 feet high.
The show features almost 1200 fountains, with height ranging from 30 to 200 feet. (Mickey's Fun Wheel is 150 feet tall.) Each fountain has multiple points of control for lighting, color intensity, water angle, height, and more.
The score was composed by Mark Hammond and recorded at Abbey Road Studio in London. "The Wonderful World of Color", which opens and closes the show, was composed by the Sherman Brothers for the "Wonderful World of Color" television series.
There are 28 high-definition projectors, 14 of which are submersible.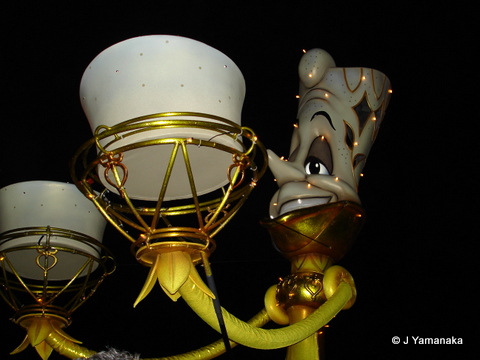 When the show first premiered in the summer of 2010 there was a pre-show called Carnivale of Color before the first show. It included large lighted "sky puppets" of Genie, Lumiere, Mike Wazowski, Tigger, and Sebastian, corresponding to the colors of the different sections: blue, yellow, green, orange, and red.
At various times, special pre-show and encore segments have been added to World of Color for a limited time, including a 4th of July preshow, Prep & Landing, Tron: Legacy, and Pirates of the Caribbean: On Stranger Tides.
A holiday edition, World of Color Winter Dreams, usually runs nightly during the holiday period in November and December. It is hosted by Olaf from "Frozen", and features musical selections from that movie as well as holiday clips from other Disney/Pixar movies.
If you have comments or tips to share with others about touring Disney California Adventure, please email us. Thank you.