Happy Thanksgiving!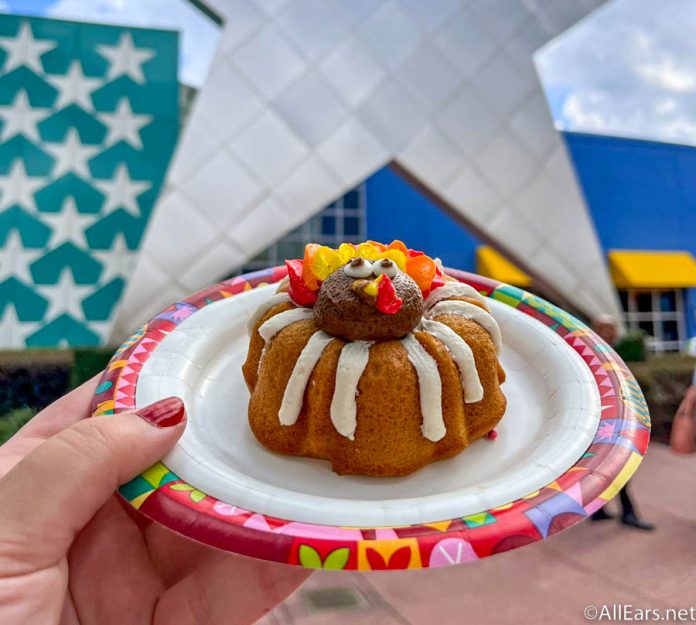 Whether you're celebrating with Friendsgiving, or dinner with family, if you're looking to bring a little Disney around the table we've got ya covered! We've put together a list of a few of our favorite Disney recipes that would be perfect for Turkey Day!
Sides
You can't possibly have a Thanksgiving meal without stuffing! And what better restaurant to turn to than Liberty Tree Tavern, where you can have Thanksgiving every day!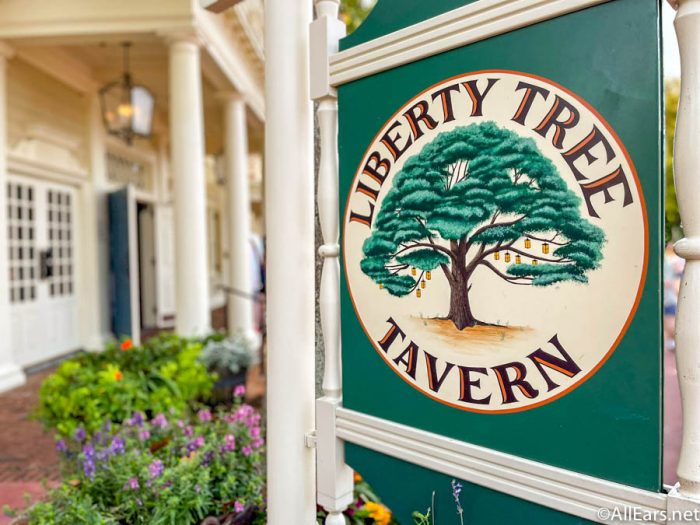 Ingredients:
12 cups cornbread cubes
1 tablespoon fresh chopped garlic
1 cup onion, chopped
1 cup celery, chopped
1 teaspoon rubbed sage
1 teaspoon dried thyme
1 teaspoon poultry seasoning
1 teaspoon kosher salt
1/2 teaspoon black pepper
1 1/2 cups turkey stock (chicken may be substituted)
Directions:
In a preheated 400° oven toasts bread cubes 5 to 7 minutes or until barely golden. In a large skillet over medium/low heat cook the garlic, onions and celery for 3 minutes or until softened. Transfer to a bowl and add the bread cubes, herbs, salt, pepper, and chicken broth. Toss well and adjust seasoning as desired. Additional broth may be necessary to achieve the desired consistency.
Another pick from Liberty Tree Tavern, you simply cannot go wrong with their turkey gravy.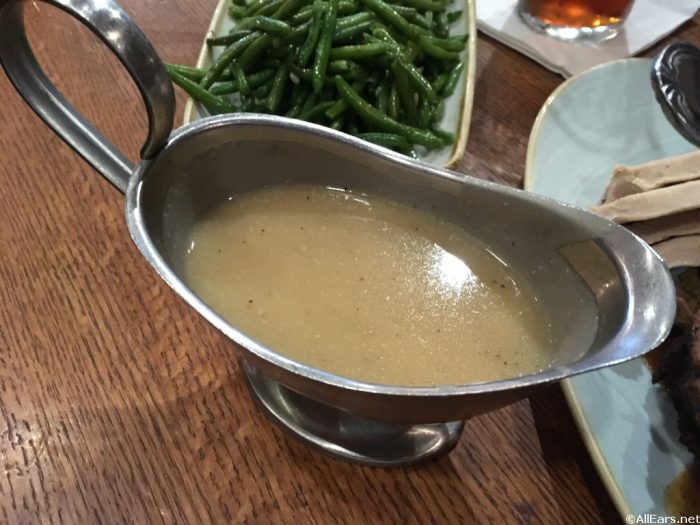 Ingredients:
2 Quarts Turkey or Chicken Stock or low sodium broth
1/2 cup Diced Celery
1/2 cup Diced Onions
1 cup All purpose flour
8 ounces Butter
8 ounces diced turkey – Not deli meat
To taste — Kosher salt and pepper
Method:
1. In a large kettle heat butter and lightly saute the onions and celery.
2. Add the flour, mixing constantly.
3. Once the mixture begins to reach a light peanut butter color add stock.
4. Bring to a simmer and add turkey meat.
5. Puree with a hand mixture until smooth. Adjust seasoning.
For a fun way to add potatoes to your Thanksgiving table, try out this potato salad from Boma at Animal Kingdom Lodge!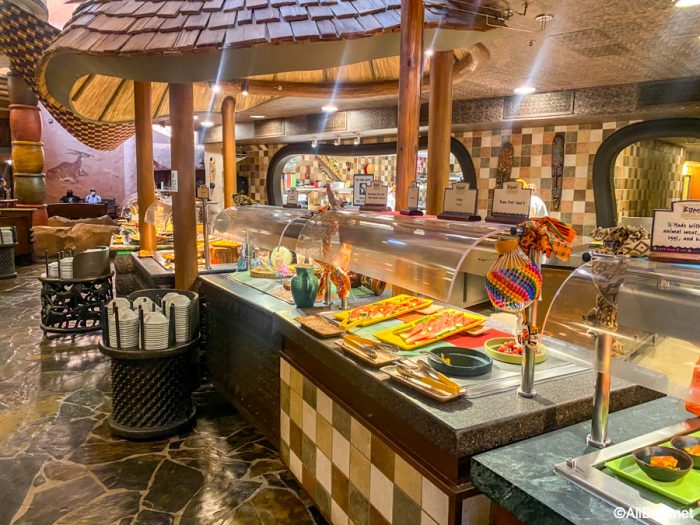 Yield: 8 servings
Ingredients:
1 ½ pounds Red Bliss Potatoes, diced
1 ½ pounds Sweet Potatoes, diced
1 pound Yucca, diced
1 each Red Bell Pepper, diced
1 each Onion, diced
3 stalks Celery, diced
2 cups Mayonnaise
2 t. Ground Turmeric
1 t. Mustard Seed, toasted
1 cup White Vinegar
2 T. Mustard
To taste Salt and Pepper
½ cup Sugar
Method:
Steam all the potatoes for approximately 8 minutes. Place in a large bowl with all the other ingredients. Mix together well.
When it comes to sides, you cannot go wrong with corn bread. And what better Disney recipe to try than this one from Whispering Canyon Cafe at Disney's Wilderness Lodge?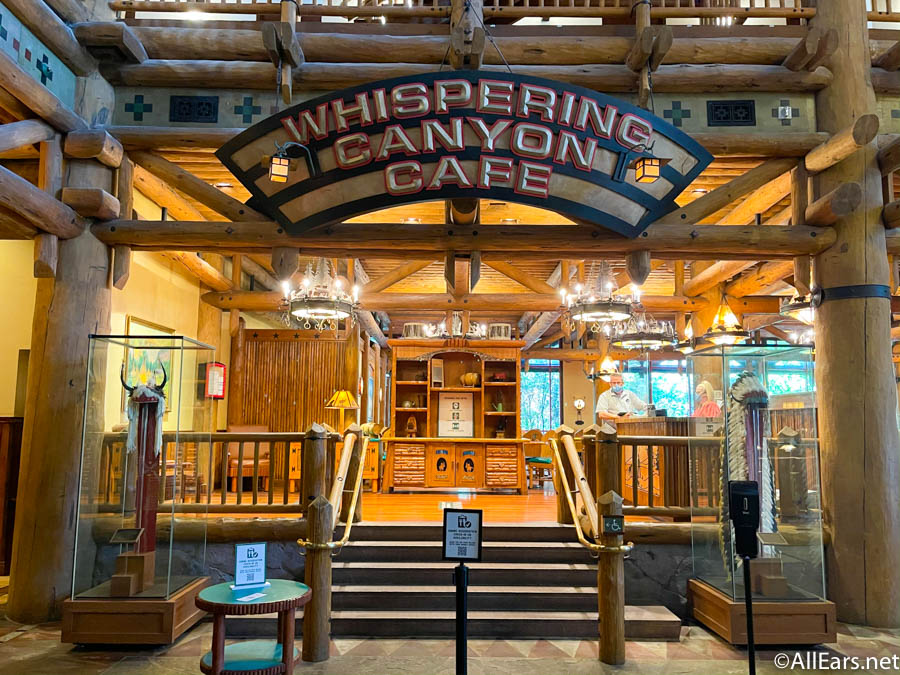 Ingredients
1/2 pound Cornmeal
12 ounces Granulated Sugar
1/2 ounce Salt
1 ounce Baking Powder
1 pound All-Purpose Flour
1/4 cup Salad Oil
1 Whole Egg, beaten
1 Pint Milk

Directions:
Place all dry ingredients in mixing bowl and mix slowly for one minute.
Blend milk, egg, and oil together.
Slowly add step 2 to dry ingredients, while on slow speed. Don't over mix, only mix to incorporate product.
Spray pan with a food release oil spray or line bottom of the pan with parchment paper.
Pour batter in pan and bake at 350°F for 15 to 20 minutes or until bread is firm and golden brown.
Make a side made for royalty with these delicious mashed potatoes from the Magic Kingdom restaurant.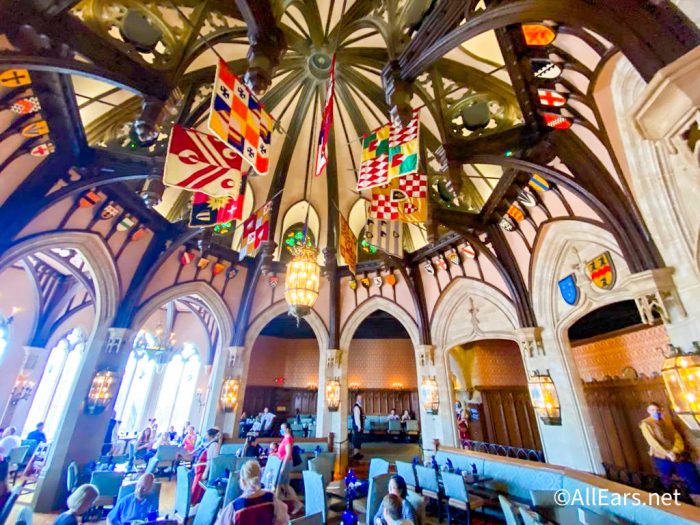 Ingredients:
2 carrots
1 lb redskin potatoes
1 butternut squash
½ red onion
1 clove roasted garlic
salt & pepper
4 oz. Whole butter
1 cup milk
Method:
1. Cut carrots, onion and summer squash into thin strips. Place on sheet pan with whole garlic clove. Roast for 15 to 20 minutes at 350ºF. Place to the side and let stand. Peel garlic clove when cool.
2. Wash potatoes thoroughly. Place in saucepan with water and a little salt. Bring to boil and then let simmer until cooked.
3. In another saucepan, combine butter and milk. Heat on medium until warm. (Be sure to avoid scorching.)
4. When potatoes are cooked place into bowl with milk mixture. Whip to a smooth consistency. Salt and pepper to taste. Add roasted vegetables and garlic. Whip two more minutes and serve.
Main Course
It's not Thanksgiving without turkey, but why not do something a little different? Make the Turkey Pot Roast from Hollywood and Vine at Disney's Hollywood Studios instead.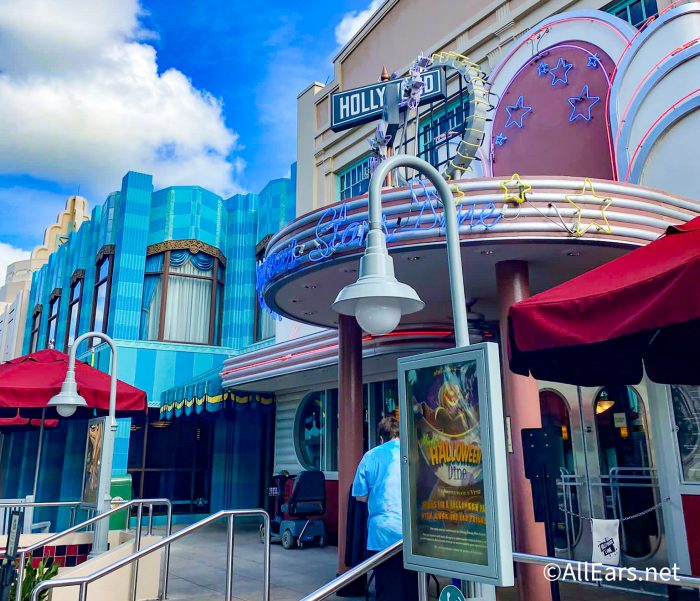 Ingredients:
5 lbs. turkey thigh meat, raw
1 cup onions, diced
1 cup celery, diced
1 cup carrots, diced
1/2 cup tomato paste
1 to 2 gallons brown gravy (demi sauce)
1 qt. burgundy wine
2 cups potato wedges (roasted)
1/4 cup oil
1/4 cup flour
Salt and pepper to taste
Directions:
Heat oil in roast pan. Add turkey meat. Cook until brown. Add onions, celery, carrots, continue cooking.
Add flour and tomato paste, mix well. Add wine and bring to boil. Add brown gravy, bring back up to boil. Reduce heat. Cover and place in oven at 350° for one hour until vegetables and meat are cooked.
(Note: the gravy is to cover meat and vegetables about 1 inch over top) Check seasoning. Add salt and pepper to taste. When done remove from pan and serve with roasted potatoes wedges.
Perhaps you're looking for something a little different than turkey! Try out this rotisserie chicken recipe from the Swan Resort restaurant.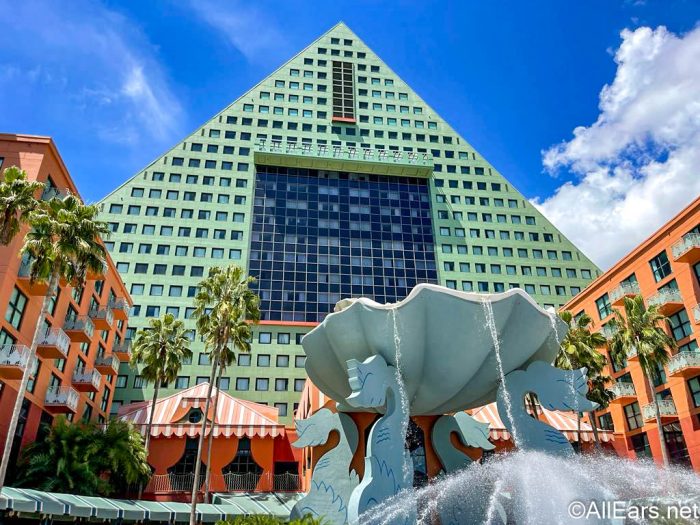 Ingredients:
1 Whole Chicken (cut into 8 pieces)
1/2 cup Dry Rub
Dry Rub:
1 cup of season all (laury's season salt)
2 Cups of Light Brown Sugar.
Mix both together.
Method of Preparation:
Season chicken with dry rub and cook in the oven at 350 Degrees for 40 minutes or until the internal temperature reaches 165 degrees.
Dessert
Looking for something a little different? This peanut butter pie is sweet and savory, and a delicious option for Thanksgiving dessert.
Yield: 8 servings
1 1/2 cups creamy peanut butter
8 ounces cream cheese, softened
3/4 cup sugar
2 tablespoons butter, melted
1 cup heavy cream, whipped stiff
1 baked 8- inch pie shell
With an electric mixer, blend the peanut butter and cream cheese until smooth. Add the melted butter to peanut butter mixture, then fold in whipped cream. Pour into the baked pie shell and refrigerate for 1 hour. Glaze with Ganache (recipe below) if desired.
Ganache
1/2 cup heavy cream
4 ounces dark chocolate, chopped
(1 Tbsp. butter is used for the Ganache on the cruise line)
In a saucepan over medium heat, bring the cream to a boil. Remove from heat and fold in chocolate until no streaks of white remain. Cool unto lukewarm, then glaze cake. Refrigerate for at least two hours before serving.
If you want to opt for something not a pie, try this delicious banana bread pudding recipe from this Old Key West favorite restaurant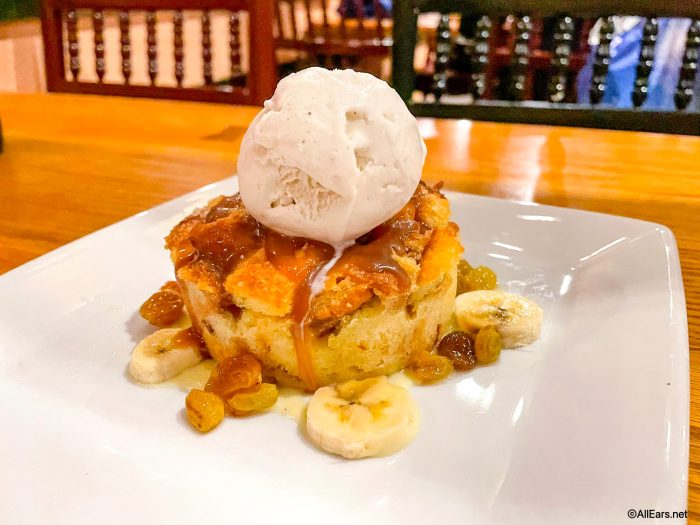 Banana Bread Pudding Cup 1 ea.
Edy's Vanilla Ice Cream 3 oz.
Banana Rum Sauce 3 oz.
In a bowl place a warm Banana Bread Pudding cup in center. Scoop Vanilla Ice Cream on top of round. Pour Rum sauce(with garnished banana slices) over both.
Banana Bread Recipe Yield 3 lbs.
Flour 14 oz.
Sugar, Granulated 6 oz.
Baking Powder 1/4 oz.
Cinnamon, Ground 1/4 oz.
Egg, Whole 2 ea.
Butter, Unsalted 4 oz.
Bananas, Peeled and Pureed 24 oz.
Vanilla extract 1/4 oz.
Salt, Kosher Pinch
In mixer combine dry ingredients and blend well, in separate container blend wet ingredients till combined, then slowly add to dry ingredients in mixer with paddle attachment moving. Spray baking pans/forms with quick release spray, and fill with batter. Cook in oven at 325 F until an inserted toothpick in bread comes out dry. Remove from oven and pans and cool.
Banana Bread Pudding Yield 20 each
Banana Bread, Cubed 2 lb.
Milk 24 oz.
Egg, Whole 3 ea.
Bananas, Peeled and Pureed 1 oz.
Sugar, Granulated 4 oz.
Vanilla, Imitation 1/4 oz.
Cinnamon, Ground 1/2 oz.
Nutmeg, Ground Pinch
In mixing container, combine all ingredients except cubed banana bread to form custard base. Spray muffin pan/forms with quick release spray. Fill each round/form with enough cubed banana bread to be level with top of form. Pour custard base into each round/form to cover/soak the banana bread cubes. Cook in oven at 325 F until custard base sets. Chill pans/forms, then remove pudding rounds for service.
Banana Rum Sauce Yield 2.5 lbs.
Butter, Unsalted 6 oz.
Sugar, Brown, Light 4 oz.
Banana, Peeled and Pureed 32 oz.
Nutmeg, Ground Pinch
Captain Morgan Spiced Rum 1.5 oz.
Banana Liquor 1 oz.
Vanilla, Imitation 1/4 oz.
In sauce pan on med high heat, combine Rum and Banana Liquor. Allow alcohol to flame to cook out alcohol. Once alcohol is cooked out, add butter, light brown sugar, pureed banana. Allow butter and sugar to melt and combine. Season at end with nutmeg and vanilla. Keep warm for service. Sauce can also be garnished with sliced bananas at service time.
Alright, alright — hear us out. There are lots of Liberty Tree picks on this list, but there's a reason for that — they've got great Thanksgiving food! And this dessert is a classic for a reason.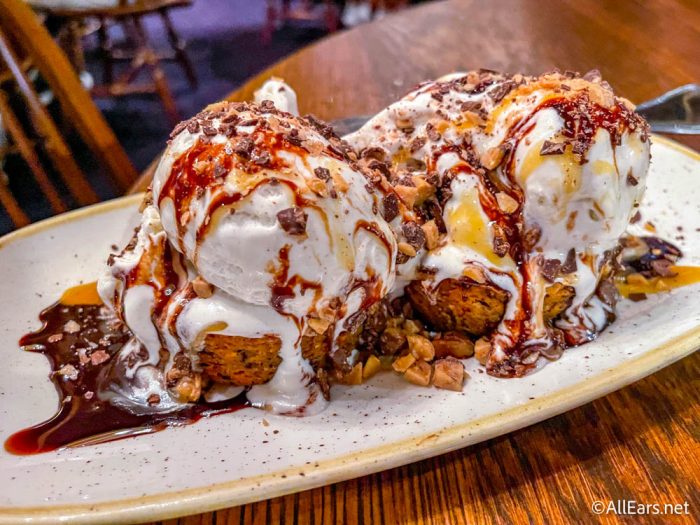 Cake Bottom:
Ingredients:
1 box yellow cake mix
1 each, egg
1/2 cup butter (1 stick)
Method of Preparation:
Mix ingredients and put in a greased baking pan 13″ x 9″.
Cake Filling:
Ingredients:
8 ounces cream cheese
3 each, eggs
1 teaspoon vanilla extract
1/4 cup butter
1 cup semi-sweet chocolate chips
1 cup Heath bar pieces
1 pound powdered sugar
Method of Preparation:
1. Put cream cheese in mixer.
2. Slowly add eggs and vanilla.
3. Add butter and mix well.
4. Put in powdered sugar, then add chocolate chips and toffee pieces.
5. Just mix; do not over mix.
6. Put on top of Cake Bottom in pan.
7. Bake at 325 for 35 minutes, then check.
And for even MORE Disney recipes, make sure to check out our entire giant database of recipes from Disney World, Disneyland, Disney Cruise Line, and more!
Join the AllEars.net Newsletter to stay on top of ALL the breaking Disney News! You'll also get access to AllEars tips, reviews, trivia, and MORE! Click here to Subscribe!

What's your favorite Disney recipe to remake? Let us know in the comments!