Walt Disney World's Magic Kingdom has a new fireworks show called Disney Enchantment.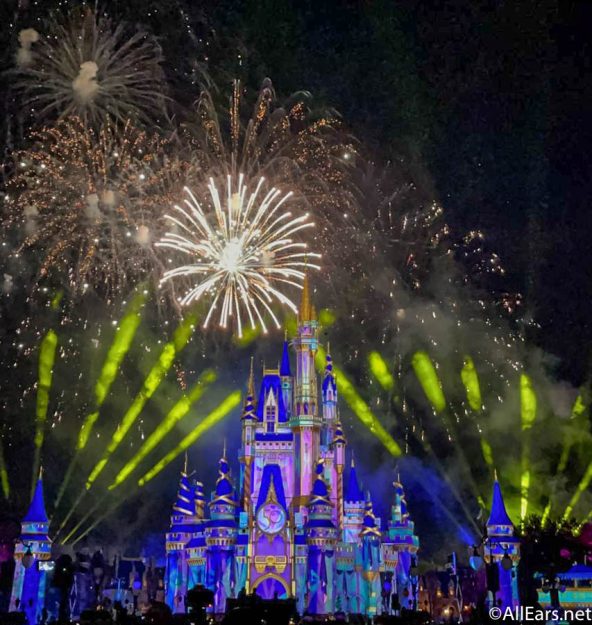 This show includes fireworks, music, and projections both on Cinderella Castle and up and down Main Street, U.S.A. This show is BIG, so it can be tough to decide where you should stand to take in all the effects.
We're looking at the BEST places to watch the Disney Enchantment so that you can have the most magical experience possible during your visit.
We know that people have different priorities when it comes to the Disney World nighttime shows. Some of you might want to see all the fireworks as close as possible, while others want to take in all the projections. Maybe you just want the most comfortable experience with the fewest crowds. Here are our top picks for Enchantment viewing, based on some different preferences.
If Your Priority Is Fireworks
The best place to see the fireworks part of Disney Enchantment is actually not right up by the Cinderella Castle. If you're too close to the castle, you'll have to really crane your neck to get a good view, because some of these fireworks are BIG.
We think the best spot would be a little further down Main Street, U.S.A. If you're toward the middle of the street (not too close to buildings on either side), you'll get an unobstructed view of the Castle and all the fireworks around it.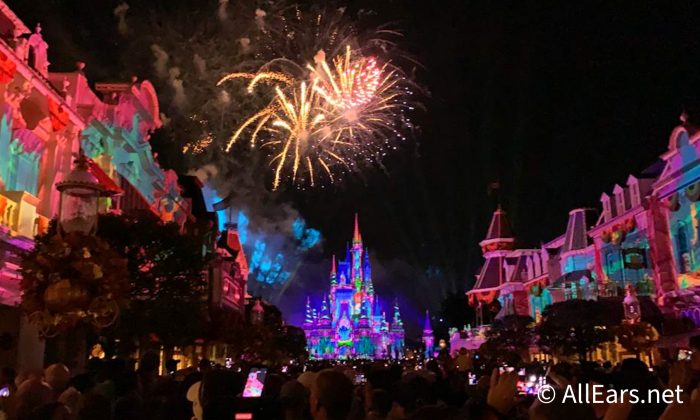 You'll also be able to see the Main Street projections from here really well, but you'll be a little further away from the Castle, which means the projections on the Castle itself will be more difficult to see. And as far as crowds go, this might be the worst spot. People pack really close together on Main Street, and your elbow room will likely be minimal.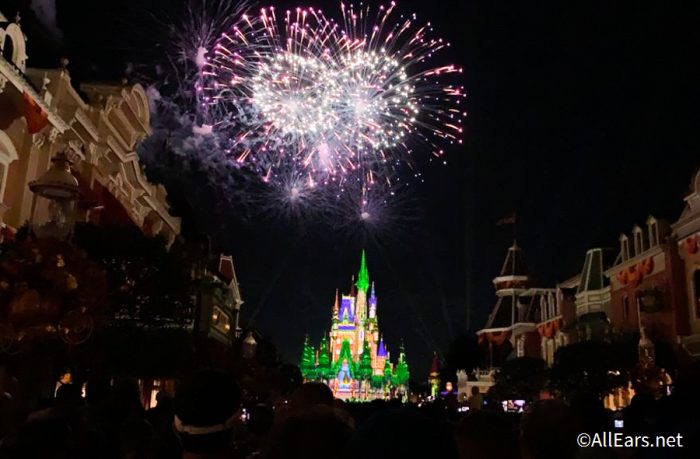 But for awesome fireworks views? The tight crowds might be worth it!
If Your Priority Is Projections
The projections for Enchantment are really cool, especially since it's the first show ever to have projections go all the way down Main Street, U.S.A.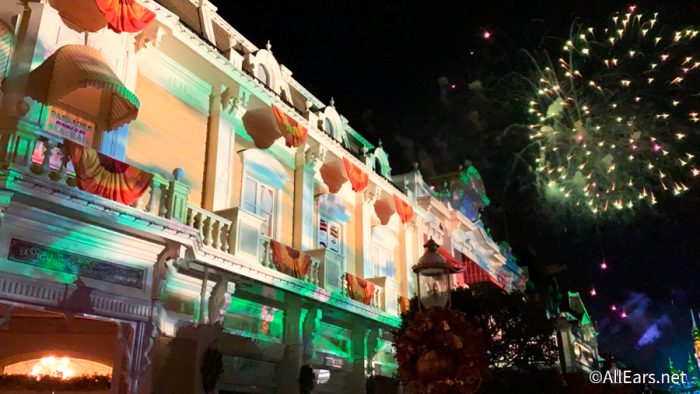 You can see colors, scenes, and characters projected onto both Cinderella Castle and the shops down Main Street. So it's a little tricky to find the best place to be able to see both sets of projections (Main Street and Castle ones).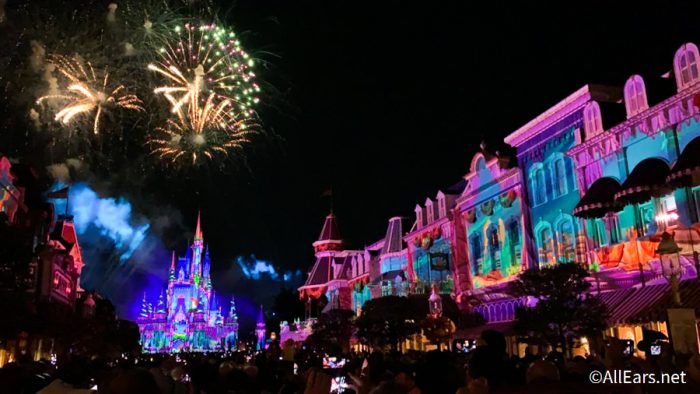 Our recommendation is to stay near the top of Main Street, around Casey's Corner or the Plaza Ice Cream Parlor. That way you're near enough to see the Castle projections, but you can still turn and see all the Main Street ones, too.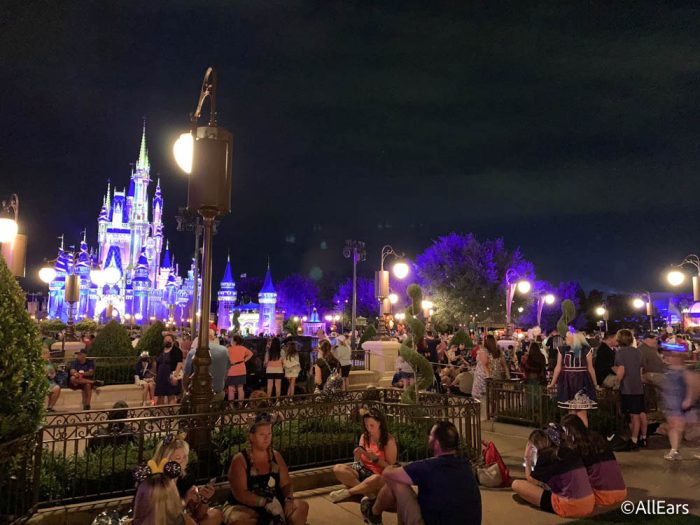 The sidewalks in the hub are a great spot for the Castle projections, but make sure you're standing a little to the left or right (not dead-center) so that the Partner's Statue (of Walt and Mickey) isn't obstructing your view.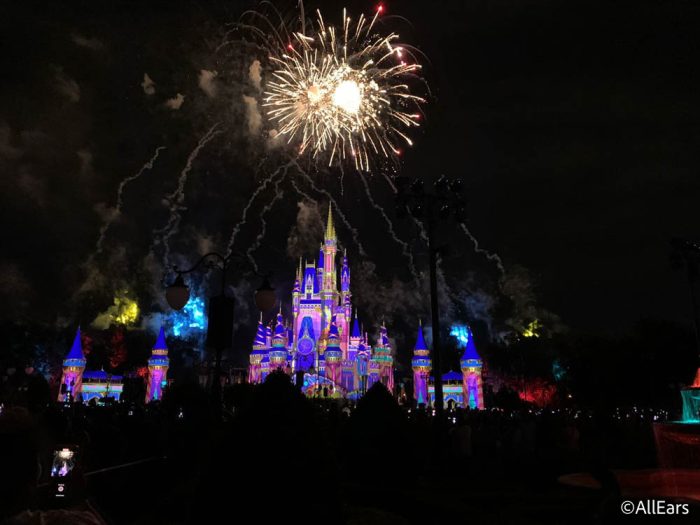 Plus, if you're up on a sidewalk, you'll be a couple of inches taller than the people in front of you on the street. We'll take all the help we can get for great views!
If Your Priority is Comfort (and Your Budget Is Big)
We tried out the new fireworks watch party at Disney's Contemporary Resort, and we had a really great time there.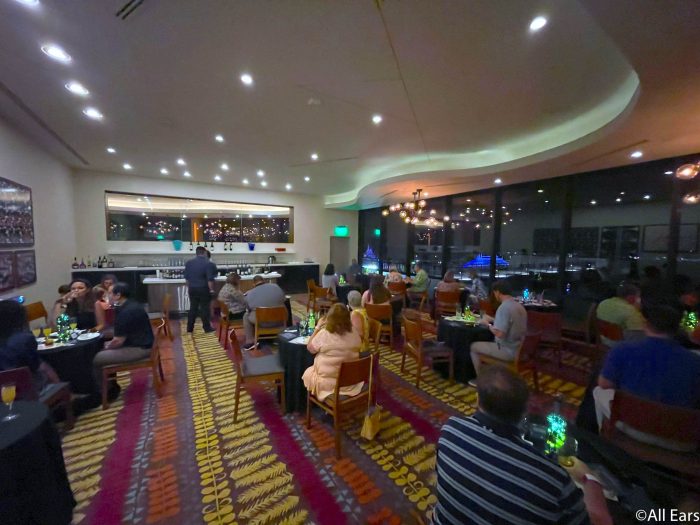 The snacks were delicious, and the views were great (remember that it's more like a birds-eye-view from this spot, so the fireworks are awesome, but you can't see projections).  The music from the show is piped in, so you get to hear everything that the guests inside the Magic Kingdom do.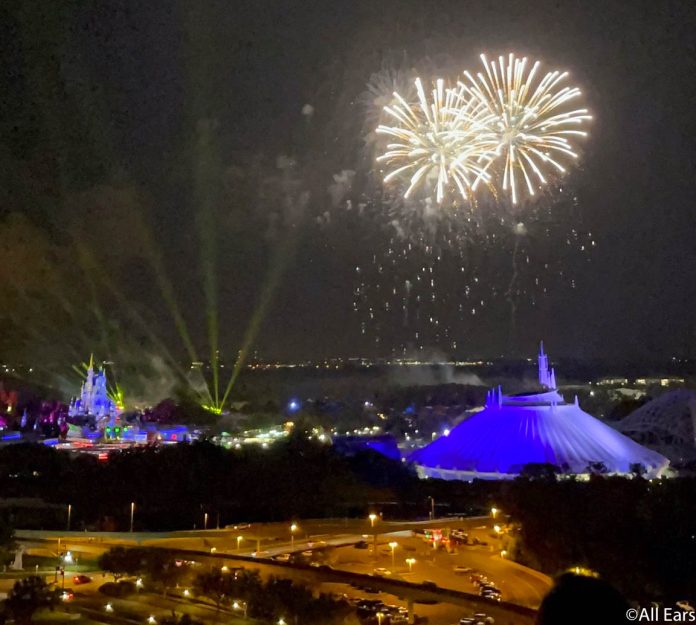 This is definitely the most comfortable way to watch the show — plenty of space, a tasty cocktail and dessert in hand, no crowds rushing out afterward — sounds ideal, right?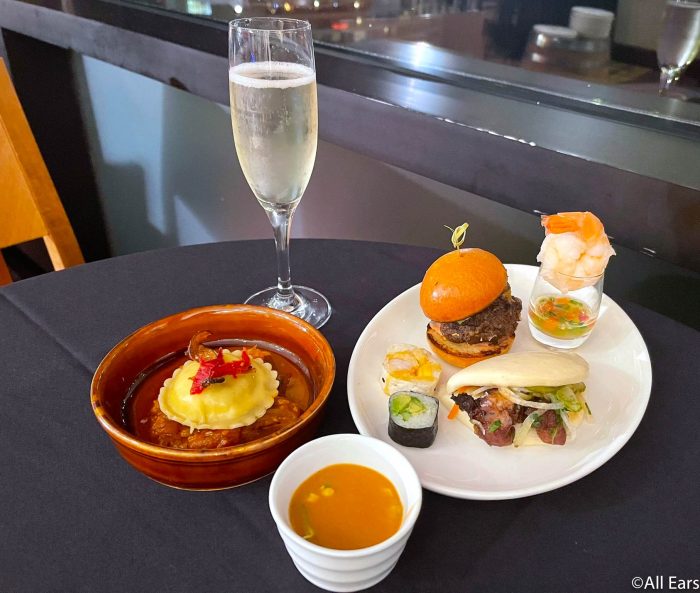 The only problem is the price tag — the Celebration at the Top: 50th Flavors and Fireworks party is $129 per person. It comes with a cocktail hour before the show, a viewing area for Enchantment, and a dessert party afterward. But if you're going with a group, that cost adds up quickly.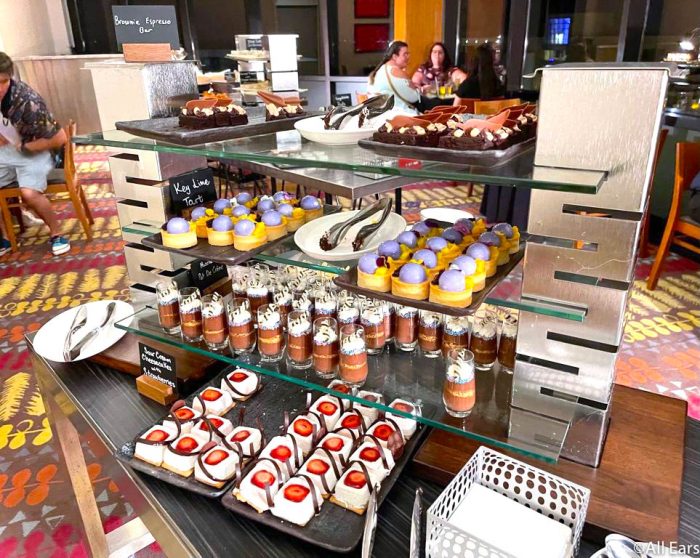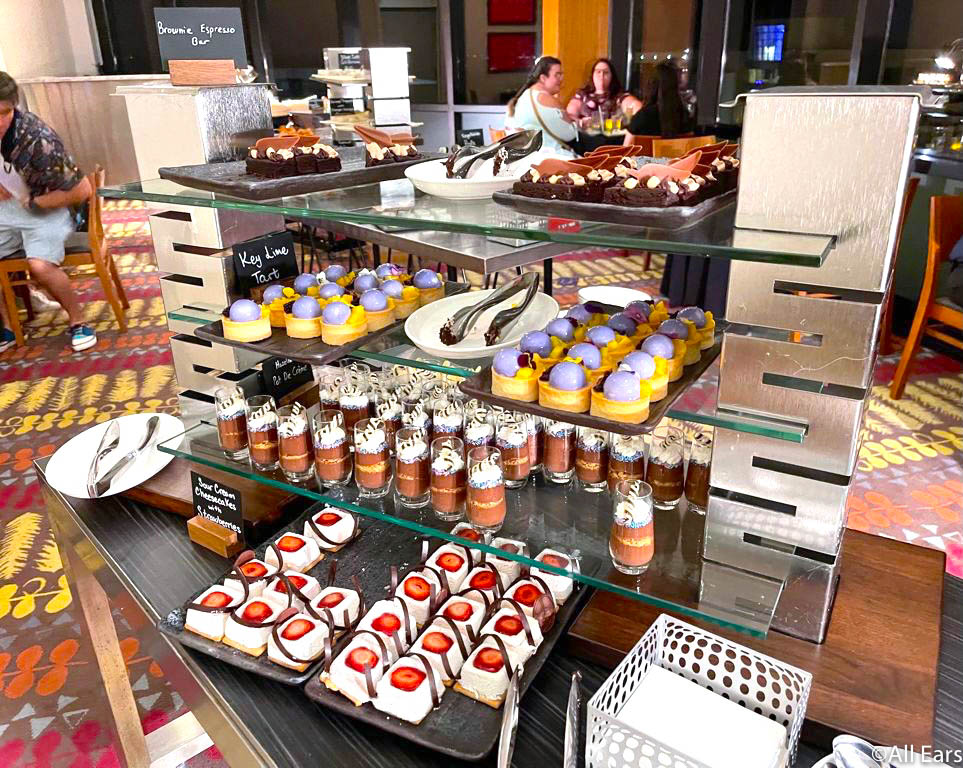 However, if you want to make a special night of it or you're celebrating an occasion, this is a great way to turn the fireworks show into an upscale experience.
If Your Priority is Comfort (and You Don't Want to Spend Extra Cash)
We totally get it — not everyone has $130 laying around to spend on fancy fireworks parties! And even if you have the money in the budget, you might want to spend it on other experiences in the parks. So where should you go if you still want the most comfortable experience possible without shelling out the dough?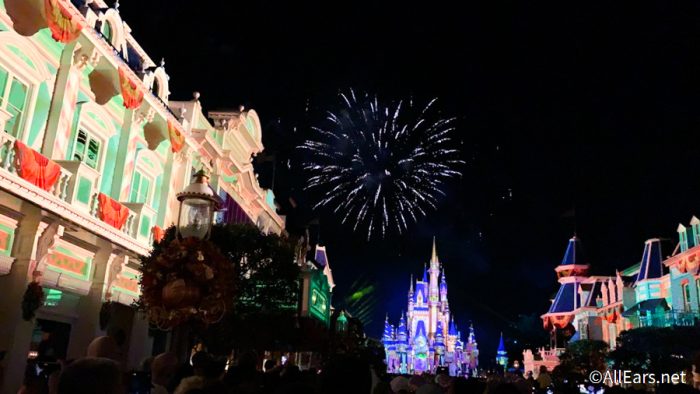 One of our favorite ways to watch fireworks shows is actually from a side street. The area by Gaston's Tavern in Fantasyland doesn't usually get crowded at all, and you can find a spot to sit down and enjoy the music and fireworks.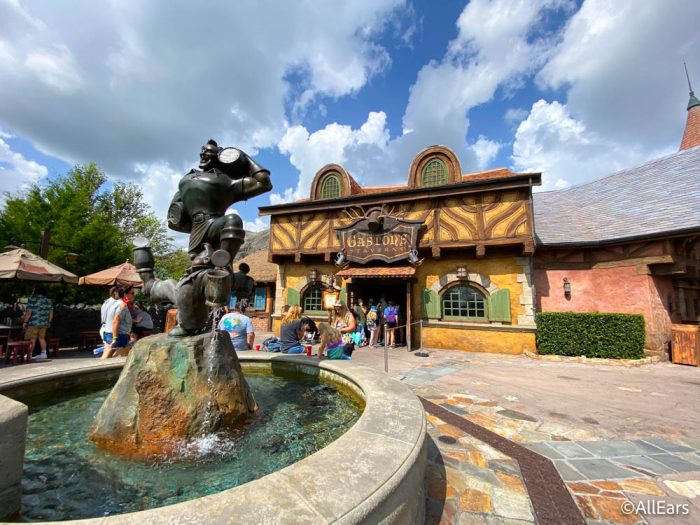 You won't get to see the projections nearly as well from over here, so if it's your first time seeing the show or you love the projections, this isn't the best place for you.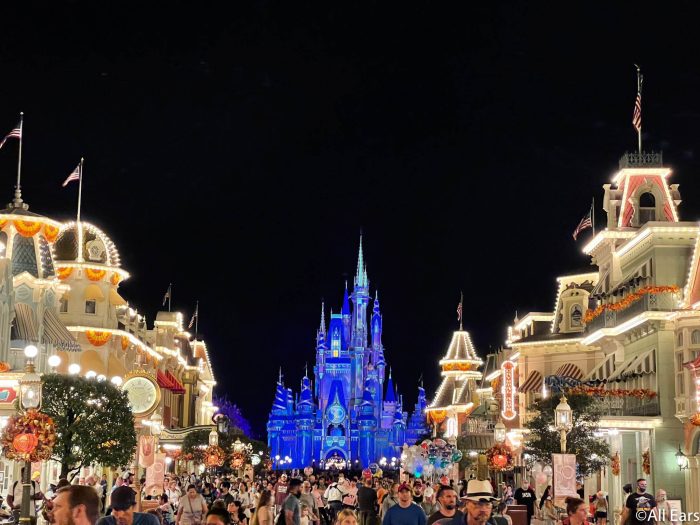 But if you've seen the show already and just want to enjoy the ambiance and magic of it from a comfortable, not-crowded spot, try out some side streets!
General Tips
Here are a few more things to keep in mind as you stake out your Disney Enchantment watching spot: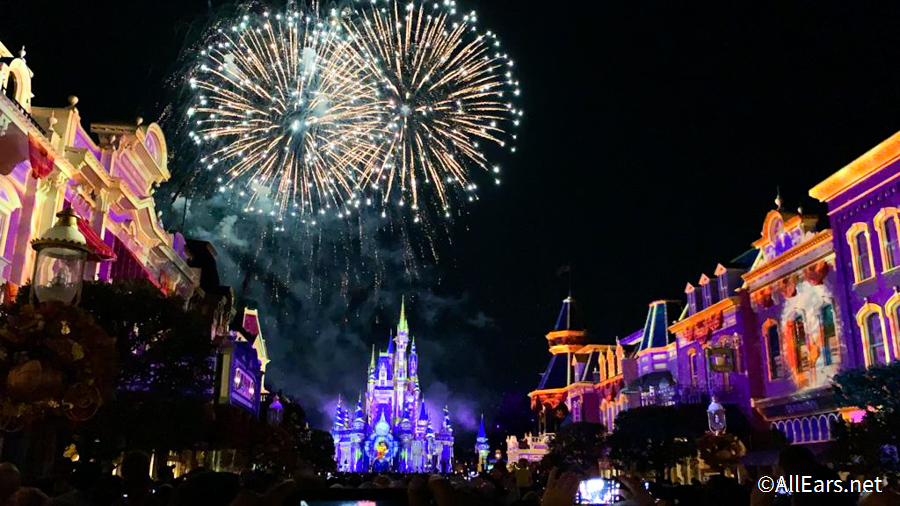 There are usually BIG crowds of people trying to get a good view, so personal space is pretty minimal on Main Street, U.S.A. If you can find a trash can, we recommend standing next to it (no, really). That means you'll have at least a little bit of elbow room on that side, and it makes a handy table if you brought along a snack.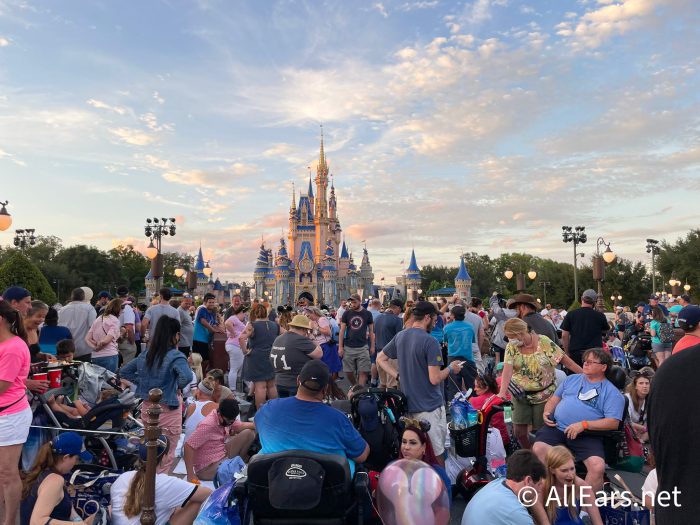 Find your spot about 45 minutes before the show starts if this is a big priority for you. If you're interested in the show but not dying to get the best view, don't worry too much about staking out a spot at all. There is plenty of room to get a decent view, even if it gets a bit crowded.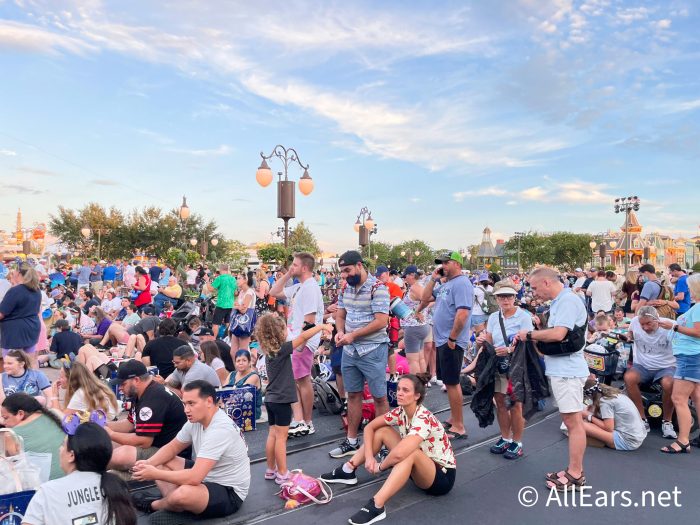 Grab a snack on the way to the show! There are lots of new snacks in the Magic Kingdom right now, and what could be more magical than watching Enchantment with a delicious Disney snack in your hand? Fireworks + snack = happy days.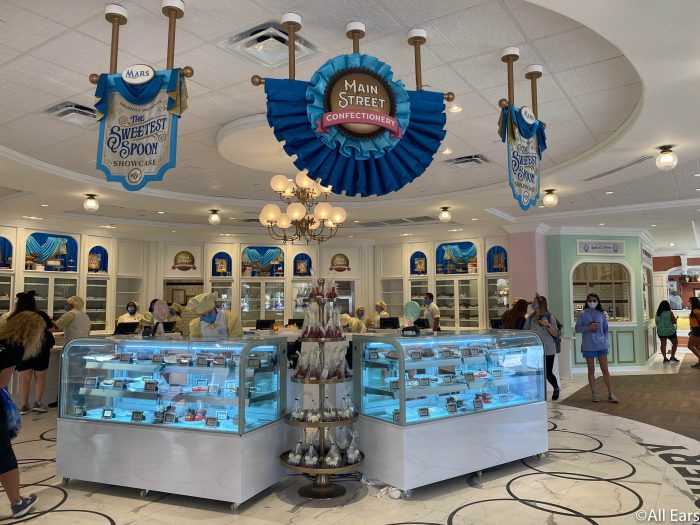 Remember to be polite and considerate while you're watching the show! We totally get that you might want to take pictures and videos (obviously we do that all the time), but try not to have your camera right in someone's view. And if there are little kids around you, we know they (and their parents) will really appreciate it if you let them stand in front.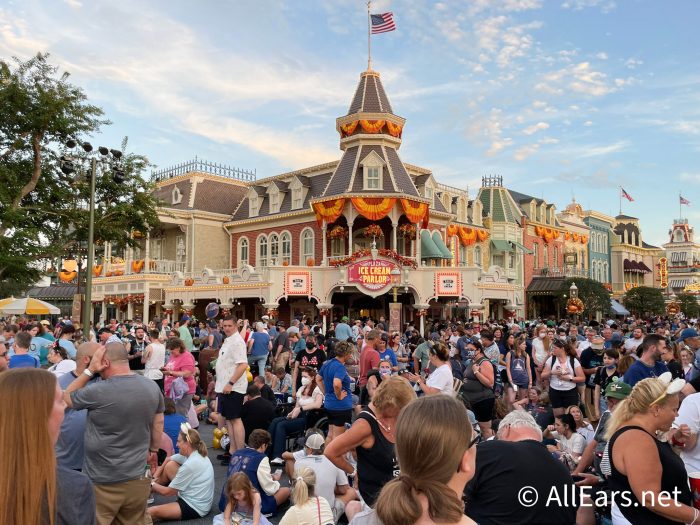 And that's all for our picks of the best places to watch Disney Enchantment. Keep following AllEars for more tips as you prepare for the most magical vacation on Earth.
What's your favorite fireworks-watching spot in the Magic Kingdom? Let us know in the comments.
Join the AllEars.net Newsletter to stay on top of ALL the breaking Disney News! You'll also get access to AllEars tips, reviews, trivia, and MORE! Click here to Subscribe!