We get to be at Disney World nearly every day, and we feel pretty lucky being able to have our favorite snacks whenever we want!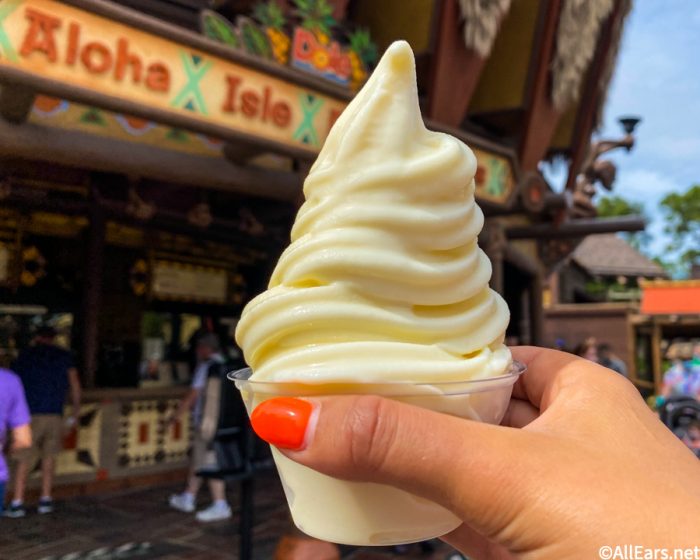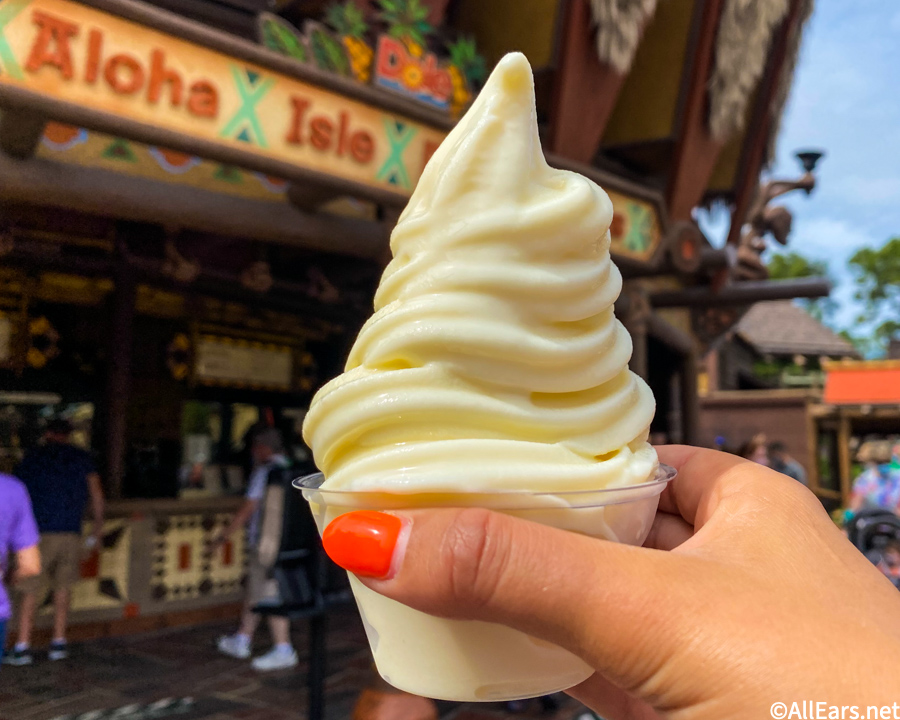 But you don't have to go without those snacks if you can't get to Disney World as much as us!
You can make many of these snacks right at home!
We've put together a list of recipes that let you eat the best Disney World snacks in the comfort of your own home while watching Disney+ in your pajamas! So head to the kitchen, get to cooking, and enjoy!
Dole Whip
Is there any snack more iconic than the Pineapple Dole Whip? It's literally one of the first things we get when we're at Magic Kingdom, and it's a favorite for a reason. And this recipe comes directly from the Dole website, so you know it's authentic!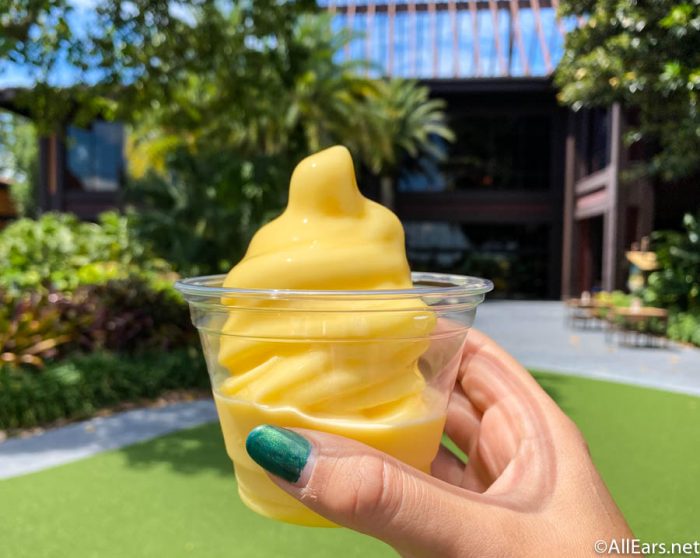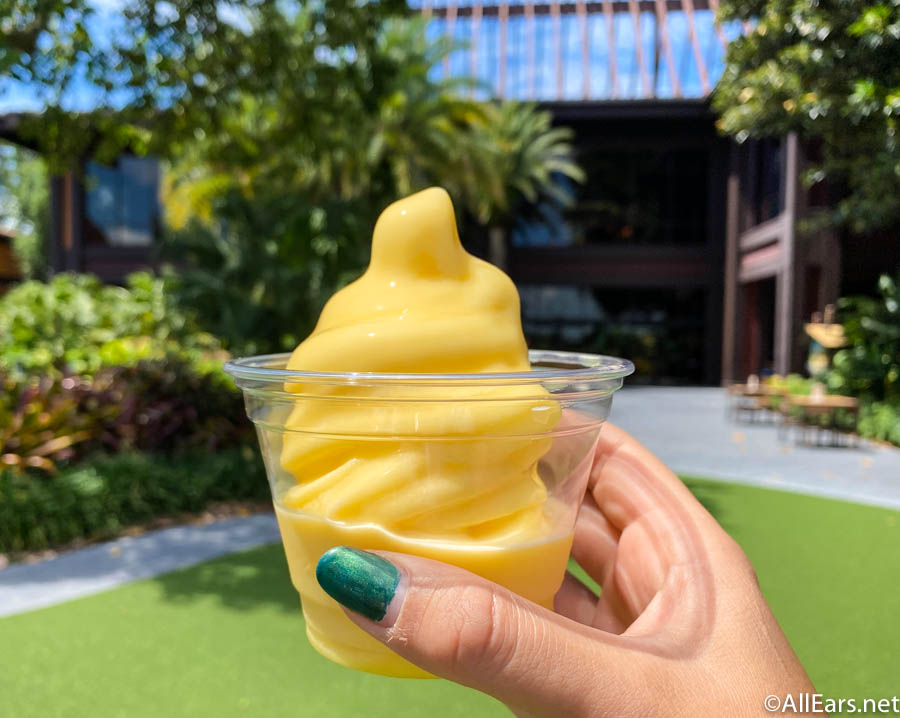 INGREDIENTS
1 cup pineapple juice, frozen in an ice cube tray
1 DOLE® Banana, peeled and frozen
2-1/2 teaspoons powdered sugar
1/4 to 1/2 cup unsweetened coconut milk beverage
Directions
Combine pineapple juice, banana, and powdered sugar in a blender. Cover; blend until smooth, gradually adding coconut milk and scraping down sides if necessary. Serve immediately.
Carrot Cake Cookie
One of our favorite snacks at Disney's Hollywood Studios is the Carrot Cake Cookie, which is basically a massive amount of cream cheese frosting stuffed between two carrot cakes. It used to be found at the long-gone Writer's Stop, but now you can get it at Trolley Car Cafe. Or you can just make it at home with this recipe from Disney Food Blog.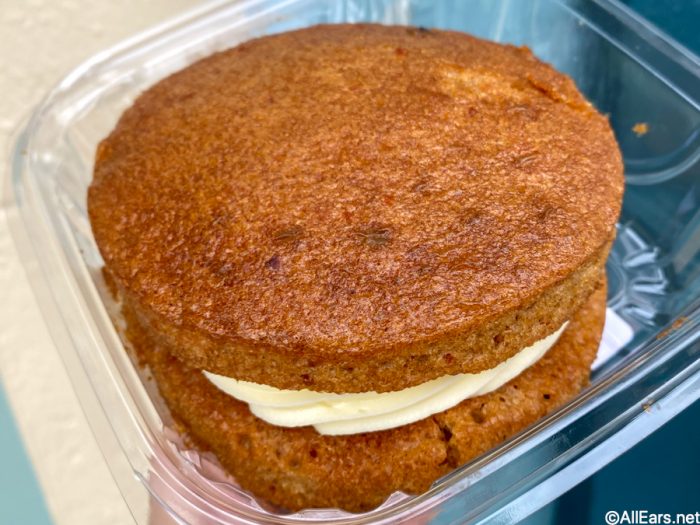 Ingredients
1 box Carrot Cake mix
3/4 cup of water (per box instructions)
1/3 cup of vegetable oil (per box instructions)
3 large eggs (per box instructions)
8 oz of cream cheese
8 tablespoons of butter
1 cup of confectioners (powdered) sugar
1/2 cup of crushed and drained pineapple
1 teaspoon of vanilla extract
Directions
You'll want to start by making the Carrot Cake recipe listed on the back of the standard box. Before you get mixing, be sure to preheat your oven to 350 °F and grease a cookie sheet.
Drop off rounded spoonfuls onto your cookie sheets and bake for about 10 minutes. Set aside to cool once baked.
In another large bowl, sift your powdered sugar.
Then, place your butter and cream cheese inside the bowl.
Drain your crushed pineapple in the sifter over your sink, before adding it and the vanilla extract to the rest of the ingredients in the bowl.
Blend the ingredients together until the frosting is creamy.
Place a tablespoon (or more!) of icing on each cookie and sandwich them together!
Lunch Box Tarts
Dessert at Woody's Lunch Box is always the Lunch Box Tarts, and we have a recipe, thanks to Tasty! The cool thing about this recipe is that you can make it with any kind of filling you'd like, and yes, that includes fruit jam, Nutella, and chocolate!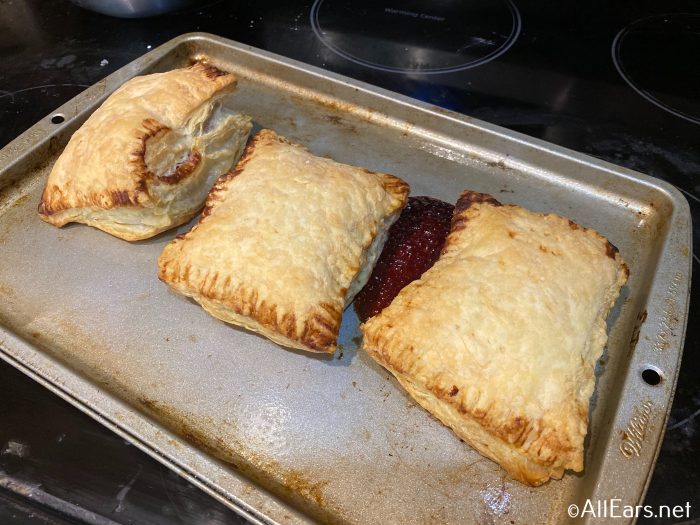 Ingredients
Tarts
1 puff pastry sheet or pie crust rolled out
fruit jam (choose your favorite or mix a few together!)
1 egg
1-2 tablespoons of milk
Icing
2 cups powdered sugar
¼ cup low fat milk
½ teaspoon vanilla extract
food coloring, of choice
sprinkles, optional
Directions
Pre-heat oven to 375°F. If needed, set out puff pastry sheet to thaw.
Cut puff pastry or crust into 6 equal rectangles.
Make an egg wash by whisking 1 egg and 1-2 tablespoons of milk together.
Coat edges of half of the dough rectangles with egg wash.
Place a few tablespoons of fruit jam in the center and spread, leaving room on the edges.
Place a second piece of puff pastry on top of each. Use your fingers to push the edges together, and then seal with a fork.
Poke a few sets of holes with the fork in the top of each pasty.
Bake on wax paper or lightly greased cookie sheet for 20-30 minutes or until golden brown and puffy.
While pastries are baking, make your icing! Simply mix all ingredients together.
When the pastries are done, let them cool slightly and then top with icing and sprinkles. Let the icing harden a bit and then enjoy!
Churro Bites
What's not to love about the cinnamon-sugar pastry delights known as Churros? And we've got the recipe straight from the Disney Parks Blog to make them as authentically Disney as possible.
Ingredients
3 eggs
1-1/2 cups vegetable or canola oil
3/4 teaspoon ground cinnamon, divided
8 tablespoons butter
1/2 cup sugar
1 cup water
1-1/4 cups all-purpose flour
Directions
Combine water, butter, salt, and 1/4 tsp. of cinnamon in 1-1/2 quart saucepan over medium heat. Bring to a rolling boil.
Reduce heat to low.
Add flour and stir vigorously until mix forms a ball. Remove from heat and let rest for 5-7 minutes.
Add eggs one at a time and stir until combined. Set aside.
Heat oil in medium skillet or 1-quart saucepan over medium-high heat until temperatures reaches 350 degrees.
Spoon dough into piping bag fitted with a large star tip. Pipe 1-inch strip of dough over saucepan, cut with a knife, and drop into hot oil. Repeat until churro pans fill saucepan with room to fry.
Fry churro bites until golden brown . Remove with slotted spoon or mesh spider strainer.
Drain churro bites on paper towel.
Mix sugar and 1/2 tsp. cinnamon in medium bowl. Toss churro bites until coated. Place on serving plate and serve with favorite dipping sauce.
Grapefruit Cake
If you've ever dined at the Hollywood Brown Derby at Hollywood Studios, you'll know that the premiere dessert there is the Grapefruit Cake. But you don't have to travel to Disney World to have this fruity dessert — you can now make this Disney World recipe at home.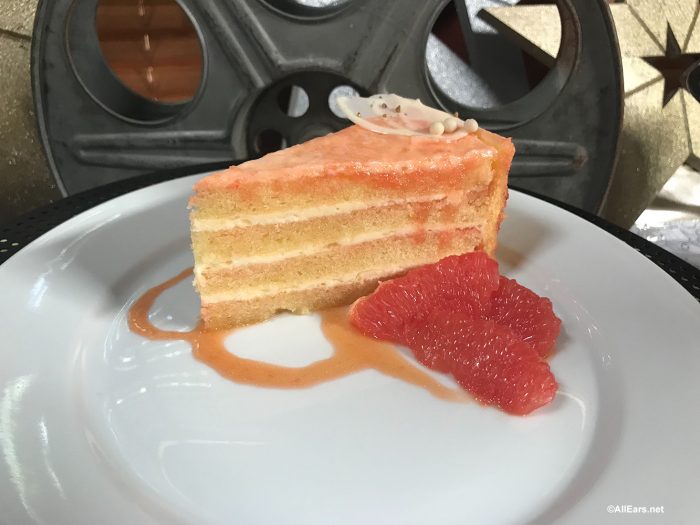 Ingredients
Cake
1 1/2 cups sifted cake flour
3/4 cup sugar
1 1/2 teaspoons baking powder
1/2 teaspoon salt
1/4 cup water
1/4 cup vegetable oil
3 eggs (separated)
3 tablespoons grapefruit juice
1/2 teaspoon grated lemon rind
1/4 teaspoon cream of tartar
Frosting
2 six-ounce packages of cream cheese
2 teaspoons lemon juice
1 teaspoon grated lemon rind
3/4 cup powdered sugar (sifted)
6 to 8 drops yellow food coloring
1 one-pound can grapefruit sections (well-drained), reserving 2 tablespoons of juice OR 3 fresh grapefruits, peeled, sectioned, and drained, reserving 2 tablespoons of juice.
Directions
Preheat oven to 350º F. Sift together flour, sugar, baking powder, and salt into mixing bowl. Make a well in center of dry ingredients.
Add water, oil, egg yolks, grapefruit juice, and lemon rind. Beat until smooth.
Beat egg whites and cream of tartar separately, until whites are stiff but not dry.
Gradually fold egg whites into the cake batter, folding gently with a rubber spatula until just blended. Do not stir the mixture.
Pour into an ungreased 10-inch cake pan. Bake at 350º degrees for 25 to 30 minutes, or until cake springs back when lightly touched with a finger. Invert pan on cake rack until cool. Run spatula around edge of cake. Carefully remove from pan. With a serrated knife, gently cut layer in half.
Let cream cheese soften at room temperature. Beat cheese until fluffy.

Add lemon juice and rind.

Gradually blend in sugar. Beat until well blended. Add food coloring.

Add reserved grapefruit and blend into frosting.

Divide the frosting evenly into two bowls. Roughly chop 2/3 of the grapefruit sections and add them to half the frosting. Spread this mixture on the bottom half of cake. Top with several grapefruit sections. Cover with second layer of cake. Frost top and sides. Garnish with remaining grapefruit sections.
Nudel Gratin
If you've ever been to the Germany Pavilion at EPCOT and dined at Biergarten or Sommerfest, you've had that wonderful version of German Macaroni and Cheese called Nudel Gratin. But there's no need to travel to EPCOT OR Germany to treat yourself to this wonderfully cheesy treat. Here's how to make it at home.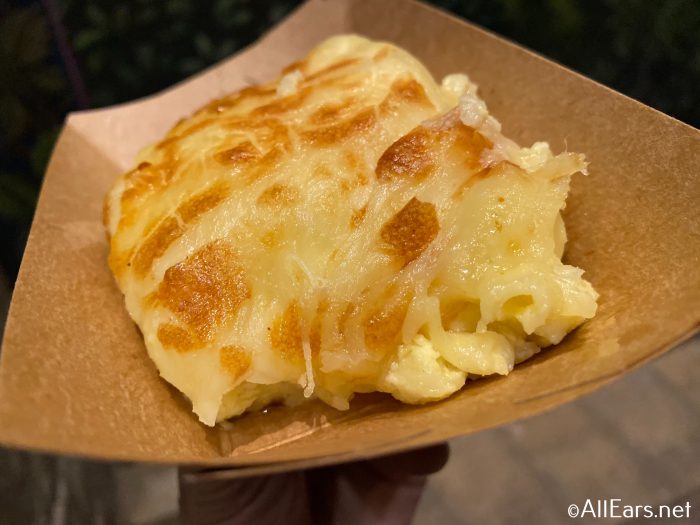 Ingredients
2 cups heavy cream
2 eggs
1/4 teaspoon salt
Pinch ground white pepper
Pinch nutmeg
4 ounces Swiss cheese, shredded
4 ounces white cheddar cheese, shredded
1 pound cooked elbow macaroni
Directions
Preheat oven to 375F. Spray a 16×9-inch baking dish with nonstick spray.
Combine cream, eggs, salt, pepper, and nutmeg in a large bowl, whisking to combine. Toss cheeses together in a small bowl until combined; remove 1 cup cheese and set aside. Stir remaining cheeses into cream mixture.
Cook macaroni until just tender; drain and add cream mixture, stirring immediately. Pour mixture into prepared baking dish. Cover with foil.
Bake 30 minutes. Remove foil, and sprinkle reserved cheese over top of noodles. Bake 15 minutes longer.
Cool 10 minutes before cutting into squares. Serve warm.
Cheddar Cheese Soup
Speaking of cheesy things we love, the Cheddar Cheese Soup at Le Cellier at the Canada Pavilion is pretty tasty, too. And once we learned how to make it at home, all bets were off — now we can enjoy it any time we want!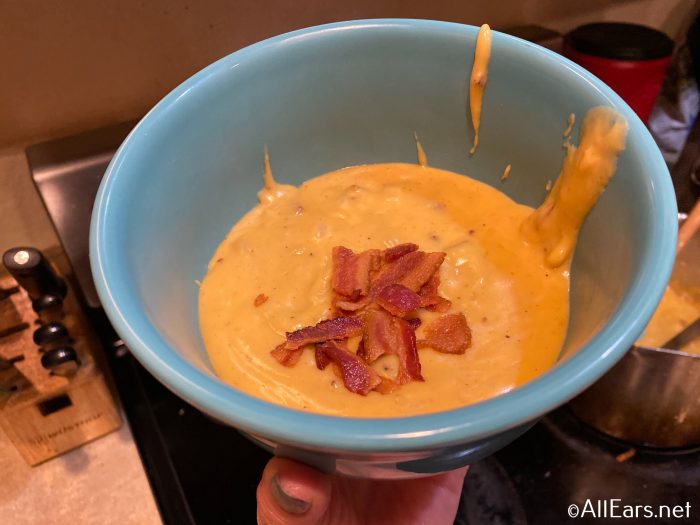 Ingredients
1/4 lb. smoked bacon finely chopped
1 medium red onion cut into 1/4 in. pieces
1/2 cup finely sliced celery
1/2 cup finely chopped carrots
3 TB all-purpose flour
3 cups whole milk
2 cups chicken stock
12 oz. grated white cheddar, Canadian Black Diamond
3 dashes Tabasco
1/2 tsp. Worcestershire sauce
1/2 cup Moosehead Canadian Ale, room temperature
salt and pepper to taste
1 TB thinly sliced chives
Directions
Cook the bacon in a large heavy-bottomed, non-reactive soup pot over medium heat until wilted but not browned.
Add onions, celery and carrots and cook until the onion is translucent and bacon has crisped.
Sprinkle in flour and stir constantly for 2 minutes. Stir in milk and stock, a little at a time, blending well to ensure there are no lumps. Bring to a boil, then cover and simmer for 15 minutes.
Remove from heat and whisk in cheese, Tabasco, Worcestershire and ale. Season with salt and pepper to taste.
Serve with your favorite bread and top with chopped chives.
Grey Stuff
Try the Grey Stuff, it's delicious! No, really, it is! And thanks to this Disney Parks Blog recipe, you can make it and put it on top of a cookie, or a cake, or just scoop it into your mouth by the spoonfuls like we do.
Ingredients
1 1/2 cups cold whole milk
1 (3.4 ounce) package instant vanilla pudding mix
15 chocolate sandwich cookies
1 (8 ounce) container whipped topping, thawed
3 tablespoons instant chocolate pudding mix
12 scalloped sugar cookies
Edible sugar pearls
Directions
Pour milk into large mixing bowl. Add instant vanilla pudding mix and whisk for 2 minutes until smooth and slightly thickened. Place in the refrigerator for 1-2 hours, until firm.
Place chocolate sandwich cookies in food processor and pulse until puréed.
Fold puréed cookies into pudding mix. Stir until fully mixed.
Add whipped topping and instant chocolate pudding.  Stir until fully mixed.
Place in refrigerator and chill for one hour.
Spoon grey stuff into piping bag fitted with desired tip. Pipe grey stuff onto cookies. Top with sugar pearls.
Fried Boursin Cheese
If you're sensing a theme here, a lot of our favorite Disney World dishes involve cheese. And the Fried Boursin Cheese at 50s Prime Time Cafe at Hollywood Studios is one of those things we will always order. And this recipe to make it at home is super easy!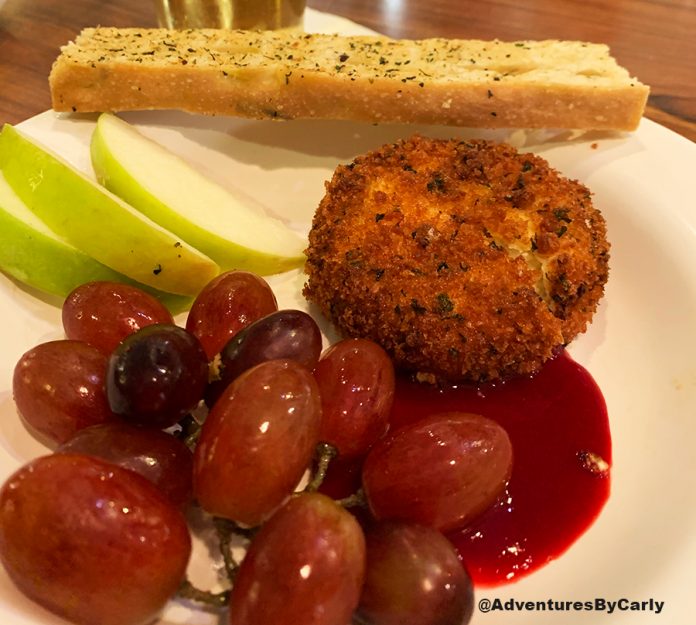 Ingredients
4 oz. water
4 oz. lettuce mix
3 beaten eggs
2 oz. raspberry sauce (Melba sauce)
1/2 lb. flour, seasoned
1 qt. soybean or canola oil
1/2 lb. bread crumbs, seasoned
1 French Bread, Sliced, toasted (9″)
2 Boursin cheese wheels (5 oz. each)
Directions
Cut cheese wheels in half crosswise with a hot dry knife.
Dredge cheese in flour then egg and then bread crumbs. Repeat in egg then bread crumbs. Set aside in refrigerator.
Fill a cast iron skillet with oil 1/4″ high. Heat oil to 350° and fry cheese until golden brown then flip over and fry the other side.
Remove from oil and place on paper towel.
Place salad mix on center of plate and arrange bread slices around cheese, top with sauce.
Jack-Jack's Num Num Cookies
Sure, you could whip up a quick batch of any old cookie, but wouldn't you love to whip up a batch of Jack-Jack's Num Num Cookies instead and num on the thick gooeyness of this fabulous cookie? And this Pixar recipe comes straight from Mrs. Incredible herself.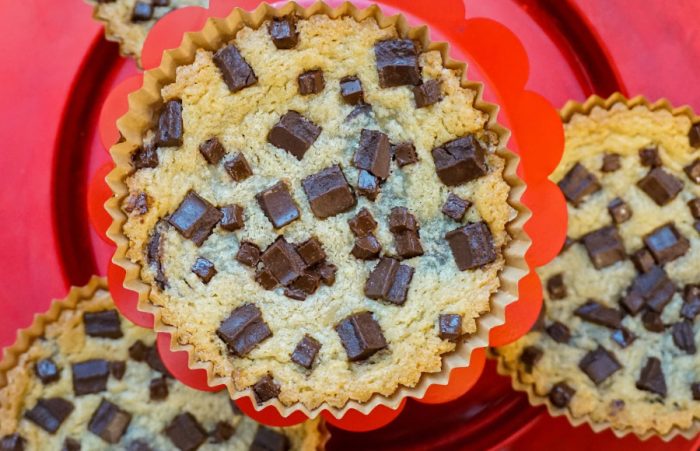 Ingredients
1 cup butter (2 sticks)
1 1/4 cups brown sugar
1/4 cup granulated sugar
1 egg
1 egg yolk
1 teaspoon sea salt
1 teaspoon vanilla extract
1 teaspoon baking soda
1 cup chocolate chips
2 1/4 cups flour
Directions
Brown butter and let it cool until it begin to solidify.
Cream butter sugars and salt in a mixing bowl until light and fluffy.
Mix in whole egg, egg yolk, and vanilla.
Combine dry ingredients and mix into the batter.
Add chocolate chips.
Scoop into balls and chill thoroughly, at least an hour, preferably overnight.
Bake at 350 for seven to 10 minutes until golden brown on edges but still soft in the center.
Enjoy! And if you'd like to see even more recipes, be sure to visit our Disney Recipes Database!
Have you tried any of these recipes? Let us know how they were in the comments!
Join the AllEars.net Newsletter to stay on top of ALL the breaking Disney News! You'll also get access to AllEars tips, reviews, trivia, and MORE! Click here to Subscribe!