We are BACK in Disneyland Resort today for the parks' official grand reopening! Earlier this week, we were able to step inside the parks for the very first during Cast Member previews prior to its reopening day.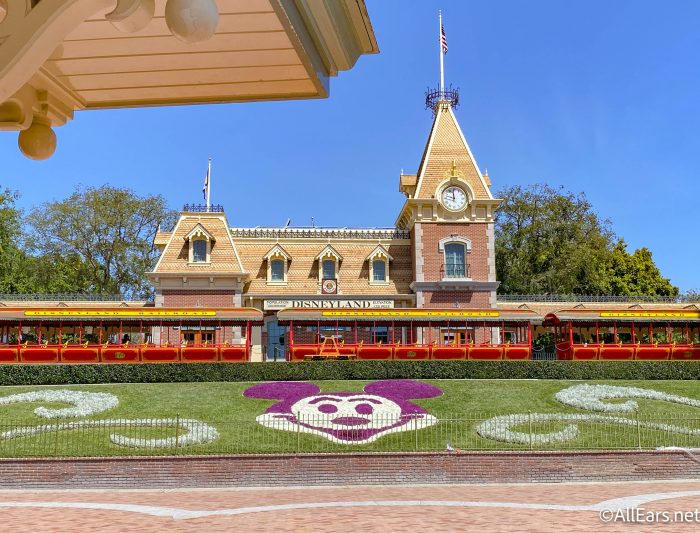 Even though it's been over a year since Disneyland initially closed due to the global health crisis, Disney is now welcoming guests back into the park with additional health and safety measures. Of course, we stopped by to check it all out and figured we would take you with us! So, let's make our way to the official reopening of Disneyland together!
Cast Member Previews
Entering
Okay, deep breath here…entering Disneyland for the first time in over a year is a BIG DEAL! And, of course, there were a lot of Cast Members eagerly awaiting behind additional plexiglass barriers to greet us and welcome us back.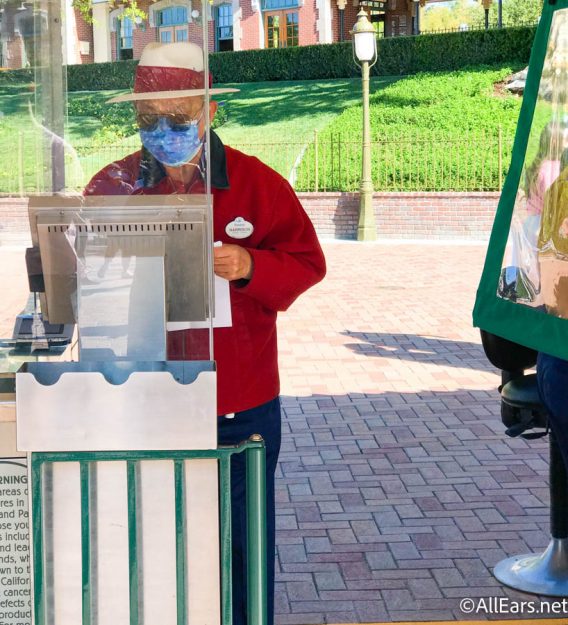 Because this was a Cast Member preview, the lines weren't too bad and when you got to the front you needed to have your tickets, park pass, and other documents (like proof of California residency) ready to go. They scanned our passes and into Disneyland Park we went (!!).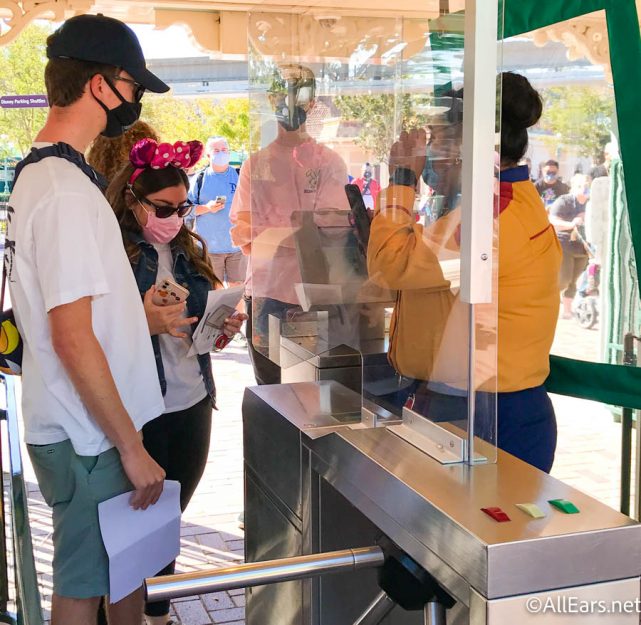 There was a lot of room to spread out when you got past the gate and, we must say, it sure did feel good to be walking inside of the gates once again!
Under the railroad bridge we went…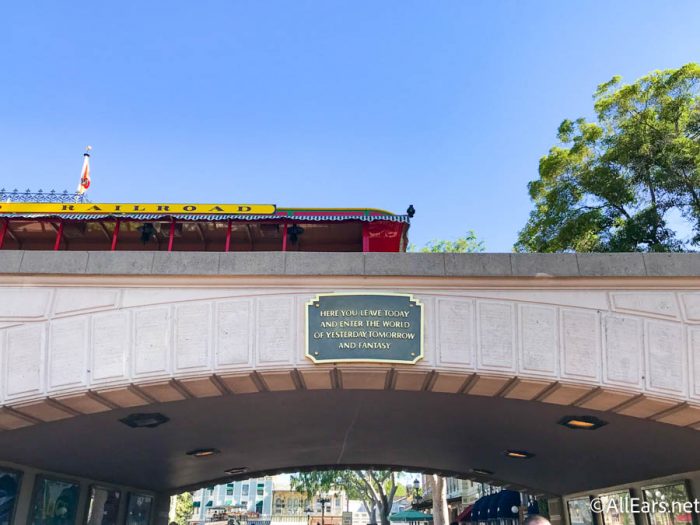 …and we were welcomed back by Main Street, U.S.A.!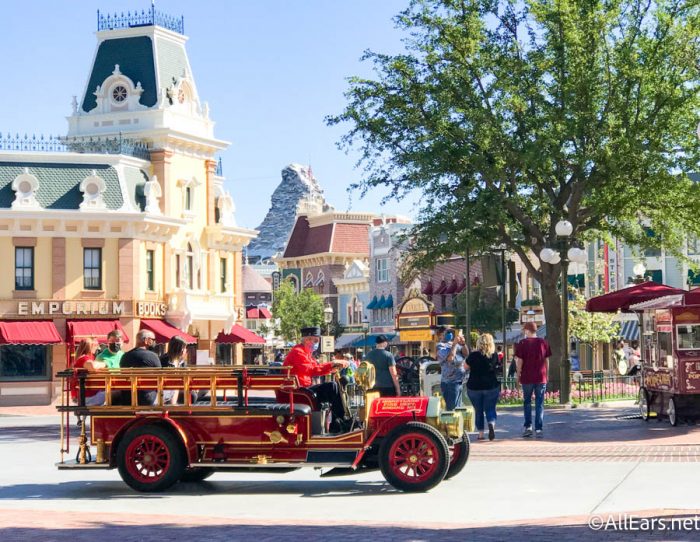 The Main Street trolley cars were making their rounds and they were actually letting people on them! Some held only one party and others loaded a few into the seats being sure to distance them between rows.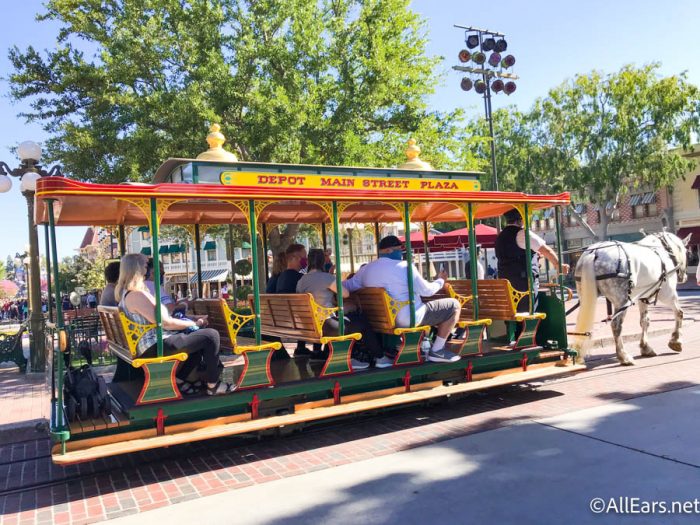 Before we get all the way down to the castle, we did notice that Disneyland had installed handwashing stations throughout the park. There was a large station right when you entered Main Street…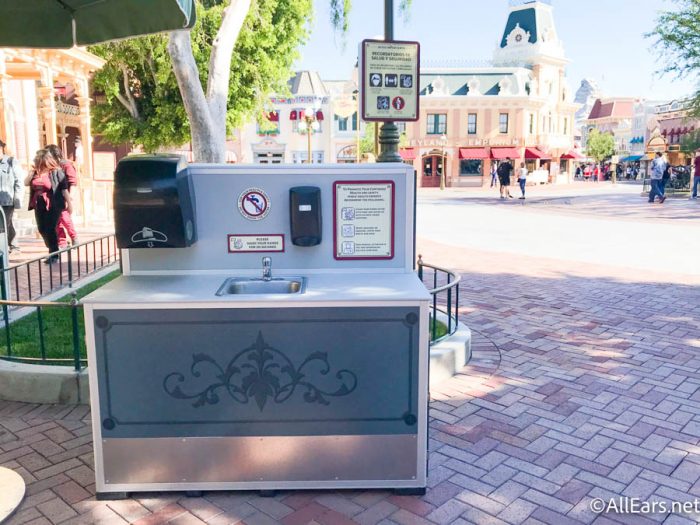 …and there was also plenty of hand sanitizer stations.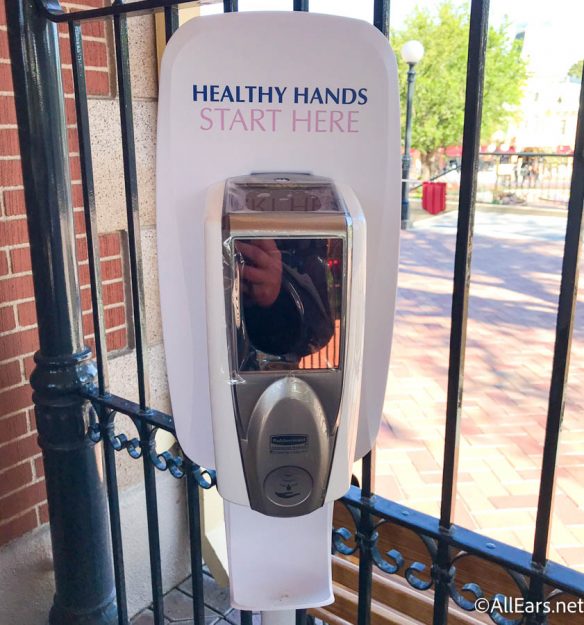 Now, for the thing we've been waiting over a year to see — Sleeping Beauty Castle!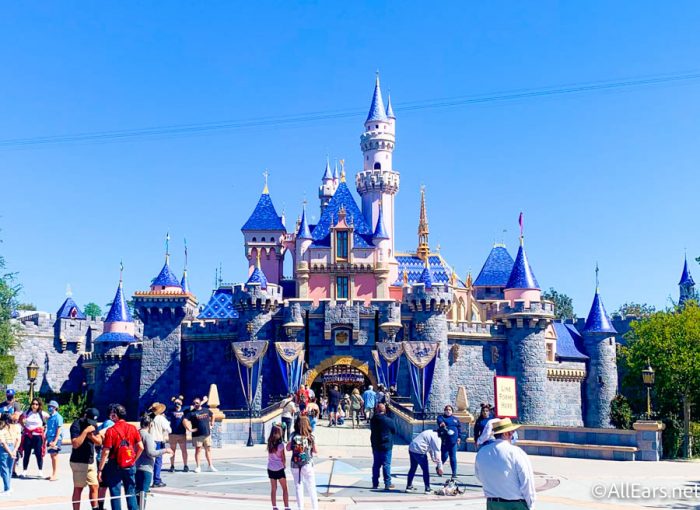 The area in front of the castle was a bit more crowded as everyone stopped to get their pictures, but we still had plenty of room to get in a photoshoot!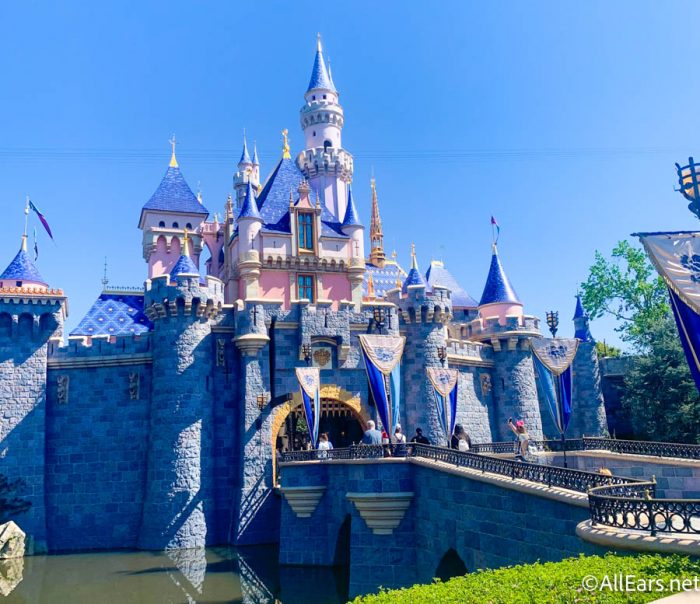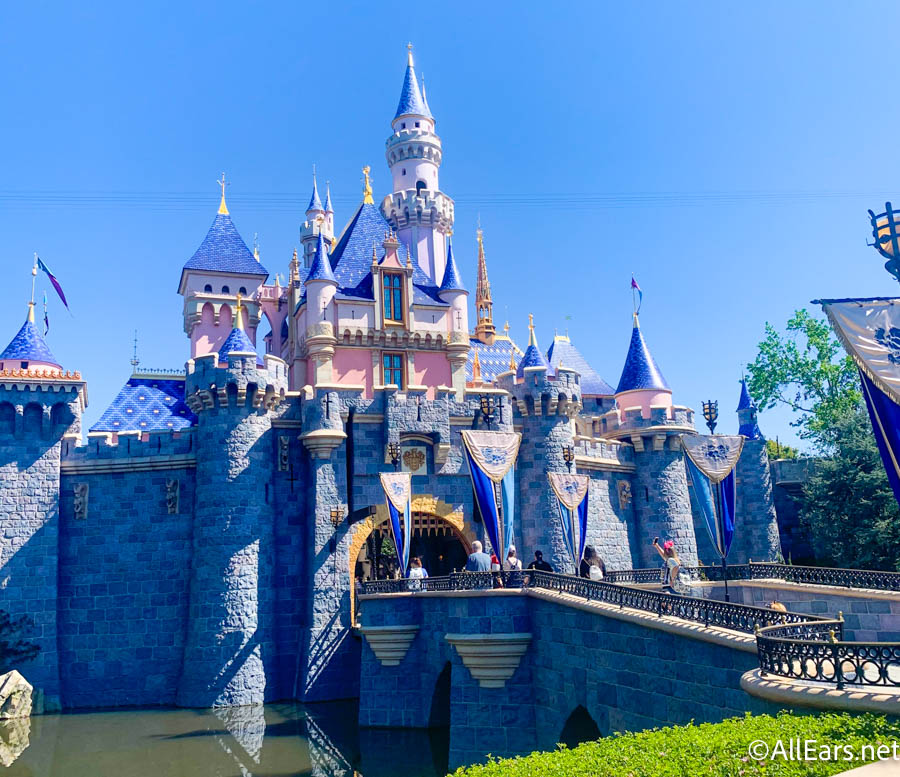 We eventually pulled ourselves away from the castle to explore the rest of the park. And, while we were making our way around, we noticed that the water fountains were open and available.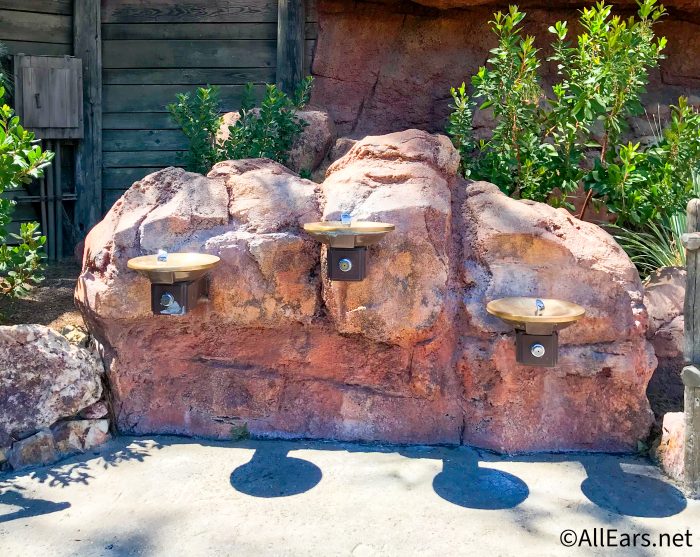 Attractions
Disneyland had previously announced that 30 rides would be reopening with the park initially. We already checked out the highly-anticipated new ride Snow White's Enchanted Wish, which finally make its grand opening!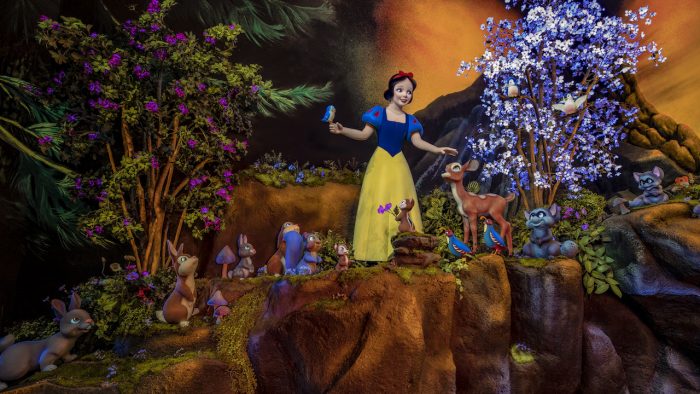 So, our first stop was the Disneyland Railroad! We hopped aboard with no wait and were seated distanced from other parties on the train.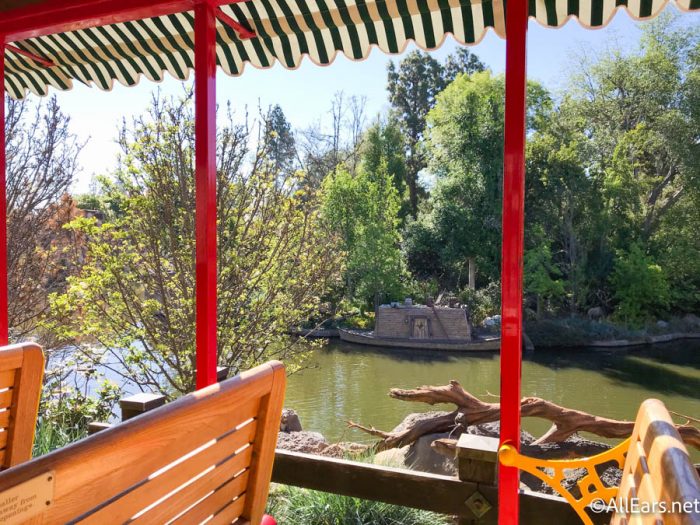 After taking in the sights of Sleeping Beauty Castle and some churros (featured later), we decided to head over to Pirates of the Caribbean and see what the ride process was like!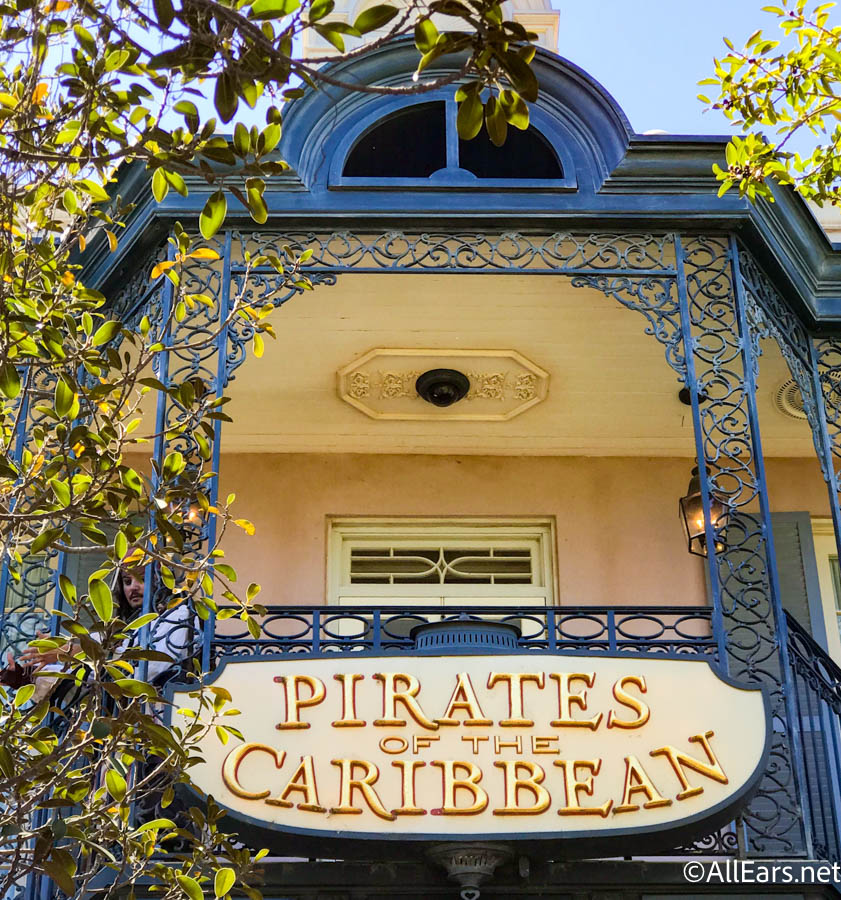 A Cast Member was stationed at the end of the line and she had perhaps the coolest "End of Line" sign we've seen yet!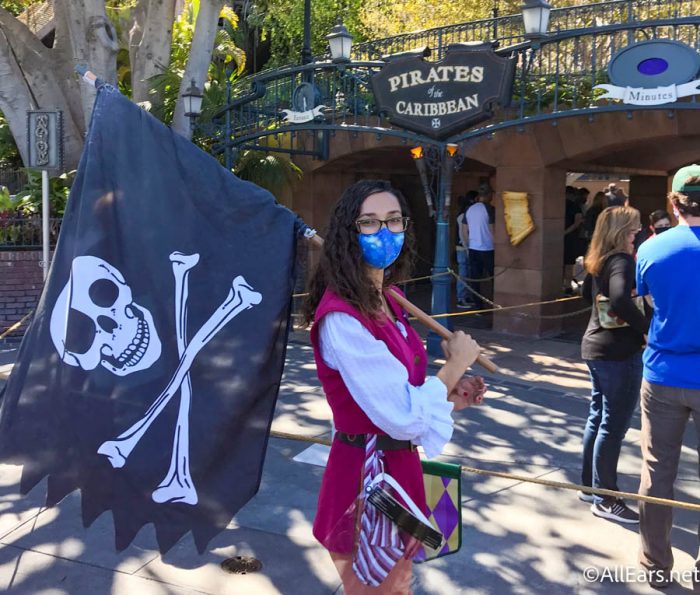 Like many other attractions we've seen at the Disney Parks, the queue had distancing markers on the ground so that parties knew where to stand to keep their distance.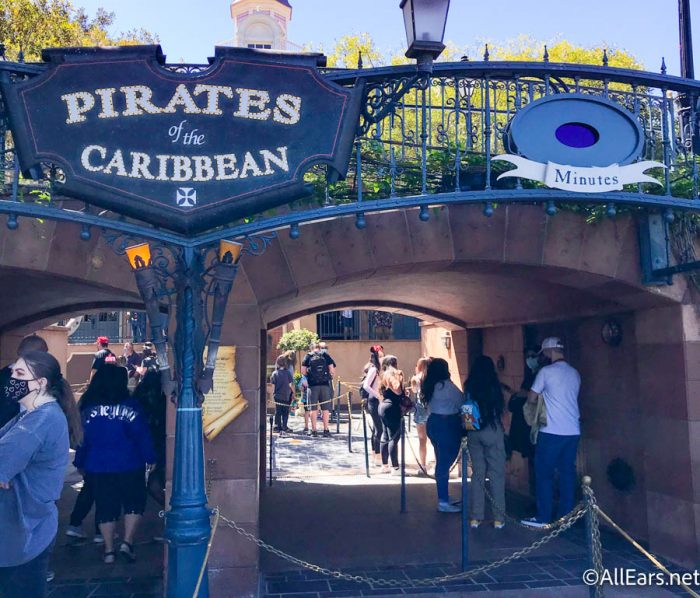 One the ride, they were distancing groups in the boat by loading groups with at least two rows of spacing between parties. And, from time to time, they even gave parties an entire boat to themselves.
After our visit with all the pirates, we went to say hi to the 999 happy haunts at the Haunted Mansion. The ride closed back in December of 2019 and underwent a lengthy refurbishment but, Disney has shared that it would finally reopen when the parks do on April 30th. We were hoping to get a peek inside, but it was still closed when we passed by.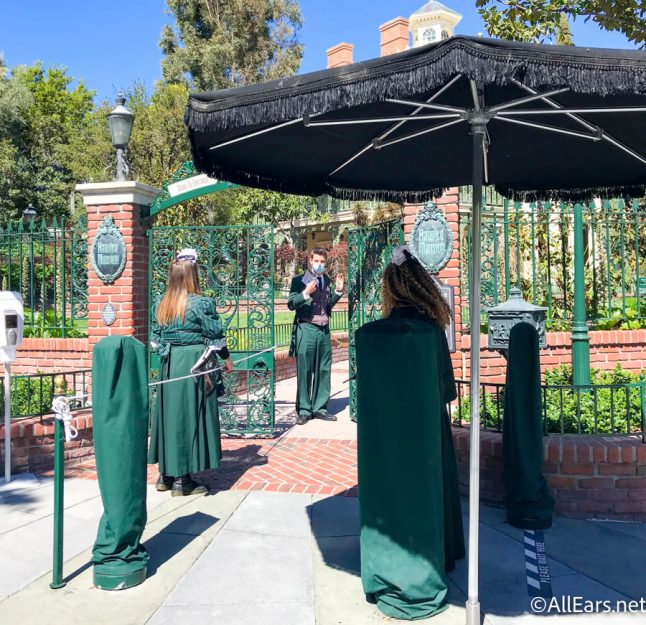 So, instead, we carried on and got in line for Big Thunder Mountain! The queue also had distancing markers on the ground, and at points where groups may end up standing closer than the CDC guidelines, Disney has added plexiglass barriers.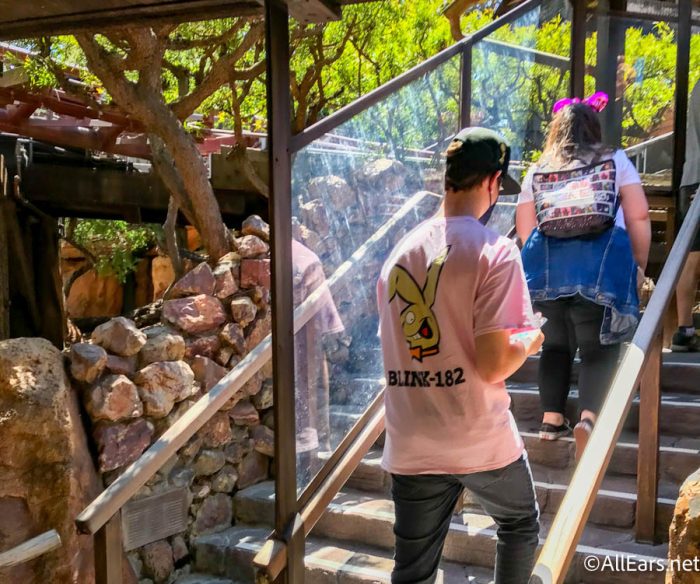 On the ride, Disneyland is distancing groups by seating one party per train link. Because the ride vehicle is one long train, parties might be one to two rows from other groups, but there is some extra spacing from how the train attaches.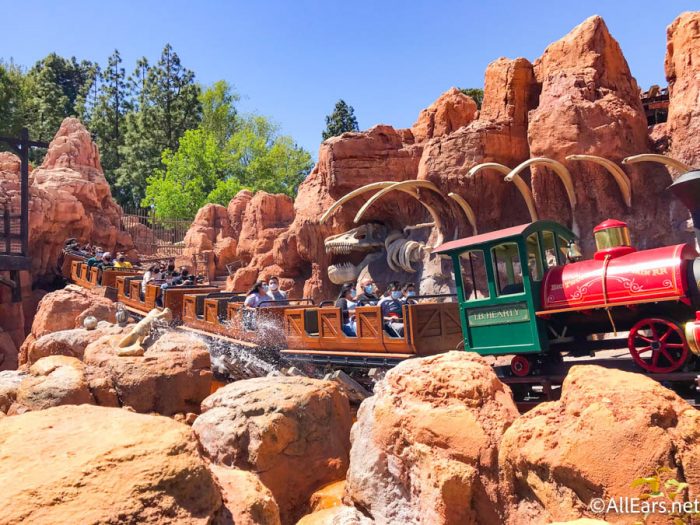 And, it wouldn't be a trip back to Disneyland if we didn't stop by Batuu! Star Wars: Galaxy's Edge has reopened both of their attractions, and we were able to get a Boarding Group to check out what Rise of the Resistance is like now!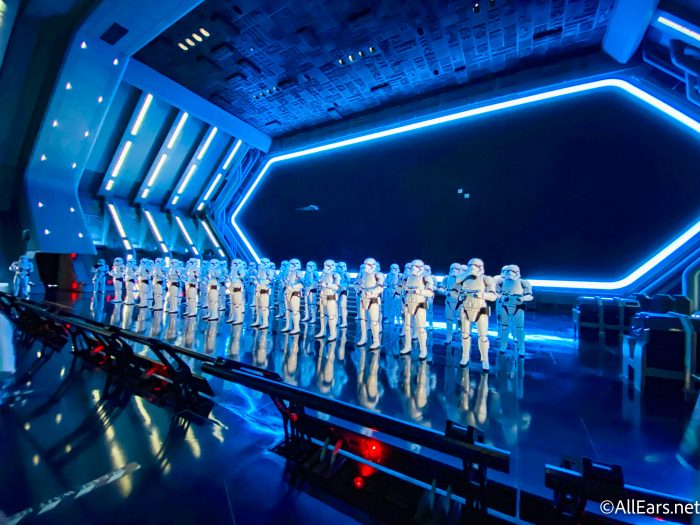 There are a few differences to the ride experience now — both of the pre-shows have been eliminated and Disney has added plexiglass barriers between the rows in the ride vehicle. But, we still made it off the Death Star without running into too much trouble with Kylo Ren!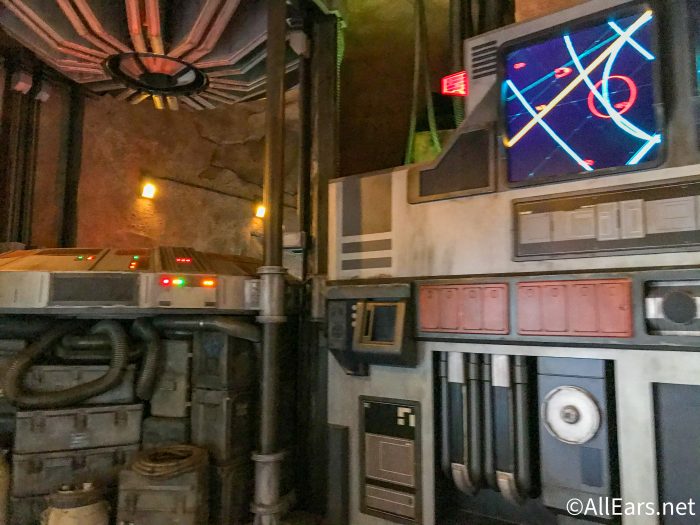 Some other popular attractions like the Matterhorn Bobsleds and Buzz Lightyear Astro Blasters haven't reopened just yet, but there is still a lot to keep you busy!
Characters
While parades and character meet and greets are currently suspended at Disneyland Resort, there are still a lot of ways to interact with some of your favorite characters! You can find classic characters like Mickey…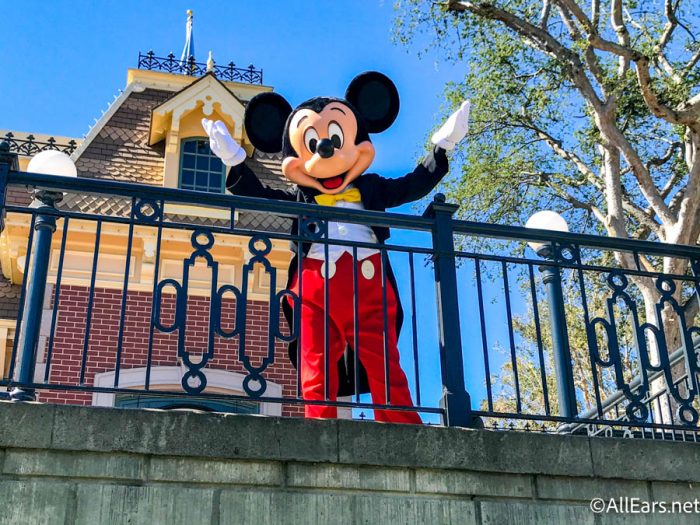 …Goofy and Minnie…
…and Pluto at the Main Street Railroad Station!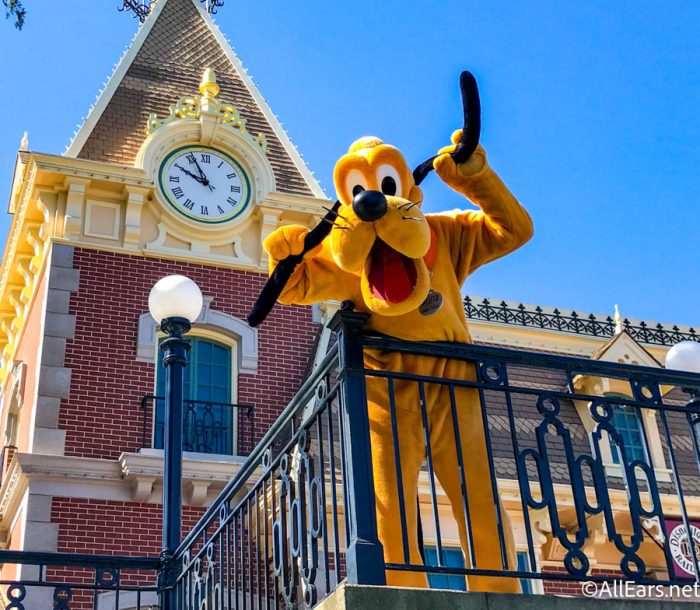 And, you'll also spot some other characters at various locations around the park, including Cruella de Vil!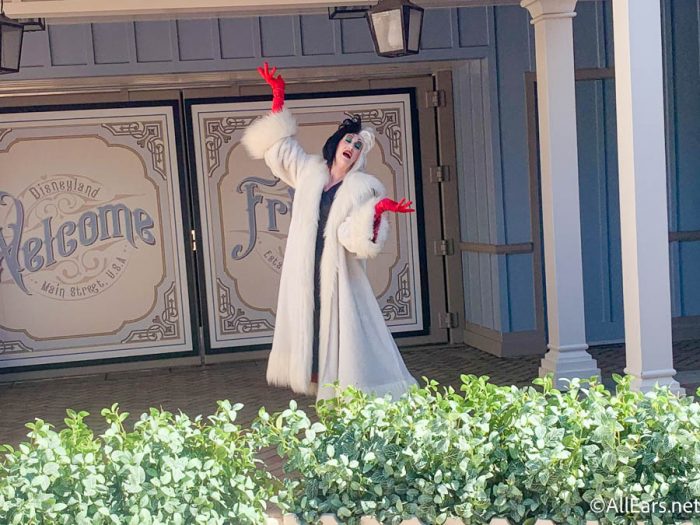 We also spotted some friends from the Hundred Acre Wood! We got to see this silly ol' bear, Pooh.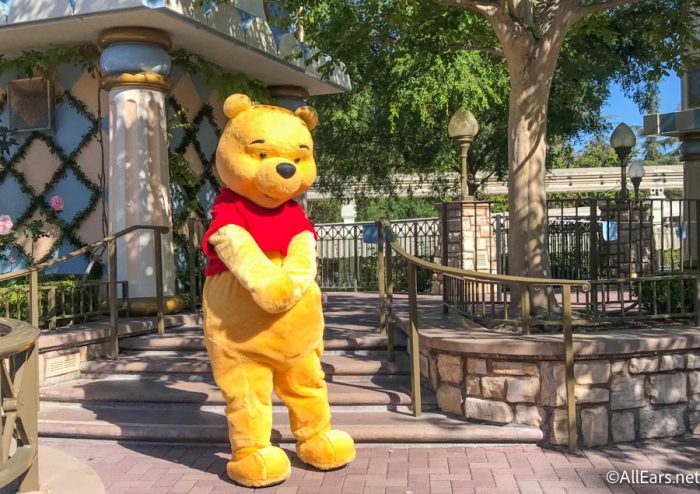 And not far behind was Tigger.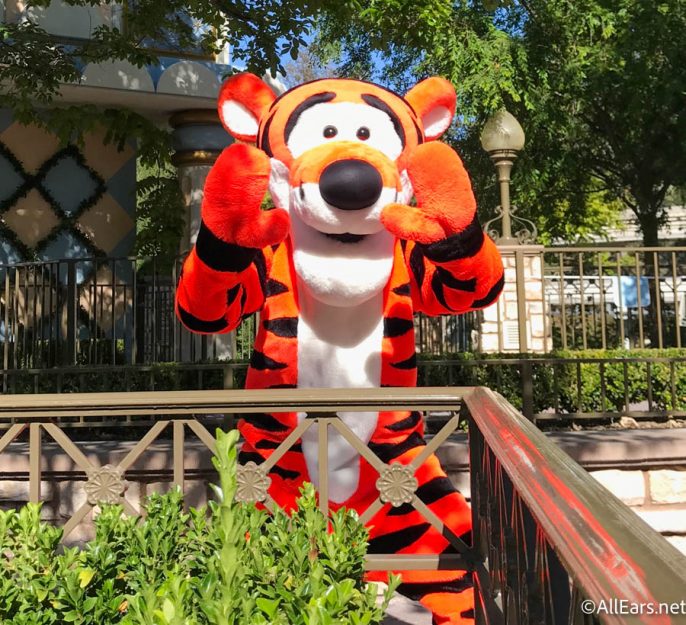 Then, things got adorably gloomy with Eeyore!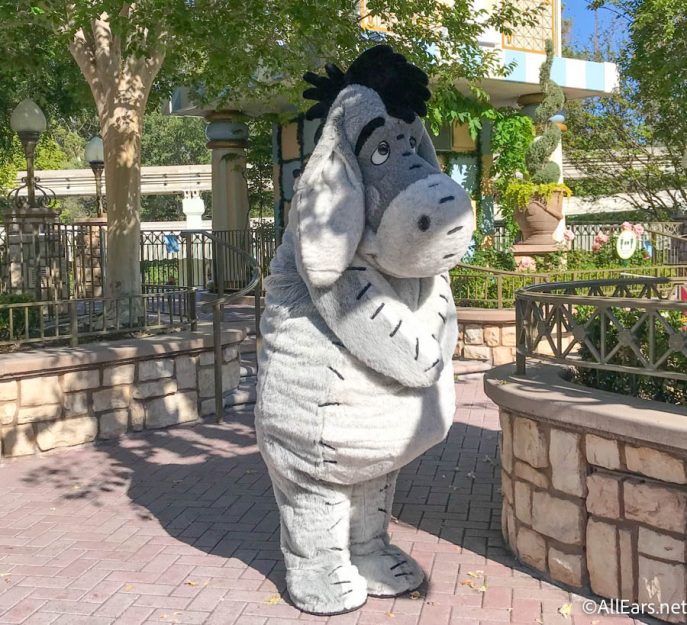 We also got some royal greeting, with princesses like Belle…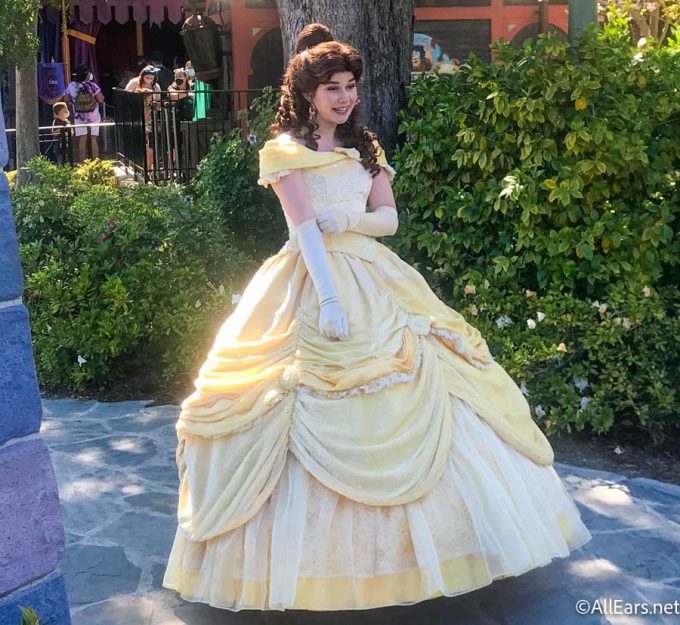 …and Elena of Avalor.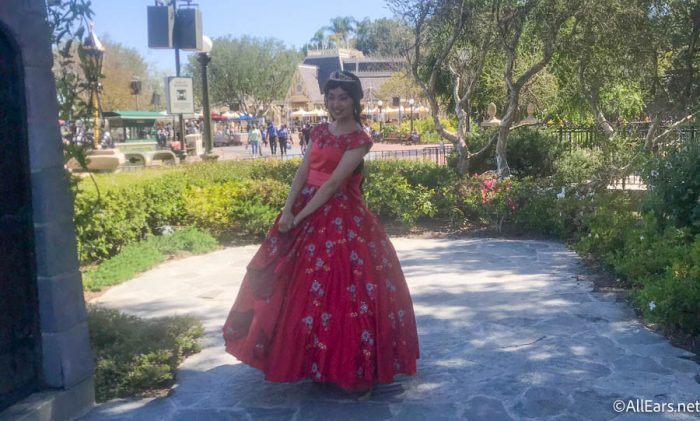 Similar to Disney World, the characters are stationed at a distance from guests, but you can still interact with them and wave as you pass by from afar! And, you just never know who you're going to see!
Dining
In the parks, guests are only able to remove their face masks when seated and actively eating or drinking. And, to help manage where people are removing masks and eating in the parks, Disney has marked locations around the park as Designated Dining Areas which can be identified with extra signage.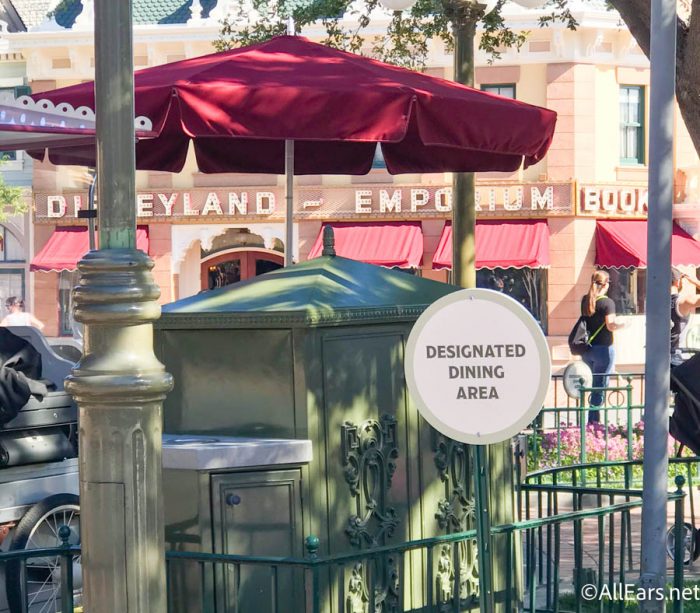 You'll find them in a lot of different areas, including benches on Main Street, U.S.A.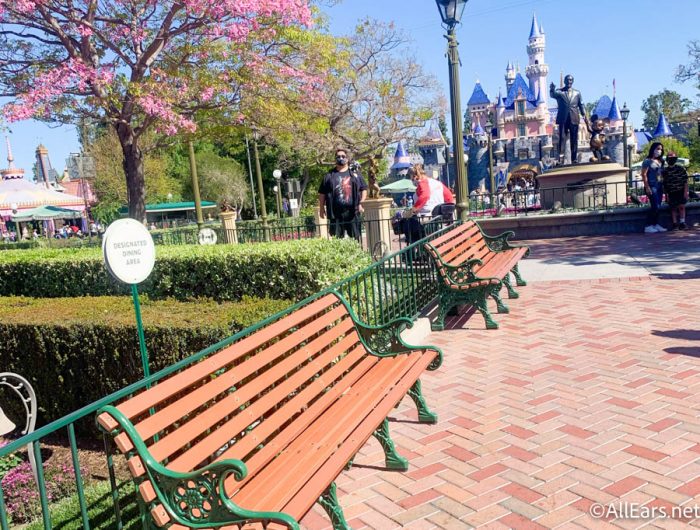 While you have to Mobile Order at Quick Service locations in the park, you still walk up and order from the reopened snack kiosks. We couldn't resist grabbing some early morning churros, so we hopped in line!
The process for getting these sugar-loaded snacks was a bit different than we were used to. We ordered at the kiosk and then were asked to stand on a social distancing dot until our order was ready. Cast Members fully wrapped the churros in plastic bags and then placed them on the counter for us to pick up.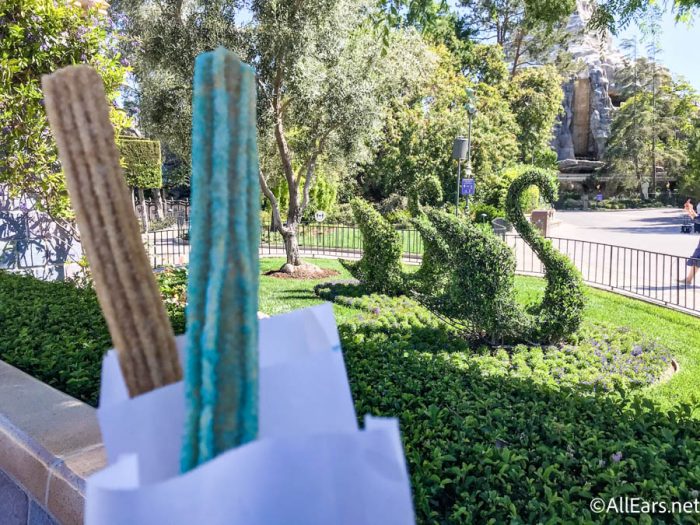 Later in the day, we decided to head over to Cafe Orleans in New Orleans Square and see if we could get a walk-up reservation. The dining locations in the parks will be requiring that guests make advanced dining reservations, but you can always see if there is some availability day of. Because this was a Cast Preview day, we were able to walk up and get a table pretty quickly!
Menus for the restaurant are now accessed by scanning the barcodes which can be found at the entrance and on your table…
…and inside the tables and chairs have been rearranged to allow for distance between groups. There was also seating outside on the patio, but we opted for an inside table.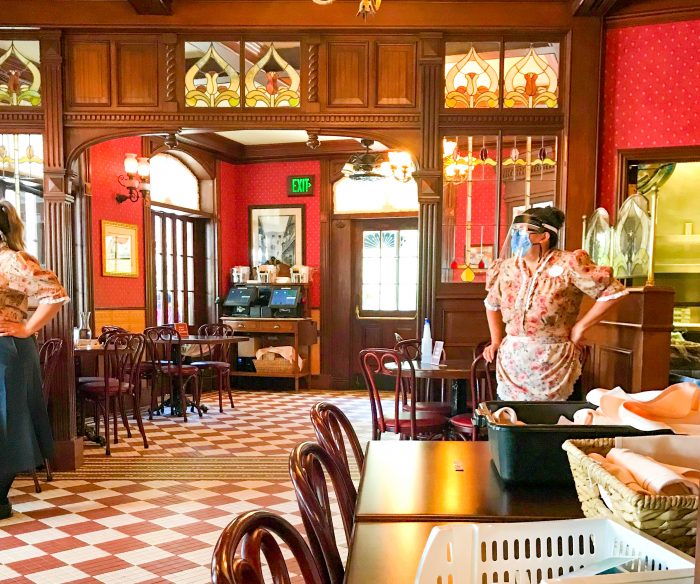 After a wonderful visit during Cast Member previews, we're finally heading into the parks for the grand reopening.
Official Reopening Day
Disneyland is welcoming California Residents as the first set of guests who will be able to explore the parks today on April 30th. While the parks could welcome additional guests back soon, this capacity measure has been put in place temporarily as a health and safety precautions.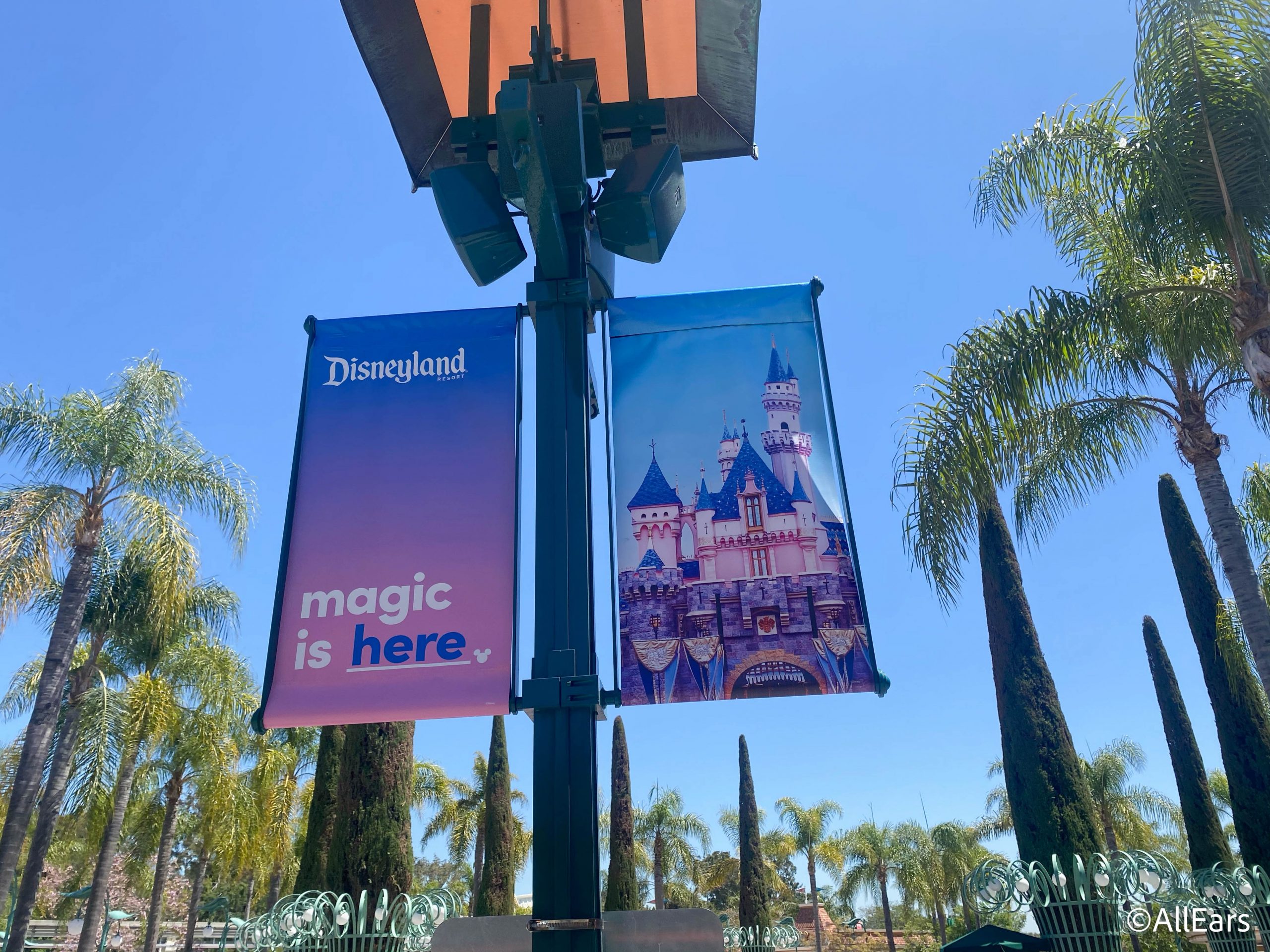 And, there was still SO much to see during the official grand opening today!
Entrance
Guests were able to park in every parking space, although Disney World required people to go in every other spot when the parks first initially reopened.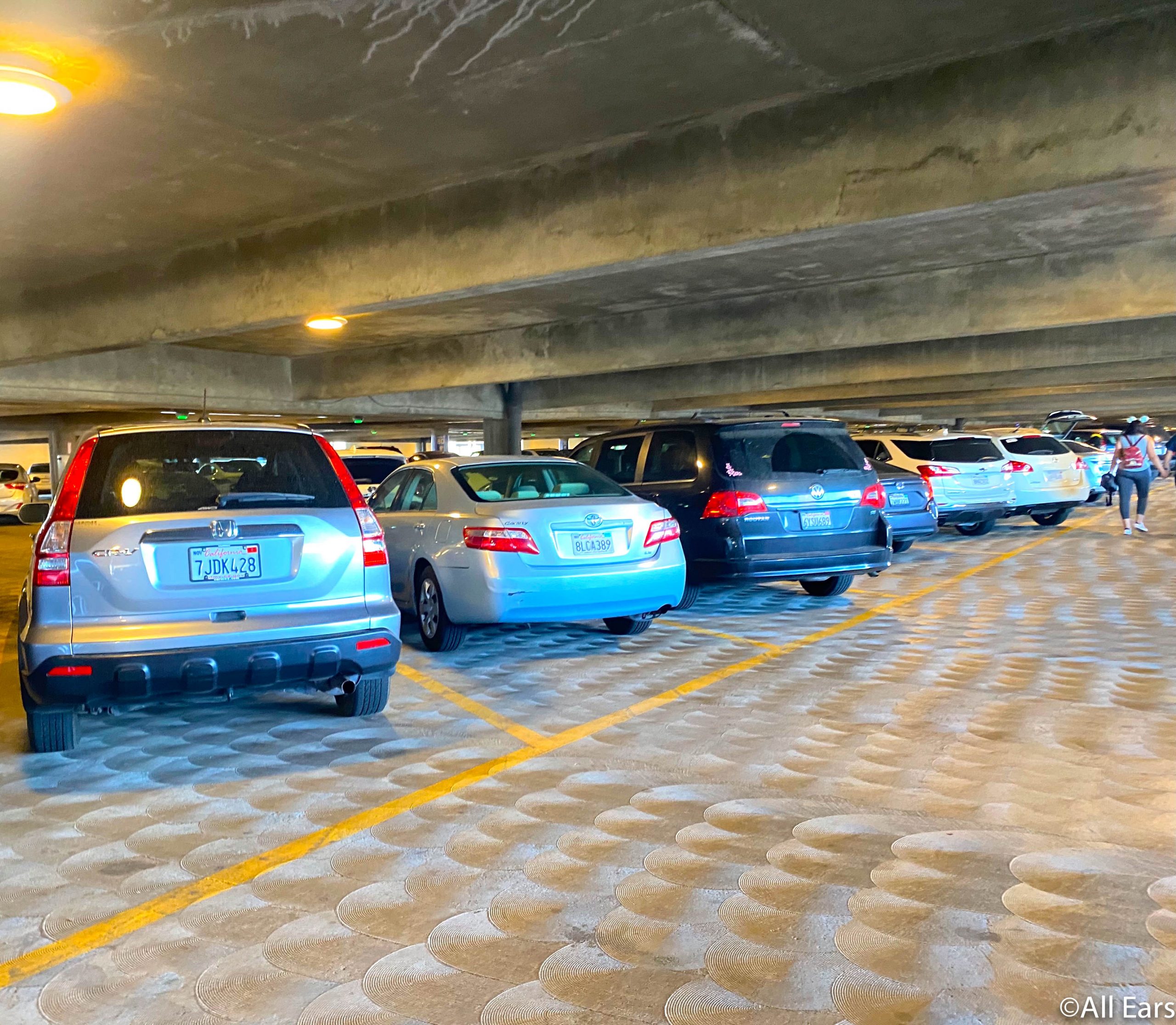 Health and safety measures were location throughout the area with mask notices, distancing markers, and more.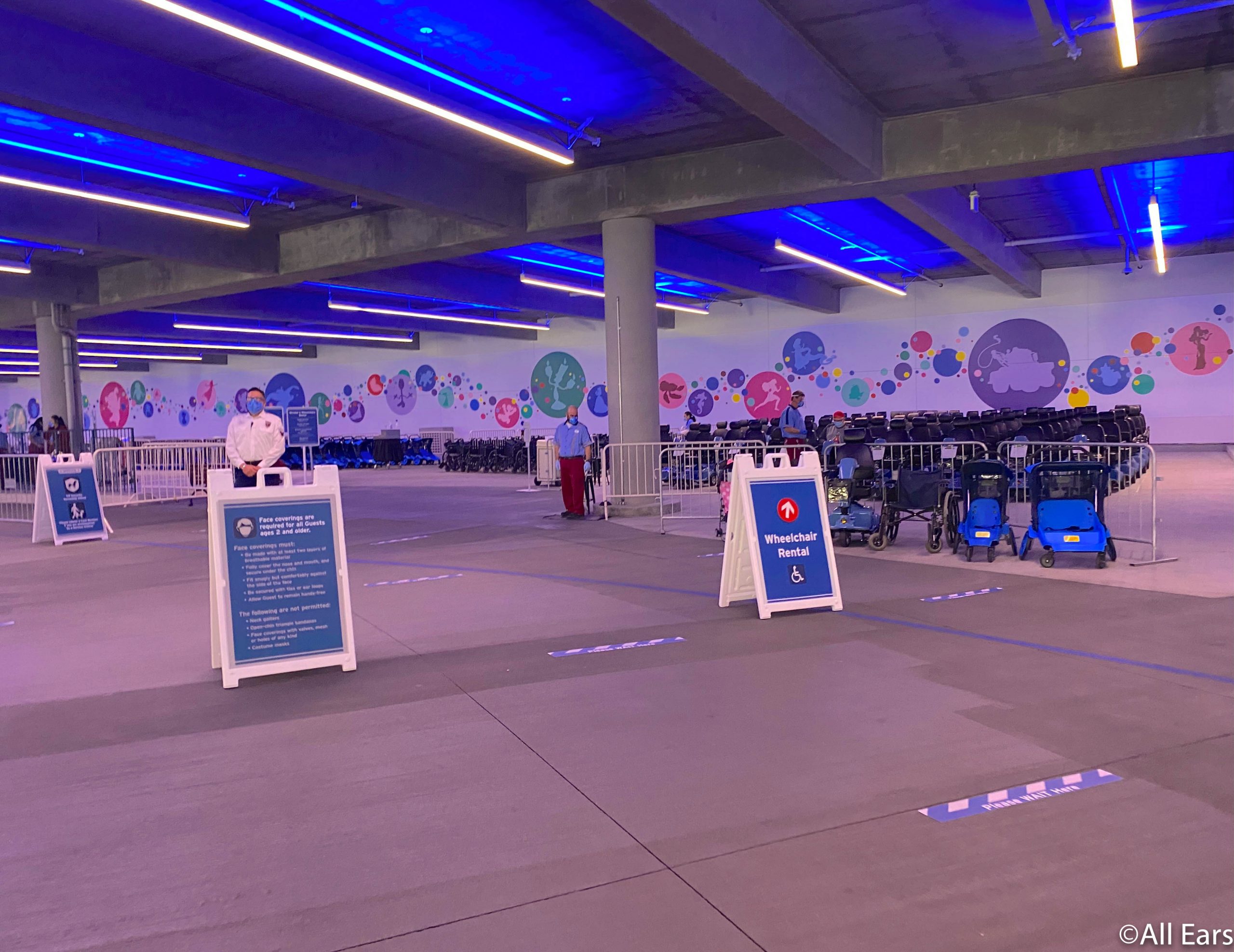 There was also a sign referencing the fact that guests will need to have their reservation confirmation emails handy prior to scanning into Disneyland for the day. Disney Park Passes are also required at Disneyland as guests return.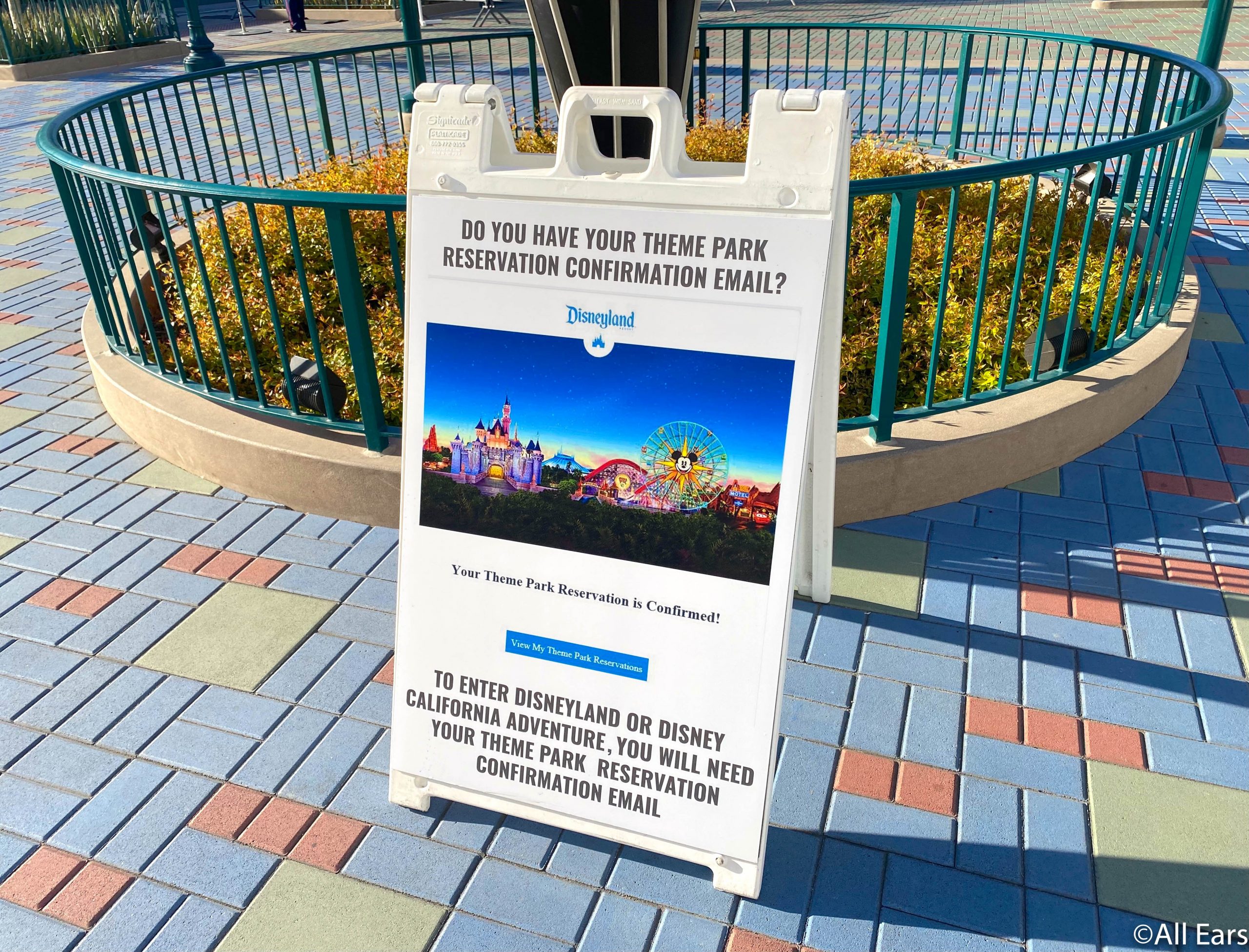 Despite arriving at the Disneyland Resort an hour before the 9 AM park opening, the lines were already VERY long and split into three sections.
Cast Members started letting guests into the parks around 8:10 AM, so the queue moved somewhat quickly.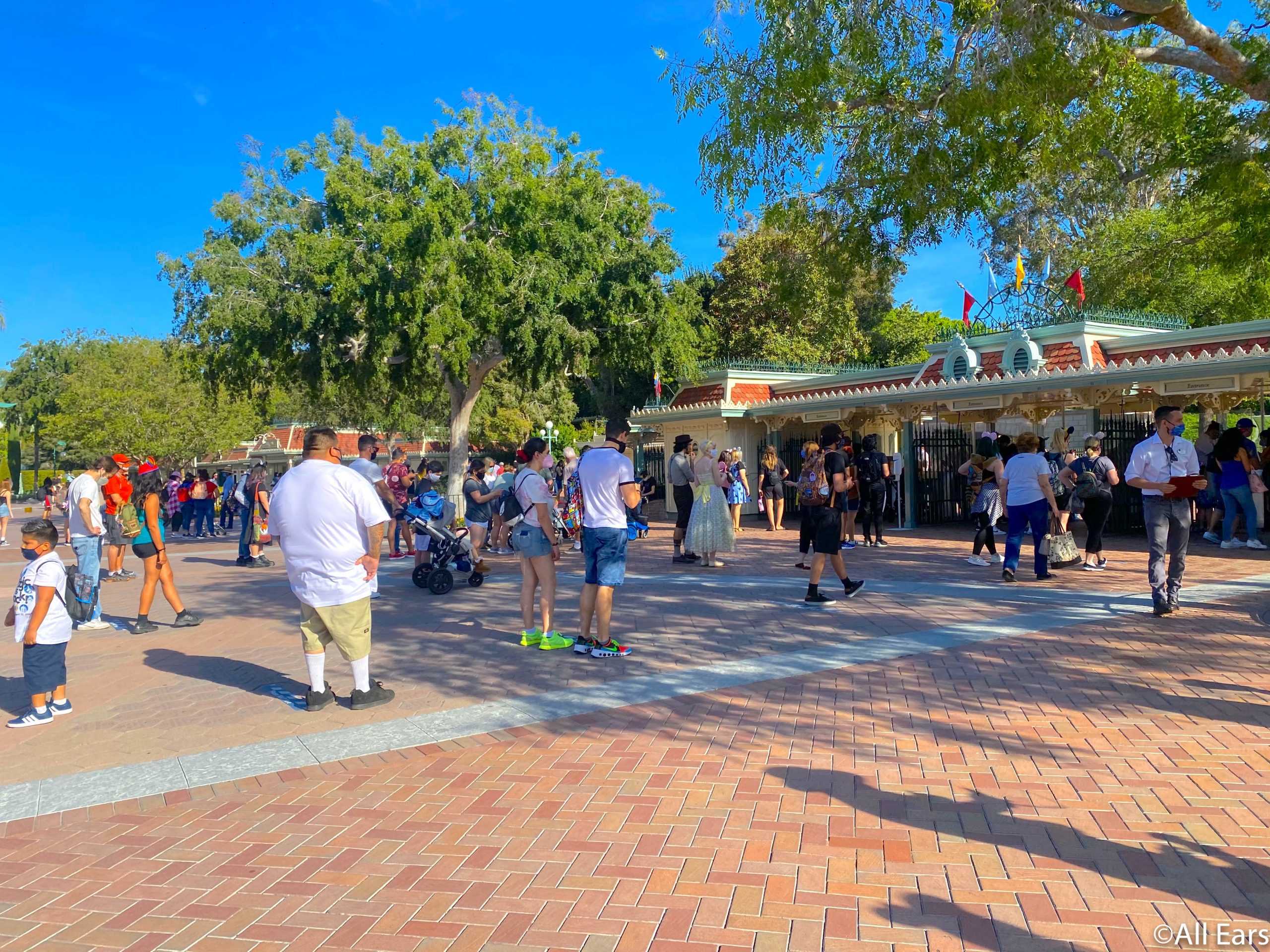 Families were THRILLED to be back in Disneyland, and we couldn't help but smile knowing that today was going to be extra magical!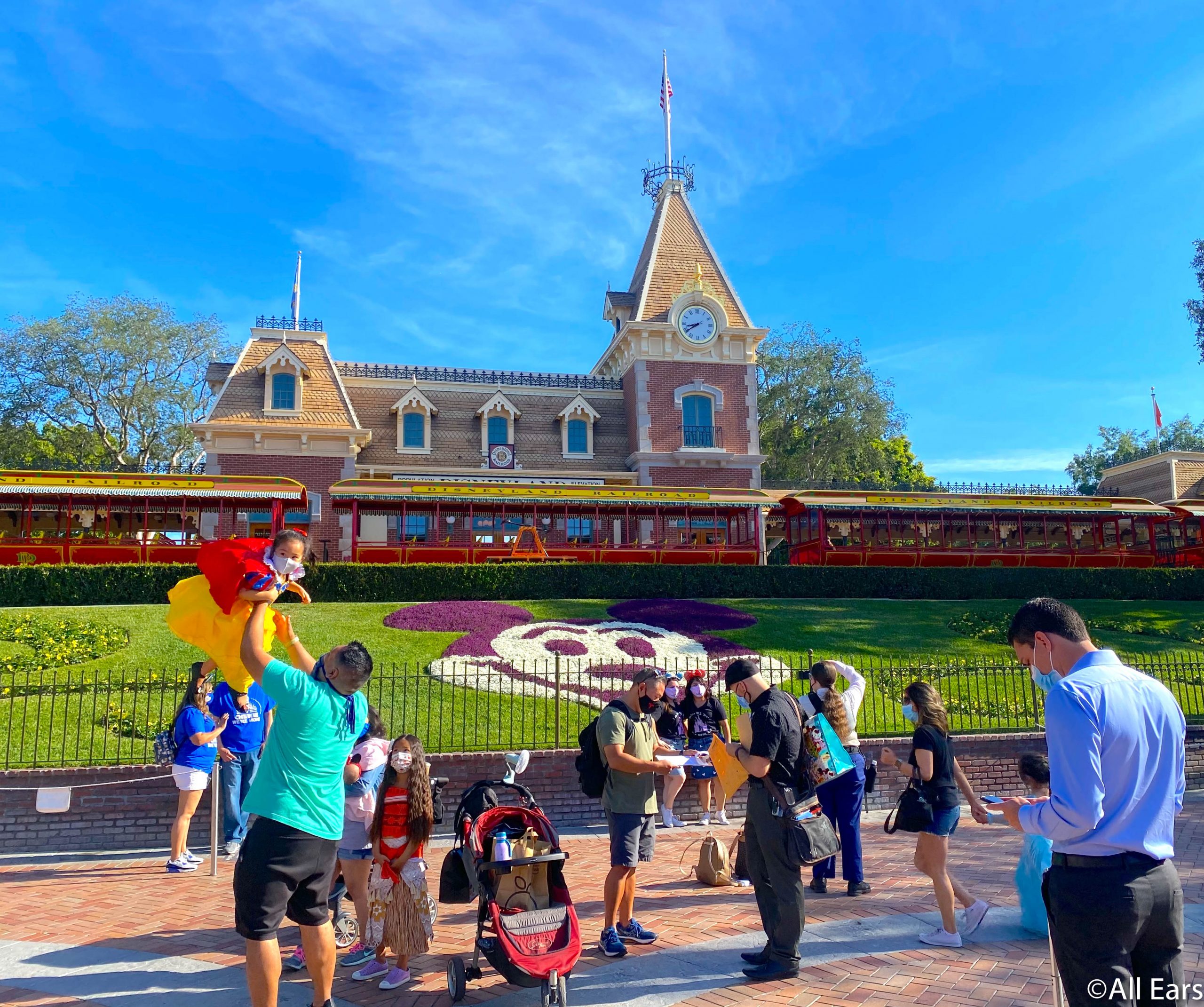 As we waltzed down Main Street, U.S.A., Mickey and Walt greeted us with open arms near Sleeping Beauty Castle…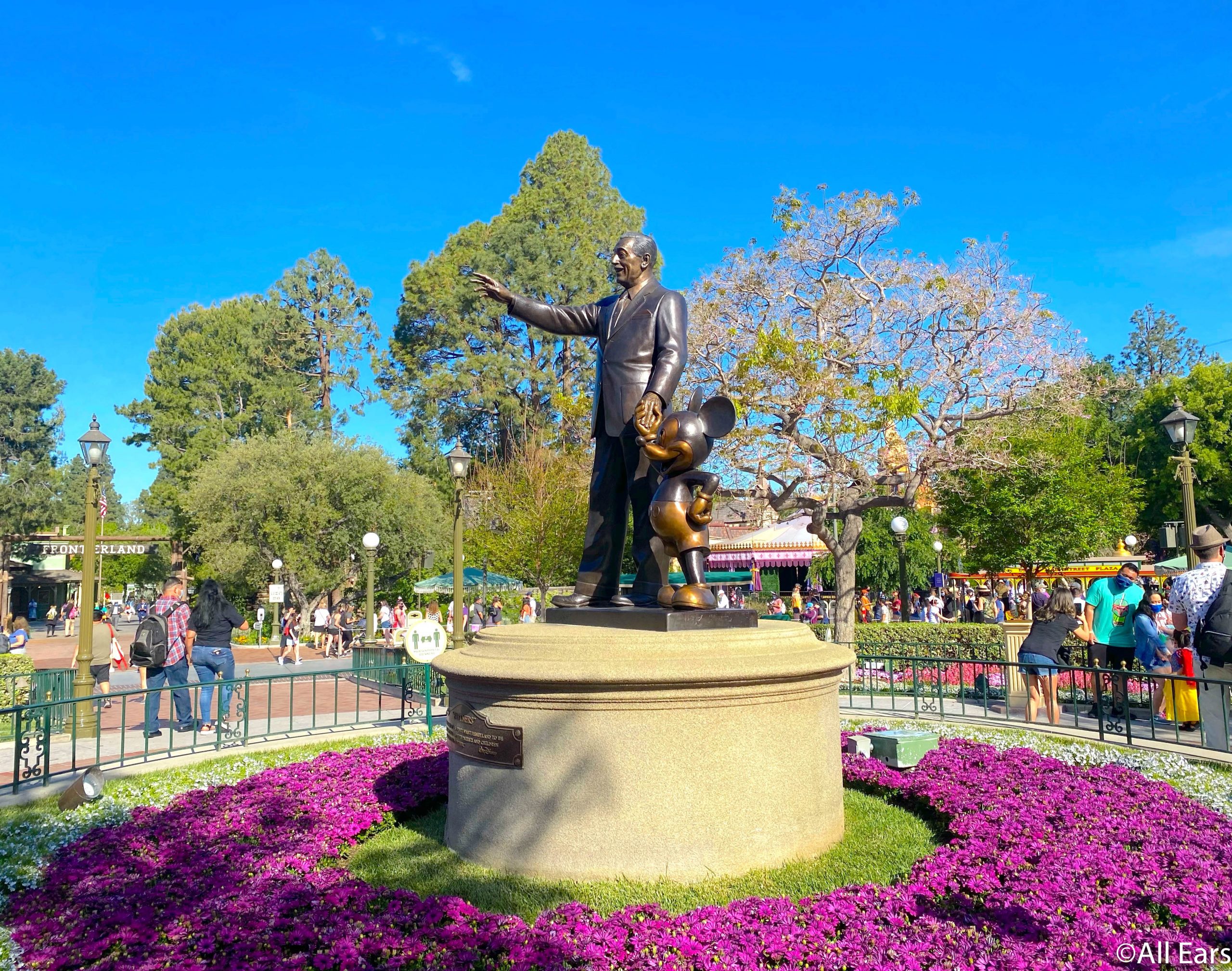 …before we hopped around the rest of Disneyland!
Crowds
Since it was reopening day, the crowds were a bit busier as people entered prior to the official opening time on the schedule.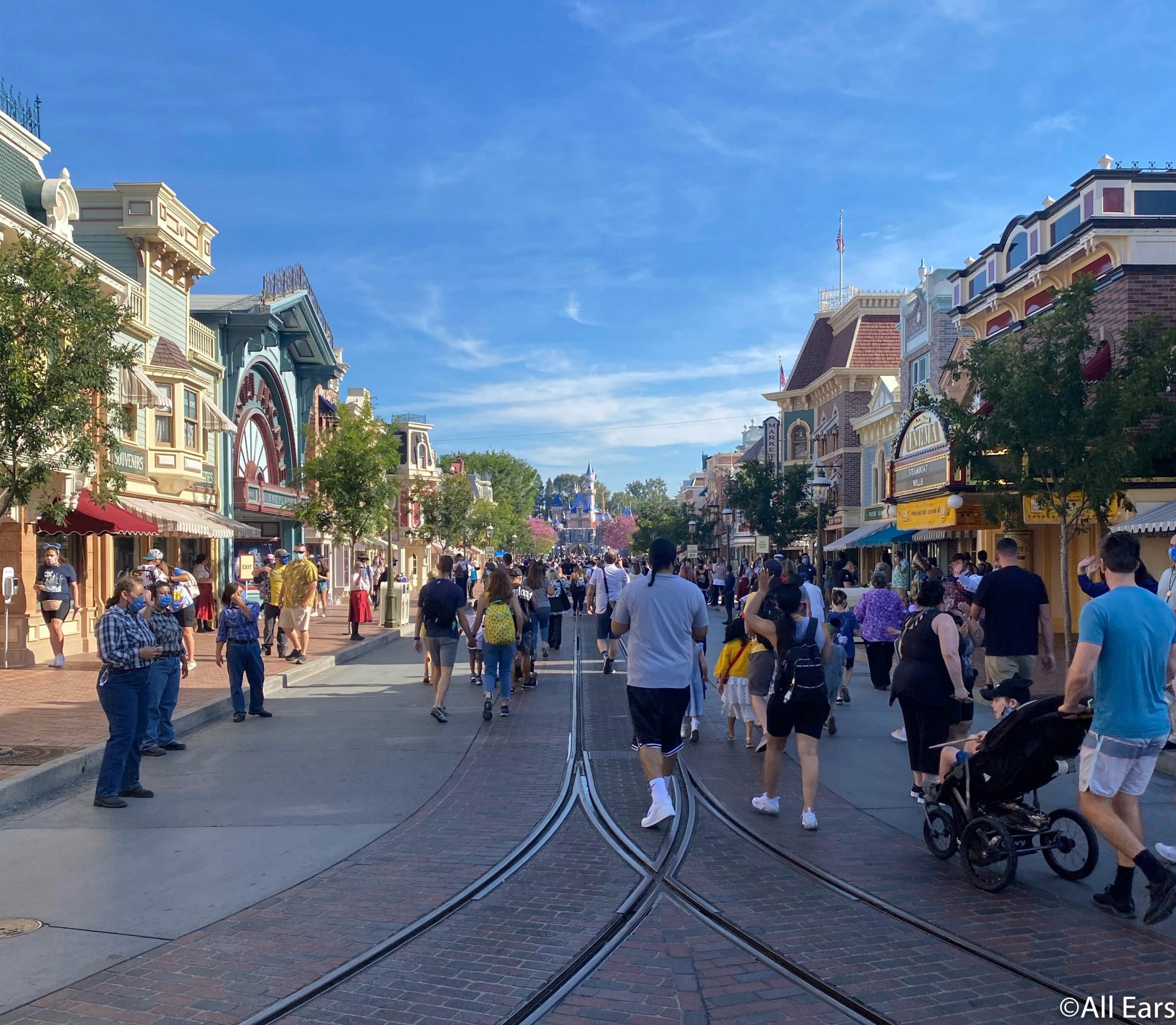 Many people made their way into Fantasyland to ride their favorite attractions…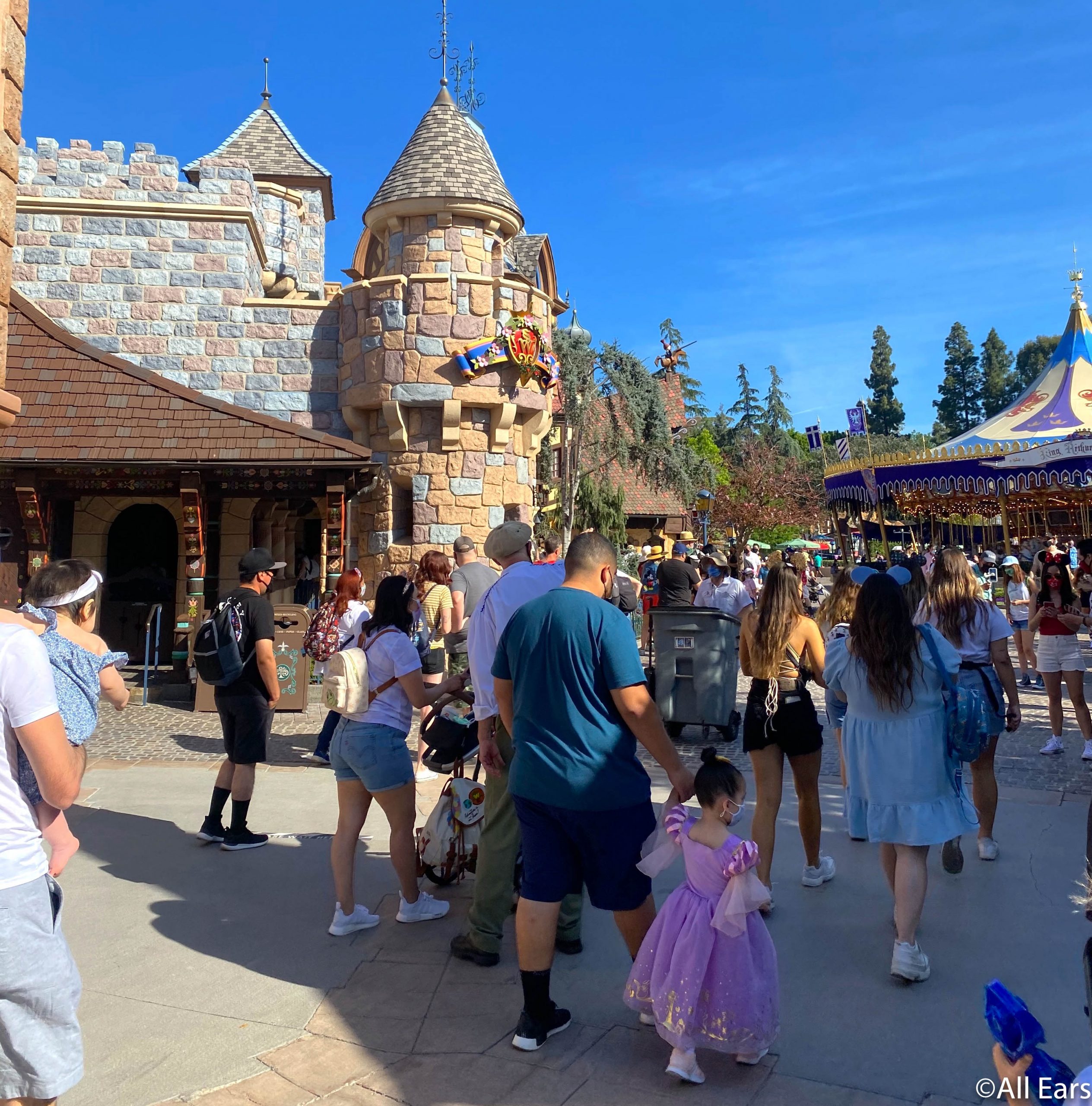 …with spots like Peter Pan's Flight hitting 20 minutes quickly.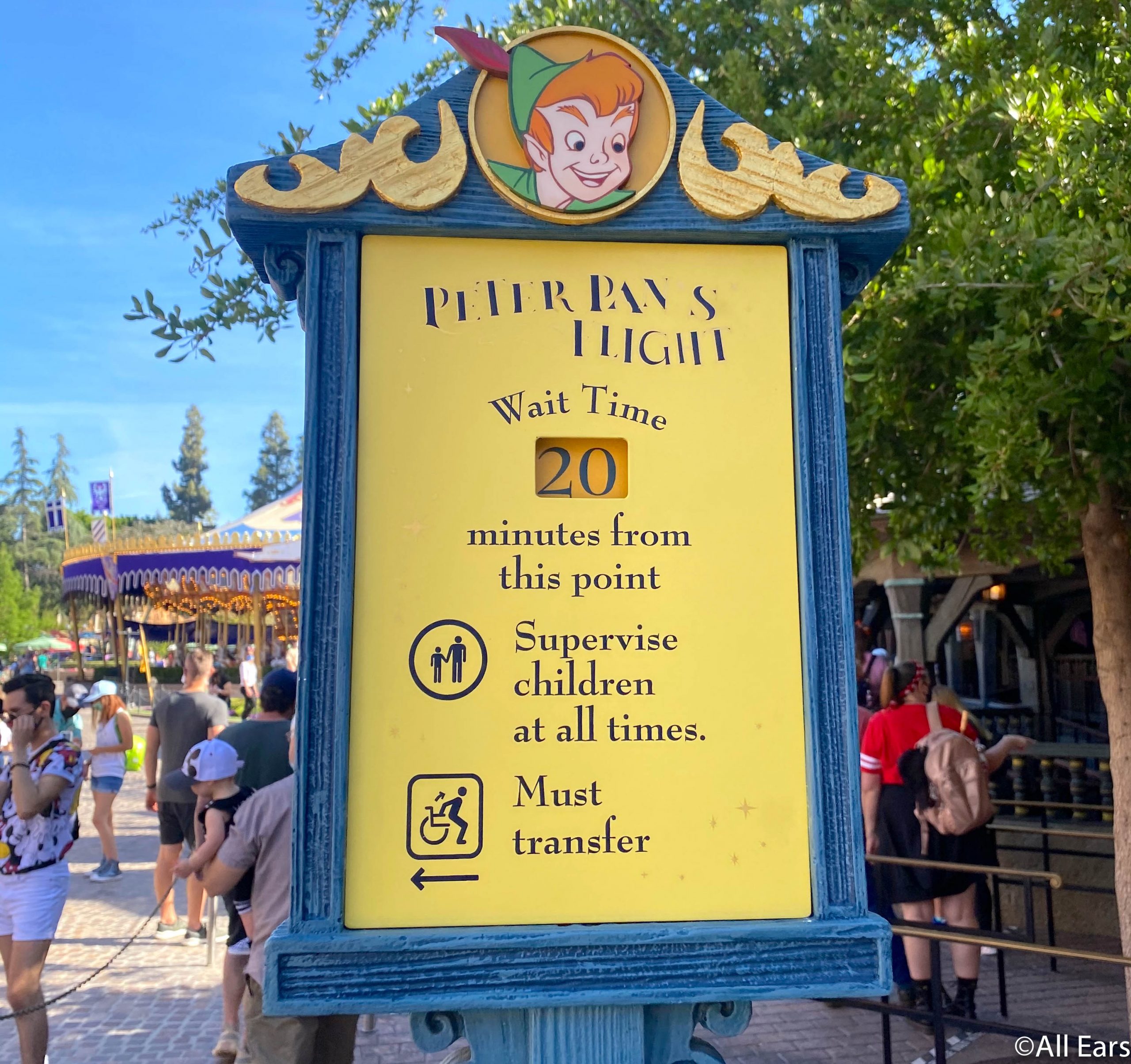 Rise of the Resistance was also a popular location as many people wanted to experience a trip through the galaxy.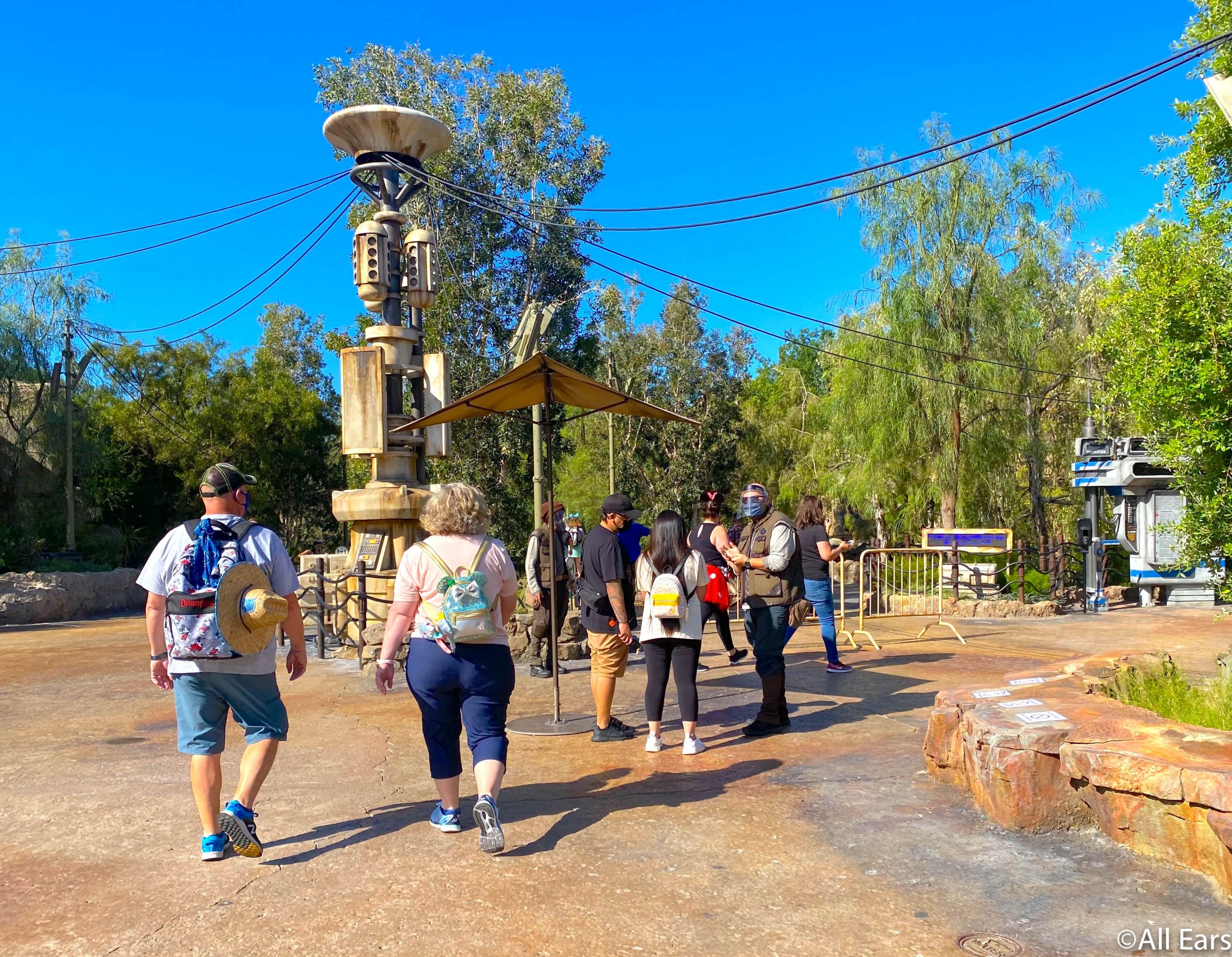 Attractions
Rise of the Resistance implemented similar safety regulations that we've seen in Disney World with markers on the ground to keep guests spaced apart from one another.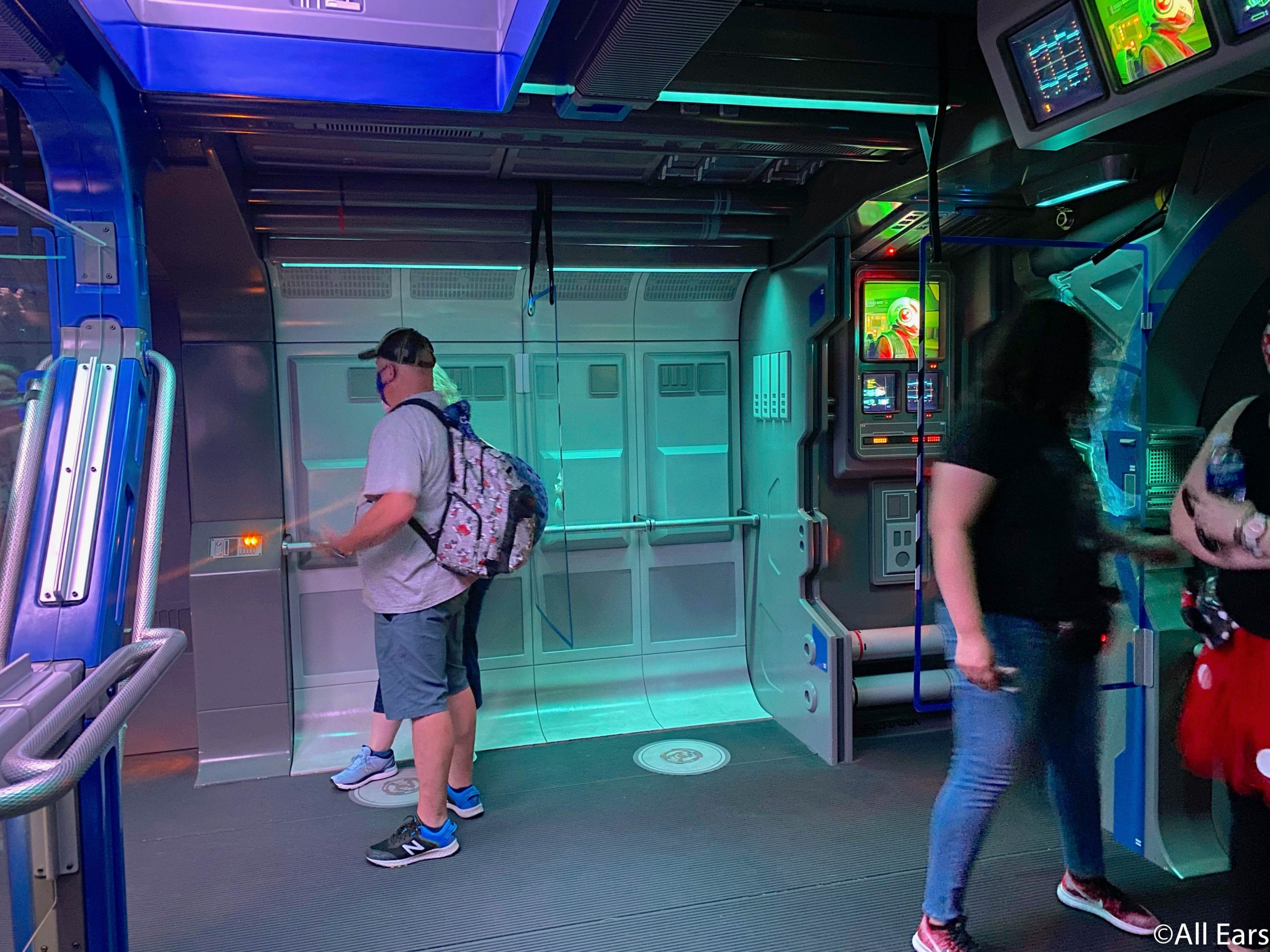 And, it was so good to be back, even if we were captured by the First Order!
We made our way past Splash Mountain, admiring it before Disney pushes forward with its Princess and the Frog overlay.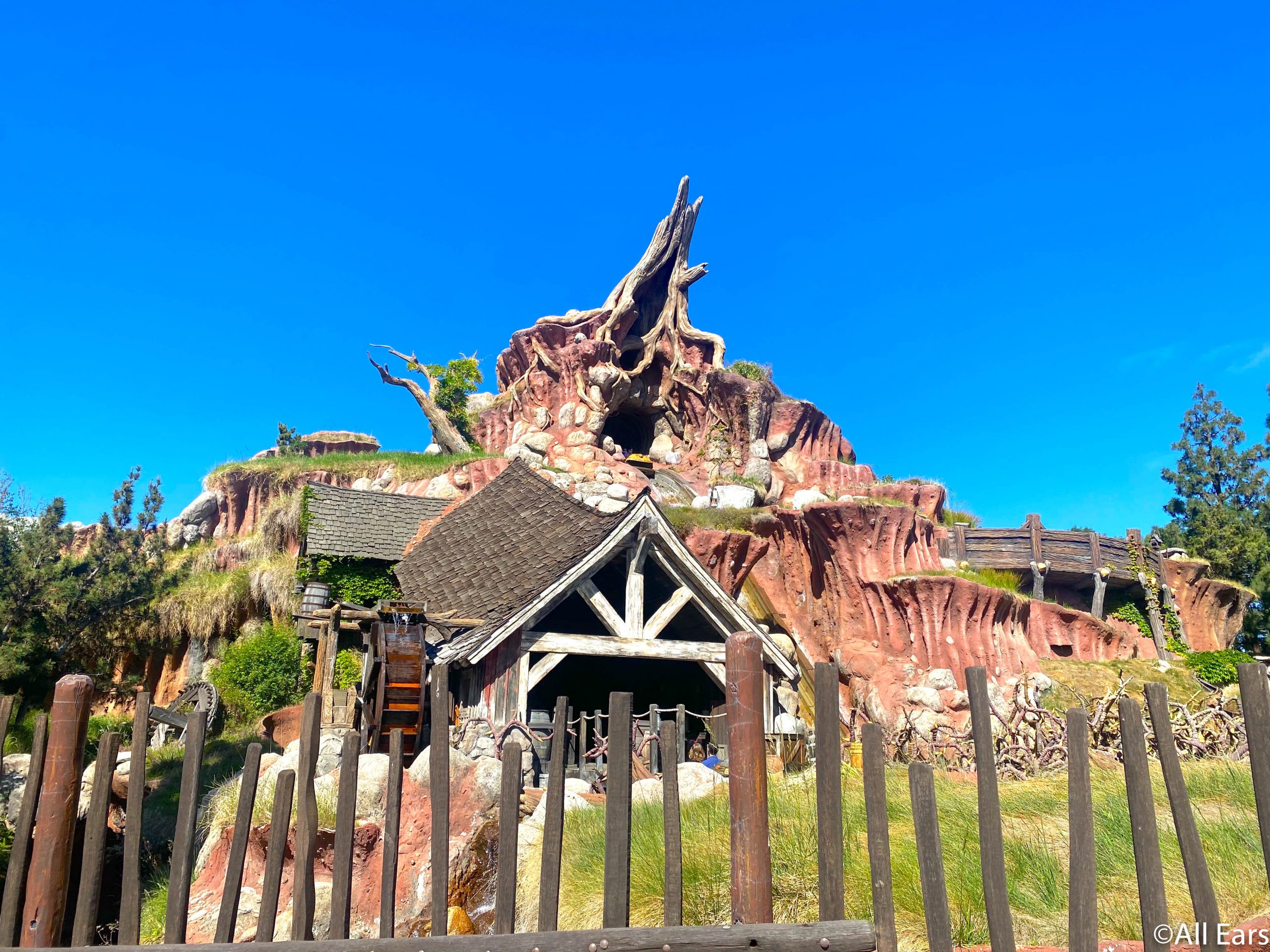 Guests had also returned to the Haunted Mansion to see the updates in the queue and inside the ride's hallway.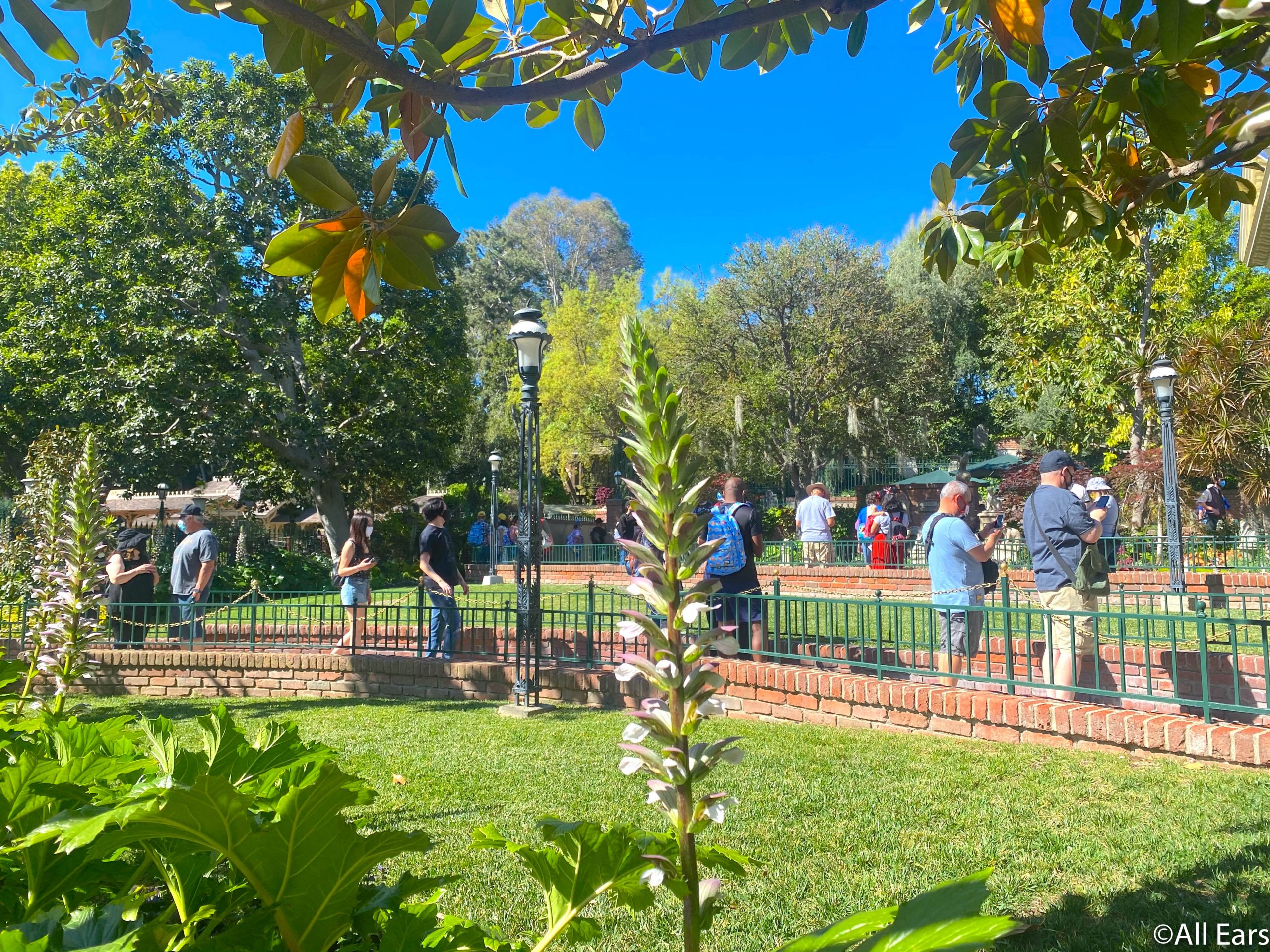 Those aren't the only changes happening in the parks, though!
Dining
Since guests aren't able to walk around to eat and drink, Disneyland has set designated dining areas aside for guests.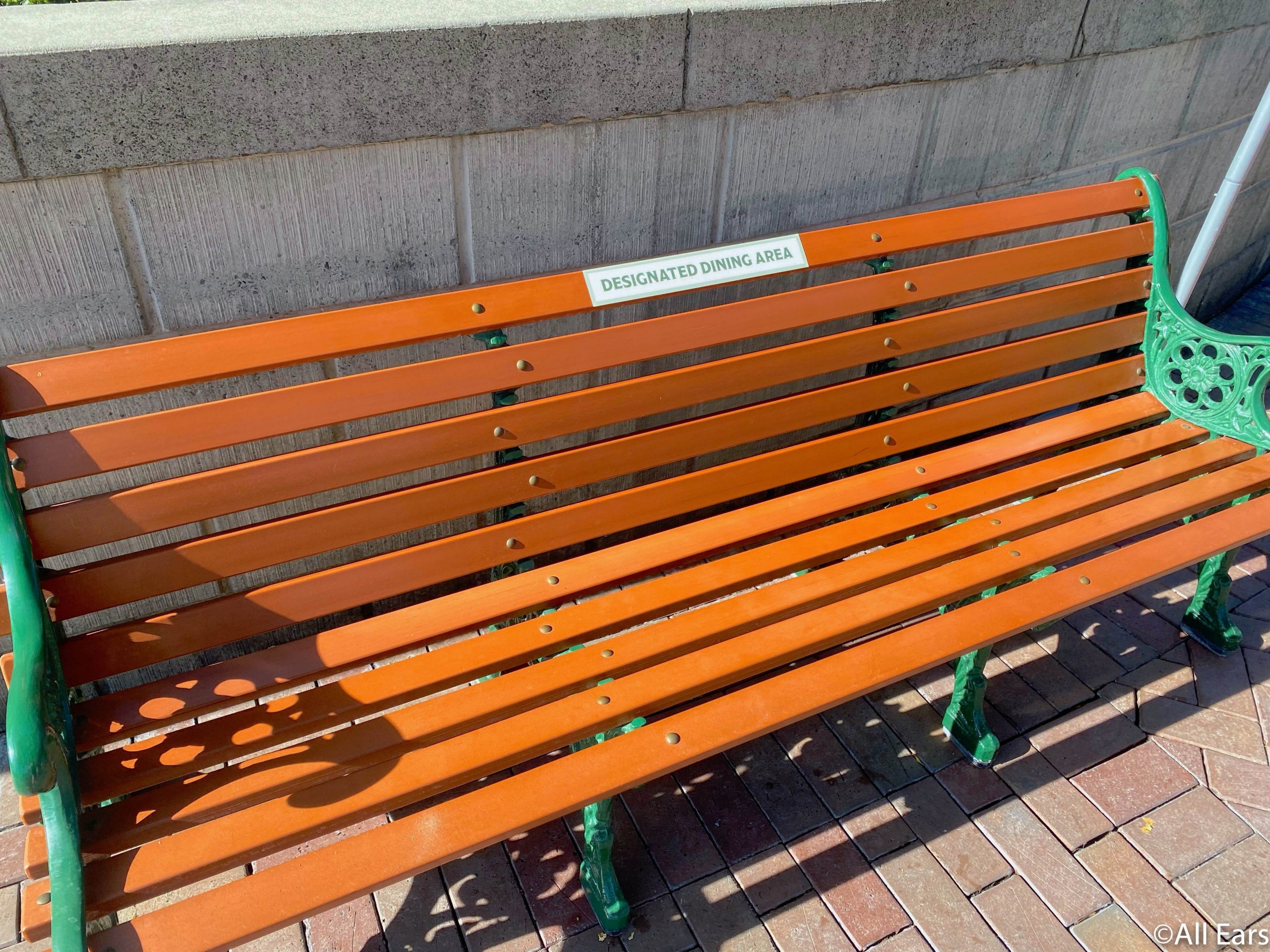 The benches around the parks are available for guests to sit on as they rehydrate or dive into a sweet Dole Whip.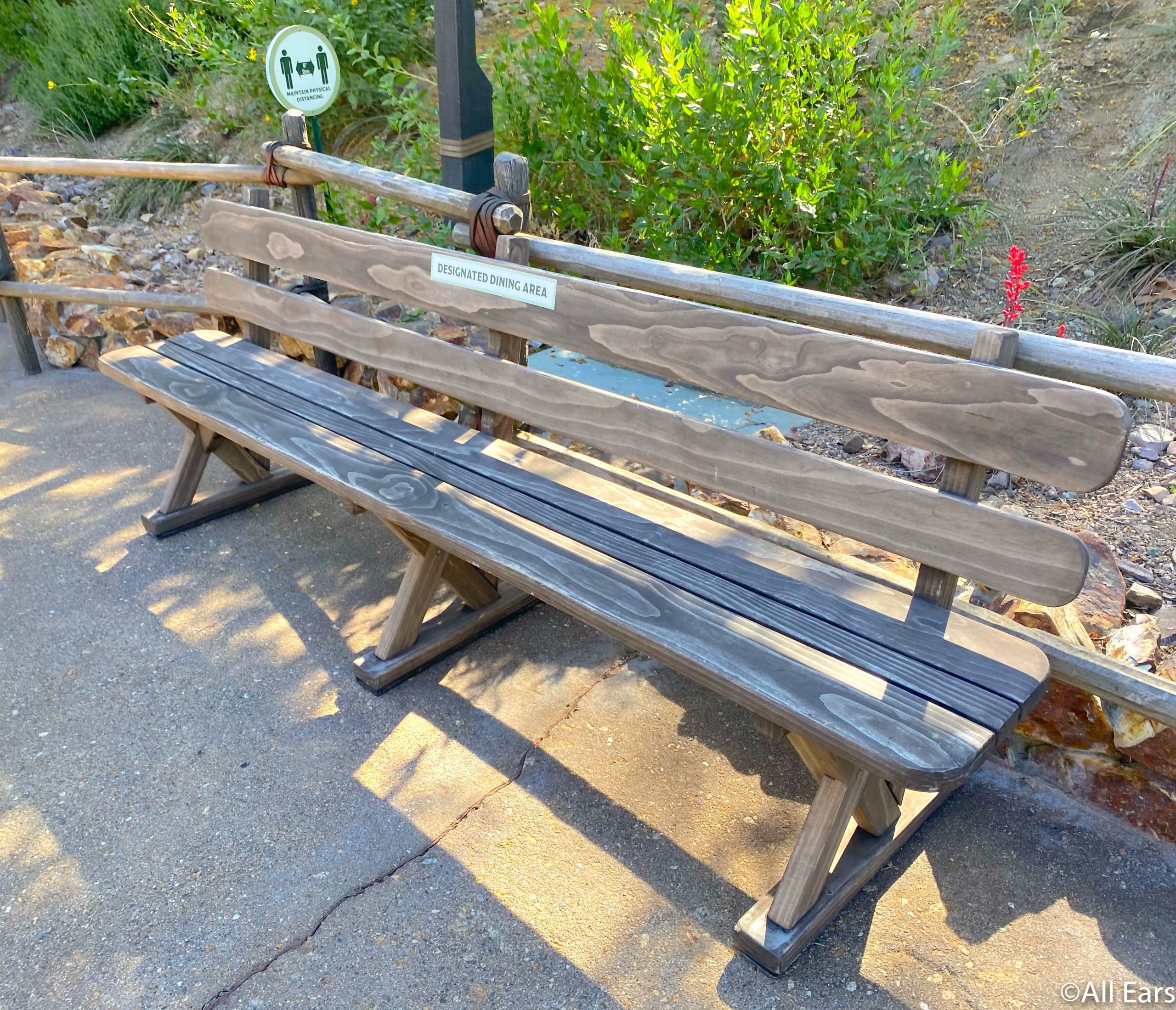 Disneyland's Mobile Order is in full swing right now to provide contactless ordering when guests are visiting the parks. They can access the Mobile Order page through the Disneyland app or with the QR code shown on signs.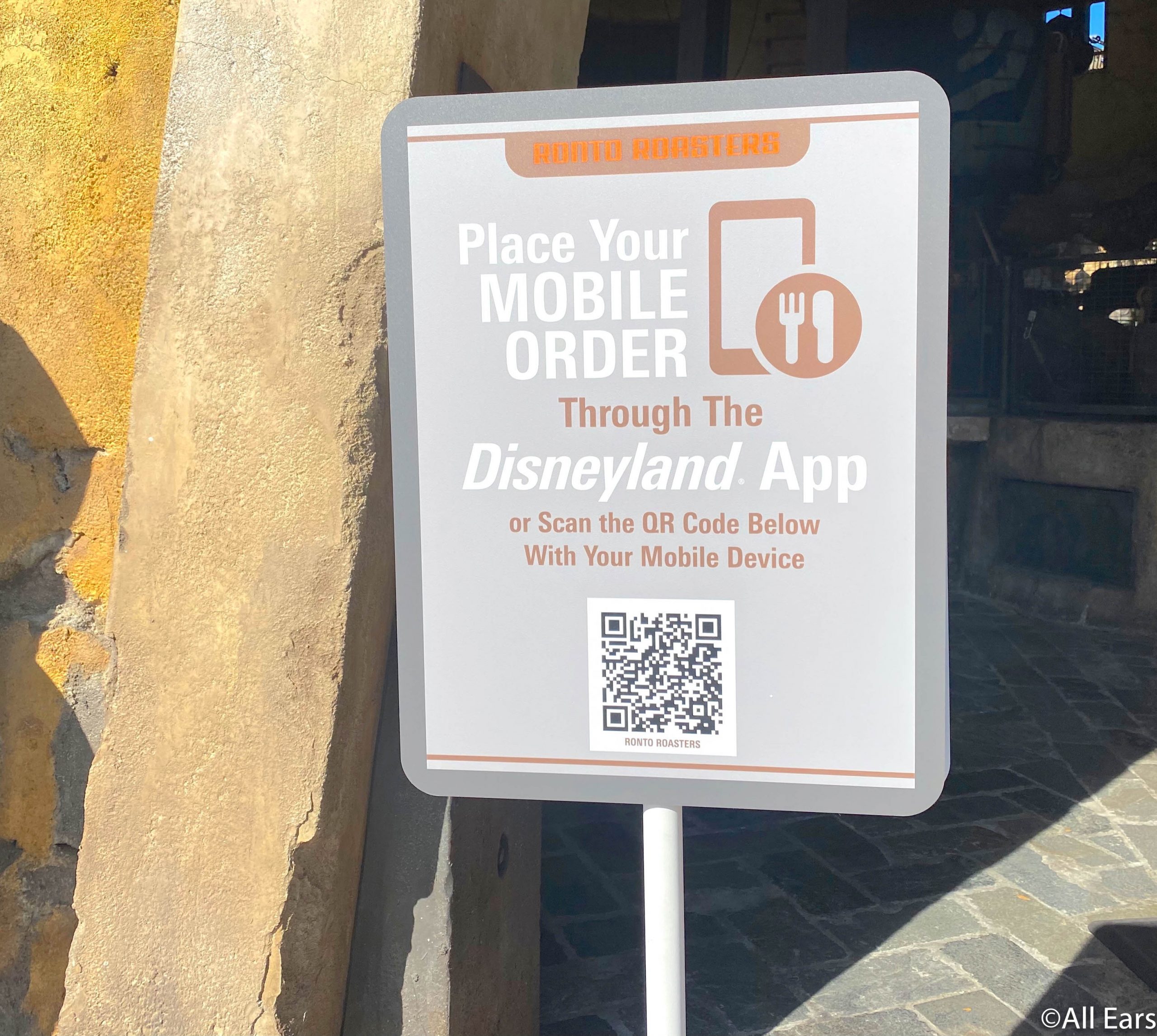 Of course, it's not a party without a trip over to Disney California Adventure too! Things were a lot quieter over on this side of the Disneyland Resort, which means you can bet we were ready to ride Guardians of the Galaxy: Mission BREAKOUT! multiple times.
RJay is starting the day at Disney California Adventure where it's definitely looking quiet! pic.twitter.com/ruLoHv1AUg

— AllEars.Net (@AllEarsNet) April 30, 2021
As construction is completed ahead of the grand opening of Avengers Campus this June, we noticed that the buildings were shaping up. We even spotted the famous Quinjet perched on a roof, looking like it's ready to take flight!
A little more than a month til Avengers Campus opens! Look at the Quinjet!! 👀 pic.twitter.com/ZXdM45AgiK

— AllEars.Net (@AllEarsNet) April 30, 2021
It's SO good to be back, right? Keep in mind that both Disney parks are operating under reduced capacity so a valid ticket and Park Pass Reservation are required for entry on any given day. We'll be back in the park in just a few short days for the grand reopening of Disneyland, so stay tuned for all the updates!
Join the AllEars.net Newsletter to stay on top of ALL the breaking Disney News! You'll also get access to AllEars tips, reviews, trivia, and MORE! Click here to Subscribe!

Will you be visiting Disneyland Resort anytime soon? Let us know in the comments!