When you're at Walt Disney World, you never know which characters you're going to stumble upon — especially since the theme parks reopened.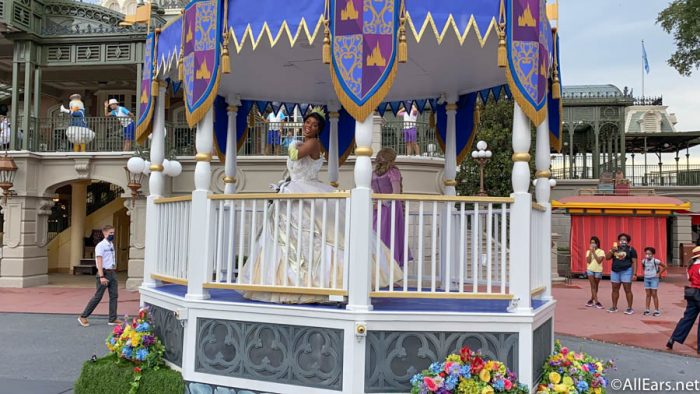 Character meet and greets aren't exactly how they used to be, but there are still plenty of ways to say hi to your favorite Disney characters. The character cavalcades and socially distanced meet and greets are still a special way to meet Disney characters and add something magical to your day. And if you're a Disney princess fan, we're giving you the inside scoop on where you might be able to share a smile and a wave around the parks.
Here's Everywhere You Can Find Princesses in Disney World Right Now!
Magic Kingdom
Main Street, U.S.A.
If you're planning to spend your day in Magic Kingdom, there's a pretty good chance you'll spot at least one princess making her way down Main Street, U.S.A.. Throughout the day, Merida and her horse, Angus, tend to make their way down the street!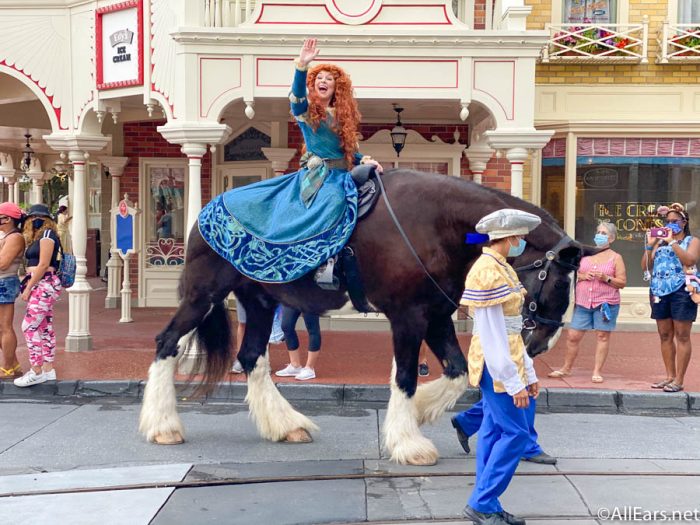 Several other Disney princesses hop aboard a parade float that you might recognize from the former Magic Kingdom parade, Celebrate A Dream Come True. Depending on the day, you can usually spot Belle, Ariel, Cinderella, Snow White, Elena, Aurora, Jasmine, or Mulan.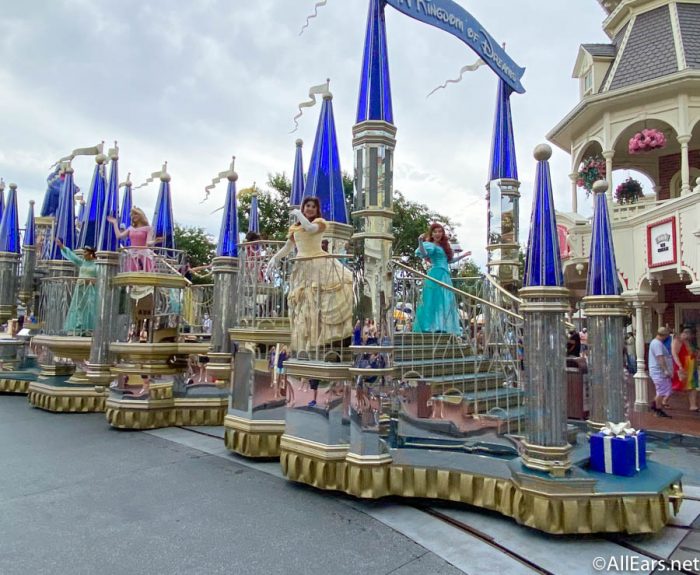 One time, we even spotted all the princesses making their way down Main Street on foot!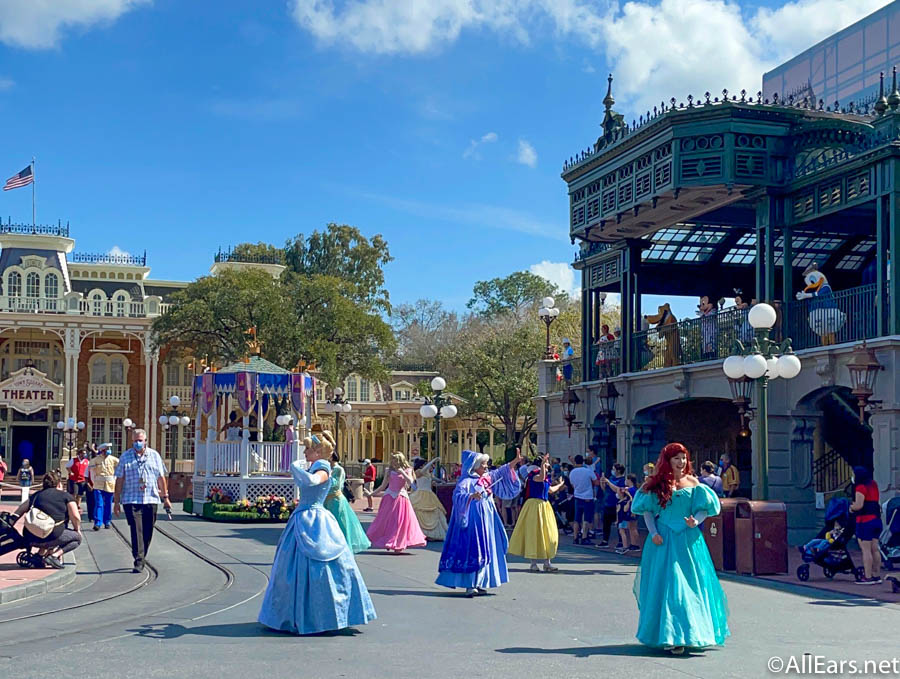 Tiana and Rapunzel tailed the group in a smaller float!
And, we've even spotted Moana making her way down Main Street, U.S.A. on top of the Magic Kingdom Cavalcade from time to time!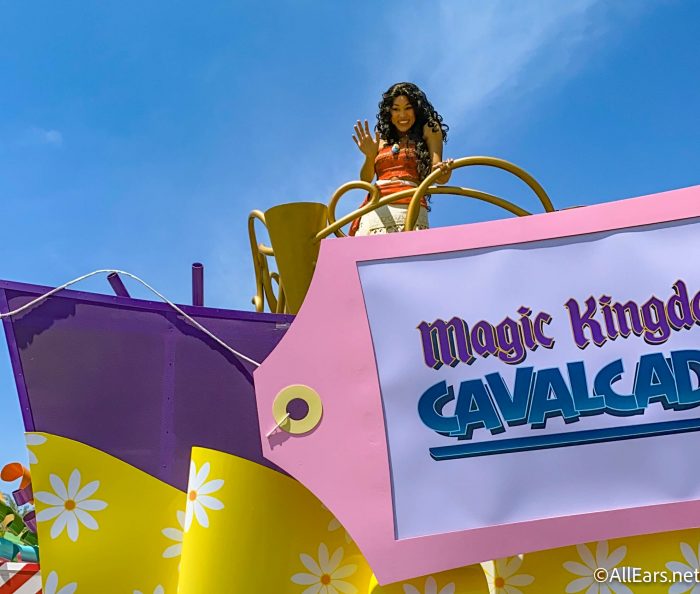 Disney princesses don't shy away from rain either. They do require some covering to shield them from the rain, though, so instead of the float, they hop into a streetcar to make their way down Main Street for the Rainy Day Character Cavalcade. Depending on the day, you can spot an assortment of princesses, including Merida joining the group!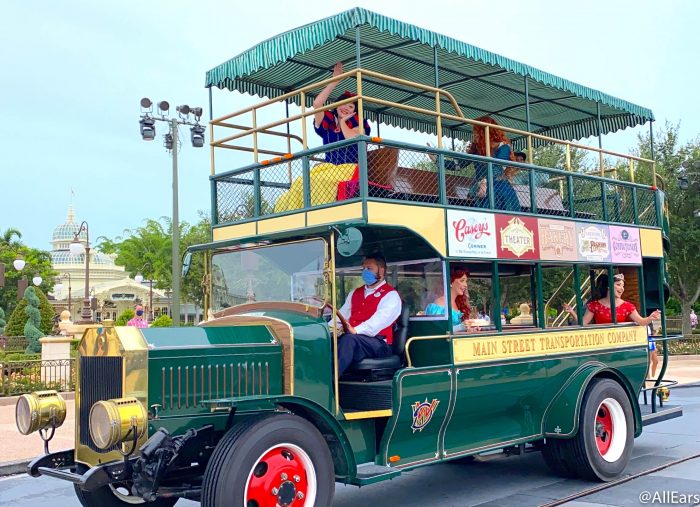 These Princess cavalcades usually happen throughout the day. If you want to catch one, try to plan some time to hang around the area because they aren't on a set schedule. You could grab Starbucks, do some shopping, or spend some time getting pictures in front of Cinderella Castle while you wait, and you never know which cavalcade will be taking to the streets!
Main Street, U.S.A. Train Station
Since Magic Kingdom reopened, you can usually spot some characters hanging out at the Train Station on Main Street, U.S.A., to make sure guests are sent off with a smile and a wave! And, every once in a while, Disney Princesses are there to say goodbye (or good morning)!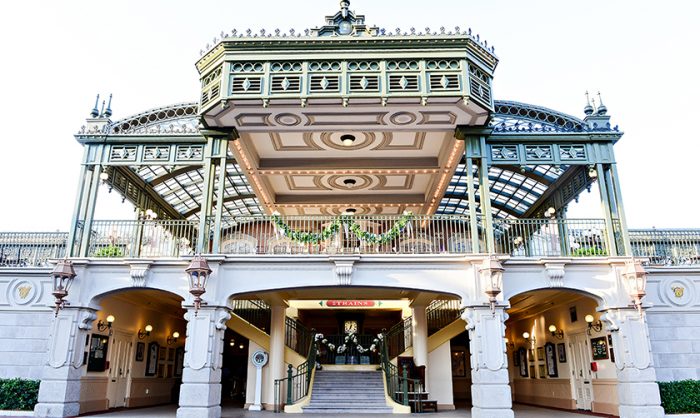 This spot tends to have rotating characters and you never know exactly who you're going to get. It could be Mickey and friends, or Winnie the Pooh and his pals from the Hundred Acre Woods, or Disney Princesses! But if you get to Magic Kingdom in the morning, that's usually when you can find the Disney Princesses saying hi here!
Enchanted Tales with Belle
Even though you can't be part of the retelling of Disney's Beauty and the Beast right now in Enchanted Tales with Belle, the princess still likes to get out from behind the books in her library and say hi to guests!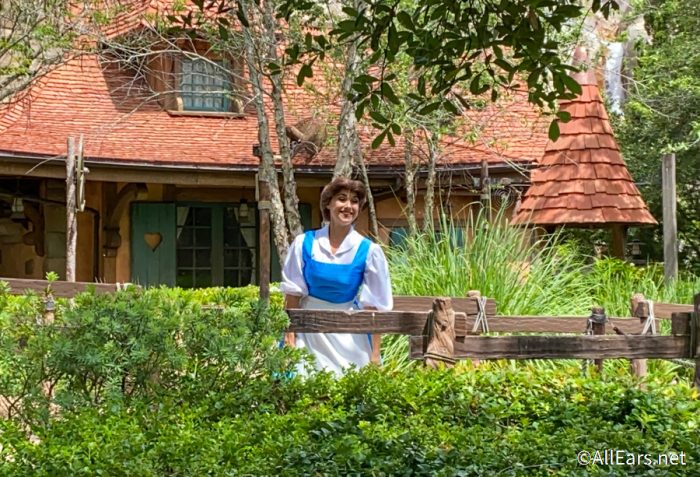 If you're lucky, you might spot Belle hanging out in the queue area catching the attention of guests in the park! She's not there every day, so you'll need a little luck to see her.
Princess Fairytale Hall
Another place we've spotted a princess is Princess Fairytale Hall. This is another one that doesn't always have the same characters, but Rapunzel has been known to hang out in this area!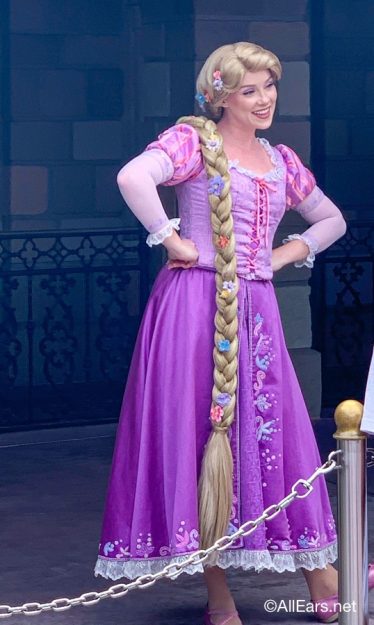 If Rapunzel is caught up in her tower painting, you might find Drizella and Anastasia (Cinderella's evil stepsisters) making a scene. You'll get a good laugh if you stop by to chat with them (from a distance)!
EPCOT
World Showcase
When the Disney princesses aren't making their way around Magic Kingdom, you can find them at EPCOT in a few different spots! The Princess Promenade is similar to the cavalcades, but they're making their way around in a horse-drawn carriage instead of a big float!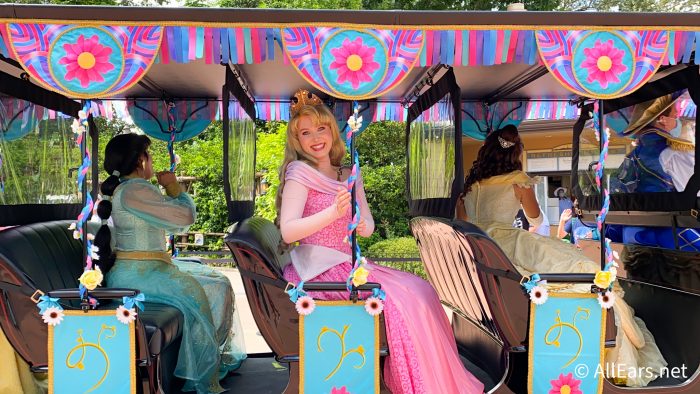 Princess Aurora, Belle, Jasmine, and Snow White go around the entirety of World Showcase, so there's a good chance you'll spot them at least once on your way around the world!
Norway Pavilion
If you're a fan of Frozen, EPCOT is the only place you'll be able to meet the two queens. No surprise, they're in their home country (well, region, maybe?): the Norway Pavilion! Sometimes you can spot them in front of their former meet-and-greet area, Royal Sommerhaus. Anna will come out to greet the townsfolk…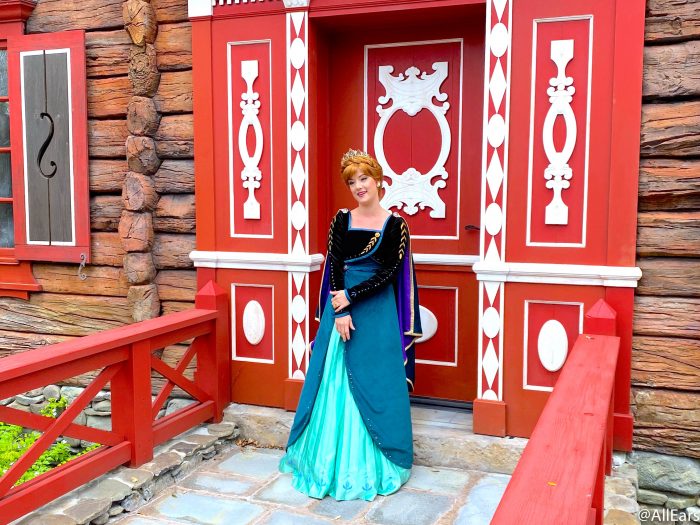 …and Elsa even stops by when Anna is too busy with official queen business!
The two also get out for a walk around some of World Showcase throughout the day. During the Frozen Promenade, you can find Elsa leading the way…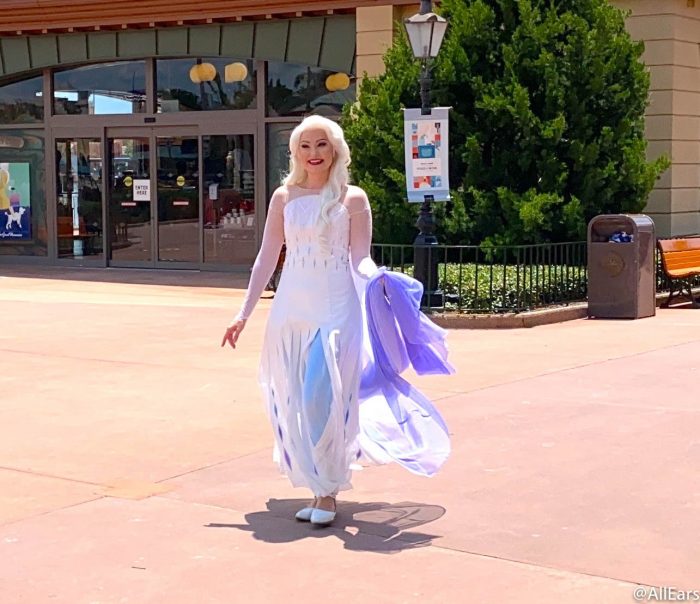 …and Anna not too far behind in her horse-drawn carriage!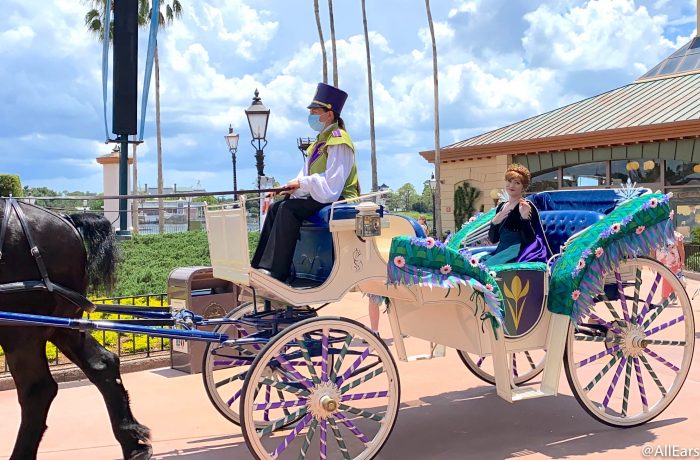 Depending on the day, this promenade can make its way from the entrance of the World Showcase to the Norway Pavilion, but more often than not, the girls take a shorter route and only go through the Norway Pavilion.
Animal Kingdom
Discovery River
Over in Disney's Animal Kingdom, the characters travel by boat (called Character Cruises) down Discovery River! You won't spot many Disney Princesses in this park, but Pocahontas does paint with all the colors of the wind (metaphorically) on a water taxi!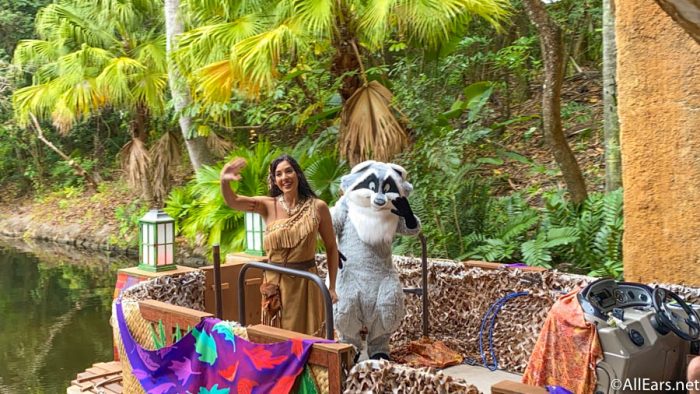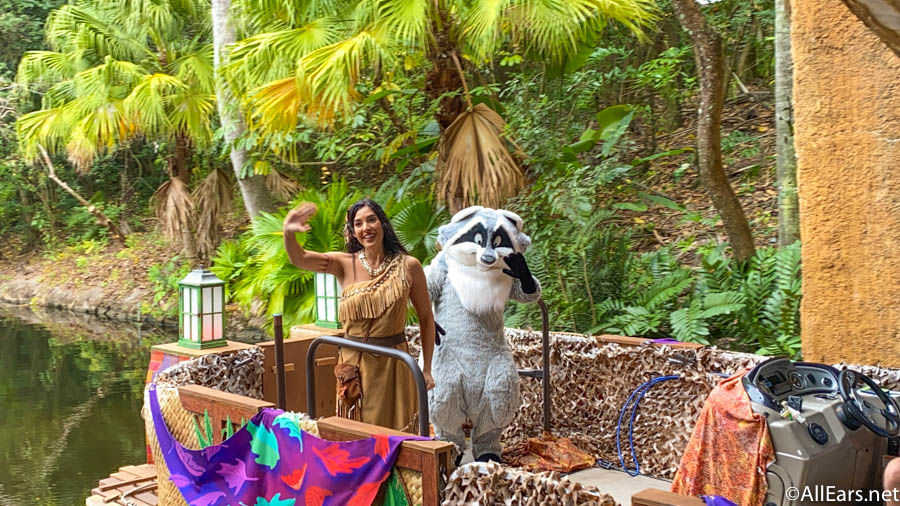 She's usually with her pal Meeko (and sometimes John Smith) making her way "just around the riverbend." You can spot her throughout the day along with other Disney characters who cruise around!
Currently, Disney's Hollywood Studios does not have any Disney Princess distanced meet and greets, but we'll be keeping an eye out in case any do pop up! You can see Anna and Elsa on stage for the Frozen Sing-Along Celebration.
Before you head to the other three parks, be sure to practice your princess wave because there's a good chance you'll get to see the Disney Princesses while you're there!
Join the AllEars.net Newsletter to stay on top of ALL the breaking Disney News! You'll also get access to AllEars tips, reviews, trivia, and MORE! Click here to Subscribe!

Who is your favorite Disney character? Let us know in the comments!