Oh, Universal, you're SO sneaky. But, we love you for it!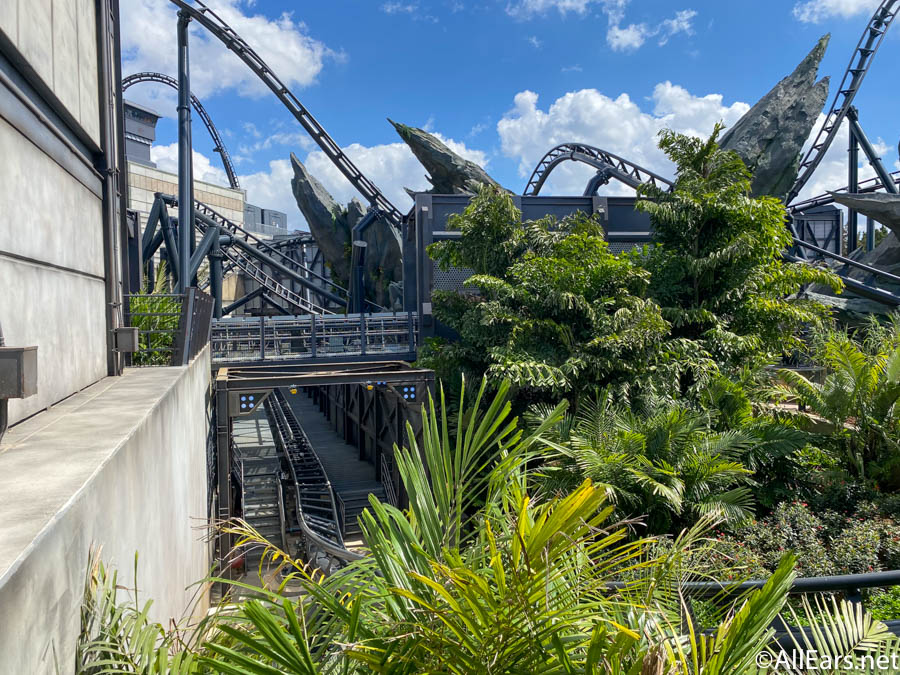 We had plenty of speculation about when the VelociCoaster would be opening after Universal Orlando released a cryptic Tweet, but now the guesses and games have ended!
Universal Orlando has officially announced that the VelociCoaster will open on June 10th!
The hunt begins June 10! Jurassic World #VelociCoaster pic.twitter.com/Dx4UbNaamB

— Universal Orlando Resort (@UniversalORL) April 6, 2021
We've kept our eyes on EVERYTHING happening with the coaster with the very first promo video, ride vehicles, mini raptor statues along the entrance, new signs, and MORE ahead of its big reveal. But, honestly, we're not sure any of those construction updates could prepare us for how thrilled we are to finally ride the VelociCoaster.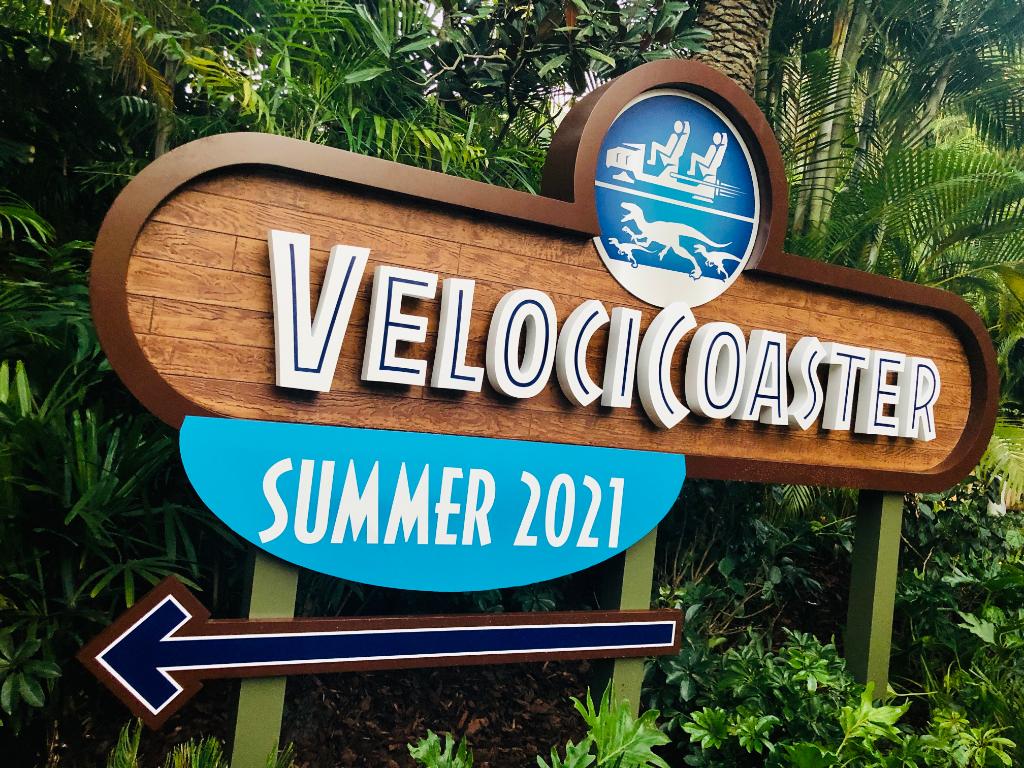 USA Today has given us additional details about the actual ride-through and storyline that we haven't seen previously! The VelociCoaster will hit 70 mph in 2.4 seconds (!!!) as passengers then climb to the top of a 155-foot top hat tower. As they plummet down an 80-degree angle down the other side, they'll then be tossed upside down 4 times.
Most notably, this will happen during a 100-foot-long, "zero-gravity stall" that will feel like FOREVER (but will only be a few seconds long for the actual dangling inversion). The grand finale will have a 360-degree barrel-roll inversion, nicknamed the "mosasaurus roll" for the giant water dinosaur in Jurassic World, a few feet above the Islands of Adventure lagoon.
Bryce Dallas Howard, Christ Pratt, and BD Wong have returned to reprise their Jurassic World roles in the attraction as Clair Dearing, Owen Grady, and Dr. Henry Wu respectively. The raptors — Charlie, Delta, Echo and Blue — also have roles as the REAL stars of the VelociCoaster. The concept is that the coaster is the newest addition to the Jurassic World Park as Claire Dearing wants to attract more business. Although the idea is that humans can observe raptors safely in an up-close environment, Owen Grady warns that this could spell disaster.
Of course, the raptors break loose from their paddock and chase the humans on the coaster. There will be plenty of close encounters with the raptors, as well as near misses of the rockwork and other elements of the ride-through. Thierry Coup, senior VP and chief creative officer at Universal Creative noted that "You're going to be the prey. What better premise for a themed coaster?" Thierry, we totally have to agree with you there!
There will be 12 seconds of airtime where guests feel like they are floating out of their seats, so be prepared! And, Universal has already stated that the height requirement will be 51 inches (4¼ feet), so you can plan accordingly. We're already counting the days until June to experience this "beast" of a coaster. Maybe we'll even see you there! Until then, stay tuned with All Ears for the latest Universal news you need to know!
Will you be riding the VelociCoaster when it opens? Let us know in the comments below!