We're wrapping up another spring break week in Disney World!
Between all the crowds and excitement, we were doing what we do best — snacking! And, we took a look back at all the things we ate this week to bring you the 5 BEST things. The competition was steep (because there are a lot of great eats and drinks at Disney World), but we narrowed it down so let's dive right in!
Here are the 5 BEST Things We Ate in Disney World This Week!
Nyala Brownie
First up is a returning favorite dessert that you'll have to travel a little out of your way for — the Nyala Brownie. This treat had disappeared from the menu for a little while but it is BACK at Disney's Animal Kingdom Lodge. It is a Mickey-shaped brownie topped with peanut butter buttercream and vanilla buttercream and, boy, is it tasty!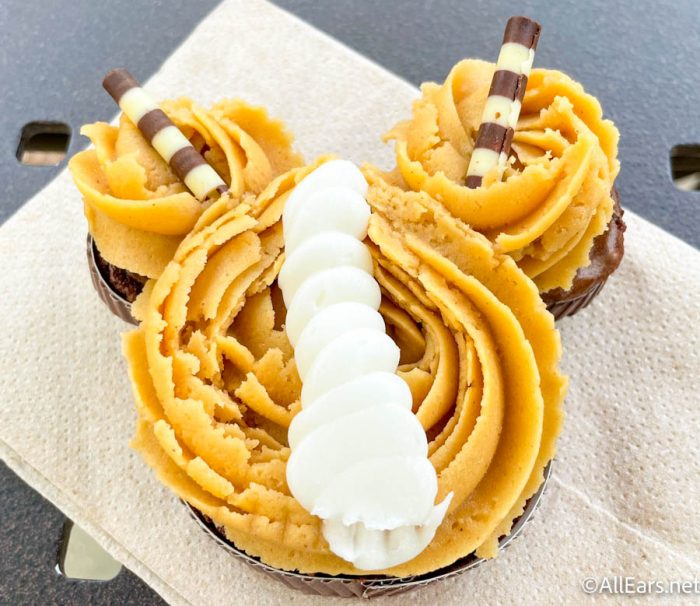 The brownie is super moist and loaded with buttercream — plus it's a big serving! So a win, win, and a win! It is back in its home location at the Maji Pool Bar and is also available at The Mara for $4.79.
Orange Pecan Chocolate Chip Cookie
Gideon's Bakehouse opened in Disney Springs at the beginning of this year and it has become a favorite for Disney travelers. And, with the turn of the calendar to April, Gideon's has introduced a new cookie of the month! The Orange Pecan Chocolate Chip Cookie is made with their Vanilla Bean Cookie Dough infused with Orange and mixed with Dark Chocolates and then topped with South Florida Pecan Pralines and Candied Orange Peel.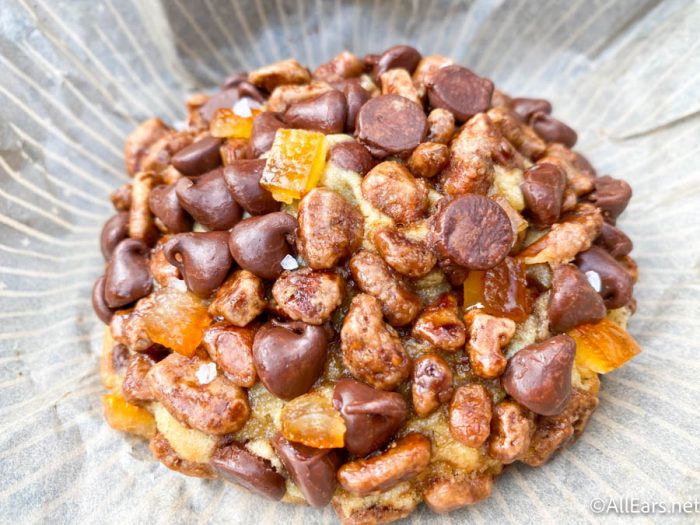 This cookie was inspired by the tale of Stuart Valencia, who was a young boy that ate so many oranges that he eventually turned into one. And, this cookie is strong on the orange flavor (and smell!) but the unique taste makes it worthy of our top 5 list! You can get it for $6 for the entire month of April — just be sure to plan ahead because the cookie of the month tends to sell out!
Everest Base Camp Macaroon
This next one is a winner in both taste and looks! The Everest Base Camp Macaroon is a new treat at Thirsty River Bar & Trek Snacks in Disney's Animal Kingdom. It is an "Everest-sized" chocolate and coconut macaroon with a snowcap of white chocolate and a flurry of snowflake sprinkles on a base of green tea chocolate crumbs.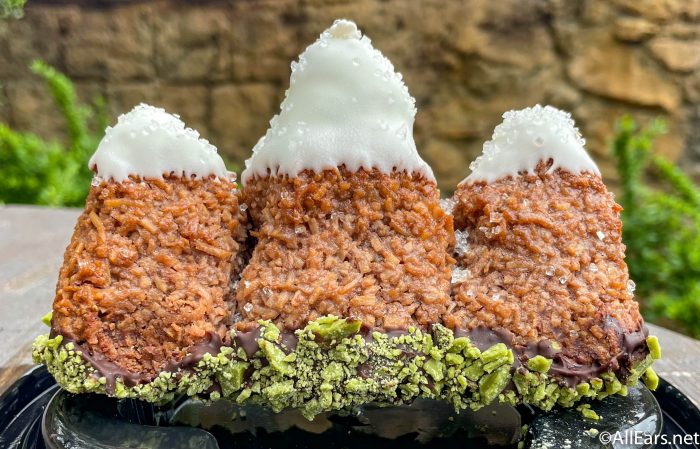 It has three mountains and each one is just as delicious as the next! And, what really elevated this snack was the green tea crumbles — it really worked well with the chocolate flavors! You can get yourself this tasty mountain for $5.99.
The Fish Tank
So, yes we ate a lot of desserts this week, but we also tried some new drinks! We stopped by Disney's Art of Animation Resort to check out the newly reopened Big Blue Pool (which is the largest of the Disney hotels) and decided to swing by the Drop Off Pool Bar to see what's on the menu. And, we found a new cocktail appropriately titled The Fish Tank! This colorful drink is made with Svedka vodka, Malibu coconut rum, blue Curaçao, Sprite, Sour mix with Nerds and Swedish fish! Candy in a drink — yes, please!
We're thinking Darla would love to shake this one up because it looks just like a fish tank! Luckily, it doesn't taste like one! We really liked the sweet and refreshing tropical flavors in the drink and the nerds made each sip a little more fun when they got sucked up in the straw (kind of like boba tea). You can enjoy this drink poolside for $13.
Triple Suns Breakfast Wrap
We swear we don't only eat and drink sweet snacks! This week we stopped by Ronto Roasters in Star Wars: Galaxy's Edge in Disney's Hollywood Studios to check out a new galactic take on a fan-favorite snack. Disney announced two new plant-based versions of the Ronto Wrap a few weeks ago and we were there early enough to try the Triple Suns Breakfast Wrap! It is made with plant-based "egg," smoky chickpea onion slaw, and roasted tomato sauce wrapped in a warm pita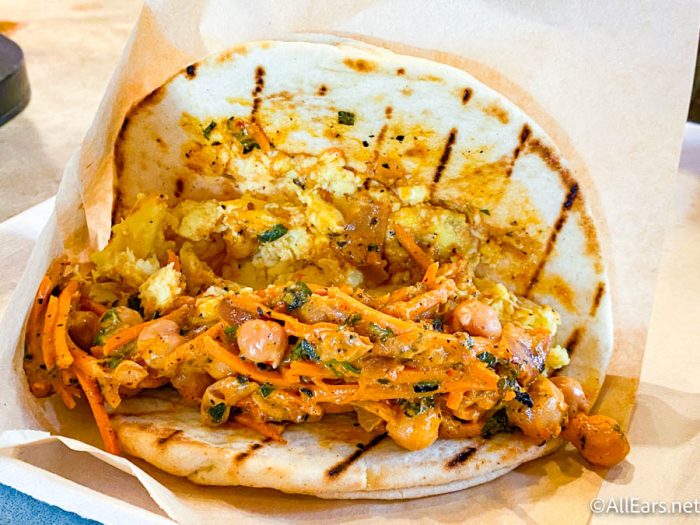 So how does this one stack up with the others? For a plant-based option, we thought it was delicious! The smoky chickpea onion slaw was the highlight of the wrap but do be warned, this one is spicy! It is only on the menu in the morning, so you'll have to be there early enough to give it a try. It costs $11.49.
That's it for this week's eats and drinks! Disney World announced that they would be coming out with tons of new snacks for what they're calling "Earth Month" in April, so we have a feeling we'll be pretty busy! Stay tuned for more Disney news and updates!
Join the AllEars.net Newsletter to stay on top of ALL the breaking Disney News! You'll also get access to AllEars tips, reviews, trivia, and MORE! Click here to Subscribe!

What is your favorite Disney snack? Let us know in the comments!