Walt Disney World has implemented a variety of health and safety measures over the past year.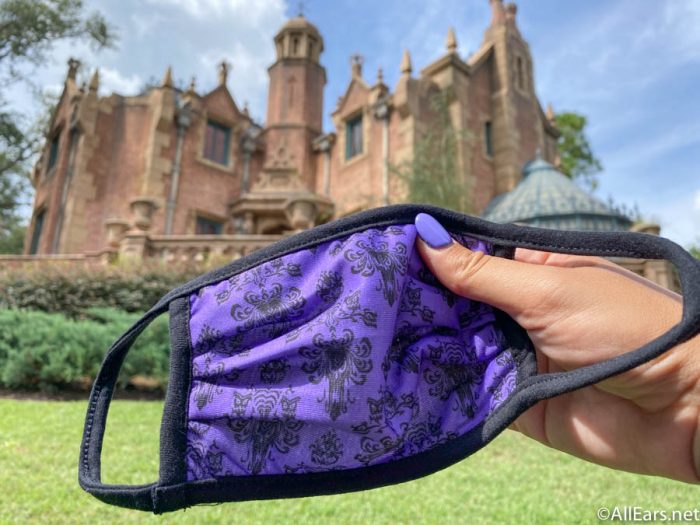 And, though temperature checkpoints have been removed and physical distancing measures are reduced, face masks are still required to be worn by all guests (aged 2 and up) when indoors, in attraction queues, and on most Disney transportation. So, what's it like to wear a face mask in the parks, and are there ways to make it more manageable?
We've been visiting Disney World for the last year and collected some of our best tips for wearing a mask inside the parks!
Stay Cool and Take Breaks!
Right now, masks remain optional when outdoors in the parks and resorts or when actively eating and drinking indoors. So, most of the time that you're walking around in the Florida sun you don't need to be wearing your mask.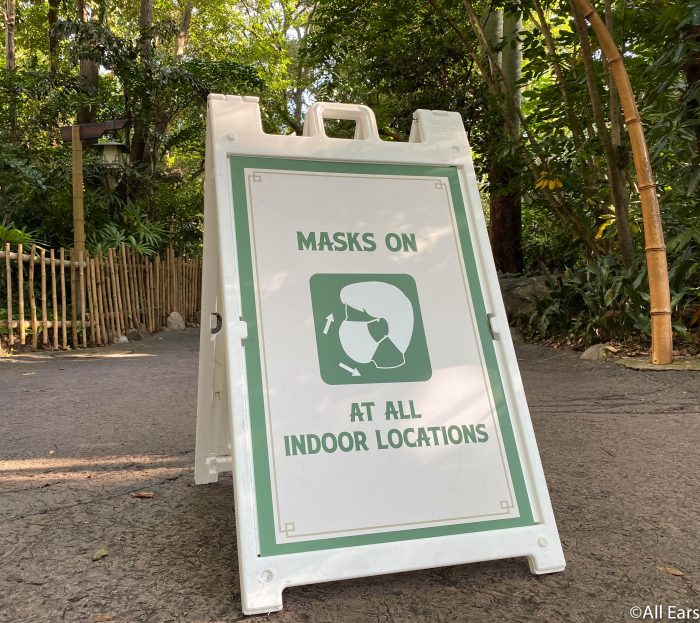 But, there are still some instances where you might be standing outside in the heat wearing a mask because they are required to be worn in all ride queues — even outdoor ones. And, it's no doubt that the masks can create heat when traipsing around in the Florida climate and humidity.
Many of us are accustomed to wearing masks at the grocery store and other public places, but we suggest practicing wearing your mask for a longer period of time outside. We might even suggest going on a short jog to see what it feels like when you're warm and wearing a mask!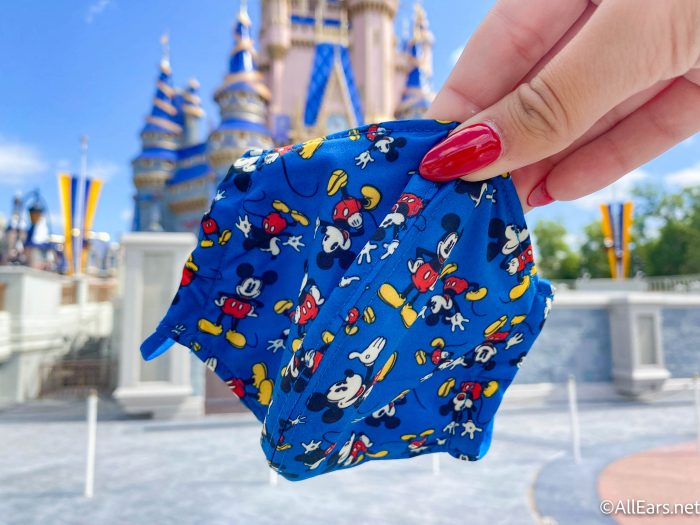 To give you more of a break from wearing your mask, try to space the rides out throughout your entire day instead of hopping from one line to the other. This will give you some time to be out in the open air and take a break from the mask.
P.S. We actually found that the masks keep us warmer in the cooler months. You may still experience some heat when hiking around the Magic Kingdom all day, however!
Make Sure Your Mask Fits!
There's nothing more uncomfortable than walking around in a mask that doesn't fit properly. A mask that's too tight will strain your ears and might give you a headache. A mask that's too big will slip down your nose all day, which can feel super annoying. You want to make sure you're bringing masks that fit just right.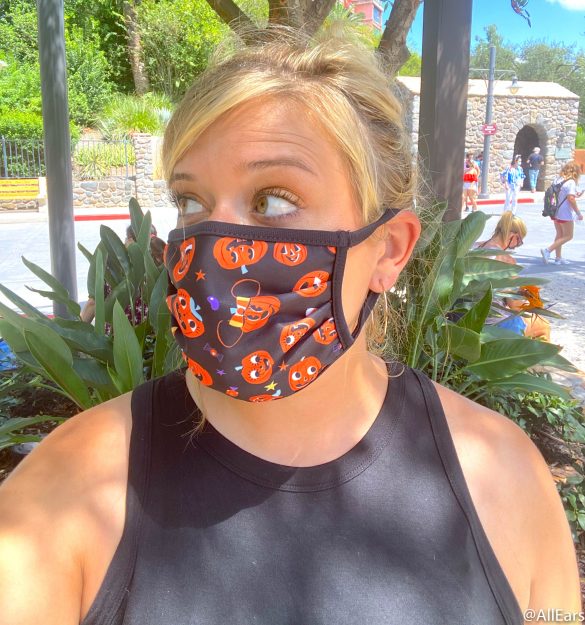 Try buying several ahead of time, and wear each one for long periods of time. You want to feel fairly comfortable in your mask so you can enjoy your day!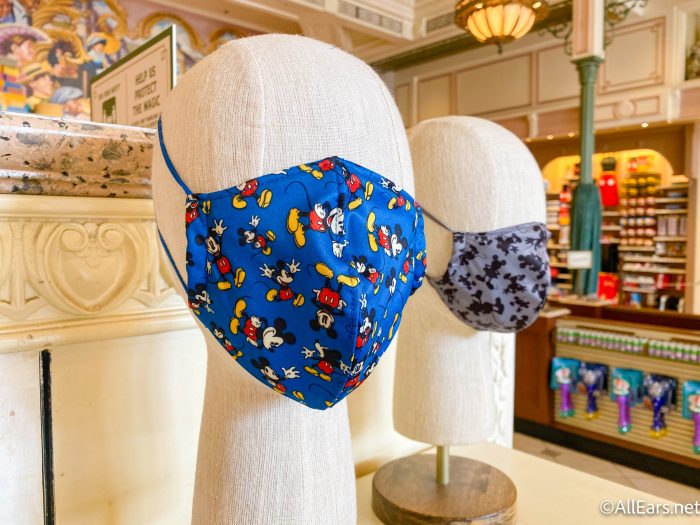 And, Disney sells masks in the gift shops if you're in a pinch. Just keep in mind that the Disney masks are pricier than the brands you'll find online and you won't know if it fits until you remove it from the packaging!
Be Aware of the Mask Regulations
And, you'll need to think about what kinds of face masks you pack with you because Disney has strict regulations for what counts as a "proper" face mask too. These regulations are based on the CDC's health advisories and have been implemented in all the theme parks and resorts.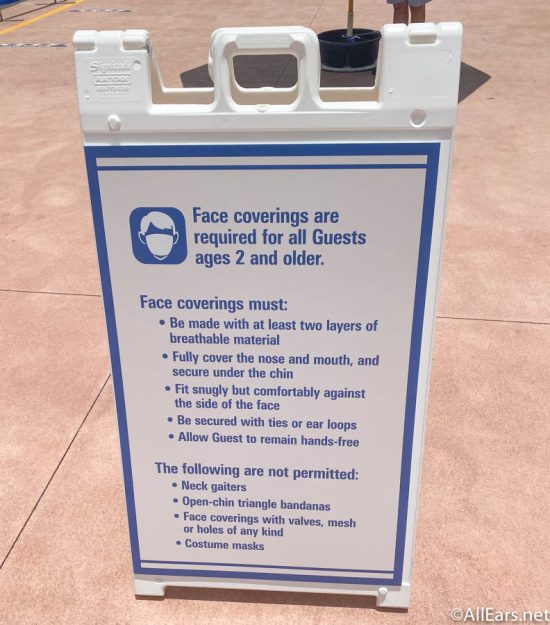 The requirements include ensuring that the mask is made with two layers of breathable material and covers your mouth, nose, and chin. Plus, Disney does not allow masks with holes or valves or gaiters and bandanas to be worn as masks.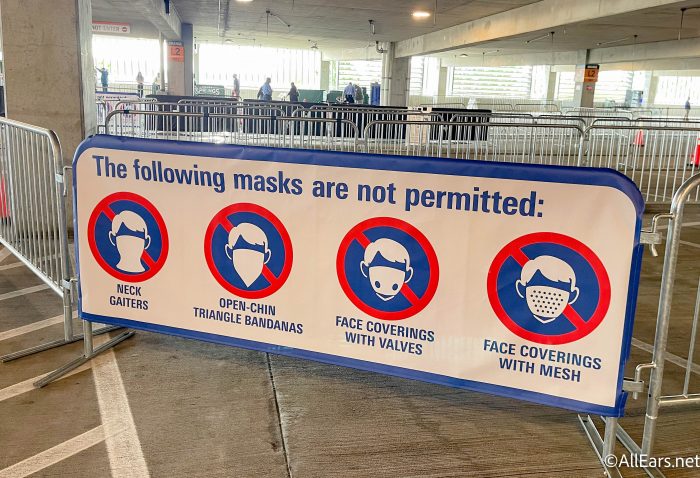 You don't want to buy a mask only to find that it doesn't fit the requirements so you can be sure your masks are appropriate by checking out Disney's mask requirements on the official website here!
Use a Mask Chain and Ear Savers
People have created some nifty tools since we all started wearing masks every day! Our favorite mask accessory (mask-essory?) are ear savers. The small plastic piece attaches to your mask loops and relieves tension at the back of your head. This can be a lifesaver for those of you who are prone to headaches.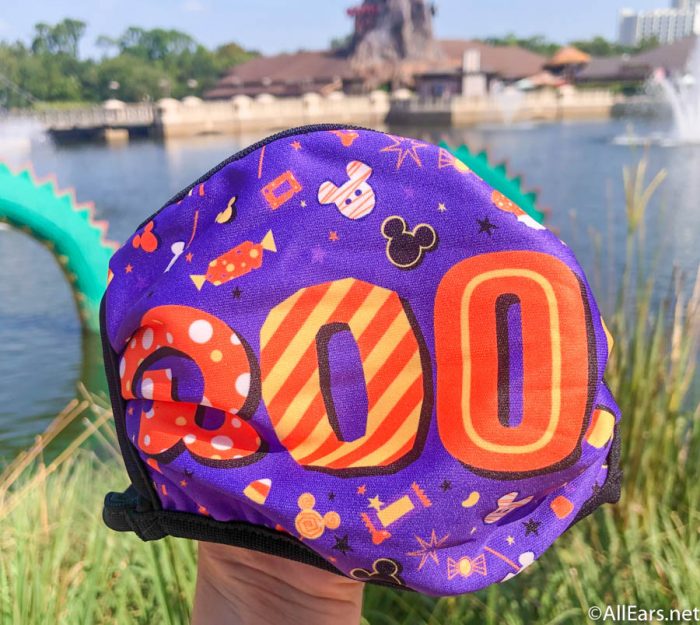 We also found mask chains to be handy as the chain attaches to your mask so it will remain hanging around your neck when you remove it. This is really fantastic for kiddos who tend to fuss with their face coverings and we even like to keep it around ourselves to make it convenient when we're eating or walking between indoor and outdoor locations.
Bring an Extra…or Two…or Three!
We've seen quite a few masks abandoned on a bench or drifting toward the bottom of the tracks on Expedition Everest so anticipate that you'll likely lose at least one mask on your trip. And, even if you don't lose them, they will get dirty and need to be cleaned!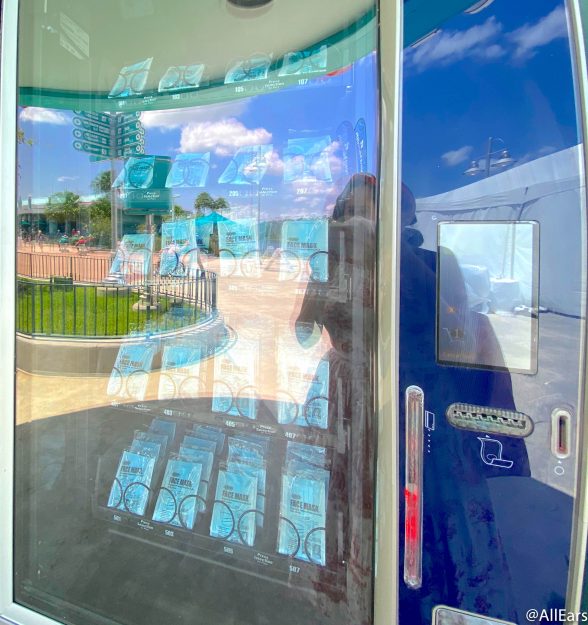 So, bring at least one or two extra masks in your park bag. These will be your backups if you drop one on the ground and need a sanitary mask. And, we also advise bringing some disposable masks to wear while you're washing masks (remember that every Disney World resort has laundry onsite) and other times you may need them.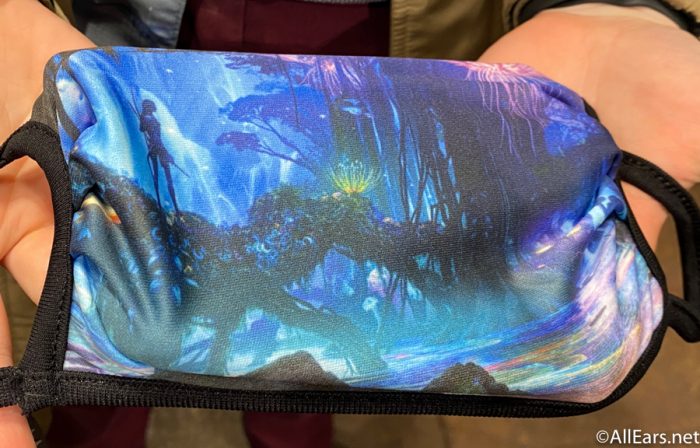 Extra Tip: Bring something to store your masks in!  You'll want to keep your face coverings sanitized and separate from other items in your bag. Pack them in Ziploc bags, an eyeglasses case, or cleaned out pockets.
Masks Must Be Worn on Roller Coasters, Too!
We want to emphasize that masks must be worn on every ride and in all indoor locations so you cannot remove your mask while riding an attraction (even outdoor ones!). It may be tempting to slip it off while riding Space Mountain, but removing your mask on an attraction is prohibited by Disney.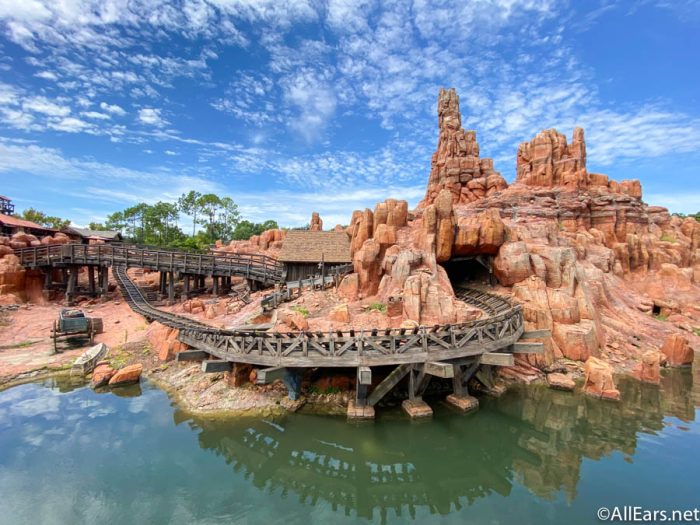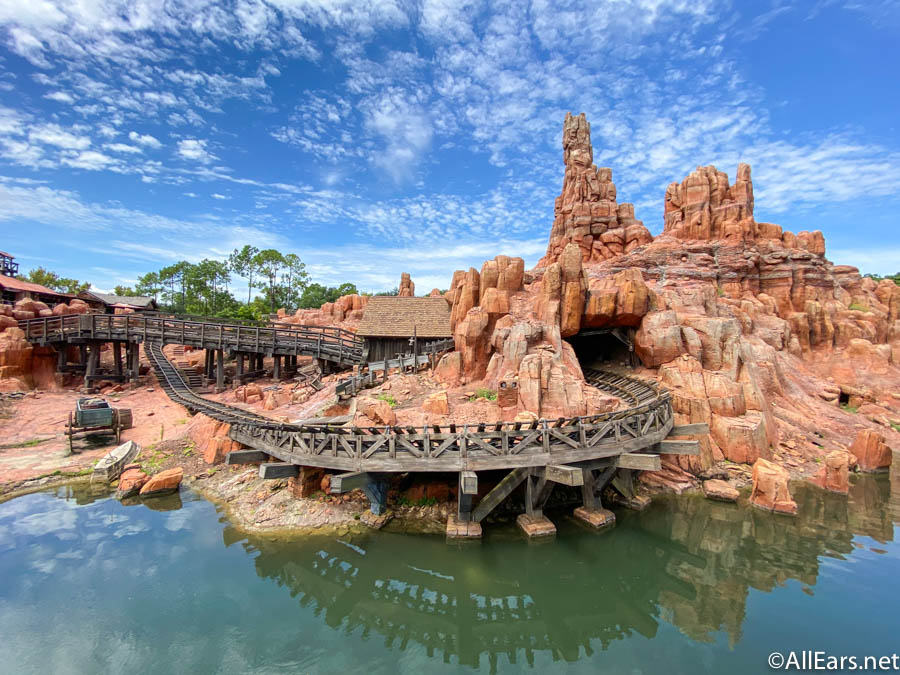 This is where your hand dandy mask chain and ear savers come into play. The ear savers will help keep your mask in place for the most part and the chain will be there if it slips off. You don't want to lose your mask in the dark, starry abyss!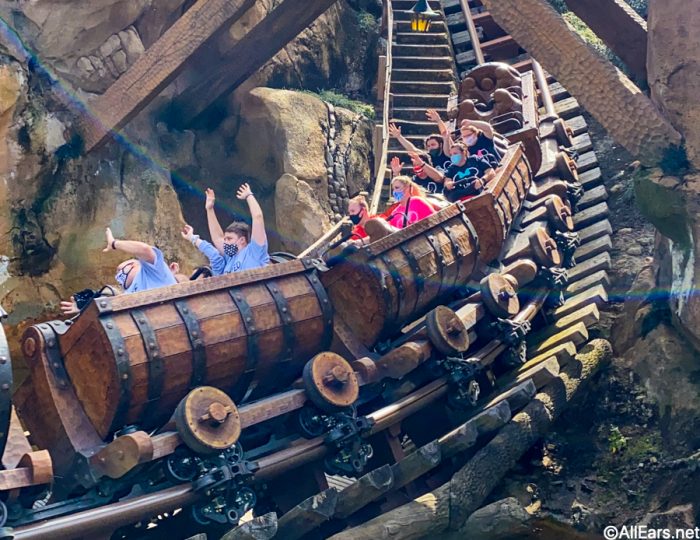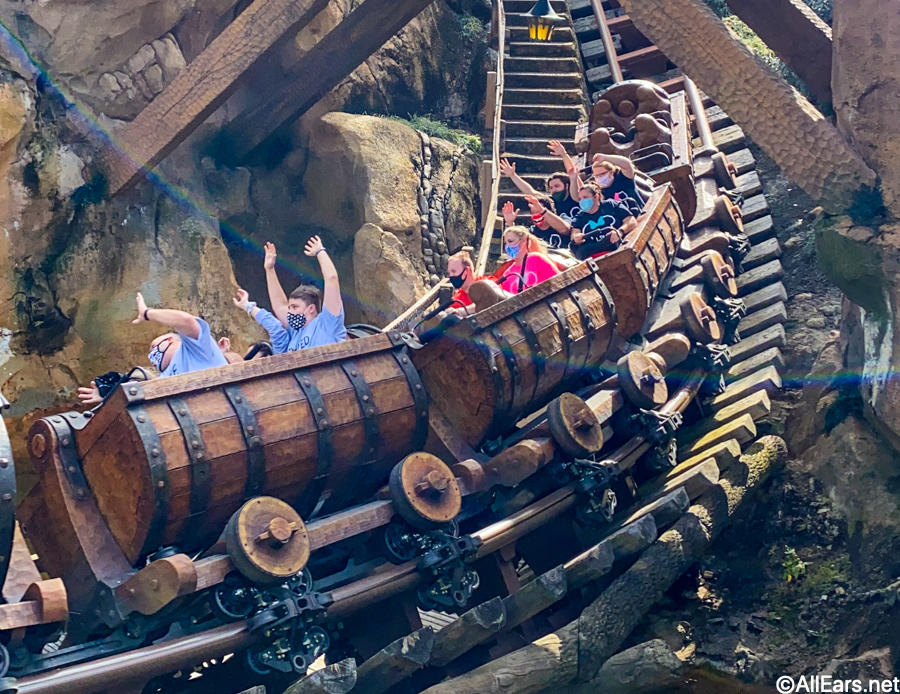 Note: If your mask falls off on an attraction with an on-ride photo, you won't receive your PhotoPass photo (and none of the folks on the ride with you will get theirs, either). (If you do receive a photo, it might be edited.)
You May Experience a Few Side Effects
Developing a sore throat or fatigue while wearing a mask is totally normal. Newsweek explains that there's no need to panic if you're experiencing a few subtle side effects after wearing a face covering for most of your day. Your throat might feel sore because you're talking a lot louder than you normally would and the soreness can also come from breathing in debris from your mask.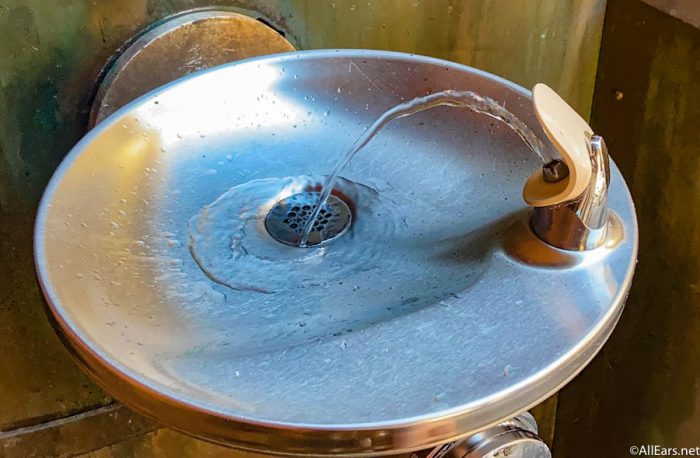 You may also break out with "mascne," which is caused by a dirty mask, too.
But, it's important to remember to wash your mask every day, and don't reuse disposable masks because this will cut down on the dirt and debris you'll inhale. And, be sure you drink tons of water, too! You'll need to stay twice as hydrated while wearing a mask and it will help reduce soreness.
Phone Face ID Doesn't Work with a Mask
You may have already noticed this one but your face identification feature usually doesn't work while wearing a mask. It should be reiterated here because your phone is your lifeline at Disney World and you'll be using it all day to take pictures and for various reasons on the My Disney Experience app.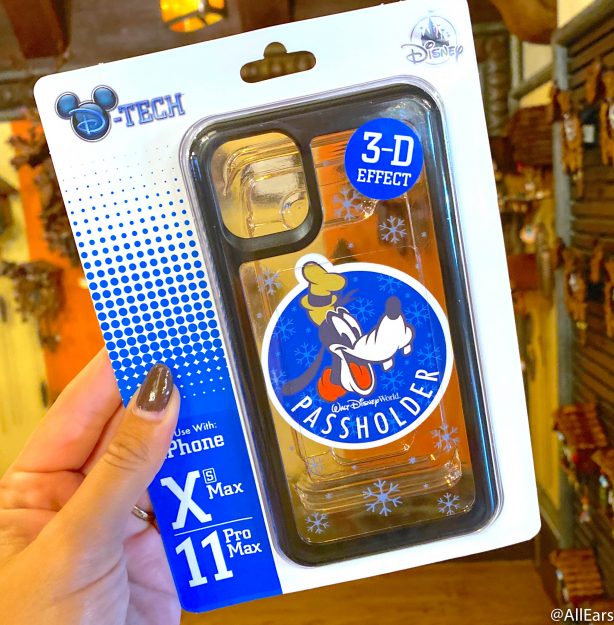 But, there are a few things you can do to ease this subtle annoyance. You can create an easy-to-remember passcode for your lock screen that you can punch in quickly and you can also use an app like LastPass that saves and generates passwords. This will allow you to easily log into apps that usually ask for your Face ID for access.
Fogging Will Occur!
Masks tend to fog up glasses under normal conditions and at Disney World, this effect happens much more frequently because you're constantly moving between the blazing heat and ice-cold air conditioning. So, even without a face mask, you might notice that your glasses become a bit cloudy (think about what it's like opening a dishwasher while wearing glasses!).
Luckily, this one can be pretty easy to resolve! We suggest buying some defogger spray for your glasses, as this will help reduce condensation throughout the day.
Of course, you'll also be wearing masks on attractions that have 3D glasses so you might have some trouble seeing there too. Our best tip here is to place your glasses over the bridge of your nose because this will help your warm breath circulate down instead of up toward your glasses!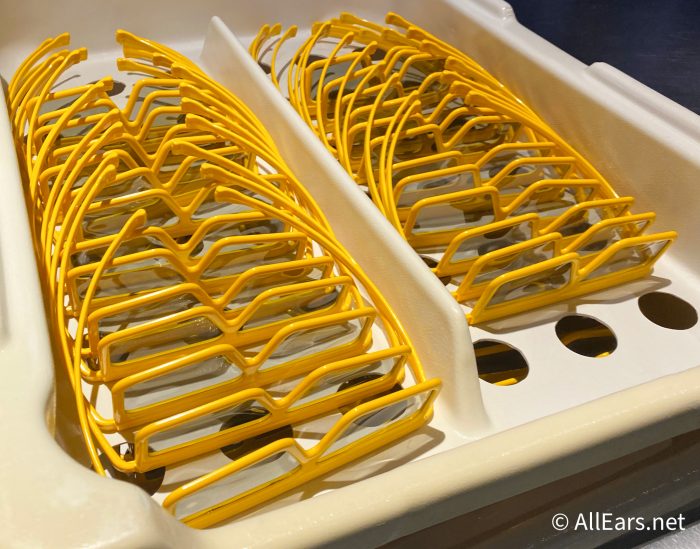 Well, there you have it — our BEST tips for wearing a face mask in Disney World right now! Keep in mind that Disney has not announced how long guests will be required to wear a face mask indoors and on attractions while visiting but things can change quickly as health and safety guidelines are updated by the CDC.
We're always keeping our eye out for the latest Disney news, so be sure to stay tuned to AllEars to be one of the first to know about any changes!
Do you have any good face mask tips? Let us know in the comments!
Join the AllEars.net Newsletter to stay on top of ALL the breaking Disney News! You'll also get access to AllEars tips, reviews, trivia, and MORE! Click here to Subscribe!