If you've ever found yourself aimlessly wandering around Magic Kingdom while thinking to yourself, "Man, I wish I knew where to find a good snack!" have we got a list for you!
We've compiled our most favorite eats to enjoy while visiting Walt Disney World! Let's take a look!
Dole Whip from Aloha Isle
We're talking about the reigning snack queen: Pineapple Dole Whip, of course! It tastes so bright and refreshing on its own, plus you can always get it "swirled" with vanilla soft serve which lends a nice richness for balance!
You can pick up your Pineapple Dole Whip at Aloha Isle before or after your visit to The Enchanted Tiki Room — which is located next door. Take a tip from us and use Mobile Order on the My Disney Experience app so you can bypass the line!
Kakamora Float from Aloha Isle
Aloha Isle is the home to one of our favorite newest treats,too: the Kakamora Float! This little beauty sailed into Magic Kingdom during Mickey's Very Merry Christmas Party last year before it became a menu staple!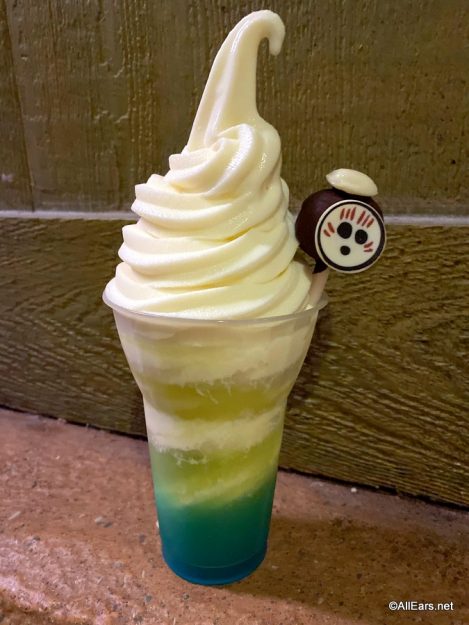 The drink consists of rich, creamy coconut-flavored Dole Whip topped with pineapple juice, non-alcoholic blue curaçao syrup, and a little baby chocolate Kakamora cake pop! We think we know why it stuck around long after the holidays ended: it's DELICIOUS!
I Lava You Float from Sunshine Terrace
We swear we'll be moving on from Floats here in a sec, but there's one more we just HAVE to tell you about! It's called the I Lava You Float ,and it gets its name from the adorable Pixar short (remember the one with the two volcanoes that fall in love? Yep, THAT one!)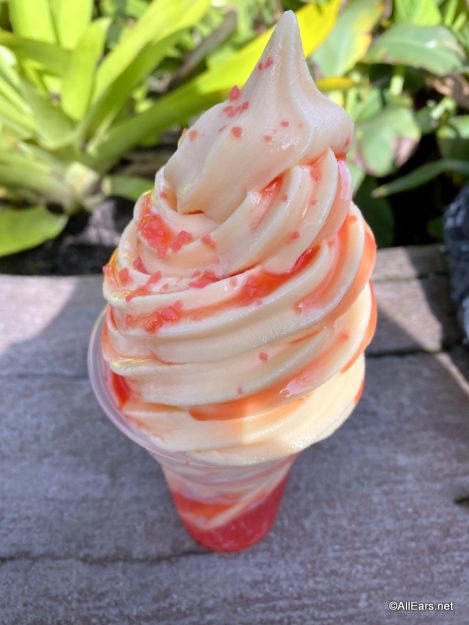 The I Lava You Float features strawberry Fanta Soda, Citrus Swirl, and strawberry and red passion fruit syrup!  It's then topped with strawberry popping candy. That's right: POP ROCKS for some extra pizzazz! Find this one lurking at Sunshine Terrace!
Corn Dog Nuggets from Casey's Corner
Good things come in small packages — case in point, Casey Corner's Corn Dog Nuggets!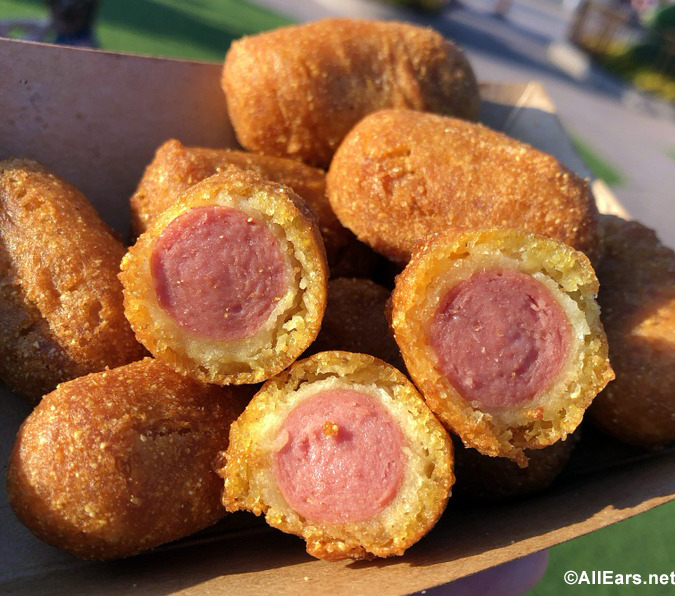 These things are truly addictive, and once you pop, you can't stop! The batter is sweet and crispy while the hot dog inside is salty and has just the right snap! Plus you can dunk them in ketchup, mustard, or warm cheese sauce (for a small added fee)!
Spring Rolls from Adventureland Spring Roll Cart
We never miss a stop at the Adventureland Spring Roll Cart. This little stand (found just outside the entrance to Adventureland from the Hub, on our last visit) is home to some BIG flavors!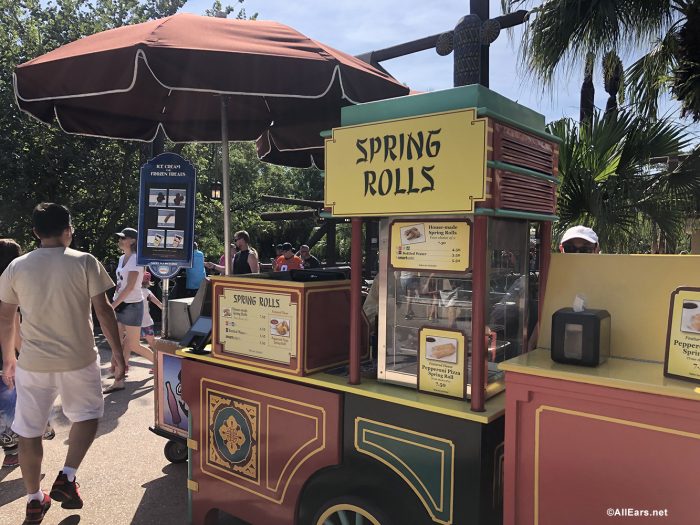 And these aren't just your ordinary veggie or chicken Spring Rolls that you'll find in any Chinese restaurant. We're talking more unique offerings such as Philly Cheesesteak Spring Rolls, Pepperoni Pizza Spring Rolls, Rueben Spring Rolls, and even Cheeseburger Spring Rolls. Swing by the cart earlier in the day for the best selection because as flavors sell out, they usually aren't replaced until the next day!
Cinnamon Roll at Gaston's Tavern
There's an alarming number of Cinnamon Rolls at Disney World (we're thinking mainly of the Colossal Mickey-shaped Cinnamon Roll that can feed a small army!) but our favorite one is made by that lovable lug, Gaston!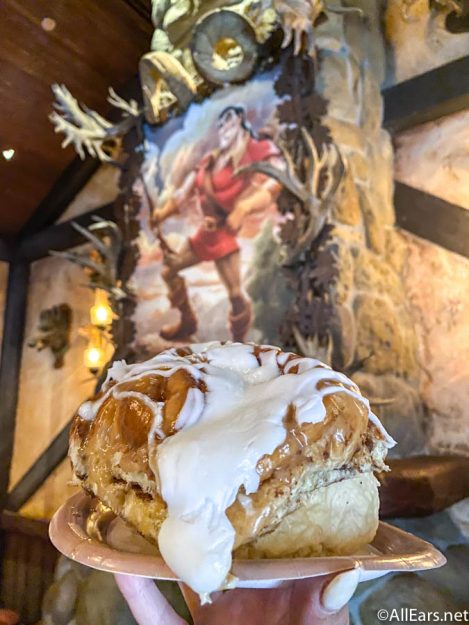 Plus when you eat at Gaston's Tavern you can admire all of his decorating skills. Antlers, antlers, and, (you guessed it) even MORE antlers! Sometimes we've been able to finagle an extra helping of icing out of a friendly Cast Member when we've asked nicely, but only a few times. Other Cast Members have told us they couldn't do it, but the Cinnamon Roll went down smoothly regardless! 😉
Turkey Leg from Prince Eric's Market and the Frontierland Turkey Leg Cart
Turkey Legs are definitely becoming one of Disney World's most-controversial food offerings, but we think they're worth a try at least once!
There's just something about walking around MK while gnawing on a giant drumstick that we think has become weirdly (and perhaps deliciously) iconic! Love 'em or hate 'em, Turkey Legs make an impression!
Tangled Eclair from Pinocchio Village Haus
Magic Kingdom seems to be introducing a lot more Disney character-themed foods these days, one of our favorites just so happens the Tangled Eclair! It's almost too pretty to eat!
The classic eclair is a fried pastry topped with white chocolate whipped cream (dyed gold like Rapunzel's hair), decorated with sugar flowers, purple craquelin, and even a cute little chocolate frying pan! Luckily, the Tangled Eclair tastes just as good as it looks! Let it rescue your taste buds over at Pinocchio Village Haus!
Cheshire Cat Tail from Cheshire Cafe
Another favorite treat of ours can be found at the Cheshire Cafe! The Cheshire Cat Tail is a warm, flaky pastry stuffed with chocolate chips and drizzled with purple and pink icing — to match that mischievous cat from Alice in Wonderland!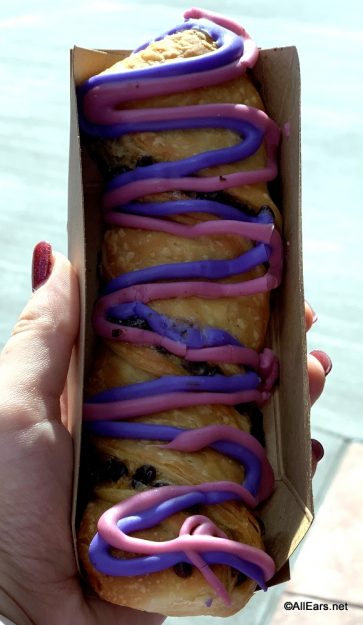 But don't let its stripes fool you — the Cheshire Cat Tail doesn't play any games! It's just one seriously amazing snack, and we have to get one every time we stop by Magic Kingdom! Usually, we take ours next door to Cosmic Ray's Starlight Cafe and enjoy it along with a few Sonny Eclipse tunes!
Loaded Buffalo Tots at Friar's Nook
If you're as obsessed with Tater Tots as we are, you gotta swing by Friar's Nook! That's where you'll find several Loaded Tots — including these ones done up Buffalo-style!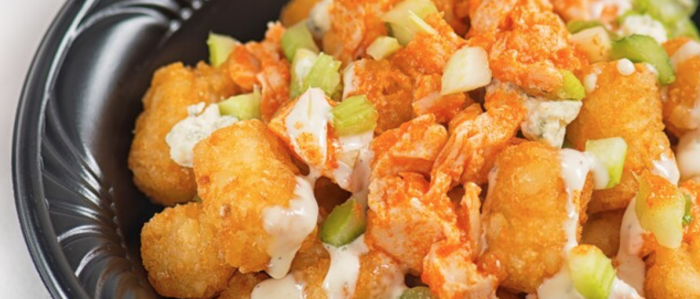 They also have a Creamy Bacon Mac and Cheese Tots that are top Tater Tot-NOTCH! They also other Breakfast Tots with sausage and gravy! Tuck into some on your next trip over!
Fresh Fruit and Nutella Sandwich from Sleepy Hollow
Our last, but certainly not least, favorite snack is Sleepy Hollow's Fresh Fruit and Nutella Sandwich! Is it a snack? A dessert? Maybe even a MEAL? Who cares — all we know is it's absolutely delicious!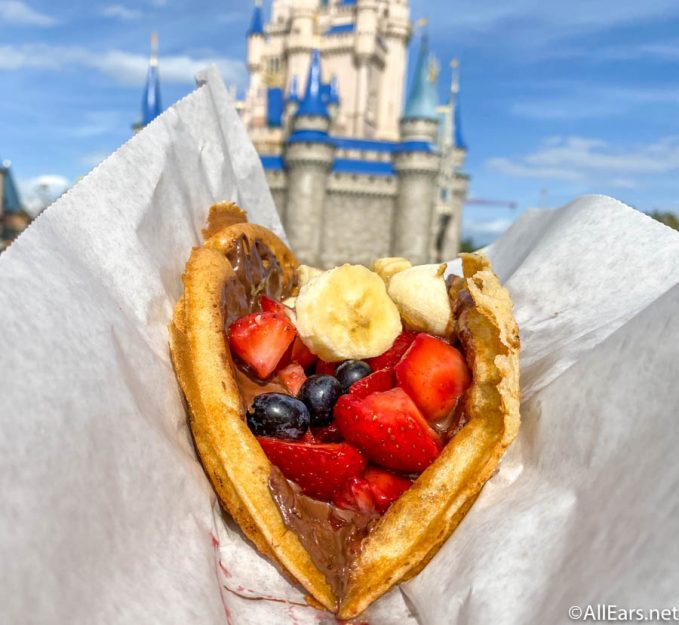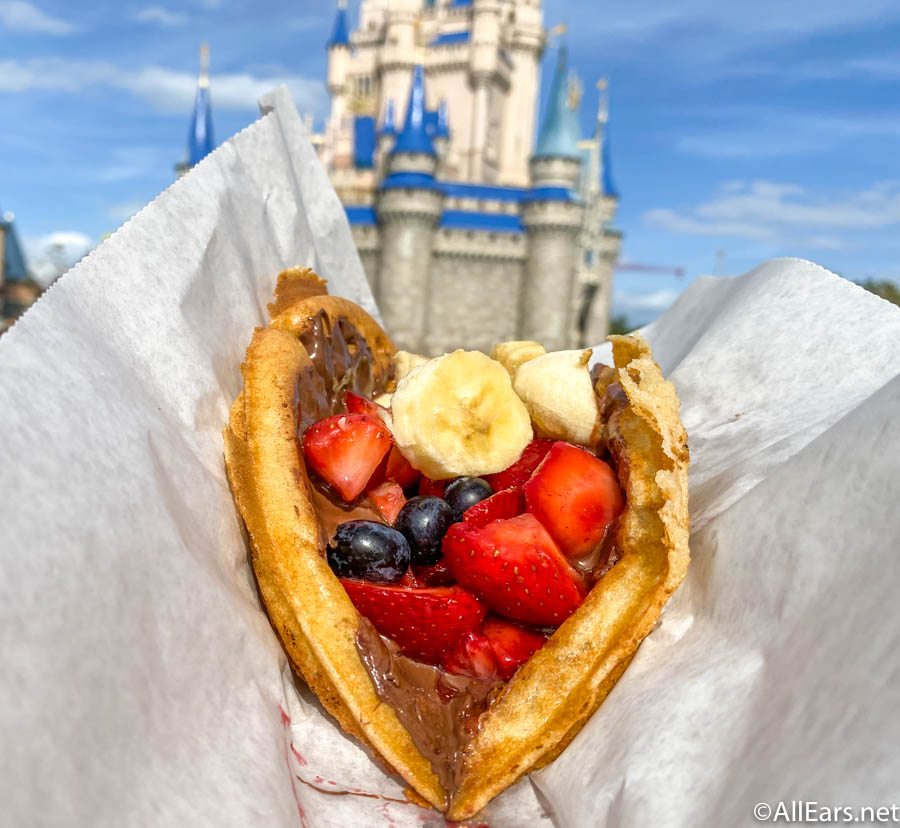 The chocolate hazelnut spread is heaven in every bite along with the fresh blueberries, strawberries, and pieces of banana! You WON'T be disappointed by this one or ANY of our best snack at Magic Kingdom recommendations!
Which Magic Kingdom snack is your favorite? Let us know in the comments!