If you're reading this, then you probably already know we love Disney attractions. From flying to Neverland to joining the Resistance, there's a ride for everyone in the Disney Parks!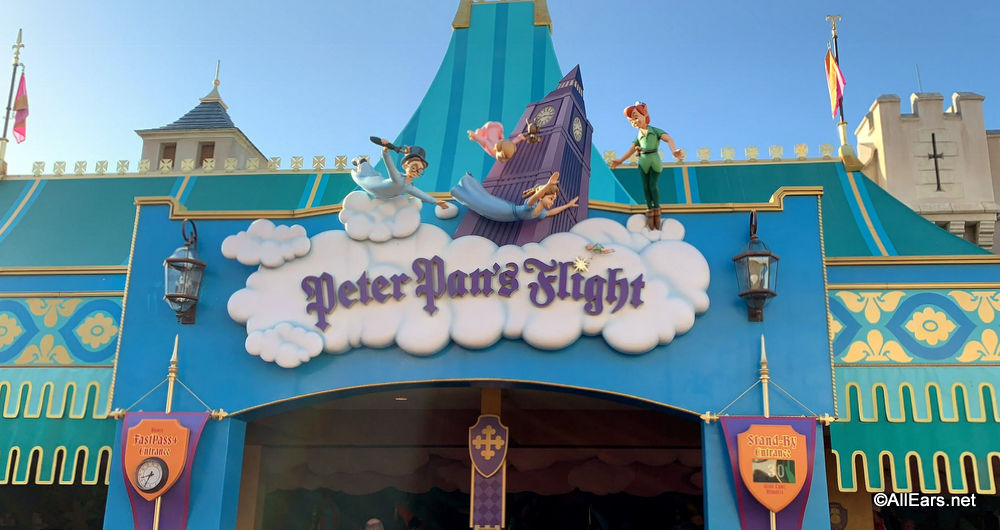 But sometimes Disney opens a ride or show, and we can't help but go…huh?! Why?! Who thought this was a good idea?!
From being packed with violence to being just plain weird, here are seven times we had no idea what Disney was thinking.
1. Dead Big Red
Many people remember the previous version of Kilimanjaro Safaris that told an anti-poaching story, along with viewing the animals. In this version, you passed through a poacher's camp, where elephant tusks were displayed, and eventually worked with Warden Wilson to save Little Red, a baby elephant. But what a lot of people don't realize, is that the first version of the ride featured a DEAD ELEPHANT CARCASS. You read that right — initially, you drove past a dead and bloodied Big Red who you were too late to save.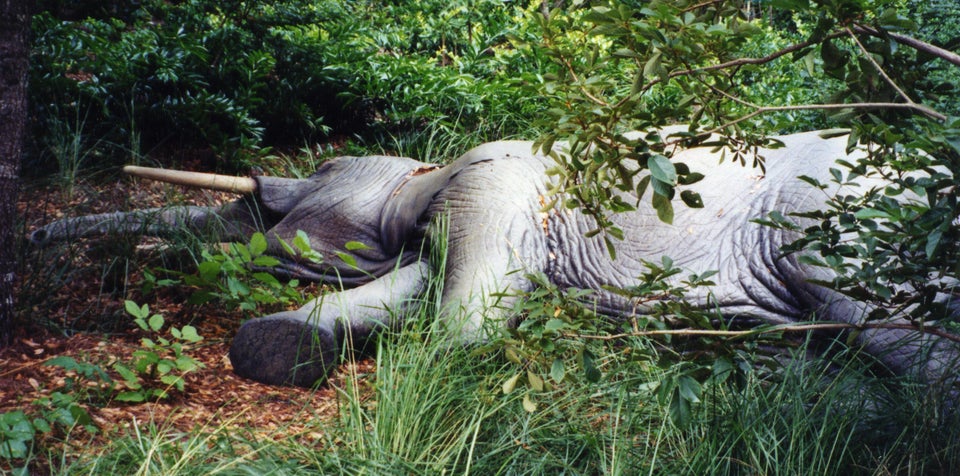 Cast members and early guests found this horrifying (obviously) and very upsetting to both kids and adults. It seemed Disney was a little TOO heavy-handed with the "poaching is bad" message, so the dead Red was quickly removed.
2. Superstar Limo
Superstar Limo was an attraction that lived at Disney California Adventure for LESS THAN A YEAR — which should tell you how popular this thing was. The attraction put you in a limo as you drove around L.A. and saw weird caricature-style puppets of celebrities. It was very off-brand for Disney, with the stars being incredibly creepy. Superstar Limo was one of those things where you can't help but ask yourself "who, exactly, was the target audience for this?"
3. Settler's Cabin
If you hopped aboard the Mark Twain River Boat in Disneyland in the 1960's you may have seen this very family-friendly and not at all inappropriate scene on the riverbanks: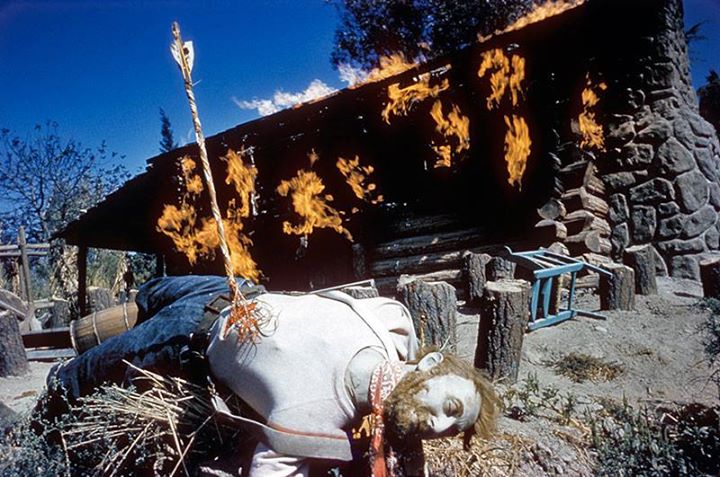 You see, neighboring Indians had shot the settler, and set his cabin ablaze (and yes, that's real fire)! And even if you didn't notice it right away, the narrator stated, "And there, across the river, is proof—a settler's cabin afire! The old pioneer lies nearby—the victim of an Indian arrow." In the 1980's it was changed to still be on fire, with a guy laying in the yard (sans arrow) — but now, it was a moonshiner who accidentally ignited his own cabin. But don't worry, he's not dead anymore — just passed out from drinking too much moonshine. MUCH more appropriate for Disneyland.
Nowadays, the cabin has been refurbished to be the home of Mike Fink, so it fits in with Tom Sawyer Island.
4. Meet…Ace Ventura?
In the 1990's to help promote Ace Ventura: When Nature Calls, there was a stage-show featuring the Pet Detective himself at Hollywood Studios (then MGM Studios.) The show was called Ace Ventura Pet Detective: Live in Action, and it debuted the same day the film hit theaters. And before you ask — no, Disney did not own or make Ace Ventura. They teamed up with Morgan Creek Productions and Warner Bros. who did make the film for the stage show. (To be fair, this was before Disney owned Lucasfilm or Muppet Studios which both had attractions in the park at the time.)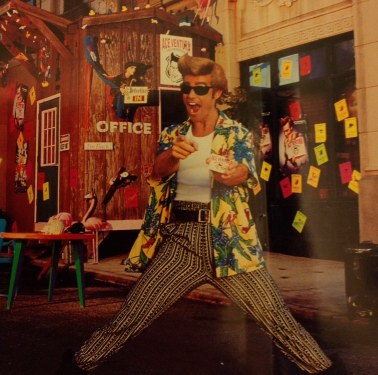 Ace Ventura: Live in Action took place on the Streets of America, and included "Ace" climbing up the buildings to capture a large spider. I've watched it on YouTube, and it's…something. But hey — you could meet Ace after and get a photo! Allllllllllrighty then.
5. Splash-tacular
This is another one that I cannot believe was greenlit. The story behind Splashtacular, set on a stage in front of the Fountain of Nations, was that Mickey and friends are confronted by a she-alien lady trying to steal all the color from our planet…naturally. Eventually, the alien calls her pet alien dinosaur, TerrorsauX, who appears from the bushes. A battle follows, but of course Mickey saves the day! The best part? Mickey is lifted in a cherry picker above the dancers during the finale.
The show didn't make a lot of sense to anyone (not sure why not), not to mention you got wet from the fountains, therefore Splashtacular was gone in just SEVEN months.
6. Going to…H E Double Hockey Sticks
Here's one that still exists — Mr. Toad's Wild Ride! And when say wild…we mean WILD. Have you ever realized that when you crash, you not only die, but you end up in…the bad place? (You also go to see Mr. Winky the bartender prior to this…so were we driving under the influence?)
Perhaps the wildest thing about Mr. Toad, is that while the ride is gone from Magic Kingdom, it still exists today in Disneyland! Also, this is a national treasure of an attraction, and I will actively cry if Disney ever removes it.
7. This Photo
One of our biggest questions comes from this photo from one of our team members. She says, "I have a picture of a mariachi band playing in front of the train station in MK in the early 80s I want explained. I've wondered for years about that mariachi pic, and my parents don't remember. Did they escape via monorail from World Showcase?"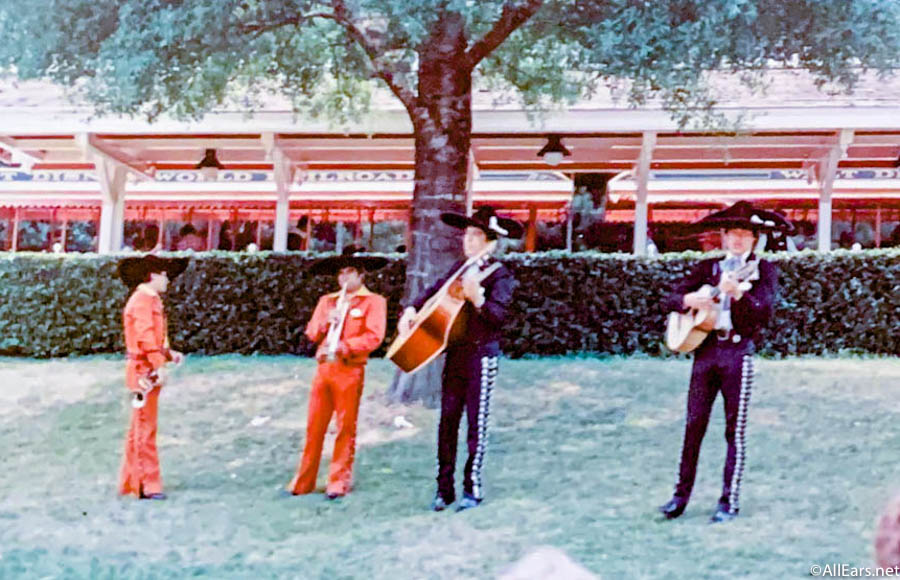 Do you remember any of these bizarre Disney attractions? Let us know in the comments!
Join the AllEars.net Newsletter to stay on top of ALL the breaking Disney News! You'll also get access to AllEars tips, reviews, trivia, and MORE! Click here to Subscribe!