While some of Disney's attractions have been around since the Parks' opening days, others just didn't hit the mark and left more quickly than some would like.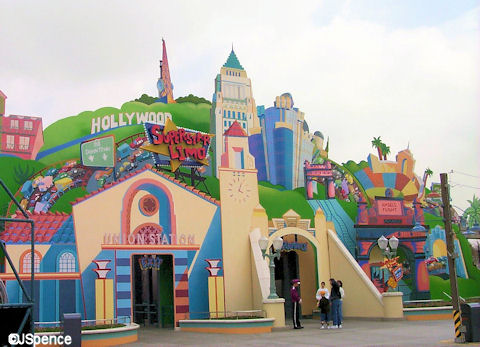 Let's look back at some of the shortest-lived rides and attractions at the domestic Disney Parks.
We're ranking our
top five short-lived attractions

that we wouldn't mind experiencing one more time!
1. Rocket Rods – Disneyland
Back in the day, Disneyland had its own PeopleMover, similar to what currently exists in Walt Disney World's Magic Kingdom. Anaheim's PeopleMover did not experience the same kind of longevity, and the original attraction closed in 1995. A few years later, Disney tried to revive the PeopleMover track with a more thrilling, high-speed attraction called RocketRods.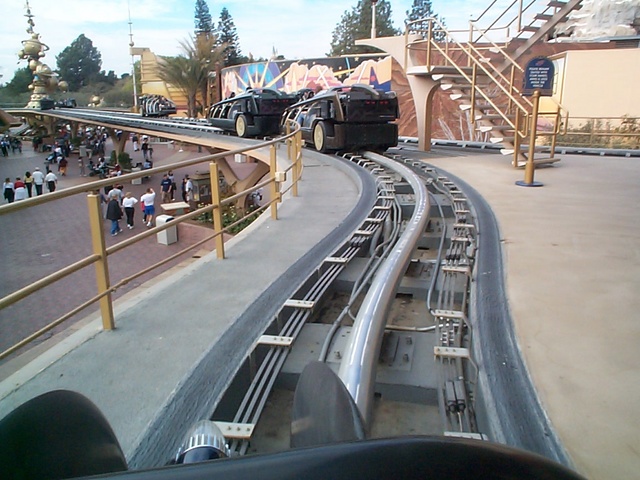 These rockets would zoom down the PeopleMover tracks, which were not designed or engineered to handle the weight and speed of the vehicles. Permanent damage was done to the structure the tracks sit atop, and the ride ultimately closed two and a half years after it opened. These problems were evident during the ride's short life, however, and the ride experienced frequent and lengthy downtime. Don't expect the tracks to be removed anytime soon. The tracks weave through virtually every structure in Tomorrowland, so to remove them would be a land-wide construction project – read more here!
2. Superstar Limo – Disney California Adventure
This opening day attraction at Disney California Adventure didn't last long enough to see the park's one year anniversary. This zany dark ride (and that's putting it mildly) through Hollywood opened with the park on February 8, 2001, but was closed for good just eleven months later on January 11, 2002. Though this ride didn't deliver in the thrill department, watching old YouTube ride-throughs are a reminder of just how zany this ride really was. We wouldn't mind going on again just for a good laugh.
If you want to experience a glimmer of what Superstar Limo must have been like, the ride track and vehicles (and evidently, some of its animatronics!) are still used today in Monsters, Inc. Mike and Sully to the Rescue. Otherwise, we'll always have those YouTube videos to look back on (and cringe).
3. Discovery River Boats – Animal Kingdom
When Animal Kingdom first opened on April 22, 1998, guests could board the Discovery River Boats and go on a relaxing journey around the Tree of Life as well as see the other lands in the park. The attraction had a bit of an identity crisis, as many guests thought the boats served as a transportation method from one side of the park to the other (oops!). Disney attempted to make the ride more appealing, which included reimagining it as the "Radio Disney River Cruise." Their efforts were unsuccessful. The river boats lasted only 16 months and closed on August 21, 1999.
These River Boats could have been a much more successful attraction if they doubled as a mode of transportation, similar to the Walt Disney World Railroad. Making the River Boats a water-based version of Kilimanjaro Safaris would be neat too, with different species of animals living along the river bed. We'd love to see this relaxing ride come back someday.
4. Lucky The Dinosaur – Animal Kingdom & Disney California Adventure
This next one on our list is not a ride but a roaming character. Lucky the Dinosaur premiered at the Natural History Museum of Los Angeles in 2003 and shortly thereafter made appearances at Disney California Adventure. He then moved to Animal Kingdom where he briefly resided from June 2005 to August 2005. While his tenure in the parks was super brief, he provided a lively presence in DinoLand U.S.A.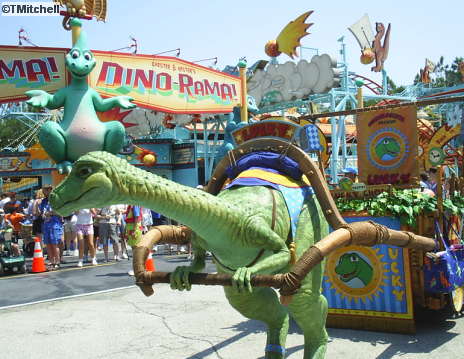 5. Tomorrowland Phantom Boats – Disneyland
The Tomorrowland Phantom Boats opened with the park on July 17, 1955. From the very start, this ride did not resonate with guests. It experienced periods of time in its only year of operation where it was down, and eventually it closed for good in the summer of 1956. It was the first permanent attraction at a Disney park to be permanently closed and removed. These days, portions of Autopia and Finding Nemo Submarine Voyage are in its place. While there are other opening day attractions that are no longer with us, this one was so short lived, very few people got to experience it.
Do you agree with our picks? Which short-lived attraction would you want to experience one more time? Let us know in the comments!
Join the AllEars.net Newsletter to stay on top of ALL the breaking Disney News! You'll also get access to AllEars tips, reviews, trivia, and MORE! Click here to Subscribe!