Happy Holidays and Merry Christmas from Walt Disney World! The perennially beloved Mickey's Very Merry Christmas Party  kicked off tonight, and we're bringing you INSIDE the Party to celebrate with ride overlays, fabulous entertainment, snacks, and merchandise. We're also bringing you all the info you want to know about crowd levels at the Party, including ride and meet-and-greet wait times.
Click here to catch up on all the logistics (dates, times, cost) for Mickey's Very Merry Christmas Party!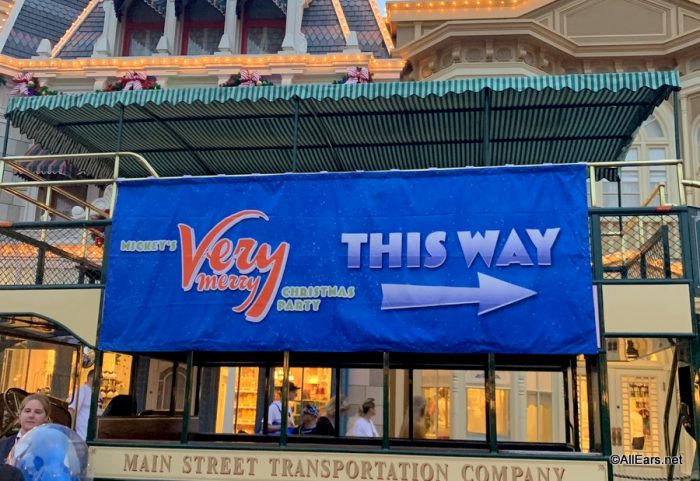 Mickey's Very Merry Christmas Party Crowds
Though specially-ticketed parties in Magic Kingdom are billed as having low crowds, we know Mickey's Not-So-Scary Halloween Party this year disappointed a lot of guests due to high crowds and long waits. (Read more about this here!)
So what did we experience on night one of Mickey's Very Merry Christmas Party? The party was sold out…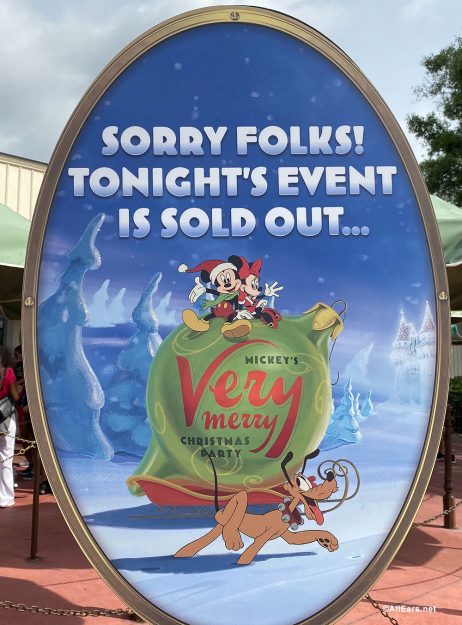 …and entrance crowds were present but not out of control around 4PM.
But maneuvering throughout the park was a challenge; the crowds were noticeable, and while we wouldn't say it was Christmas Day busy, it was still a lot even after the regular day guests filtered out.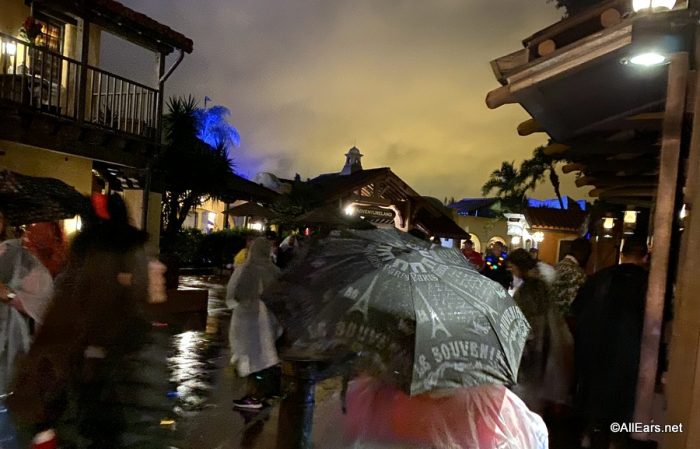 Opening nights of Magic Kingdom parties tend to be busier than most other nights — save for those immediately before the actual holiday — and we found our Party to be pretty packed considering that it rained the entire time. Crowds for entertainment — Minnie's Wonderful Christmastime Fireworks, meet and greets, etc. — were still substantial.
Wait times for attractions and meet-and-greets varied. Meet and greets tended to have substantial lines all night long, whereas ride times were variable. Space Mountain, for example, one of the most popular rides at the Party, maintained a 30+ minute wait the entire night.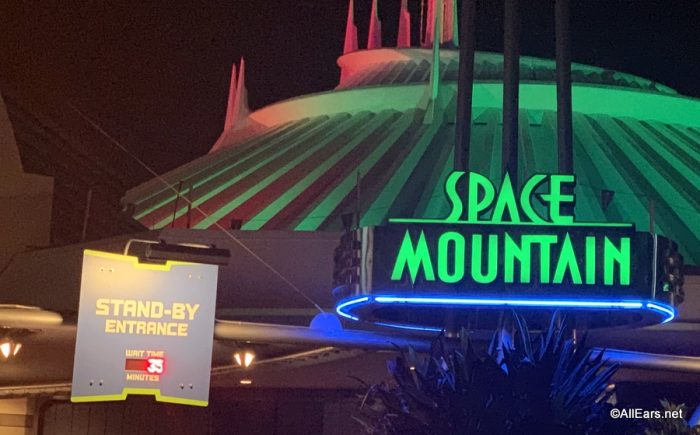 Big Thunder Mountain Railroad was a little difficult to gauge. The Stand By time when we passed by was only 15 minutes, but the crowd seemed much larger than that.
The Stand By time for Seven Dwarfs Mine Train was posted at 35 minutes when we were in that area, but a cast member working the ride estimated it was closer to 45.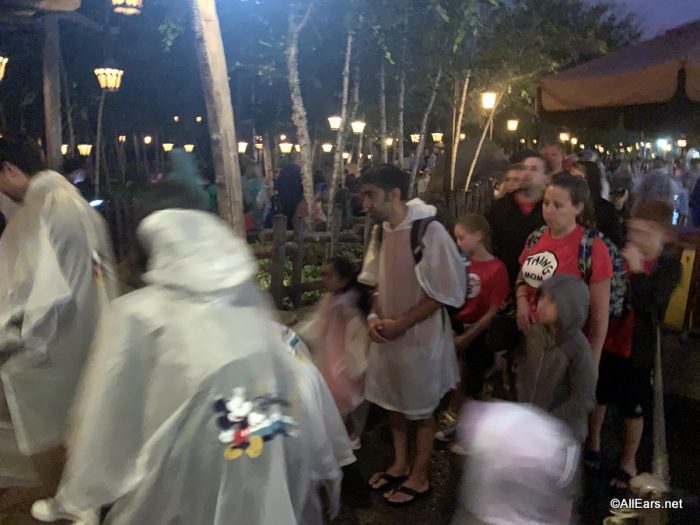 So it may well be that Mickey's Very Merry Christmas Party crowds will be high enough to make attraction walk-ons unlikely. Certainly the most popular rides are going to continue to eat up some time for Party guests.
But do note: everything is subject to change from Party to Party, and this was just our experience. If you attend a Party this year, click here to leave a review of your own experiences with crowds to help inform AllEars readers' planning!
Mickey's Very Merry Christmas Party Entertainment
Ride Overlays
Back in the summer of 2019, Disney announced that a few Magic Kingdom attractions would get a festive holiday overlay just for Mickey's Very Merry Christmas Party guests. We spotted Tomorrowland Speedway's overlay in the day…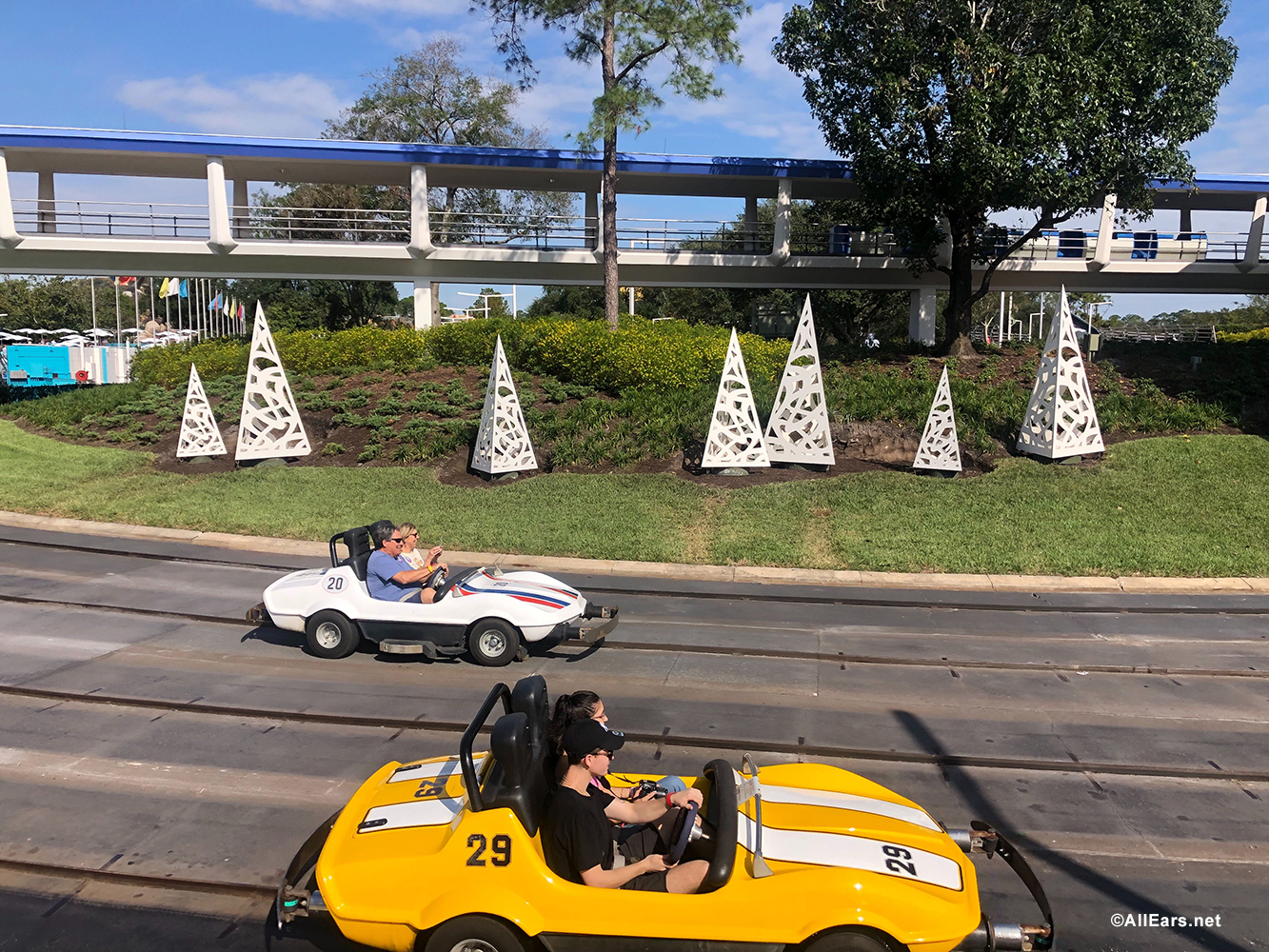 …and now we know it's a colorful display of cheer at night!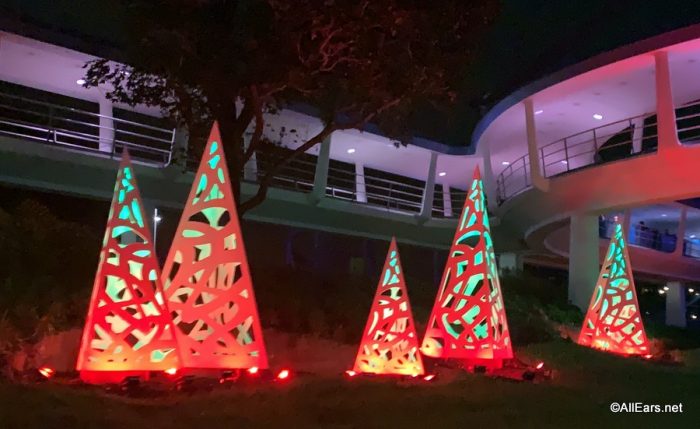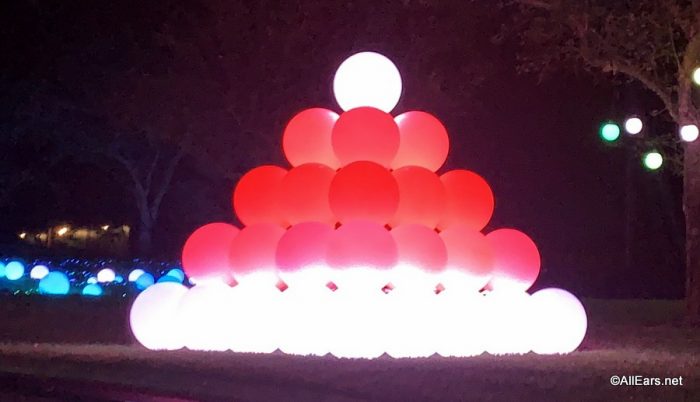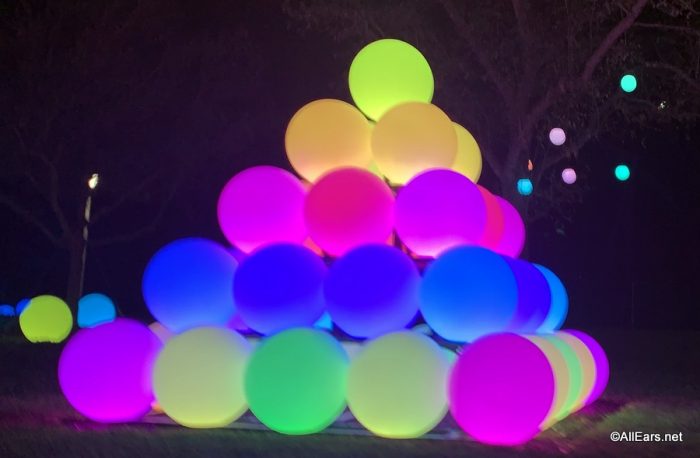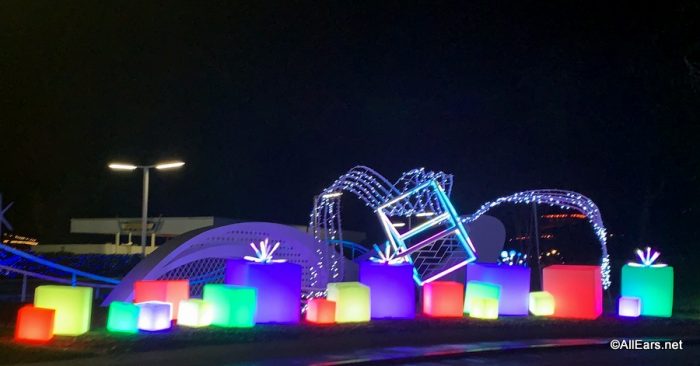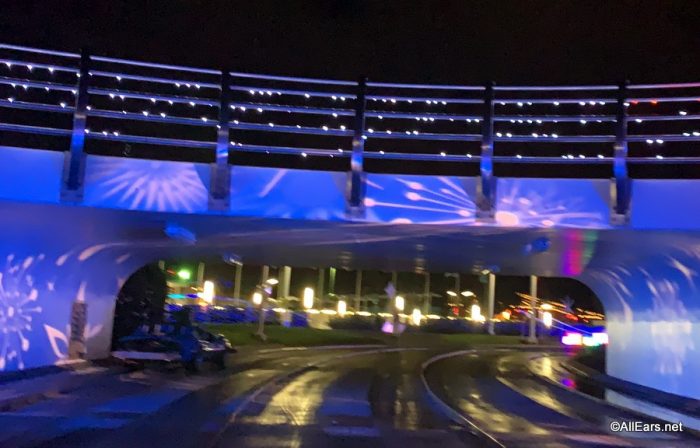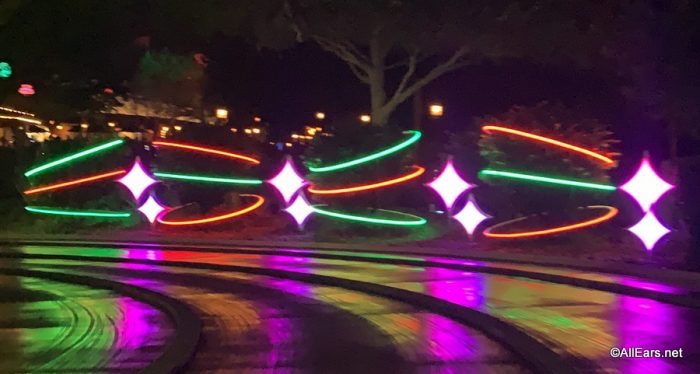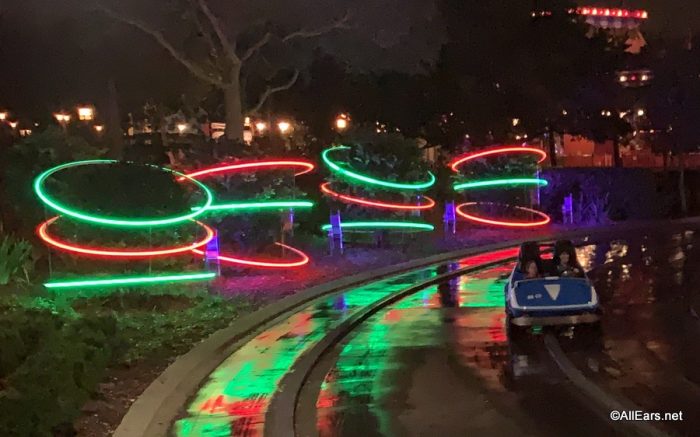 Space Mountain gets the Christmas treatment with lights and music — minus some of the scarier aspects of the Halloween overlay that plunged riders into total darkness. From the outside, though, it doesn't look like much, but a cast member stationed outside the ride warned riders of the use of tons of strobe lights inside.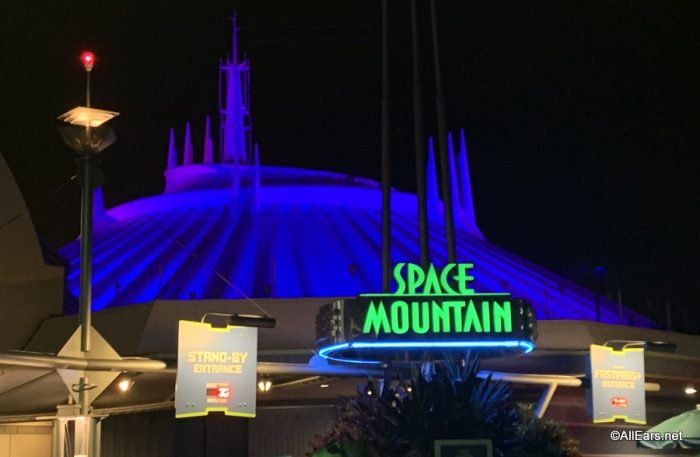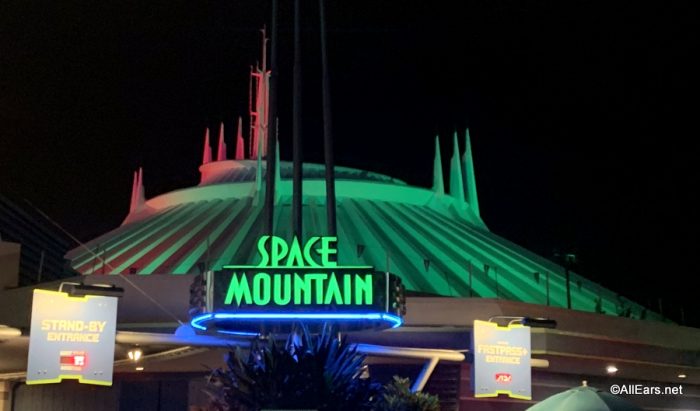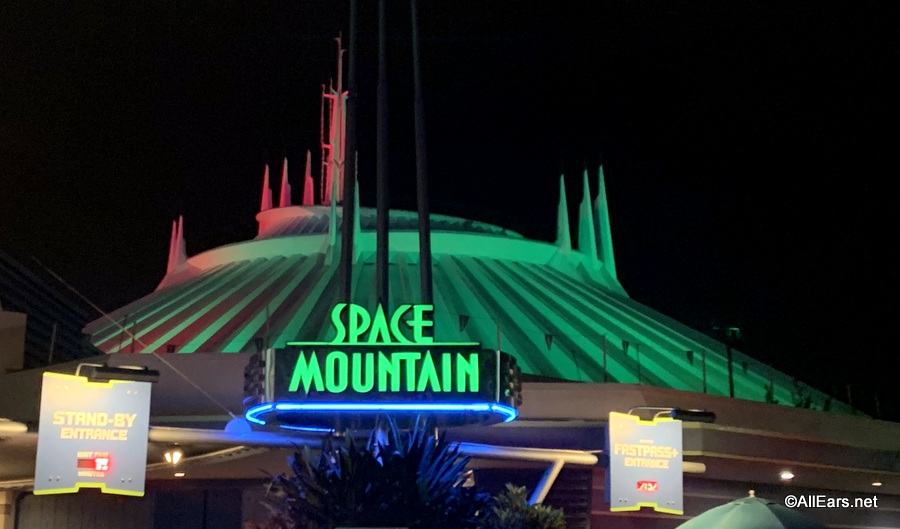 Nearby at the Mad Tea Party, holiday lights and tunes keep the party going, too!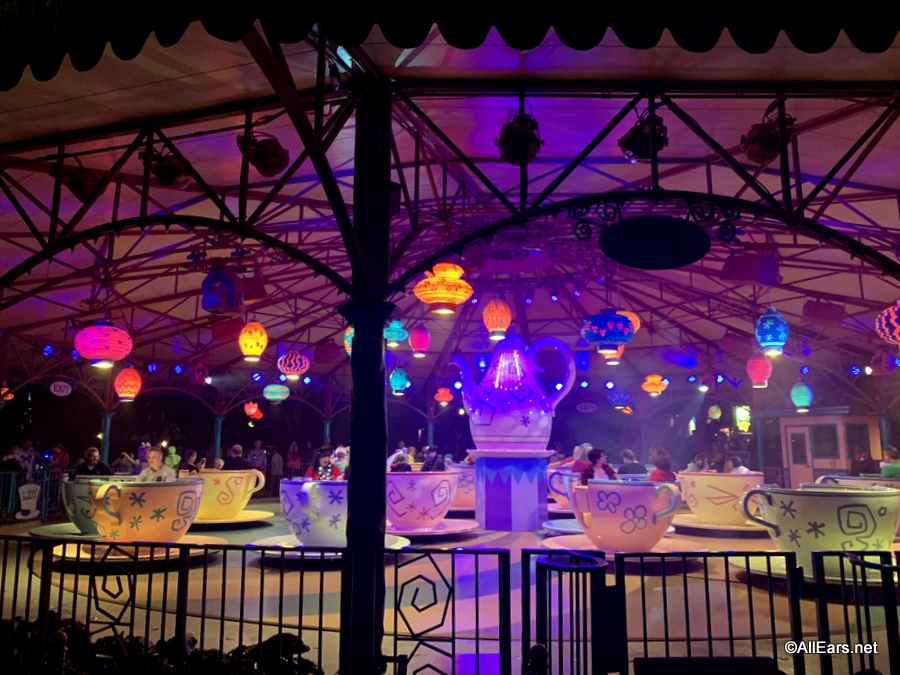 Monsters Inc. Laugh Floor finds Mike and his pals ready for this human celebration. The show is themed for Christmas during the Party!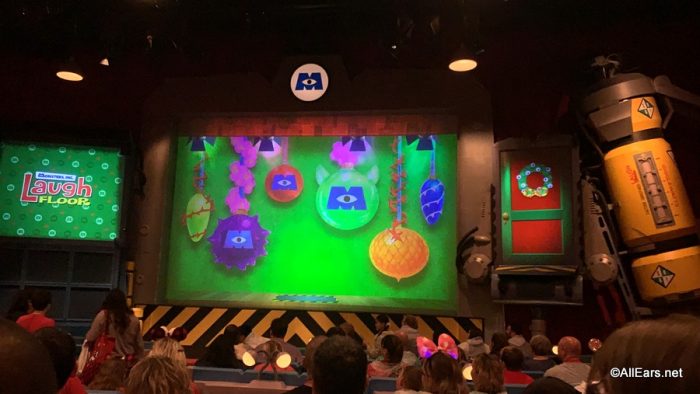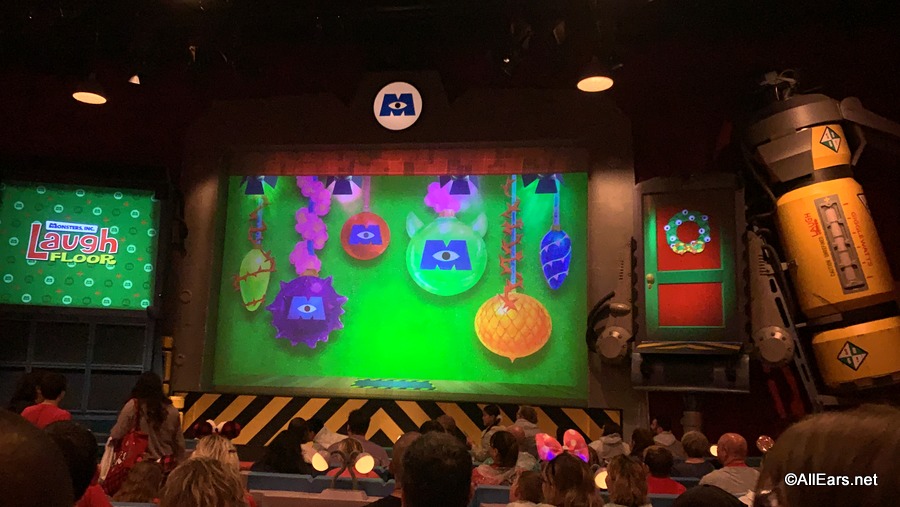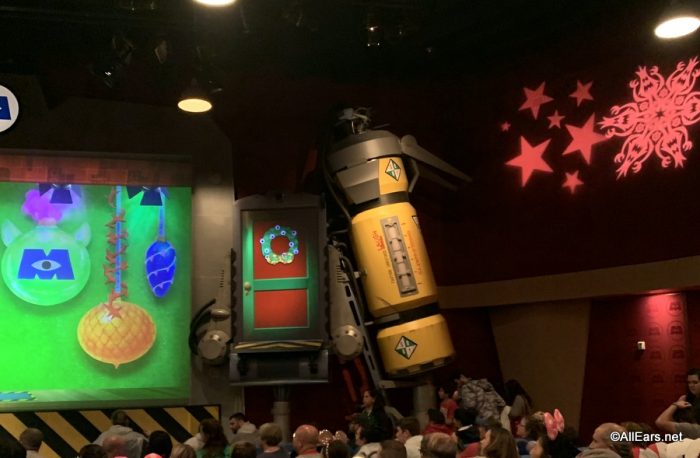 You'll still need to laugh hard enough to fill the canister, otherwise you'll end up on the naughty list. And to help you get your chuckle on, a new monster will scare up some laughs: Betty Boyle! We were told she's Buddy Boyle's wife, but we couldn't catch up with her to confirm. 😉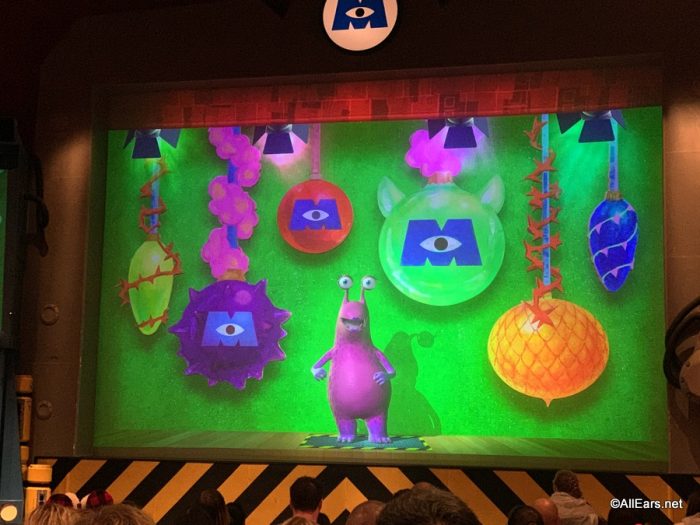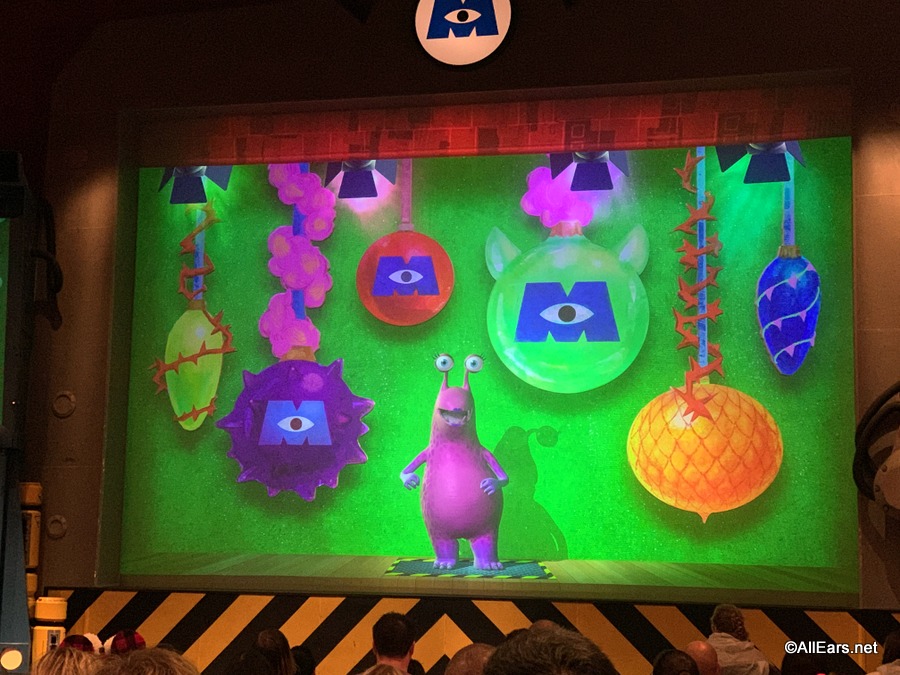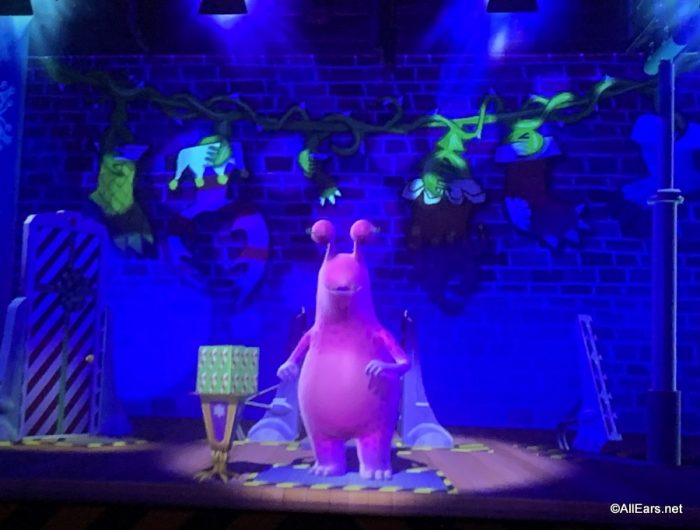 Pirates of the Caribbean and surrounding Adventureland facades received a festive projection, putting a little jolly in our arrrrrgh!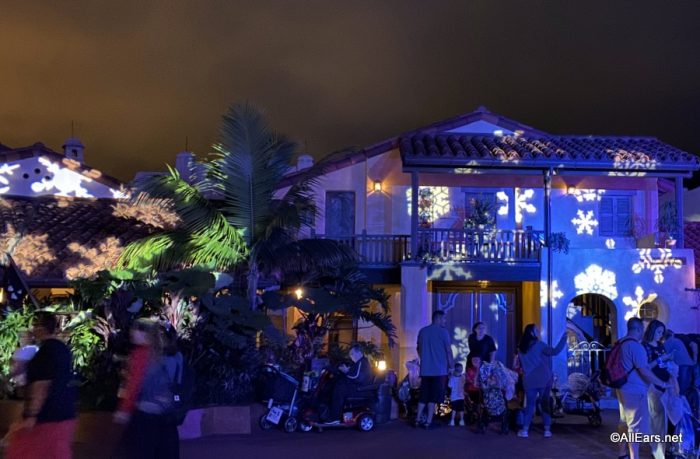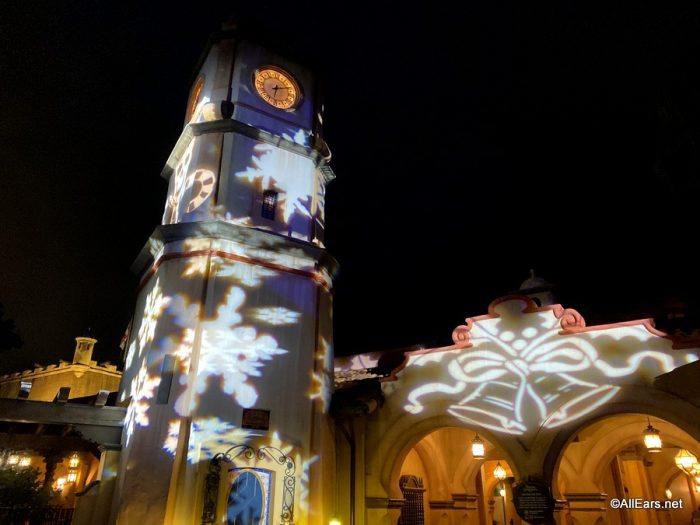 Minnie's Wonderful Christmastime Fireworks
This year sees the advent of Minnie's Wonderful Christmastime Fireworks, a colorful and festive show that combines Christmas music, a new projection show, high-flying pyrotechnics, and Minnie at the helm!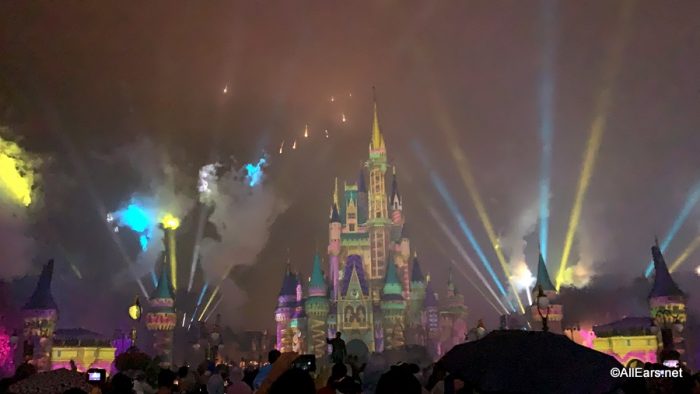 We enjoyed the subtle projections, and the tone of this show was energetic and fun. During our Party, the foggy weather combined with smoke from the pyro to create some pretty creepy illusions. But we still think it makes a positive impression.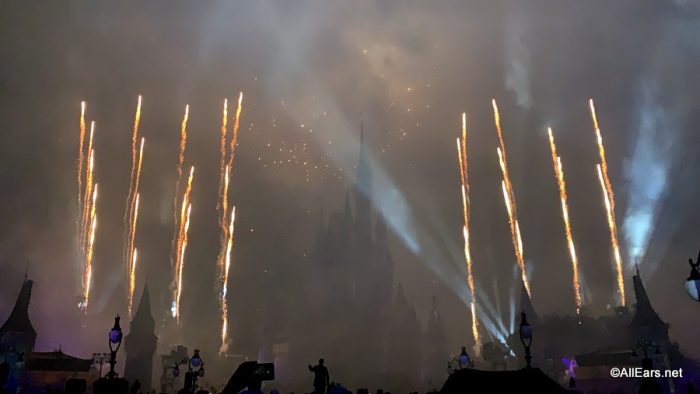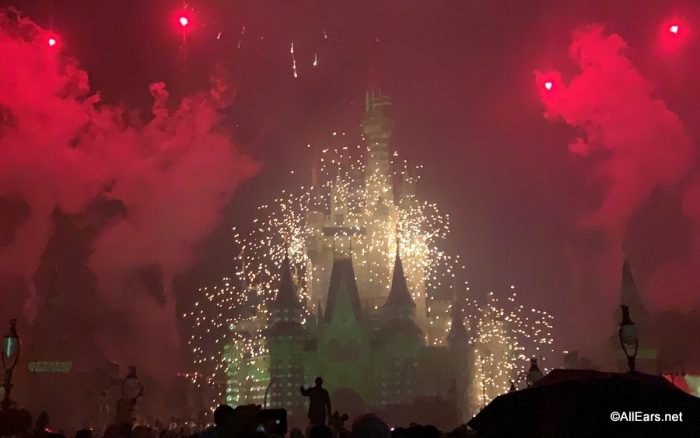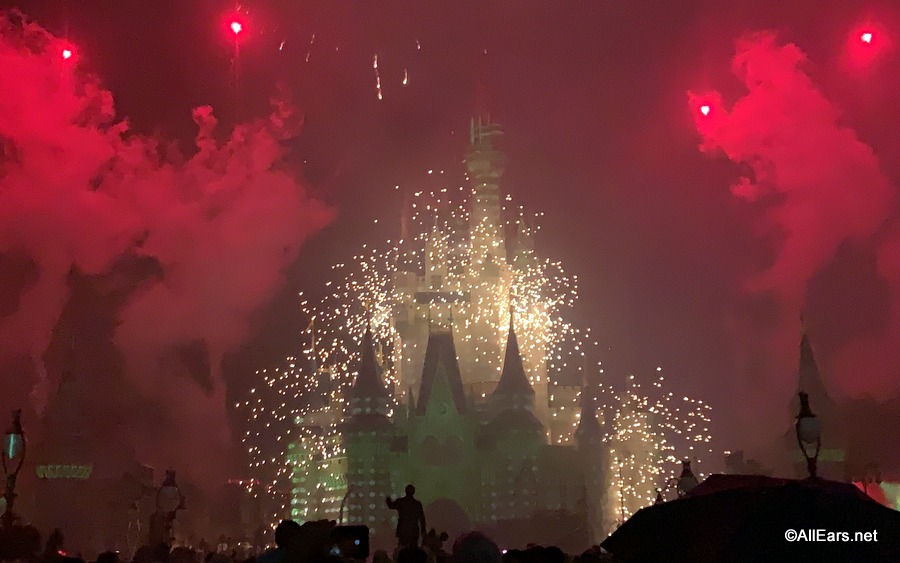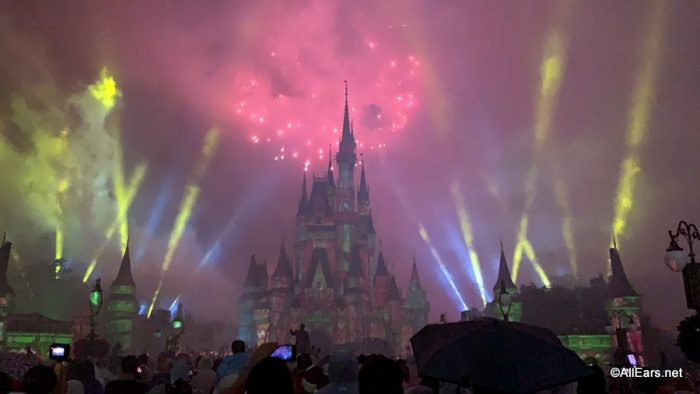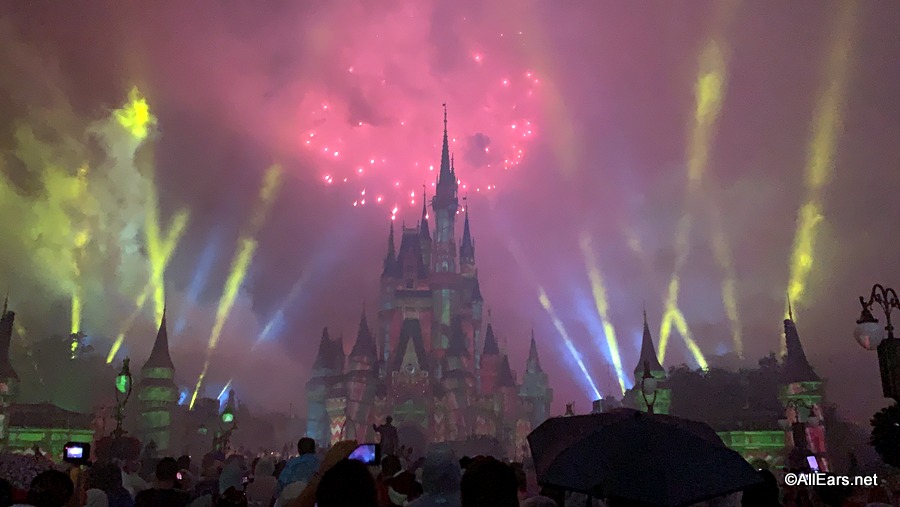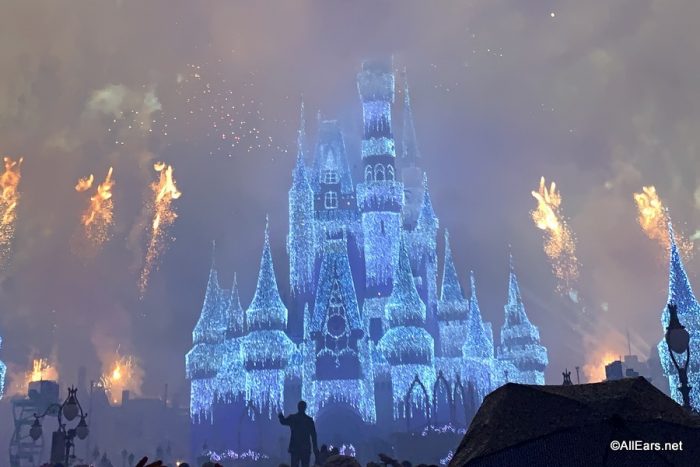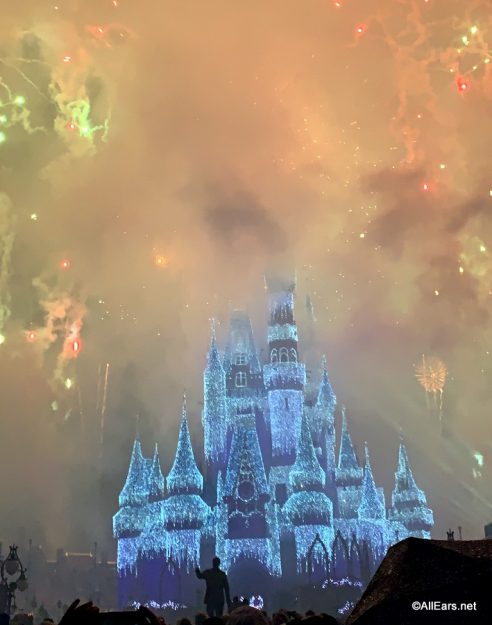 Mickey's Once Upon a Christmastime Parade
This perennial parade of holiday fun travels down Main Street, U.S.A., twice per night — at 8:30PM and 11PM. See more pictures and video from years past of Mickey's Once Upon a Christmastime Parade here!
This year our parade experience was very different than years prior. The rain put a damper on the traditional parade and instead forced the park to institute the Rainy Day Christmas Cavalcade! We were told this is a first!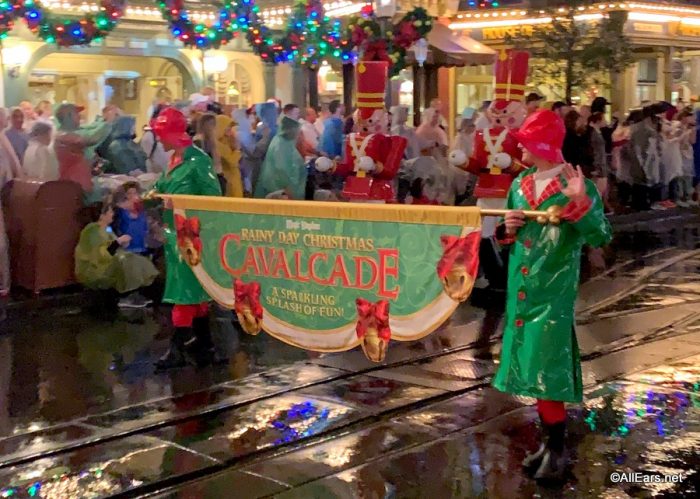 The nutcrackers still marched, so that was a fun, festive addition.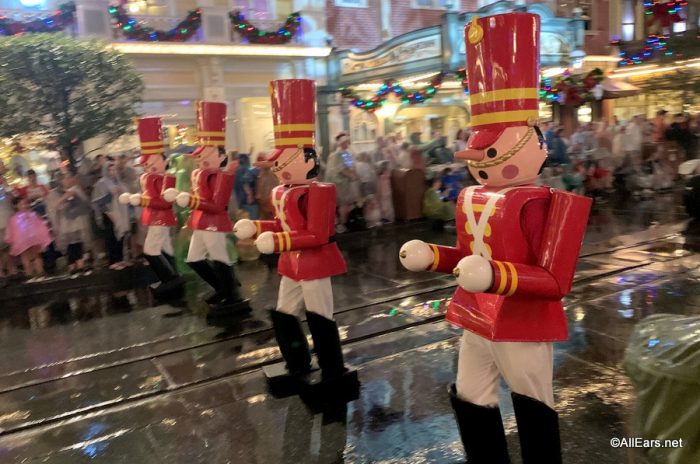 And characters rolled down Main Street, U.S.A., in their Main Street transportation vehicles! Check 'em out!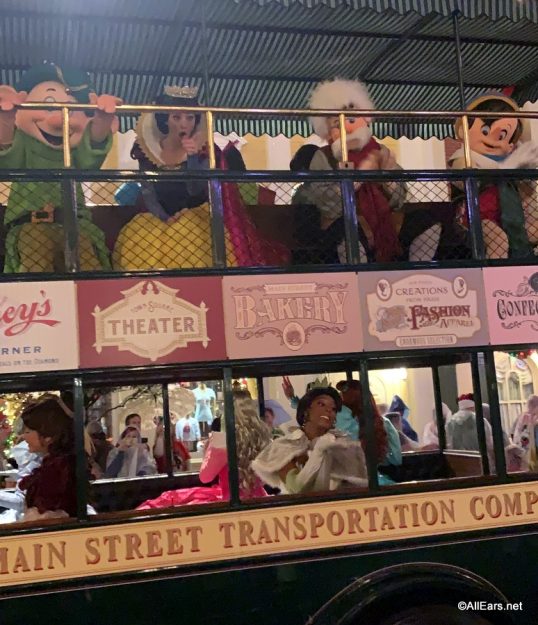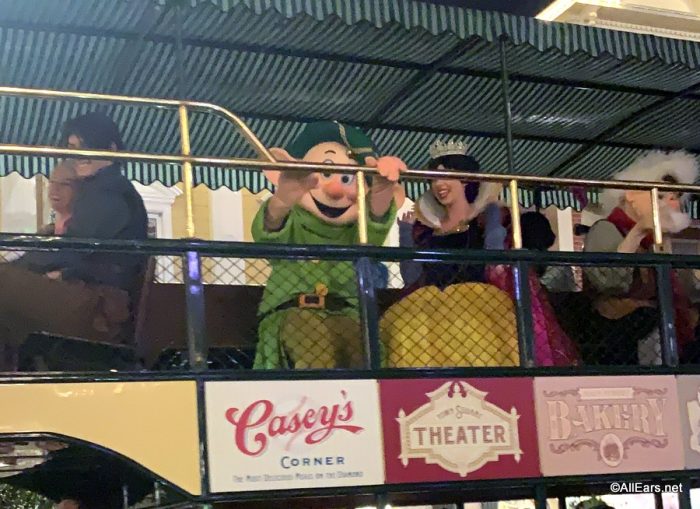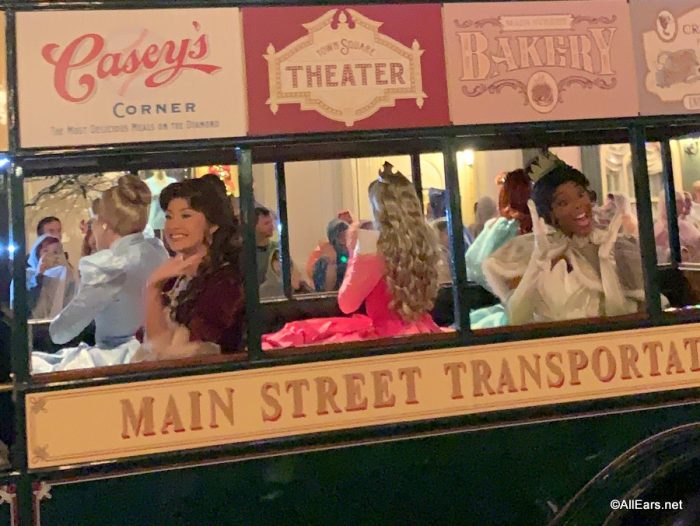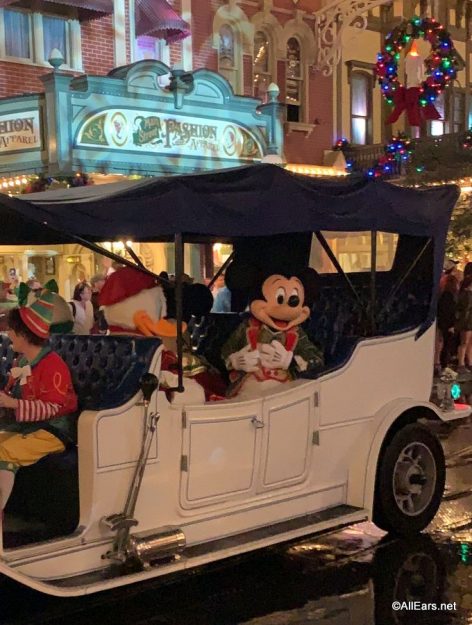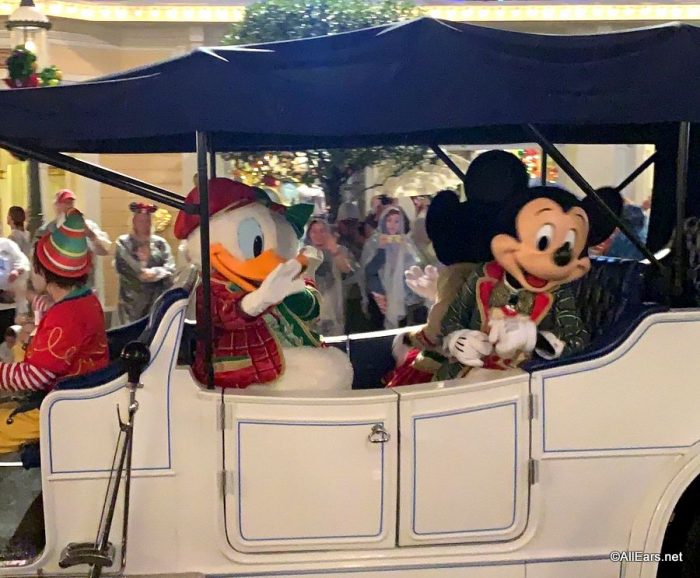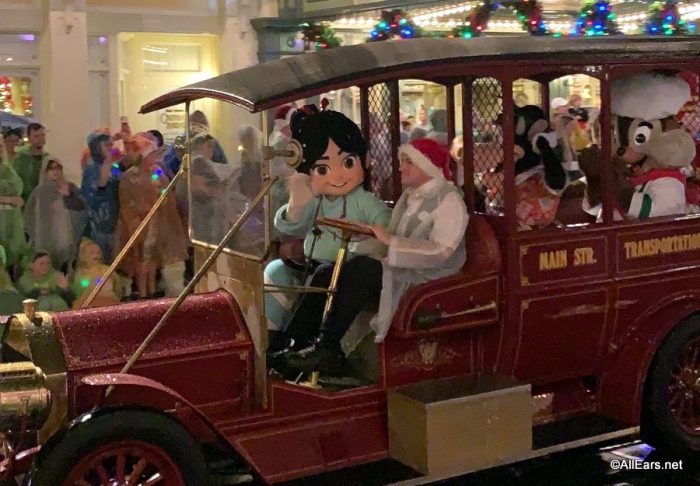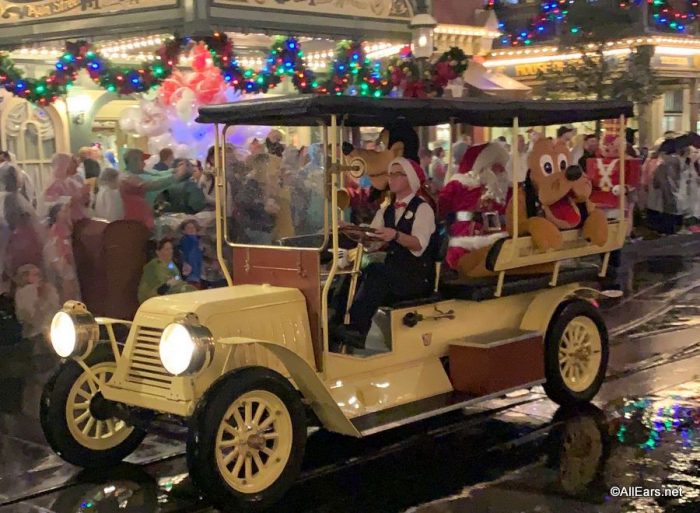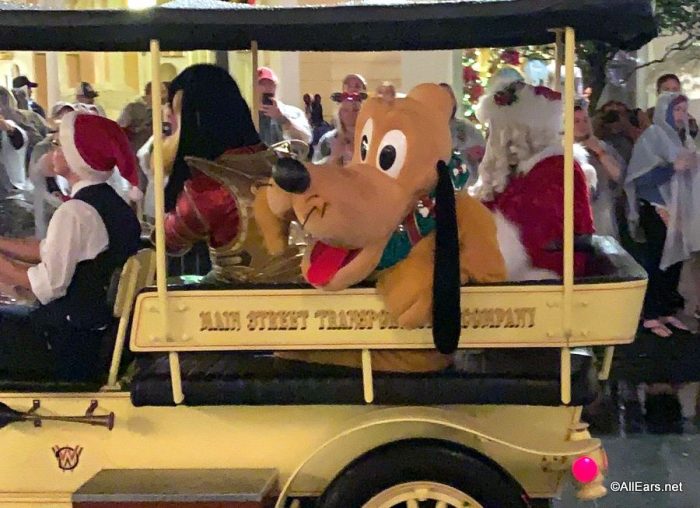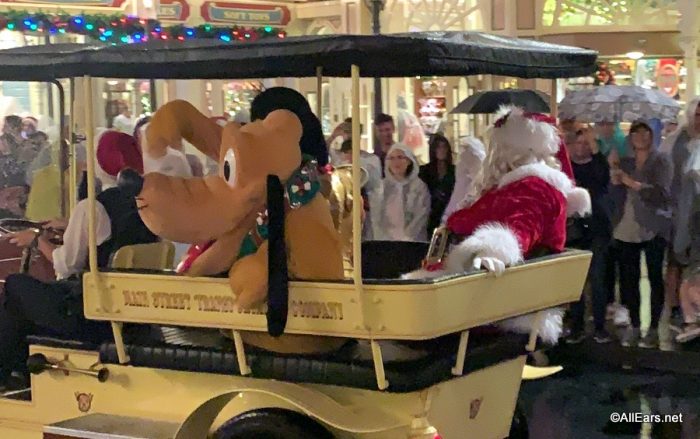 Meet and Greets
Per usual, meet and greets at Mickey's Very Merry Christmas Party were popular. Even at the official start of the Party there were lines to meet characters like Moana…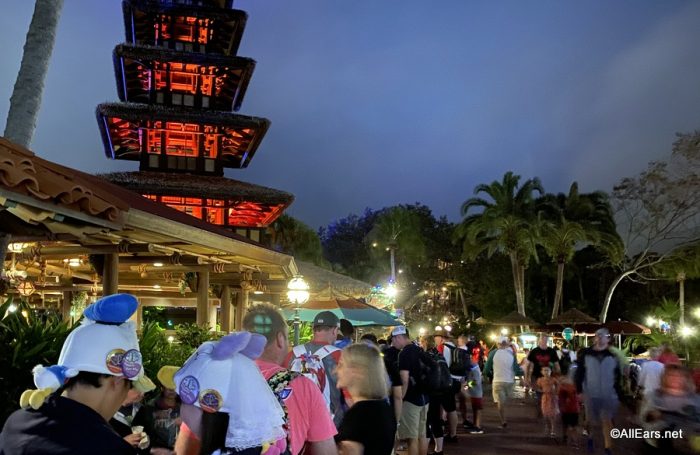 …and Aladdin with Abu.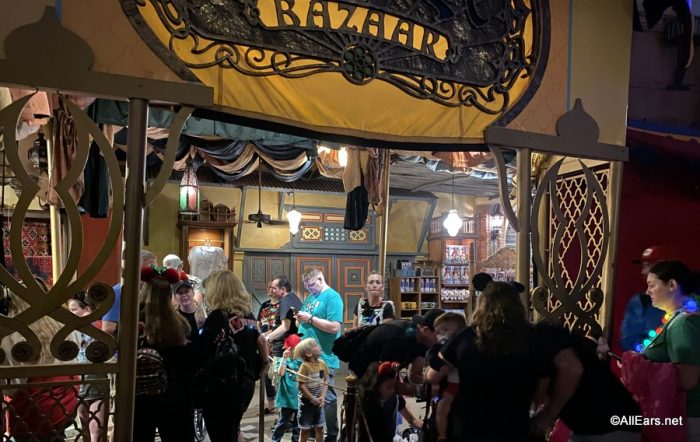 The Seven Dwarfs are always a big hit with Party-goers. Their wait times tend to be prohibitive if you want to maximize your time. But if you must meet them, lines are shortest at the very start of the Party and the very end.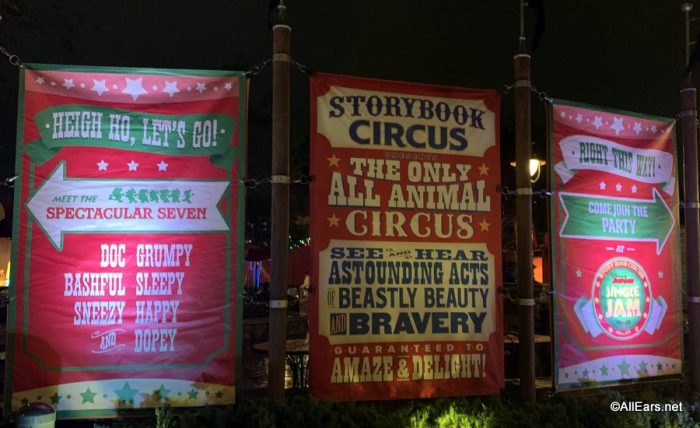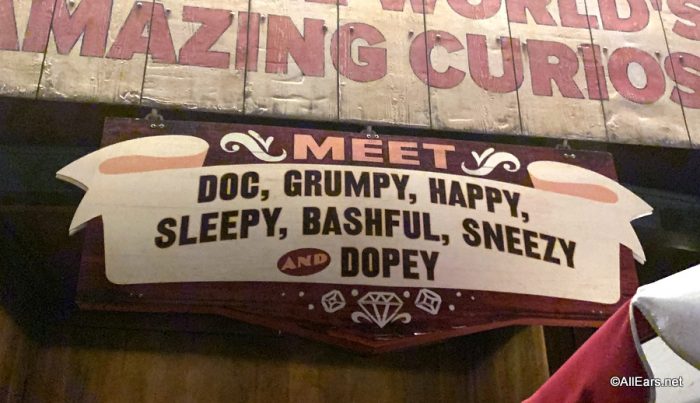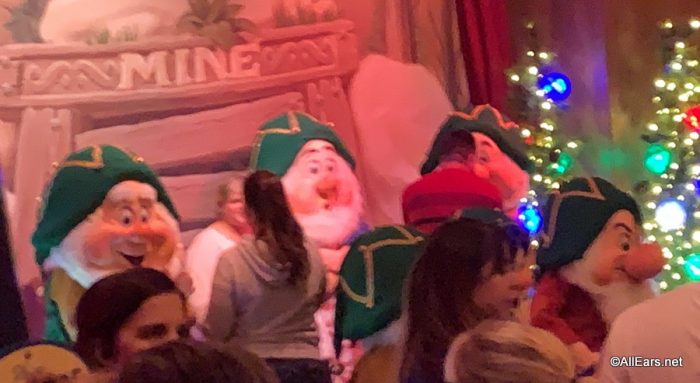 Additional Party Entertainment
If you want to bust a move during the Party, head to Cosmic Ray's for the Club Tinsel dance party! You can break it down with polar bears!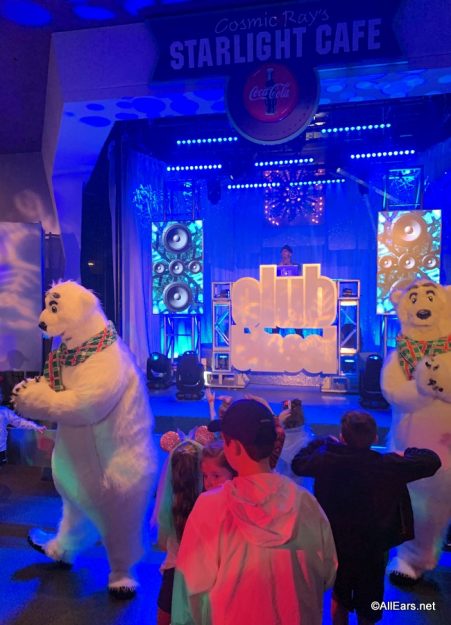 Elsewhere in Tomorrowland, enjoy some holiday tunes with Buzz Lightyear and his friends! It's A Totally Tomorrowland Christmas!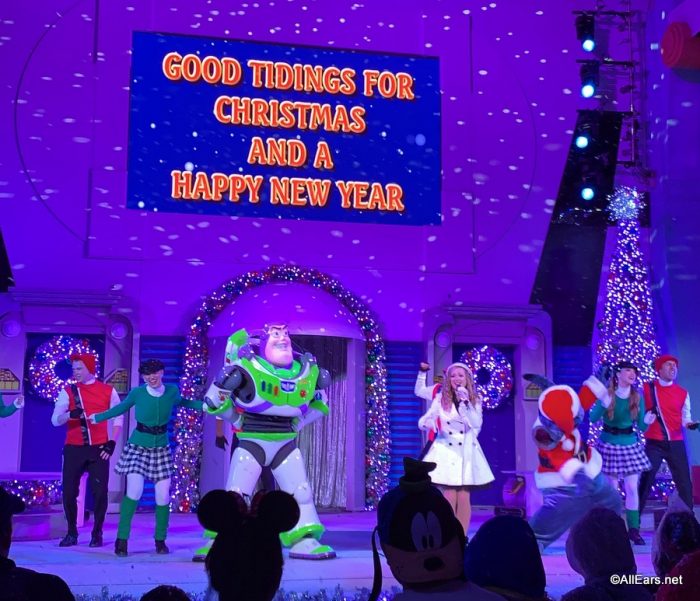 Also on the Tomorrowland stage, enjoy the stylings of The Edge Effect! This a cappella performance always gets the crowd fired up!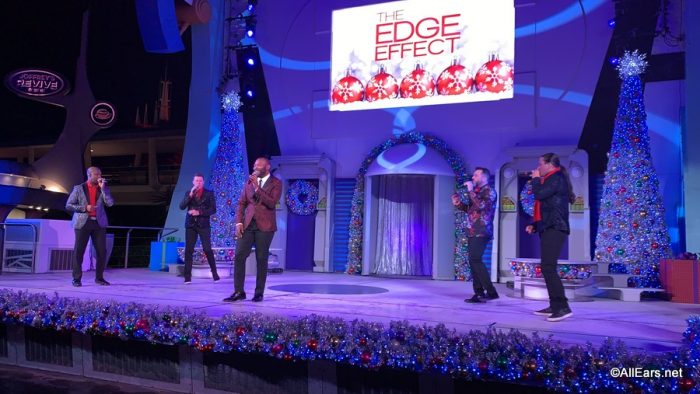 Little elves might want to party with characters just for them — and that's where the Disney Junior Jingle Jam comes in! You'll find this dance party back in Storybook Circus, and Disney Junior characters get right out on the dance floor to boogie with your littles!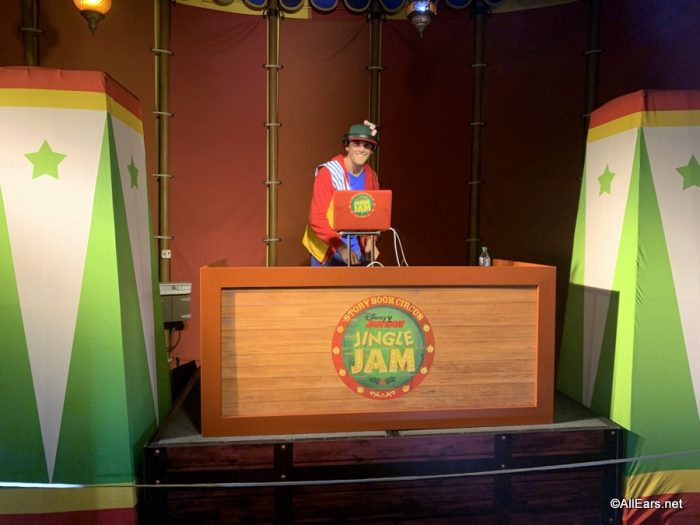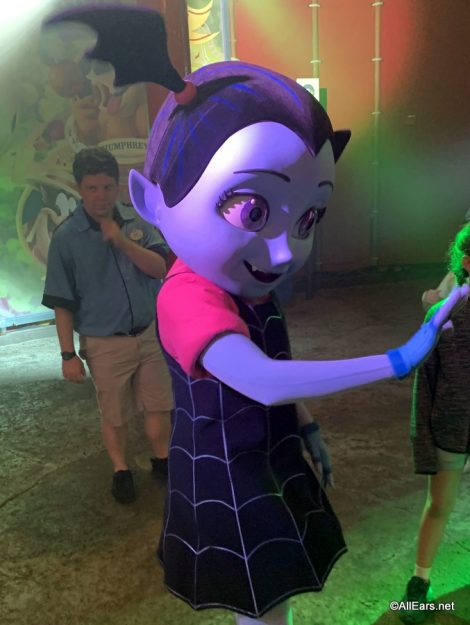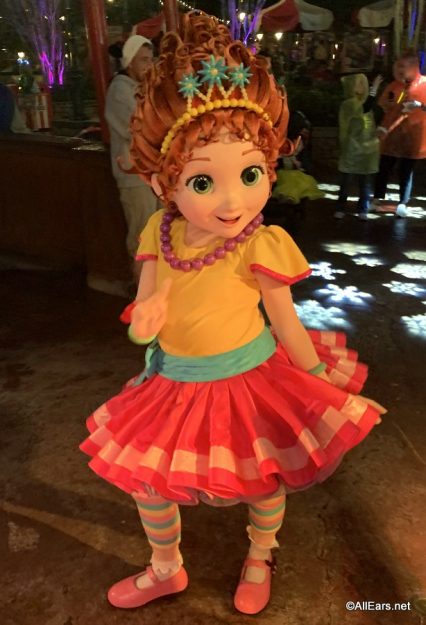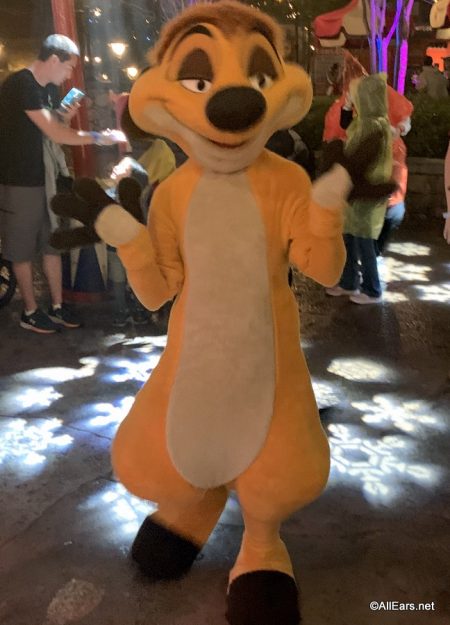 Mickey's Very Merry Christmas Party Food
Complimentary Party Snacks
Mickey's Very Merry Christmas Party has no shortage of snacks and treats. Some cookies, snacks, and drinks are included with the price of admission. We like to grab these before waiting in line for attractions and meet-and-greets!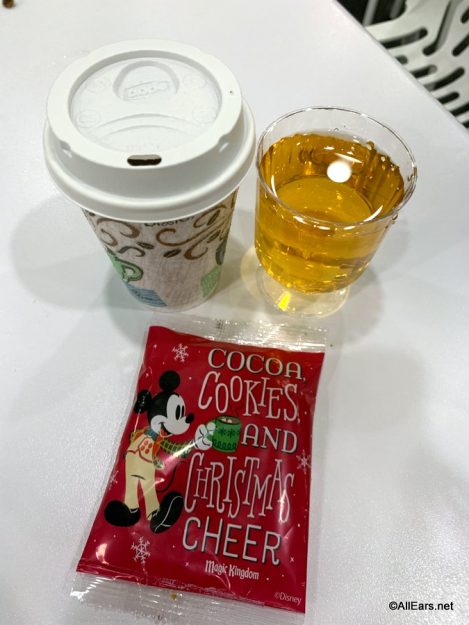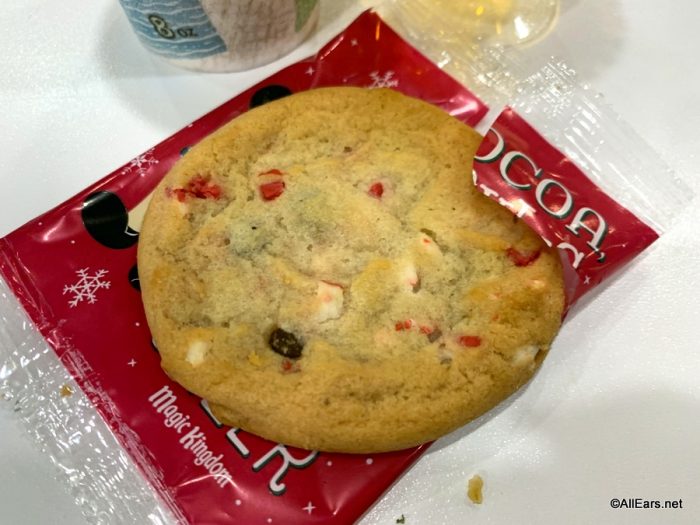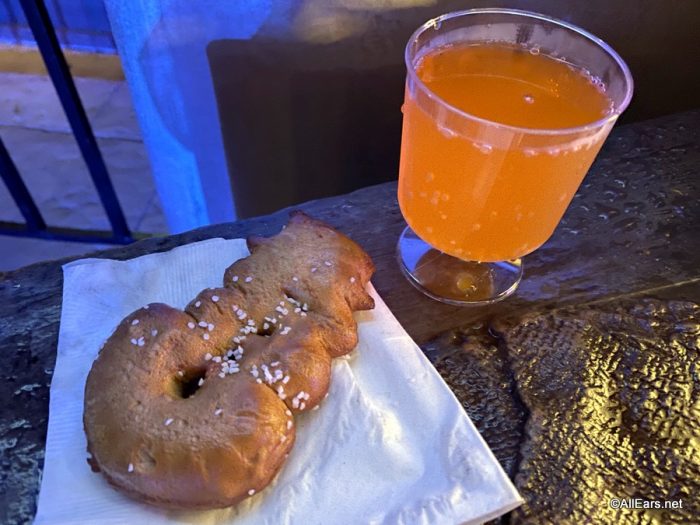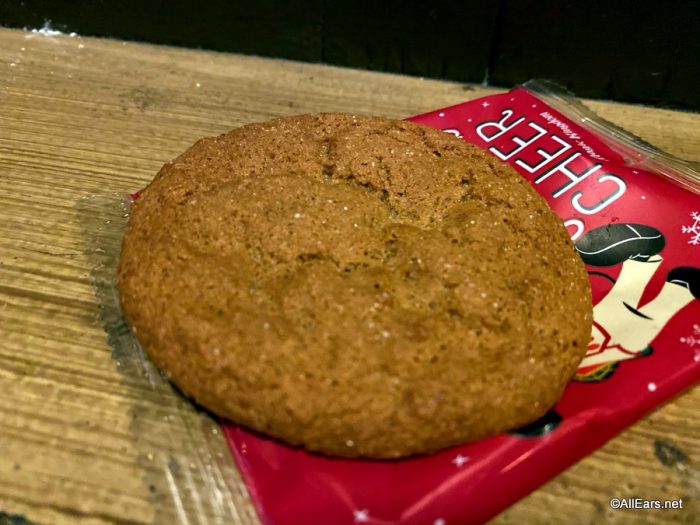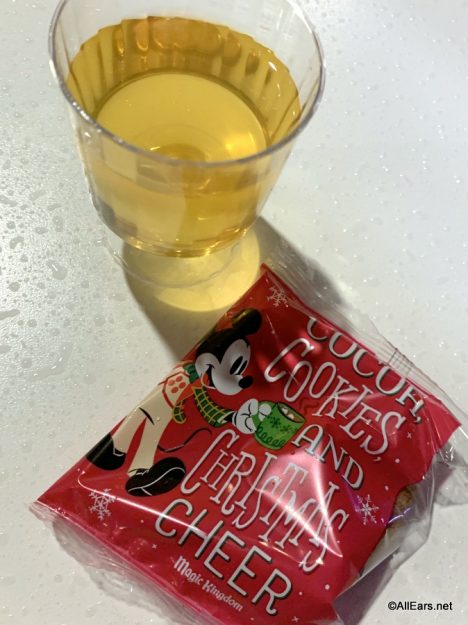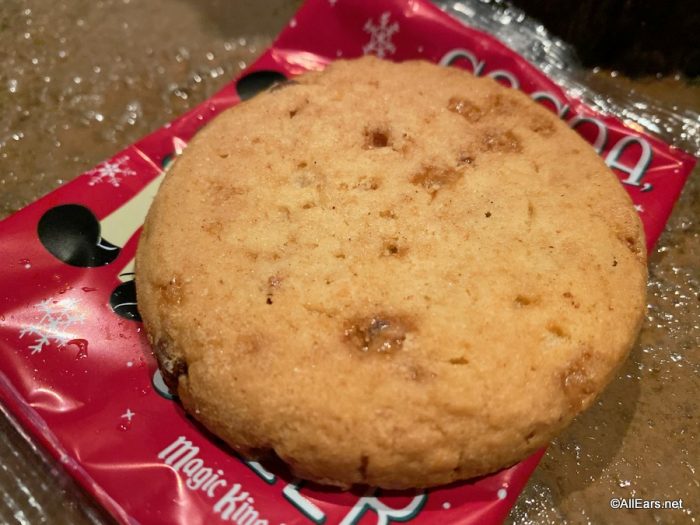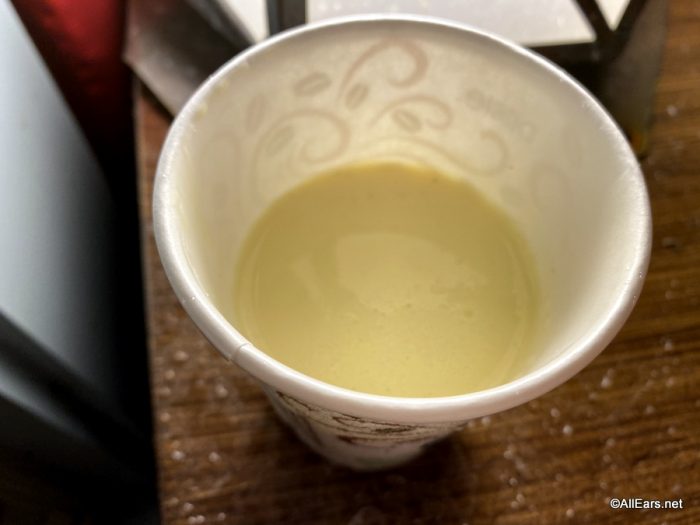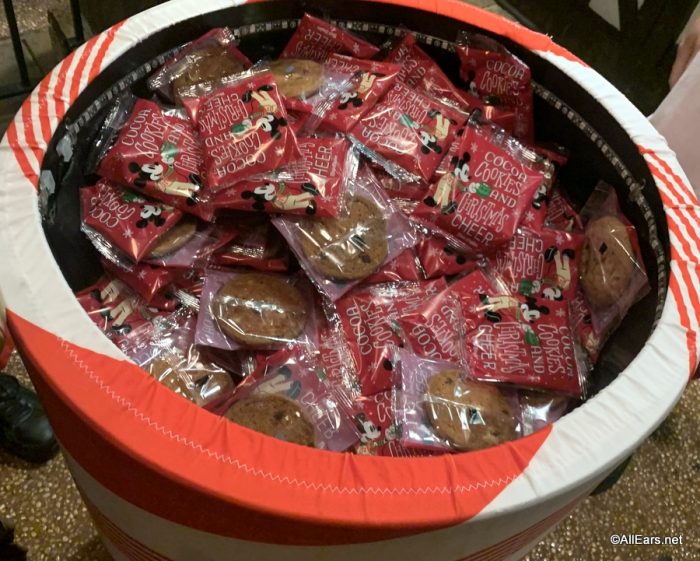 Golden Horseshoe was a popular spot to grab a snack. There was even a small wait to enter.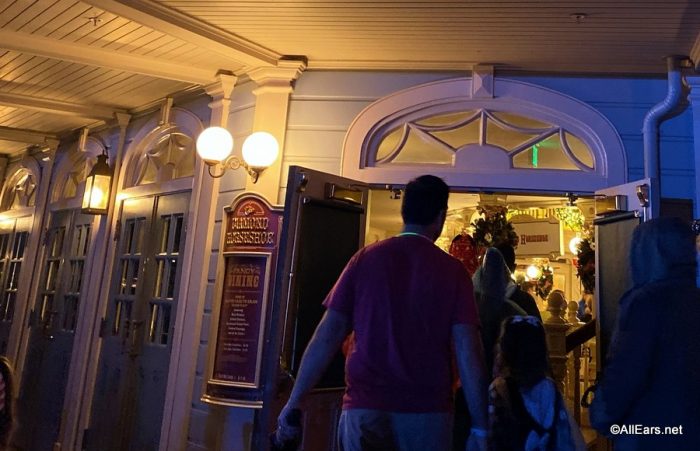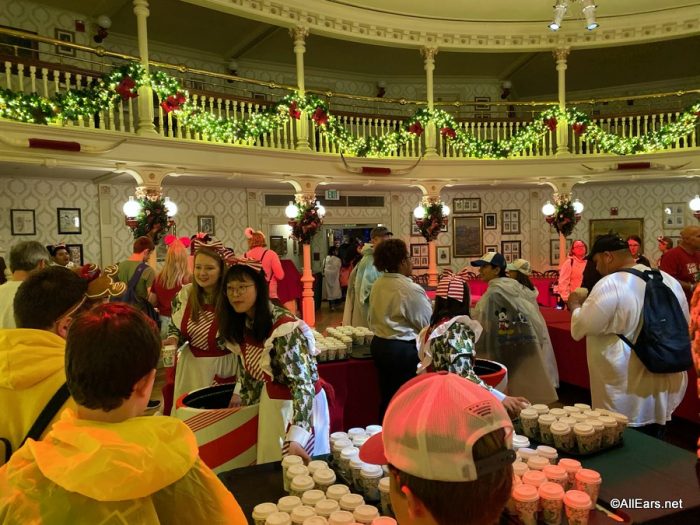 Allergen-free snacks are available for guests who need or want them.
Extra-Cost Party Exclusive Snacks
Other added-cost treats are Party-exclusives, so you can only try these tasty bites if you attend one of the parties.
At Sunshine Tree Terrace, purchase An Orange Bird Christmas!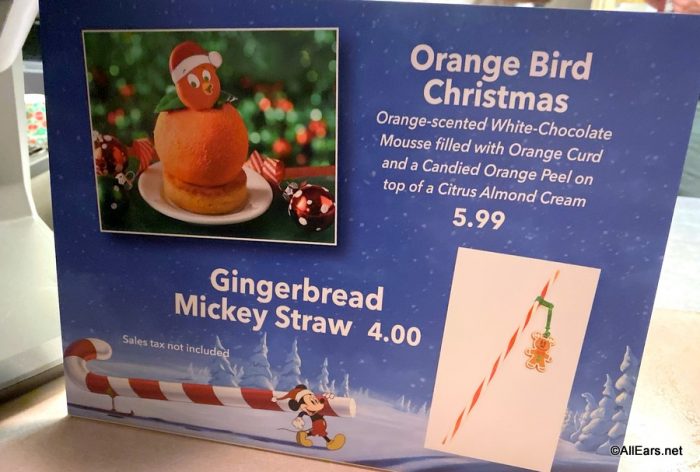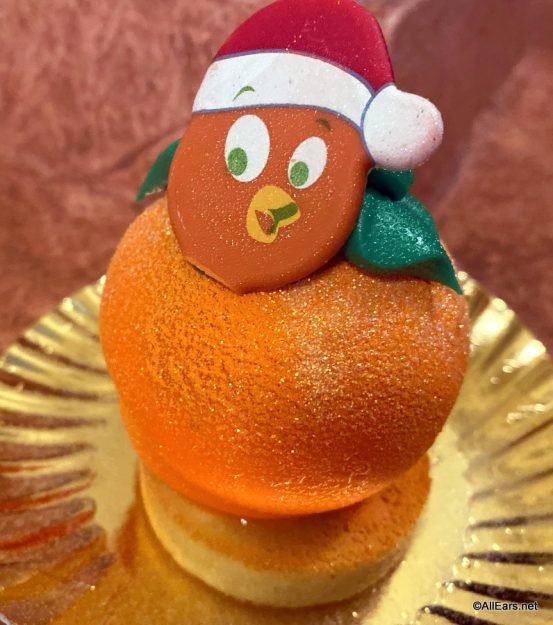 And if you're in need of orange refreshment, head to Cool Ship in Tomorrowland for 'Tis the Season — made with Fanta orange!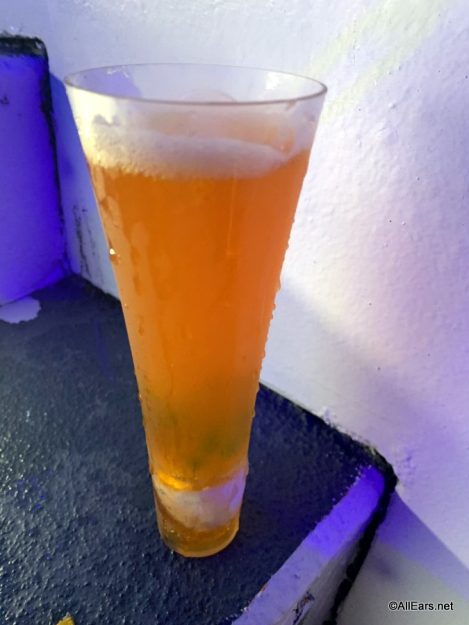 At Aloha Isle, the Kakamora Float is seriously refreshing! And it's garnished with a Kakamora Cake Pop, so it's two snacks in one! 😉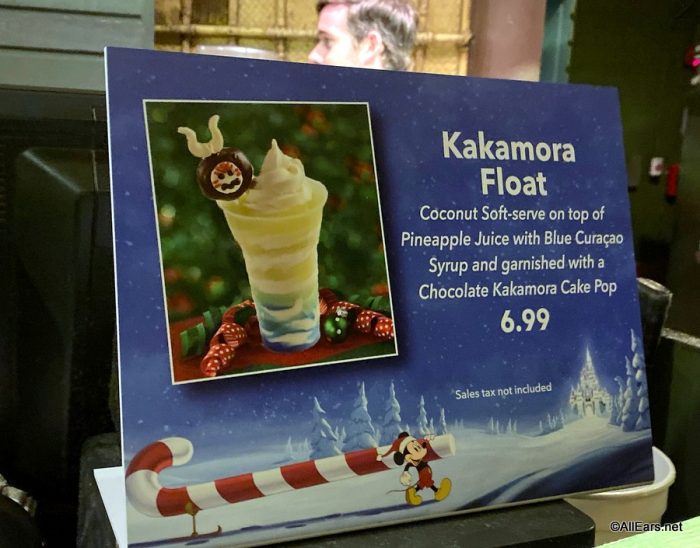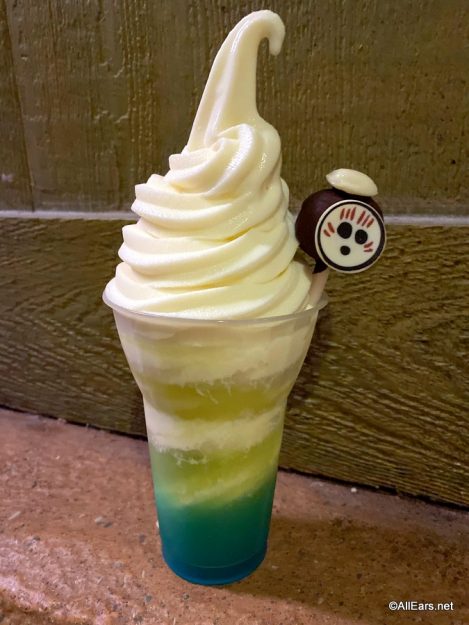 If you eat five dozen eggs just to help you get large, consider fueling up at Gaston's Tavern. You'll find Gaston's Cheese Dip there — with antler breadsticks!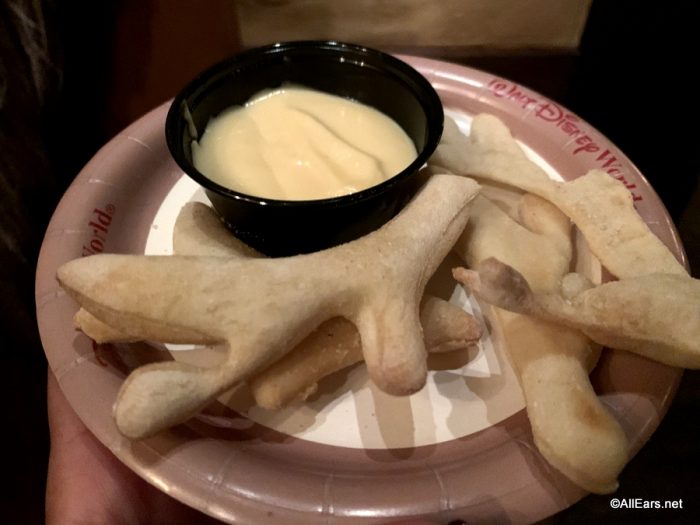 At Plaza Ice Cream Parlor, guests can cool down with the To Be Jolly Float. This is a combination of peppermint iced coffee and vanilla ice cream. These are topped with crushed peppermint candies and a chocolate Minnie Mouse bow. Sounds like a great pick-me-up!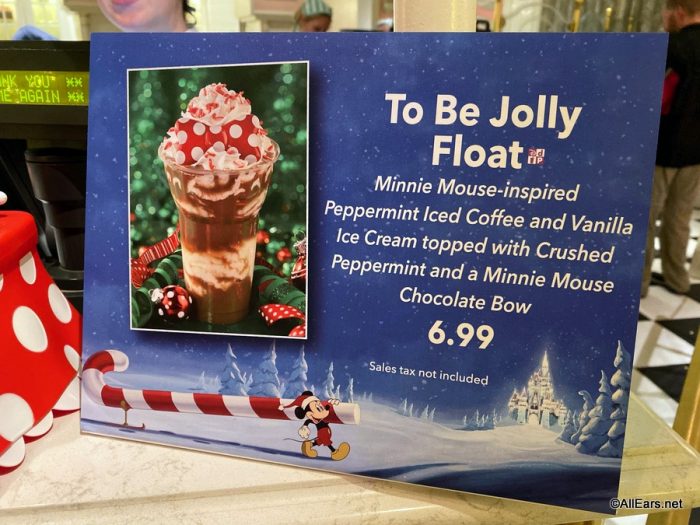 Pecos Bill Tall Tale Inn & Cafe is keeping Party-goers fueled up with two tasty offerings. The first is a savory trio of Jolly Tamales. These can be topped with anything from the fixin's bar, making them a potentially great meal option during the Party.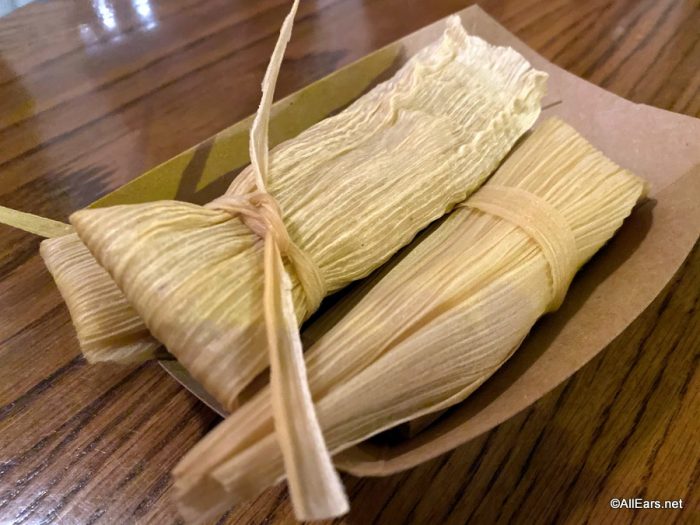 And for something sweet: Sven's Carrot Cake. This one is worth it for that frosting alone!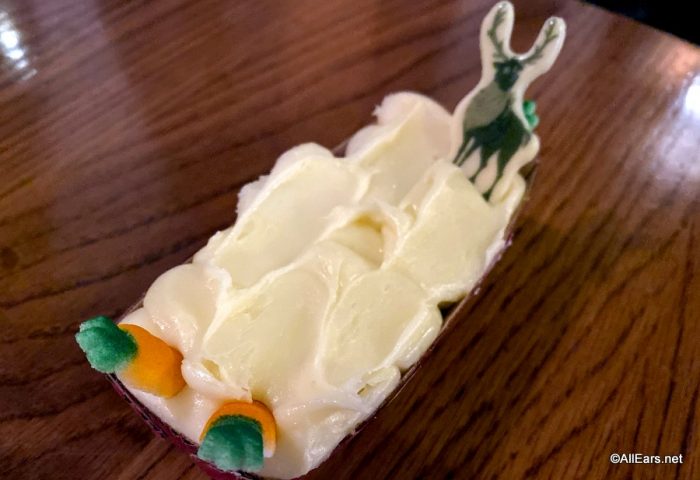 Extra-Cost All-Day Snacks
And there are a few holiday treats that hit the Magic Kingdom scene around the time that Mickey's Very Merry Christmas Party kicks off but that are available all day long for anyone who wants to dig in!
Sleepy Hollow is home to the all-day chocolate Santa Mickey Waffle Sundae. Be sure to eat that ice cream quickly before the Florida heat and warm waffle melt it away!
On Main Street you can start your day at Main Street Bakery (Starbucks) with a giant Mickey Cinnamon Roll or Olaf's Frozen Hot Chocolate Cake to go with your coffee.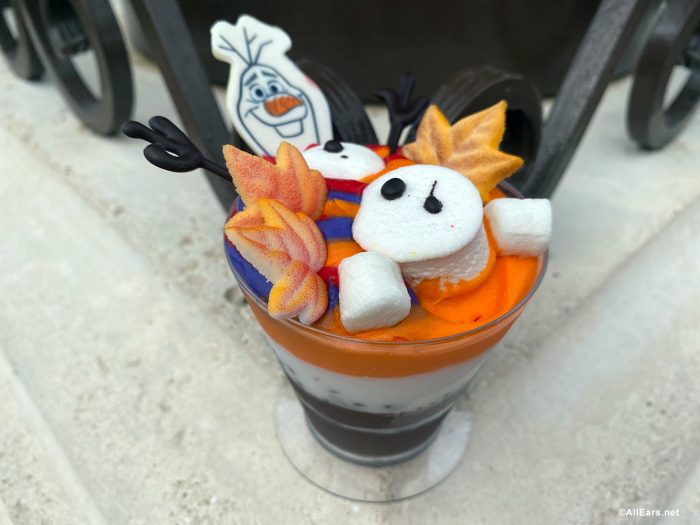 Casey's Corner is pitching a Snowflake Brownie this season. This simple treat is a Magic Kingdom party regular (in different attire each season).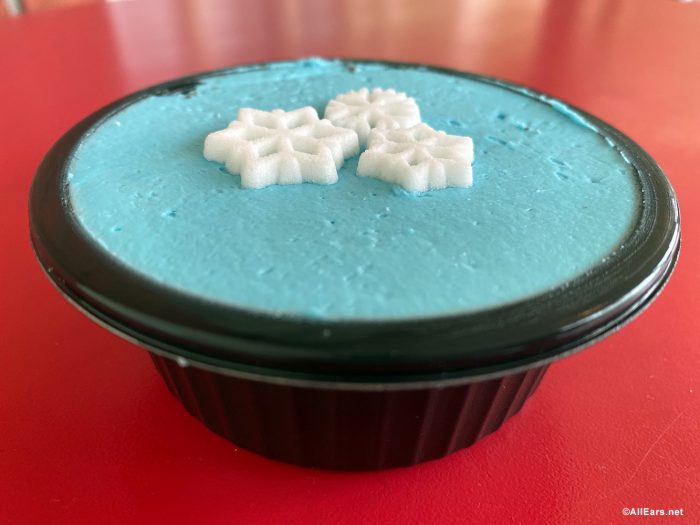 You'll be ready to deck the halls after enjoying this Deck the Halls Eggnog Milkshake at Cosmic Ray's. (Don't mind that big red chocolate Christmas bulb that looks like it's seen better days…)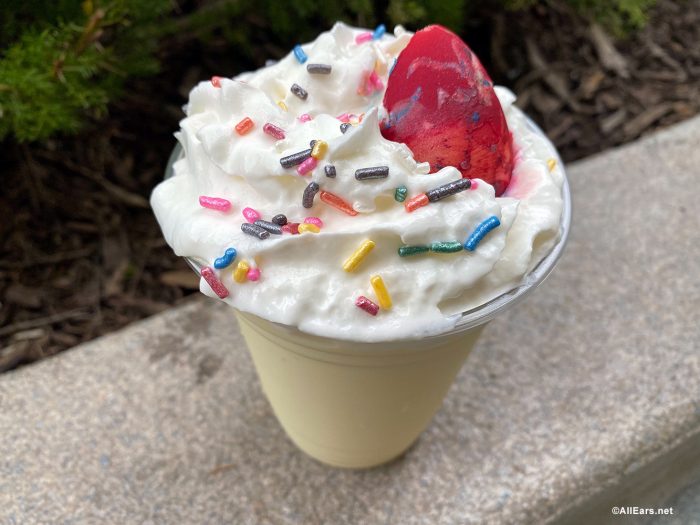 Auntie Gravity's Galactic Goodies is celebrating the Christmas cookie with a Christmas Cookie Milkshake and a Christmas Cookie Sundae.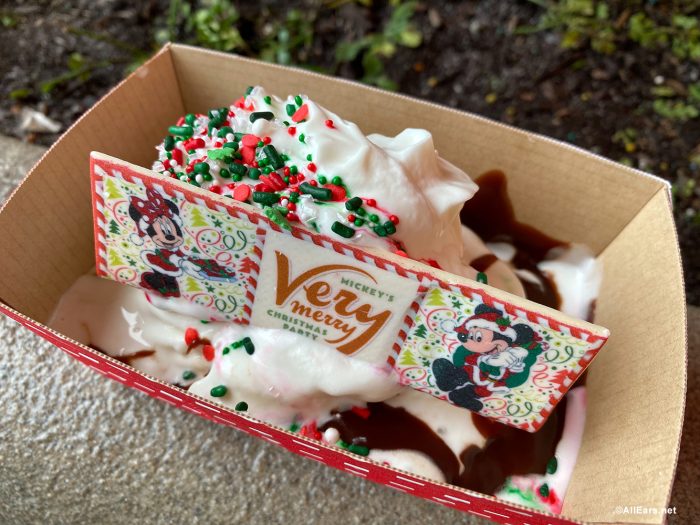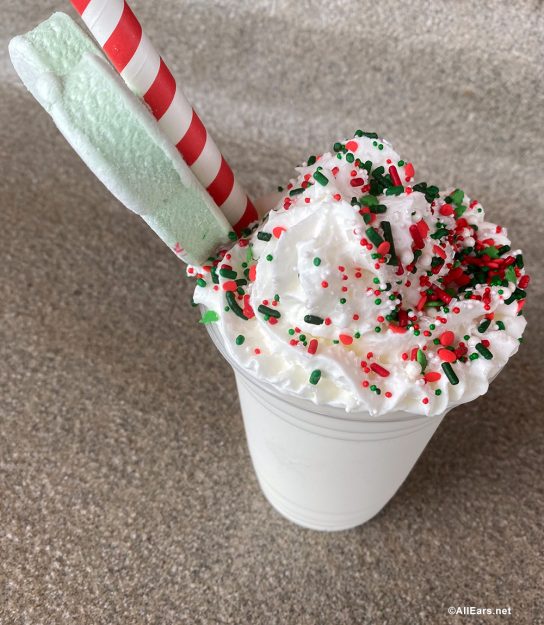 During the day you can say "aloha" to Aloha Isle's Cherry and Pistachio Float served on cold hot chocolate.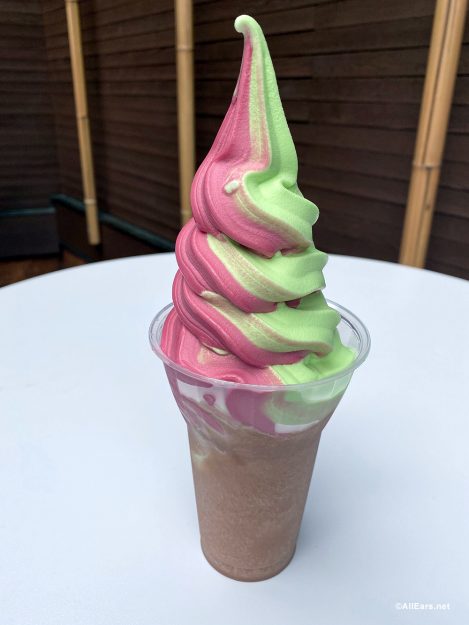 Fantasyland's Storybook Treats is home to a Gingerbread Sundae is season. That sundae is topped off with a Minnie Mouse waffle topper!
You'll also find Christmas Churros at Pecos Bill and the various outdoor churro carts. These mini churros come in a cardboard board, are sprinkled with red and green sugar, and have a side of chocolate for dipping!
Mickey's Very Merry Christmas Party Merchandise
Once you've exhausted yourself with attractions, entertainment, meet and greets, and snacking, you'll want to spend a little time picking out the perfect souvenir!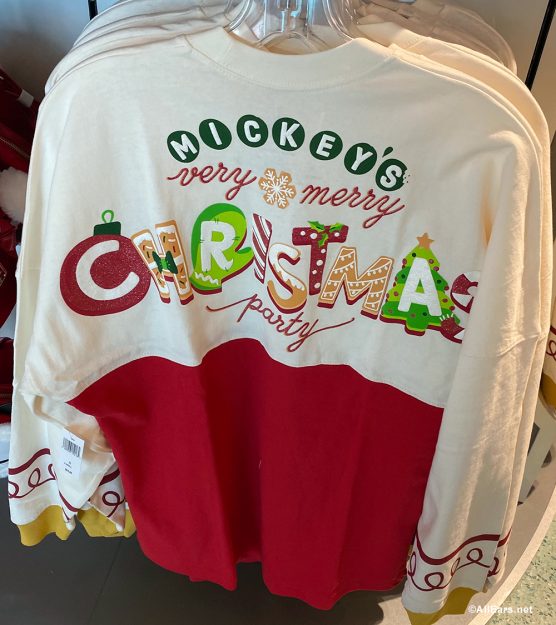 Christmas Party-exclusive merchandise comes marked with the year, making them a unique collectible item that'll trigger happy memories for years to come.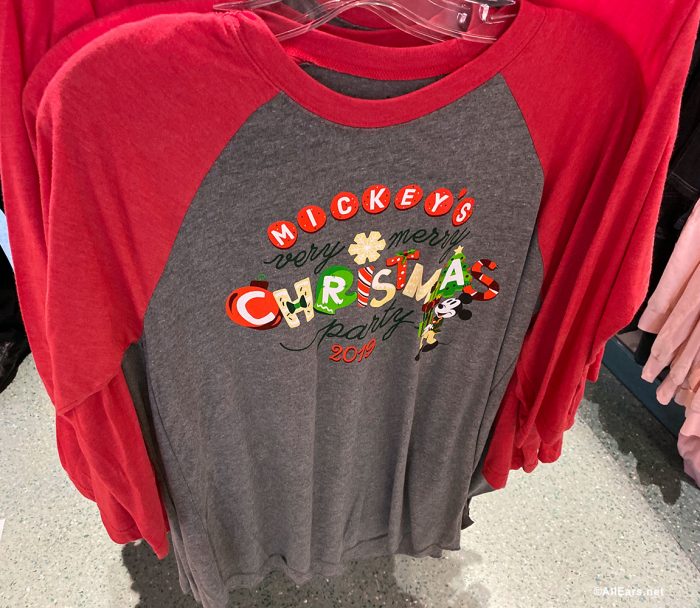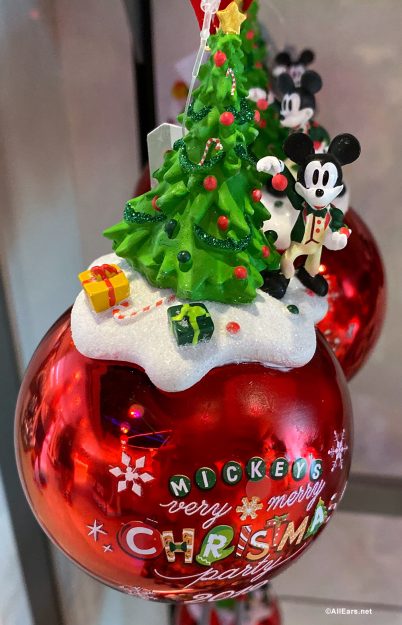 We think this mug is supposed to resemble a Christmas light!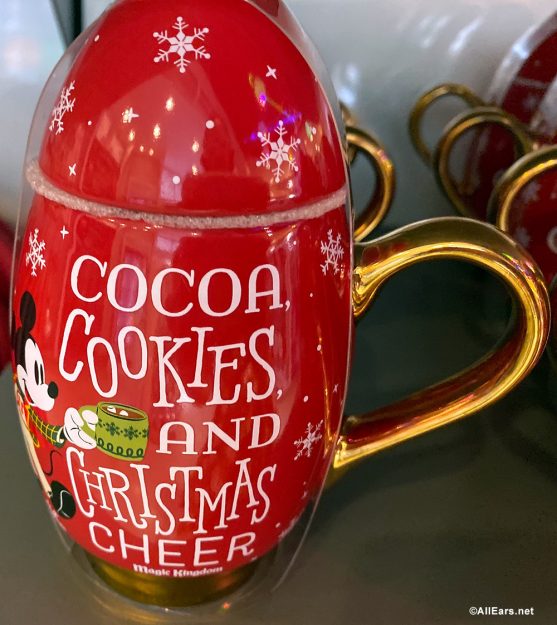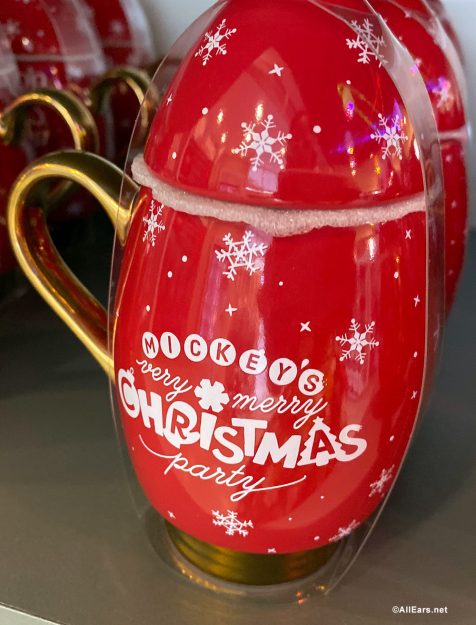 There is a party-exclusive MagicBand with a limited edition of 3,000. Be sure to add this to your wrist for some holiday cheer!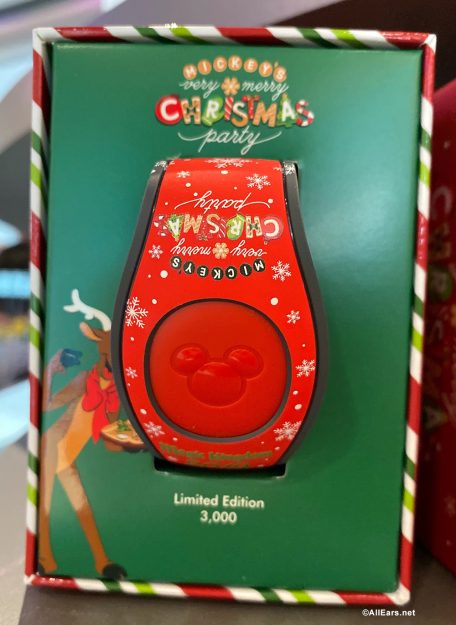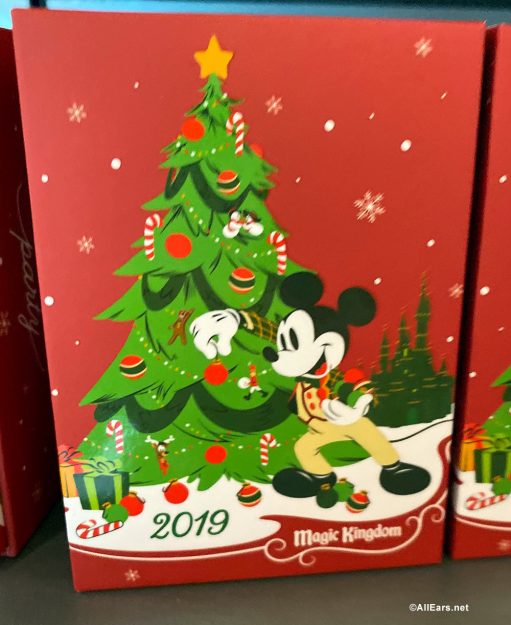 We found a few Christmas party-themed phone cases as well!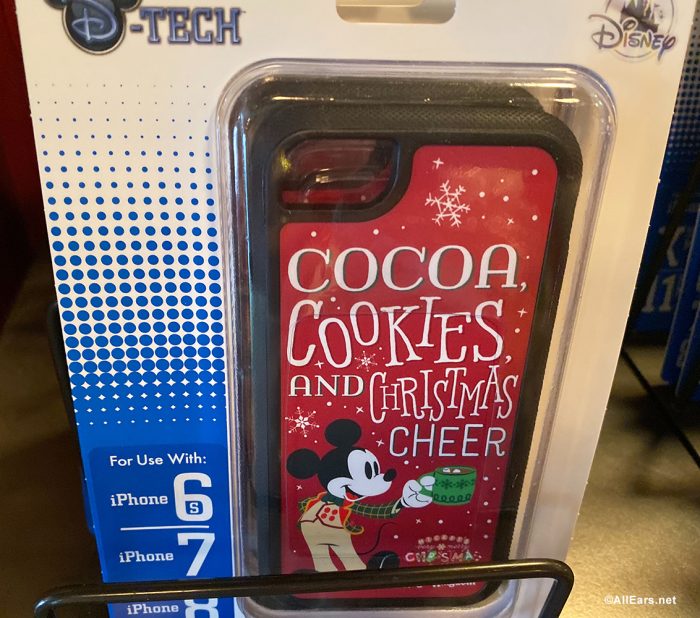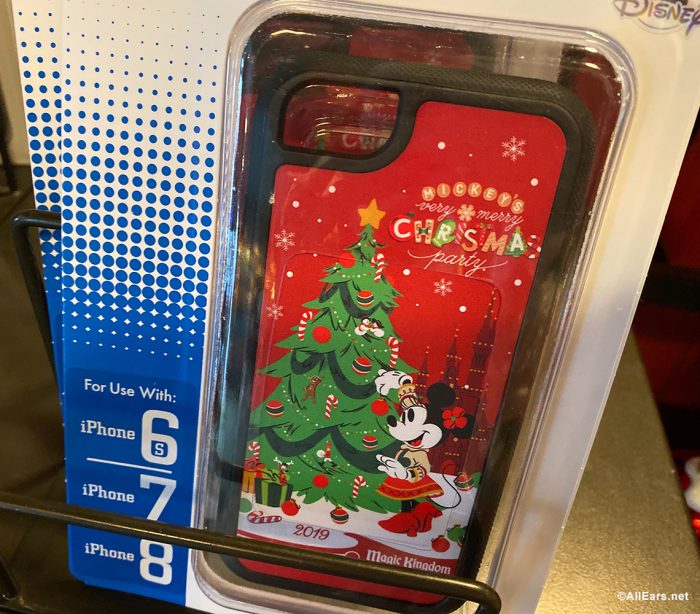 Disney pin collectors and traders can add to your collections with a whole bunch of party-exclusive pins.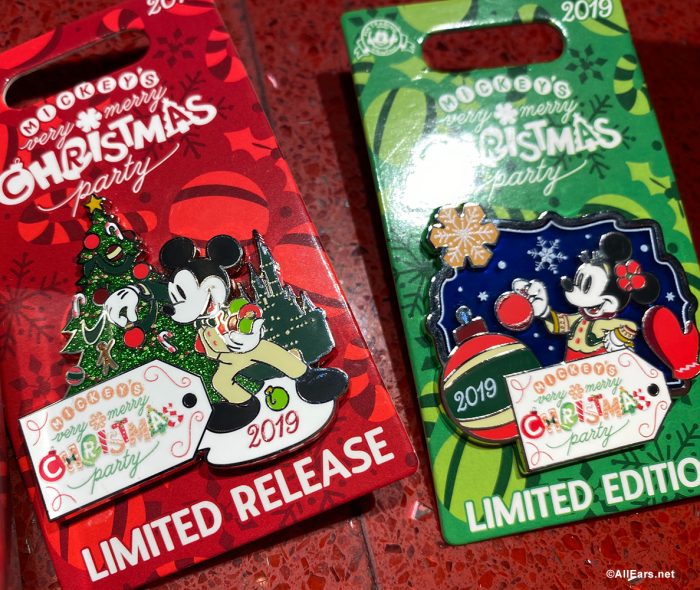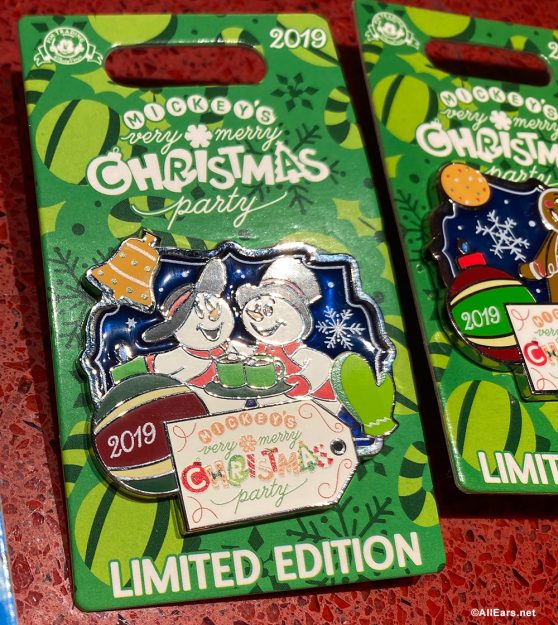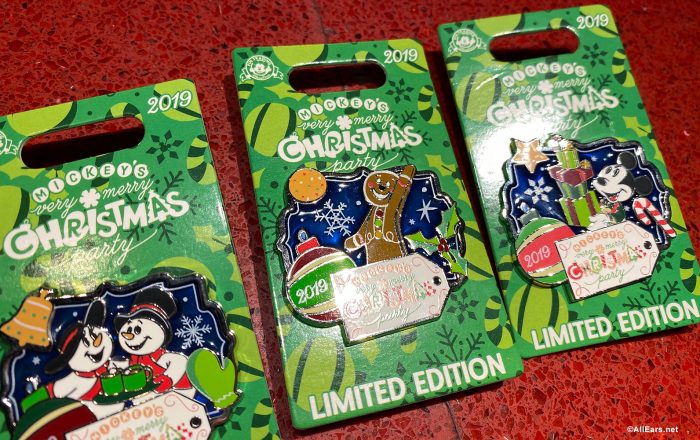 There are two sets of pins, the smaller set is $125, while the framed set is $225.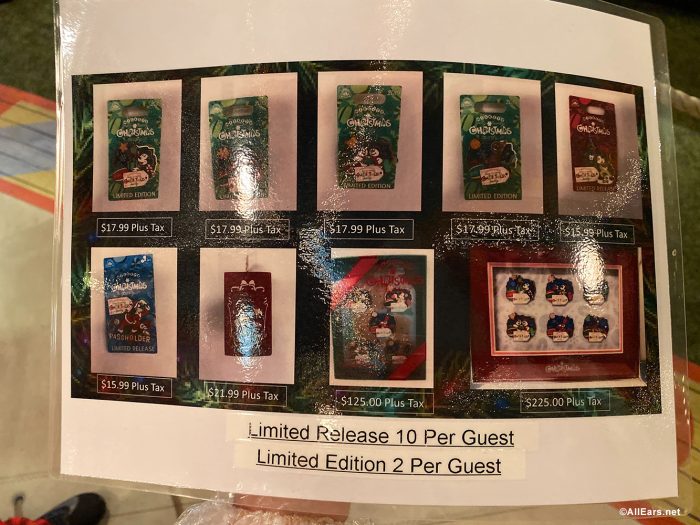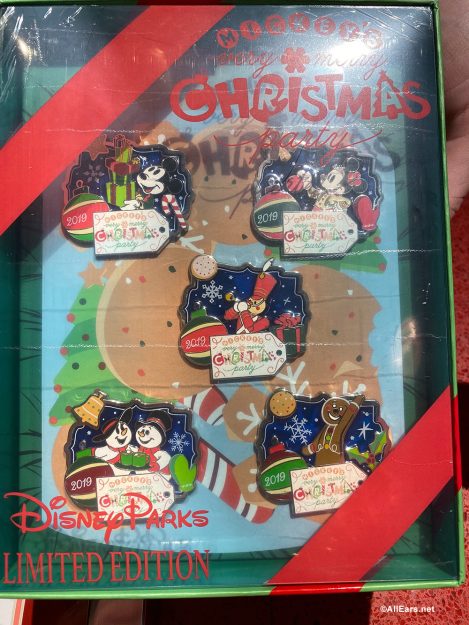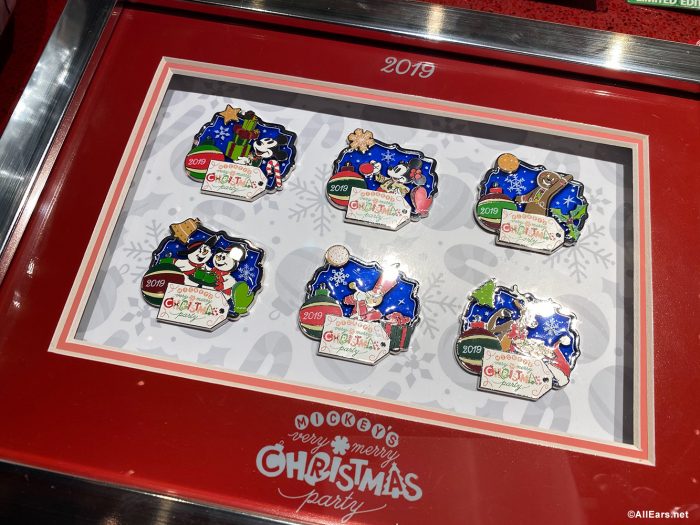 This year (as in years past), Annual Passholders also have some exclusive merch, so be on the lookout for AP-branded pieces like pins and tee shirts!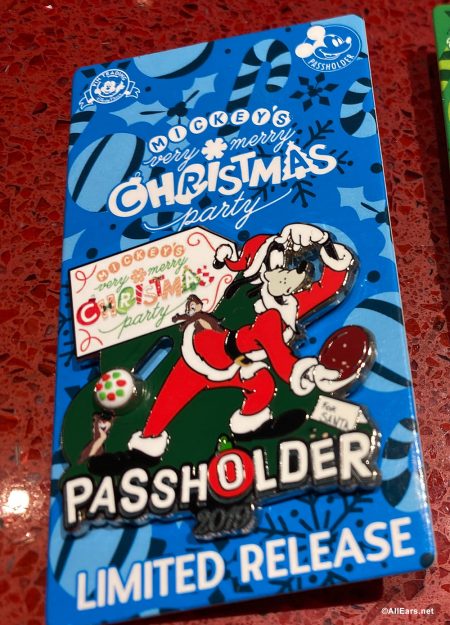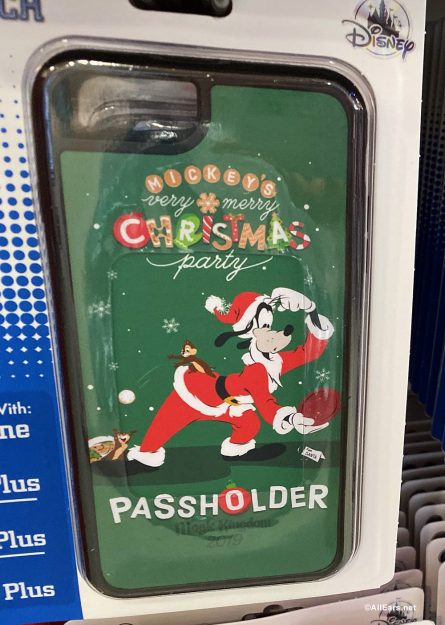 Mickey's Very Merry Christmas Party Guide Map
Your Mickey's Very Merry Christmas Party Map will keep you on track all night long, so you'll want to pick one up on your way in! This year's map features Mickey, Minnie, Donald, Goofy, and Clarabelle!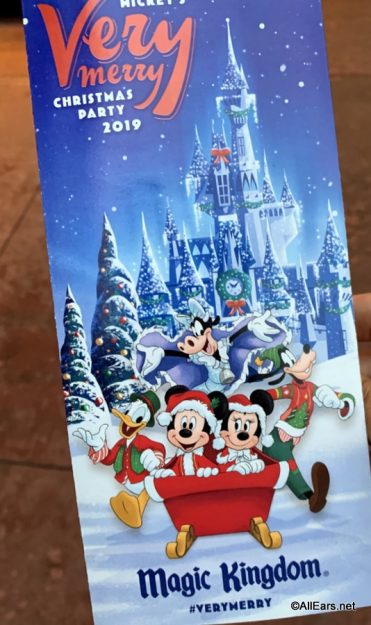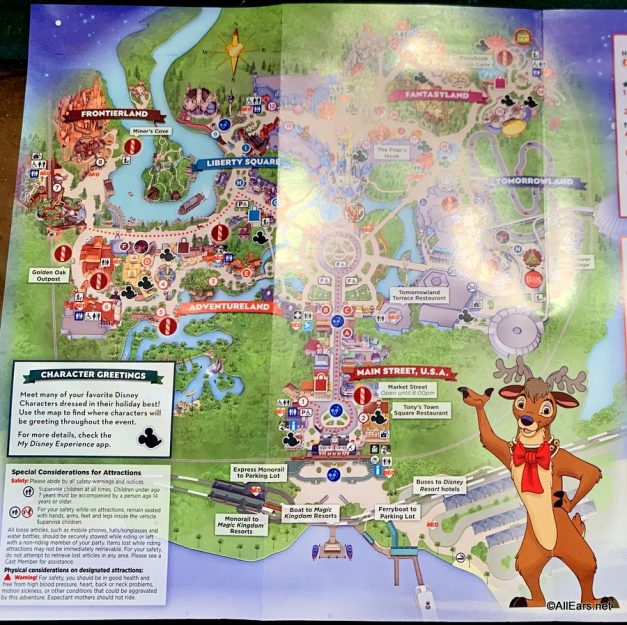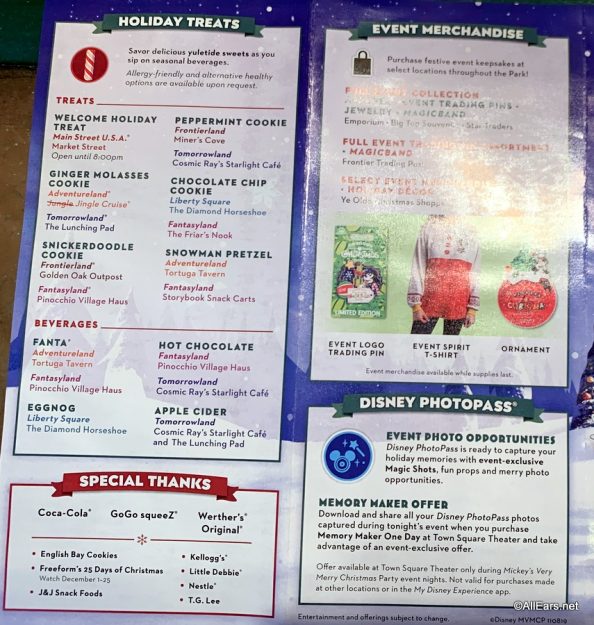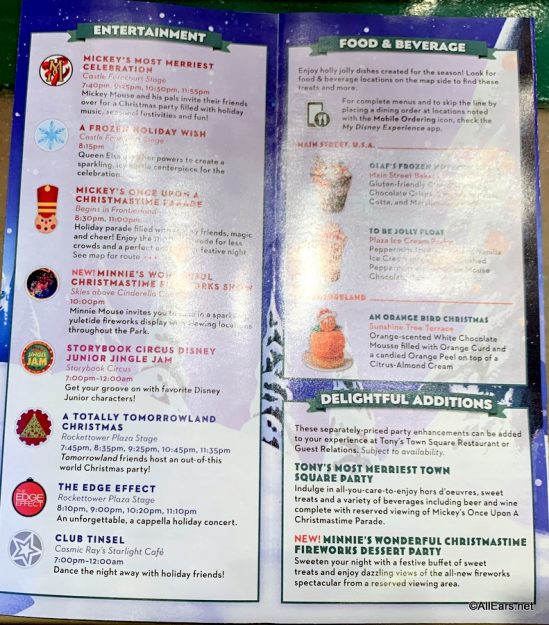 Ho, ho, ho! Merry Christmas Party season, our Disney friends! Night one is done, but we will keep bringing you latest from Mickey's Very Merry Christmas Party and all the holiday happenings at Walt Disney World!