If you're planning to jingle all the way to Disney Springs to take a stroll on the Christmas Tree Trail, you'll want to know how to stay fueled up and… merched up… along the way. Here are shopping and snacking options along the Christmas Tree Trail!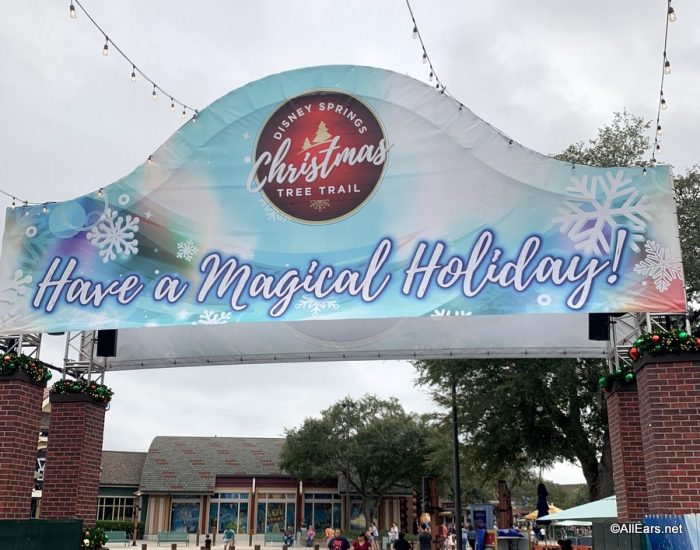 Eggnoggery is a cleverly named snack spot that's serving up a small but potent menu of drinks. Kids and grown-ups alike will enjoy these tasty options!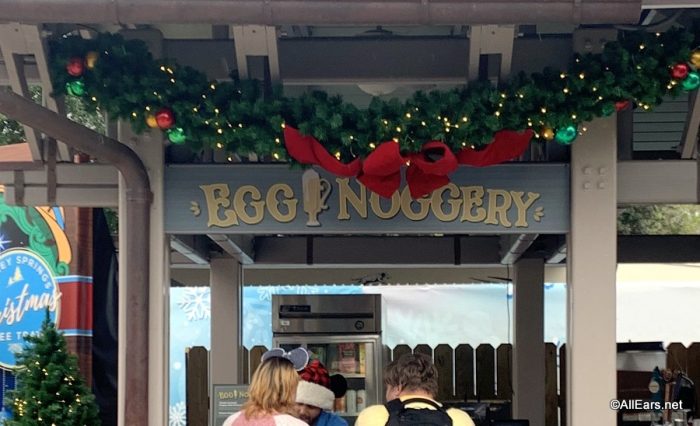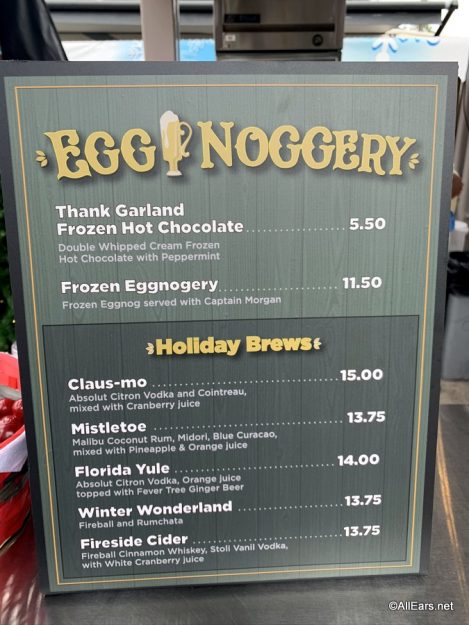 We sipped on two seasonal drinks: Frozen Eggnog and the hilariously-named Claus-Mo!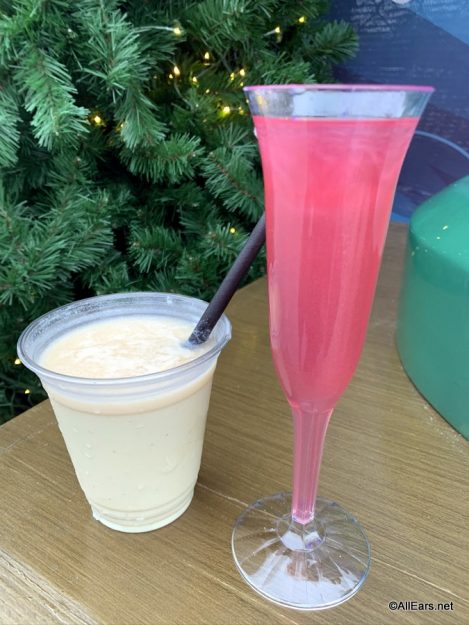 The non-alcoholic Frozen Eggnog isn't on the menu (just an adult version spiked with Captain Morgan is), but you can order this family-friendly option for $5.50.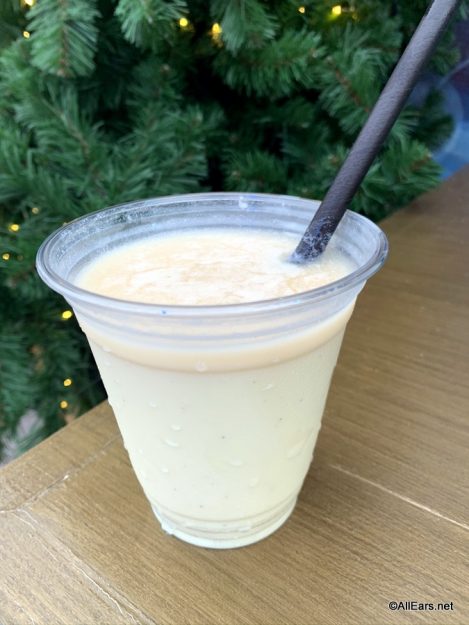 As per eggnog's style, this is crazy sweet. The frozen nature of it does cut the sweetness a tiny bit. But you'll still need to be a big 'nog fan to enjoy it.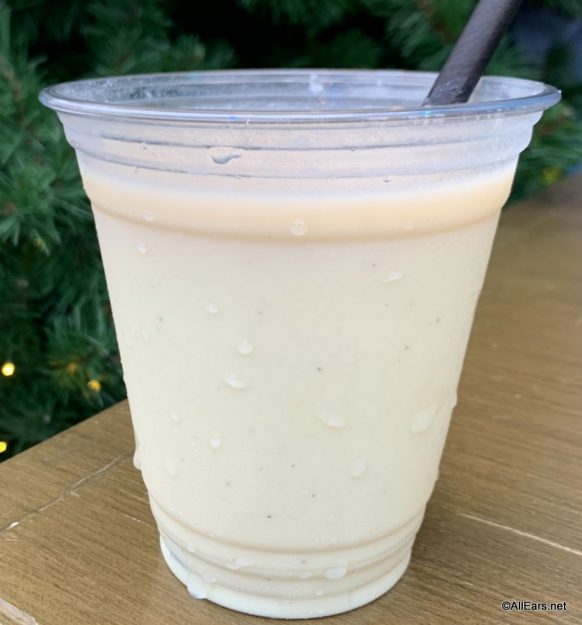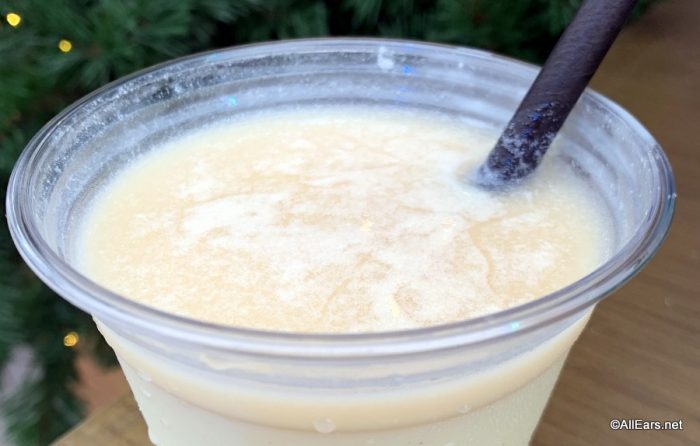 The Claus-Mo (sorry, we love that name) is Absolut Citron, Cointreau, and Cranberry Juice.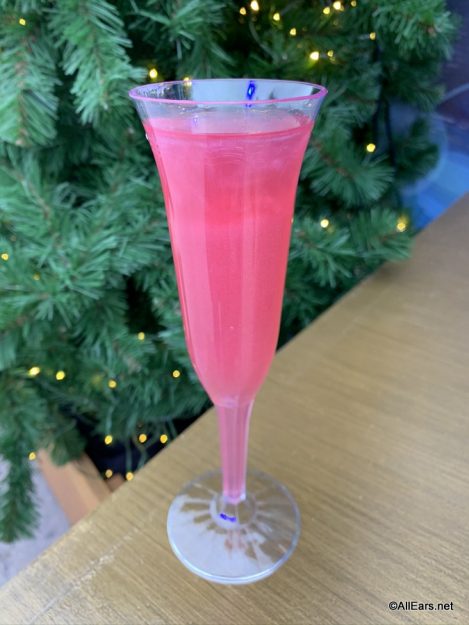 If you think it looks like your child's slime, that's because there's edible glitter dust mixed in to make it jollier than normal. It doesn't actually affect the viscosity, but it does add a cool effect.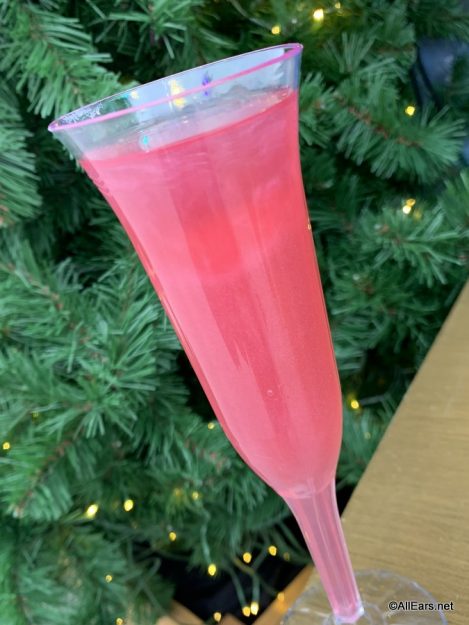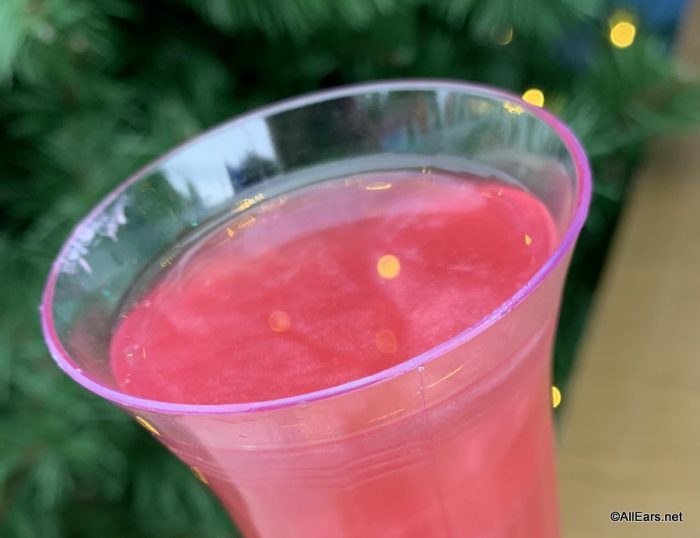 Noelle Kringle's Cafe (yes, Noelle Kringle from the Disney+ Christmas film Noelle!) serves up gingerbread cookies and other treats — plus the light-up Christmas tree popcorn bucket that everyone's going gaga over!
Note that the Snowman Sipper was not available on the first day of the Trail; the delivery was delayed. But you should be able to get it here soon!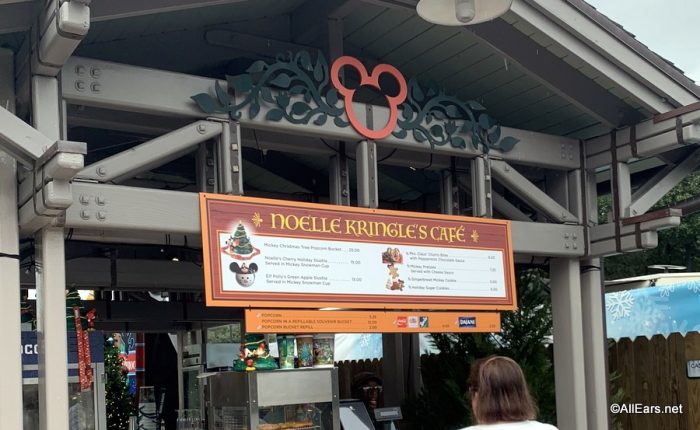 We did, however, dig into Mrs. Claus' Churro Bites with Peppermint Chocolate Sauce. These were delightful. Sweet, slightly crispy, and packed with flavor.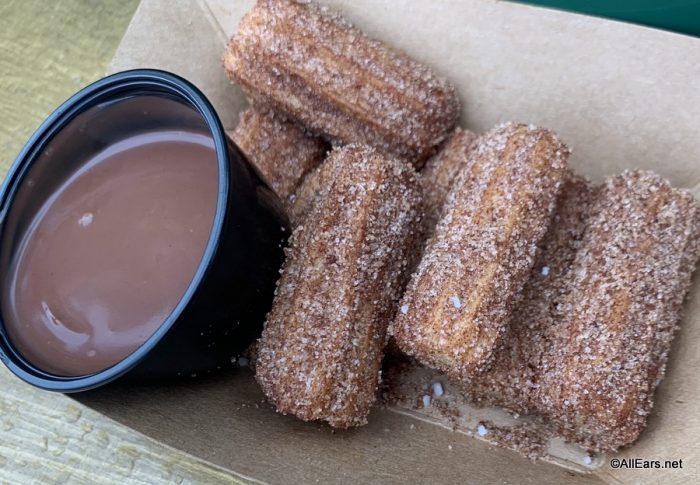 Grab a spoon in case you've got any sauce left on the bottom of the cup when you're done with the churros!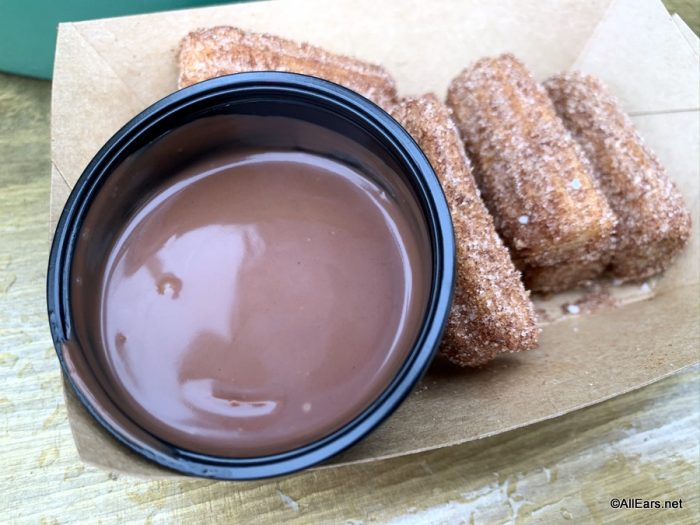 Elforium is your merchandise location. We didn't buy any of the merch (how we found the willpower is still a mystery), but we did buy seasonally-flavored cotton candy.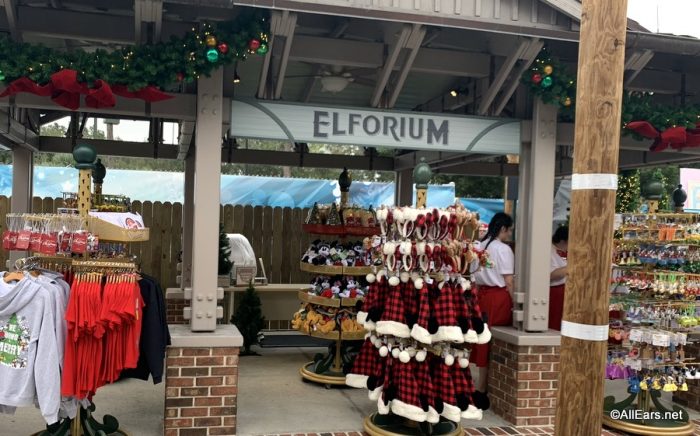 On our visit, the flavor was Fall Spice — cinnamon and nutmeg. But this orange version will alternate with a white, peppermint version.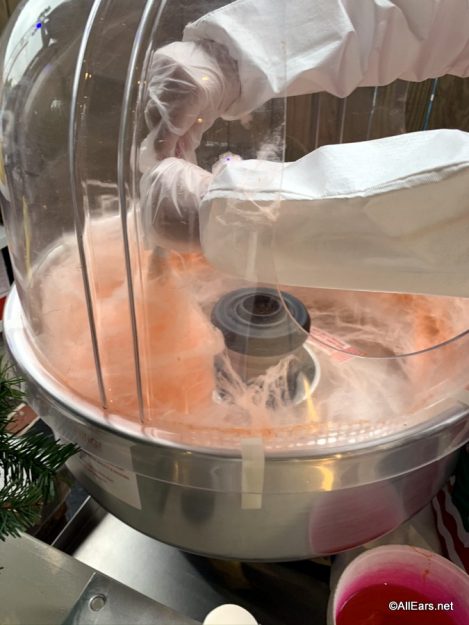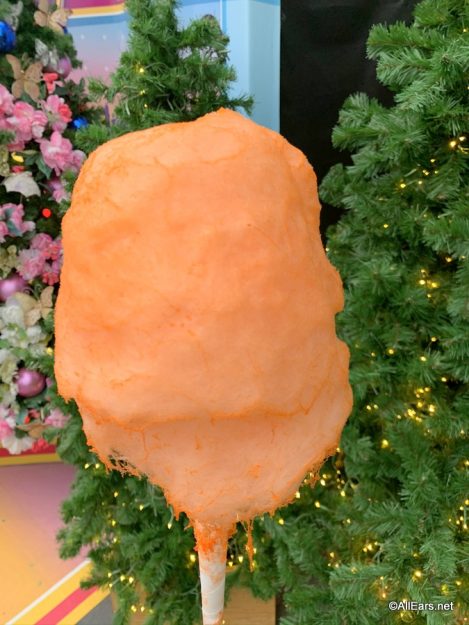 The merchandise here features those gorgeous Christmas Tree Trail posters we all love this year.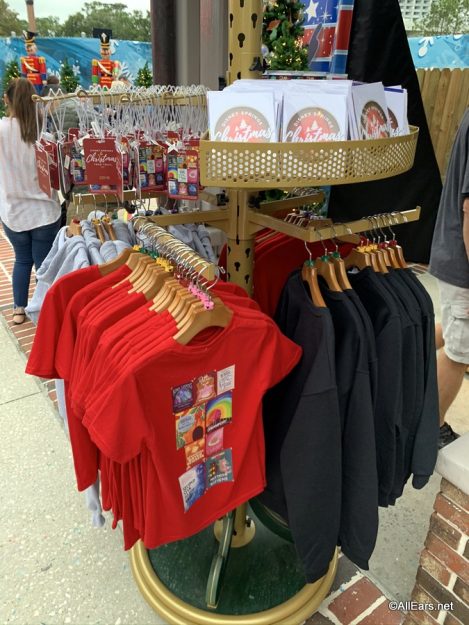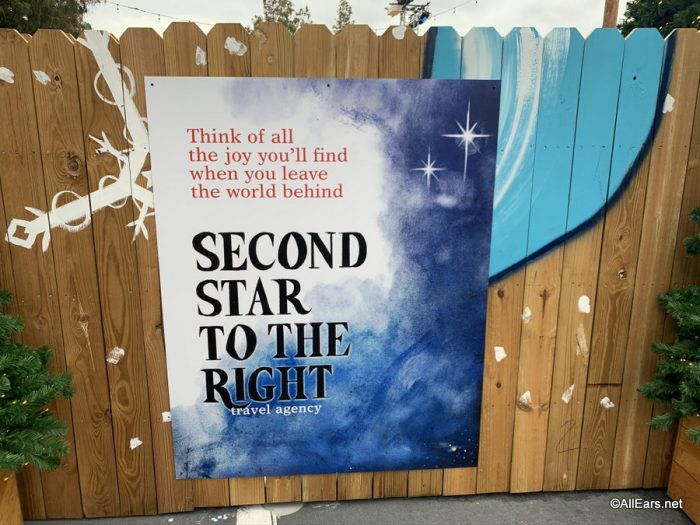 Poster merch includes this tee shirt…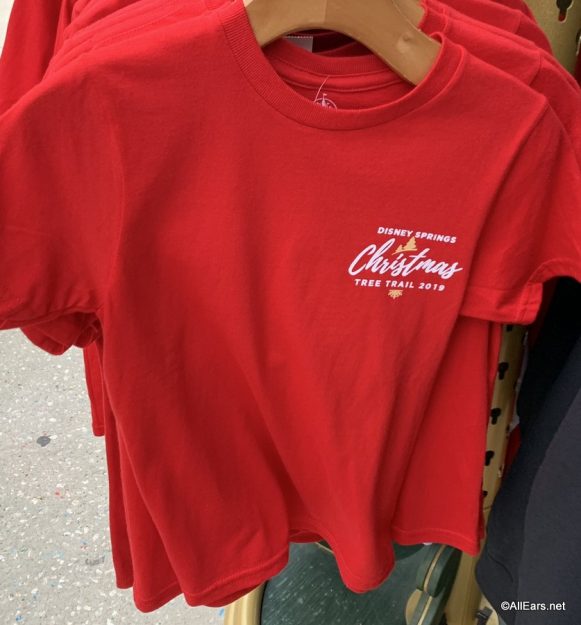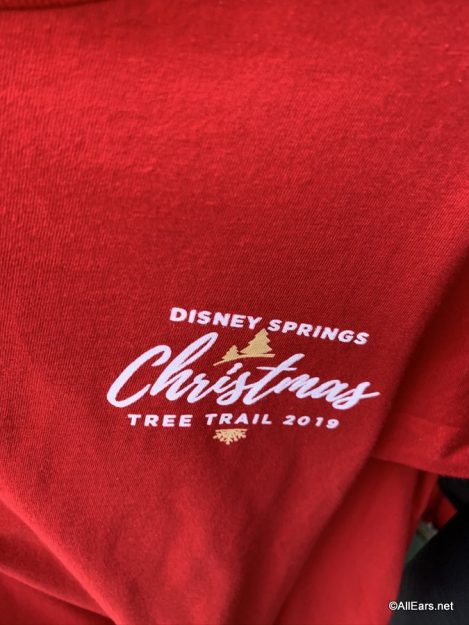 …poster cards…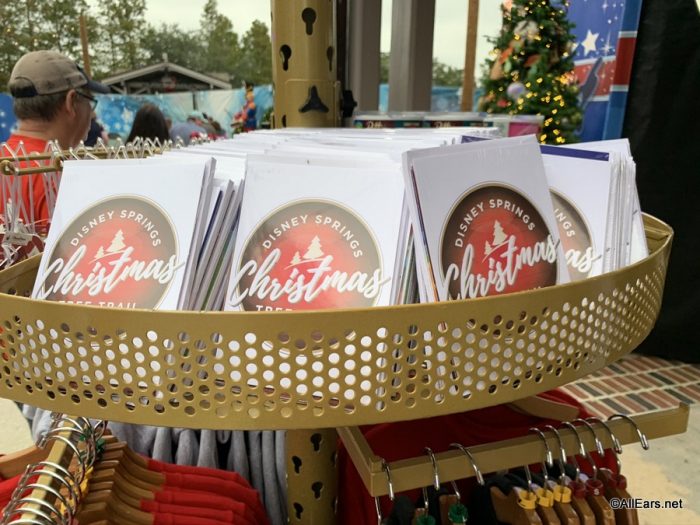 …and a poster tag? ornament? Either way, it's cute.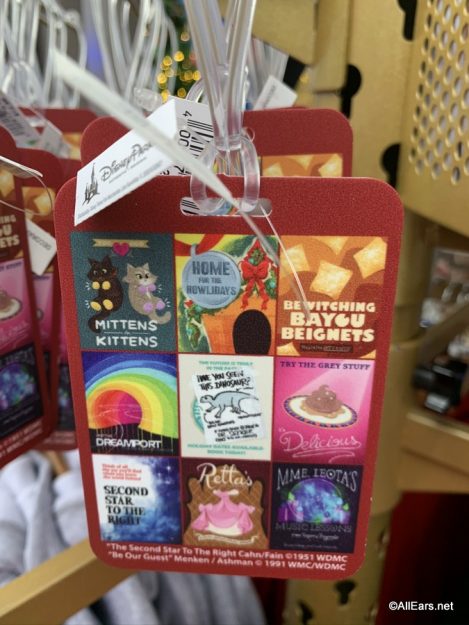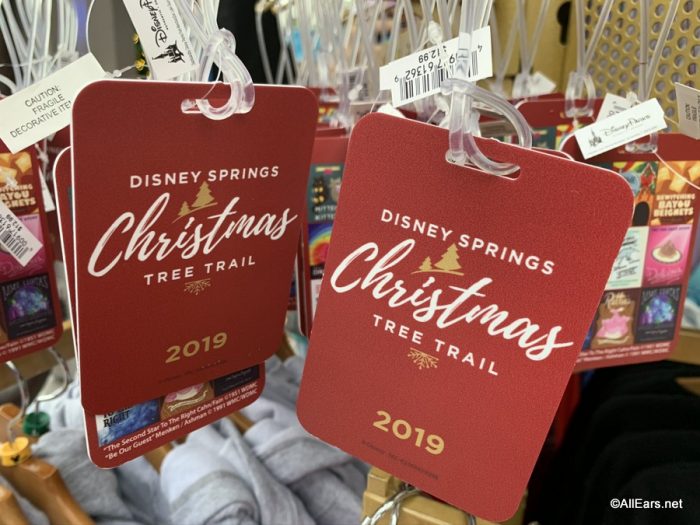 Also we need this tumbler ($19.99). Thanks.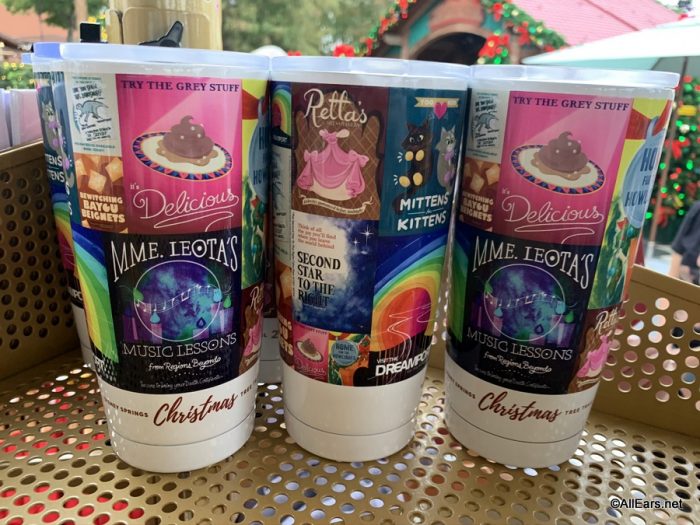 The Christmas Tree Trail is also advertising that ornaments used on the trees are available in Days of Christmas in Disney Springs Marketplace!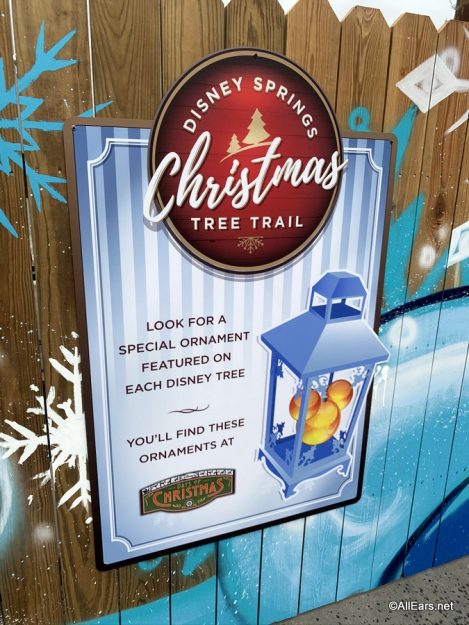 Now that you're fueled up and carrying loads of treasure, it's time to check out some trees! Click here for our tour of the Christmas Tree Trail!
Will you be enjoying the holidays at Disney Springs this year? Let us know what you're looking forward to in the comments below!