If you're missing Walt Disney World (and fresh air and hugging and Target) as much as we are, know that you're not alone. And that AllEars is here bringing you that "wish you were here" content when we're not even 'here.'
Today, we're embarking on an adventure… one with pirates, plazas, and punny skippers. That's right: we're heading to Magic Kingdom's Adventureland! Join us on a walking tour that includes some on-ride videos, dining reviews, and a little bit of sap. Maybe a lot of sap.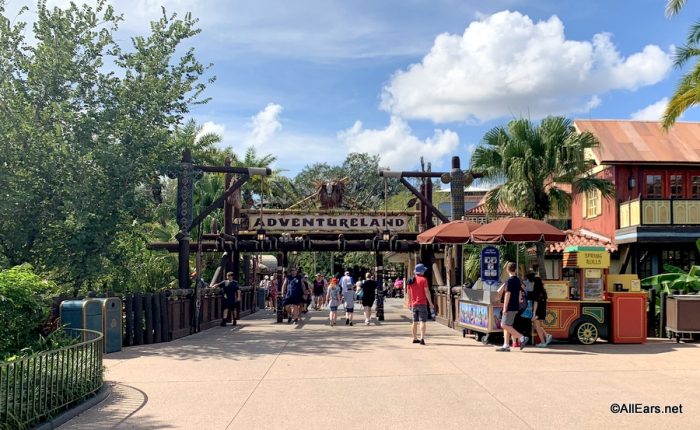 As you approach Adventureland, your nose will lead you to the right, where the land's iconic Spring Rolls cart is parked. These Spring Rolls are a delight, usually featuring two different flavors at any given time. Our favorite is the Cheeseburger Roll, but we've also spotted Pizza Rolls, Pork Rolls, Philly Cheesesteak Rolls, and Vegetable Rolls. You'll pay for two, and you can get one of each if you want.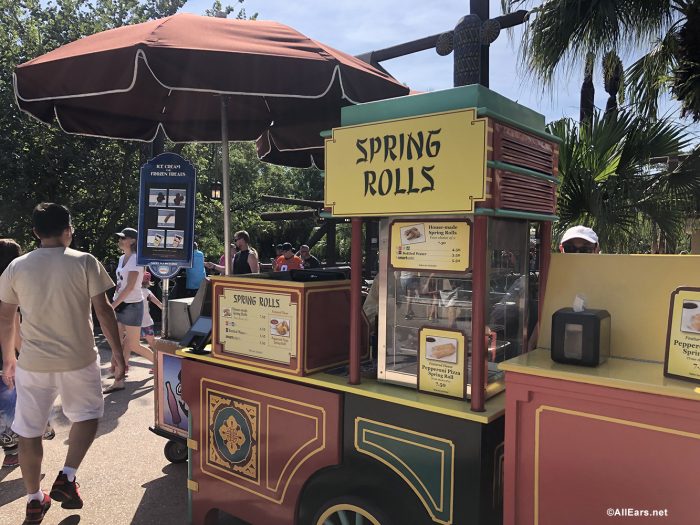 Keep walking, and you'll pass beneath the Adventureland arch. It features some pretty sinister-looking details, including spears, masks, and skulls. Click here for a look at two previous incarnations of the entrance arch.
And now you're in, which means… shopping. Bwana Bob's is there when you need a pair of Minnie ears, a hat (straw or brimmed), and a handful of other souvenirs.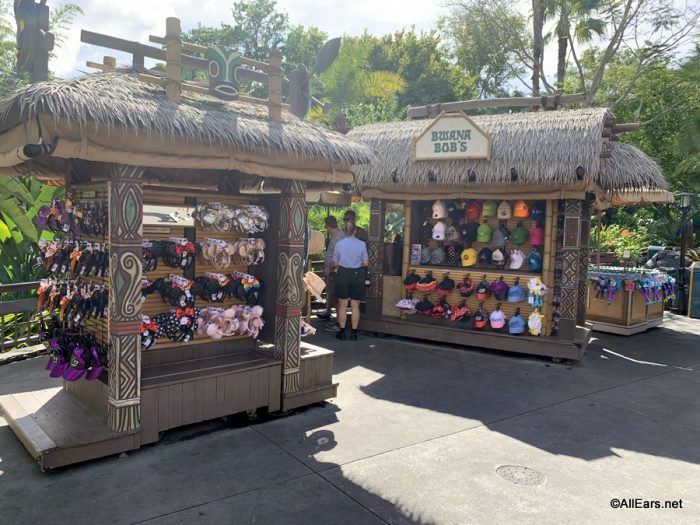 To the right you spy Sunshine Tree Terrace, home of the Citrus Swirl.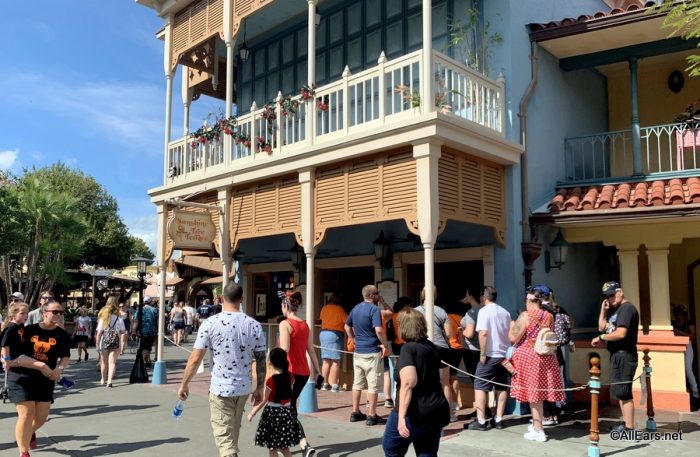 Feel free to take a moment from our tour to dig in (quickly — it's already starting to melt!).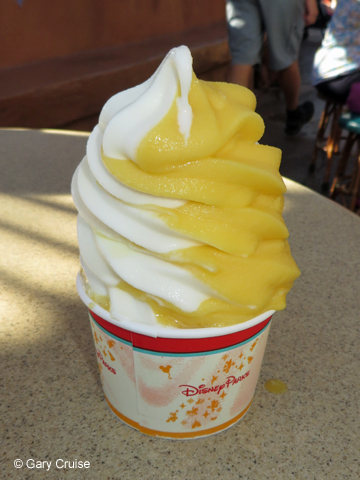 If the Citrus Swirl isn't quite enough sustenance for you, head next door to Skipper Canteen, where the food is tasty and the Jungle Cruise-inspired jokes don't stop.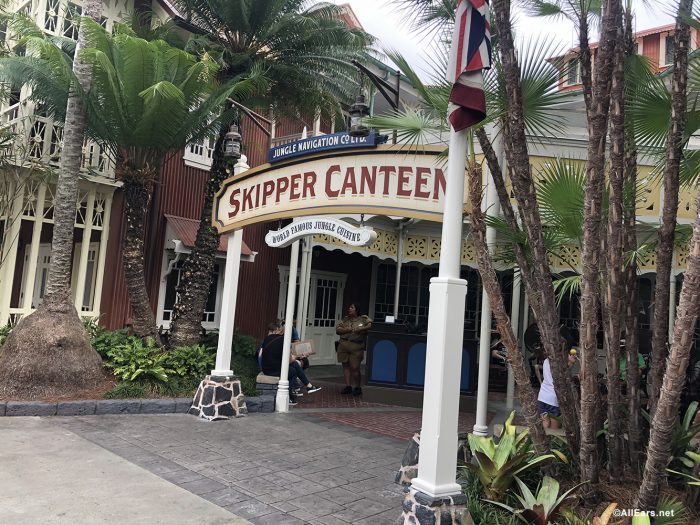 Bwana Bob's shopping experience was several minutes ago, so let's get some retail therapy at Agrabah Bazaar, which is packed with a ton of interesting goods — much more than your typical souvenir shop. A stroll through this sprawling shop is a must!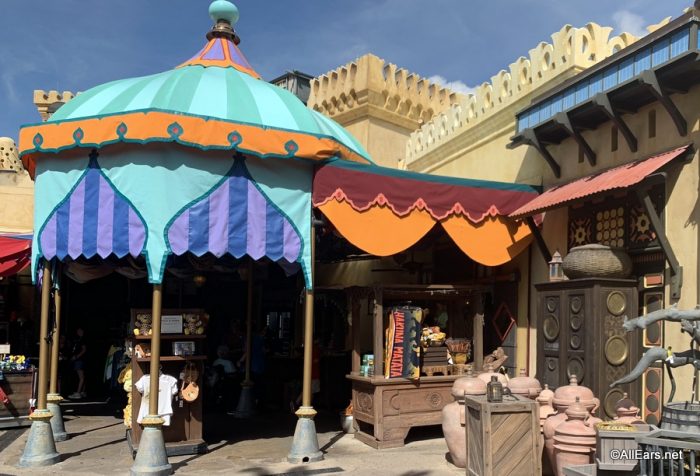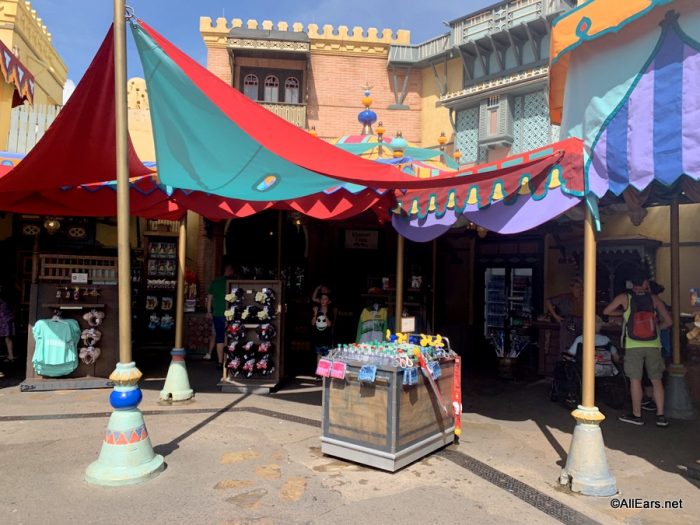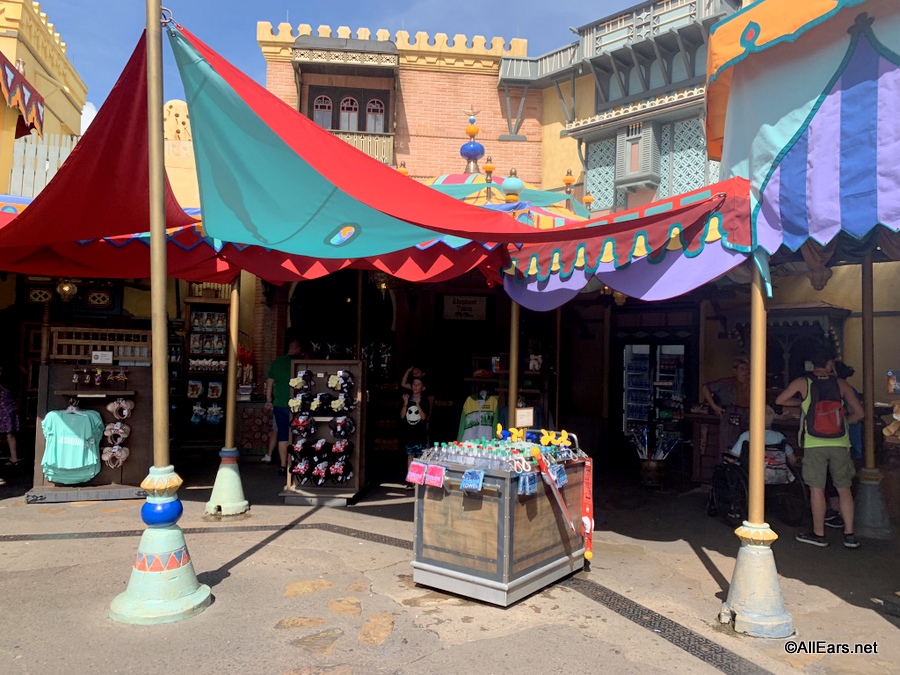 Agrabah Bazaar Gift Shop
Across the way, the improbable home of the Swiss Family Robinson dominates the view.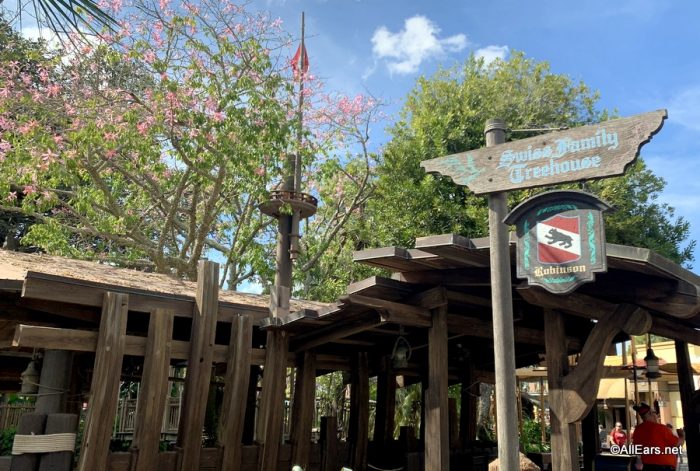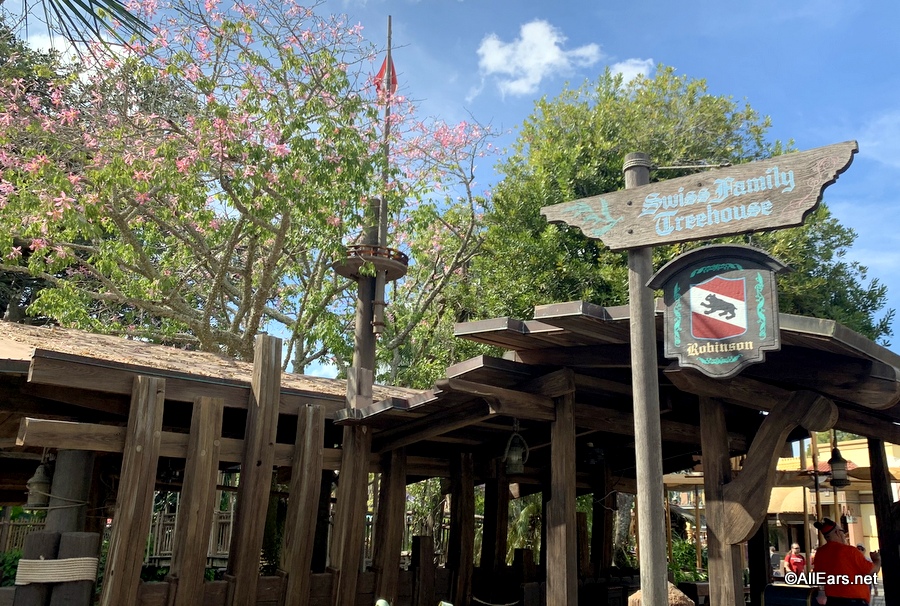 Climb up into the branches of the Treehouse for one-of-a-kind views (and a little exercise).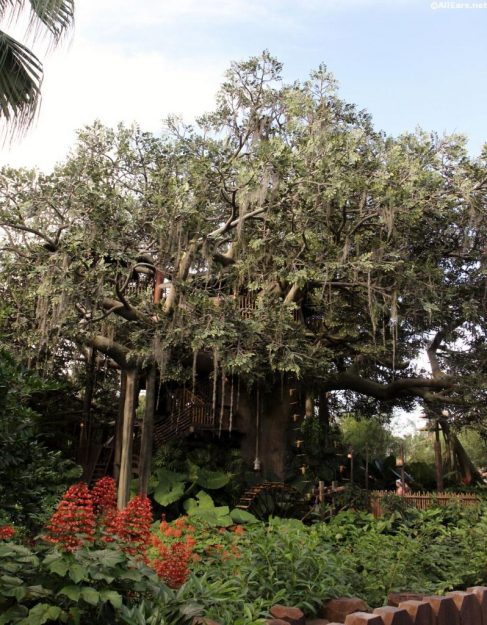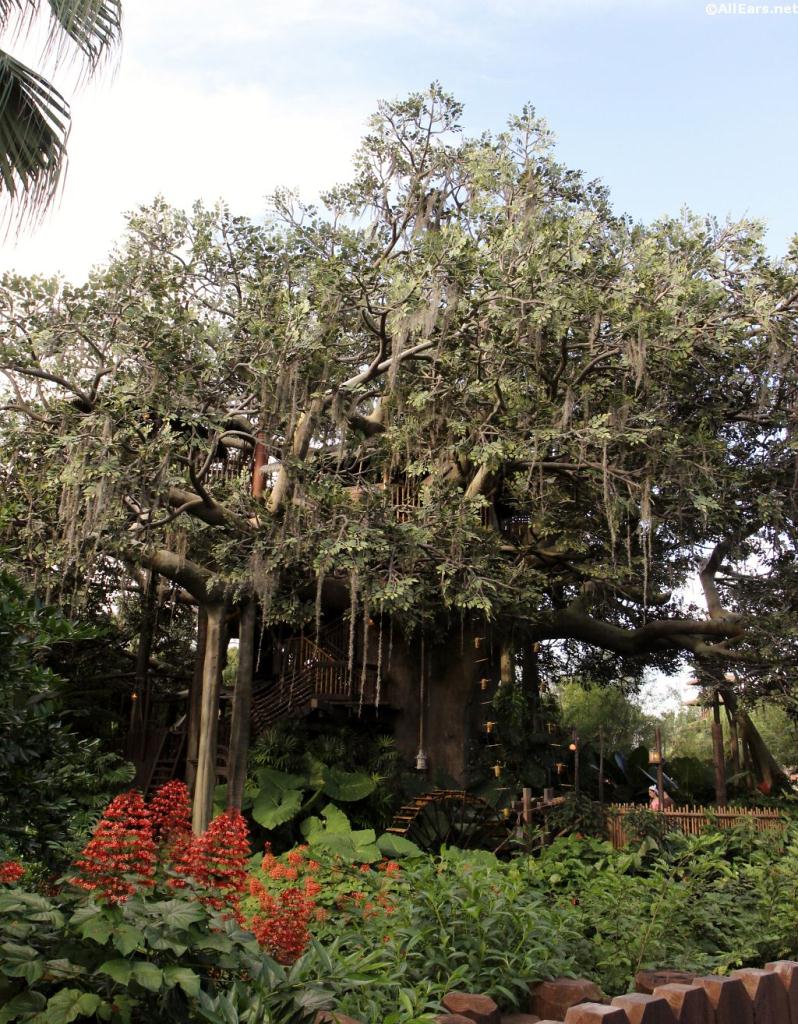 Need a rest break? To the right just up the path is a conveniently located restroom that services both Adventureland and Frontierland. Feel free to stop off here for a few; we'll wait.
As the tour resumes, you spot The Magic Carpets of Aladdin ahead. (Watch out for the camel — it spits!)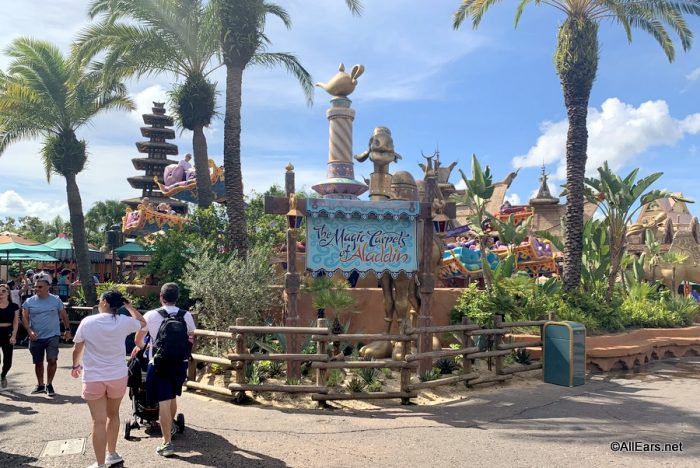 This spinner is a classic ride type done with colorful, carpeted flare. Gather 'round: it's sing-along time. "A whole new worrrrrld…."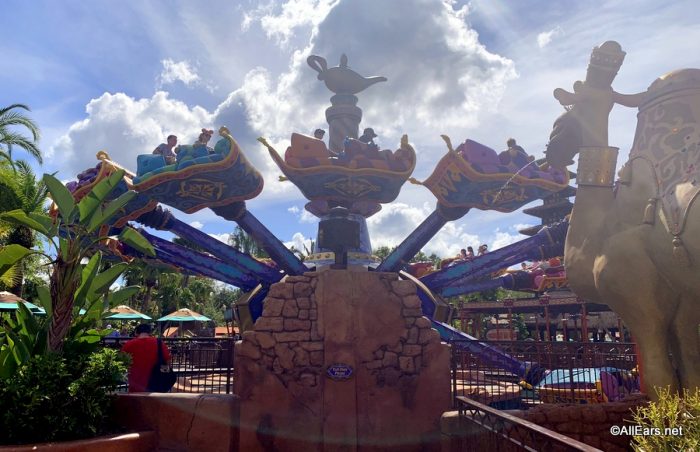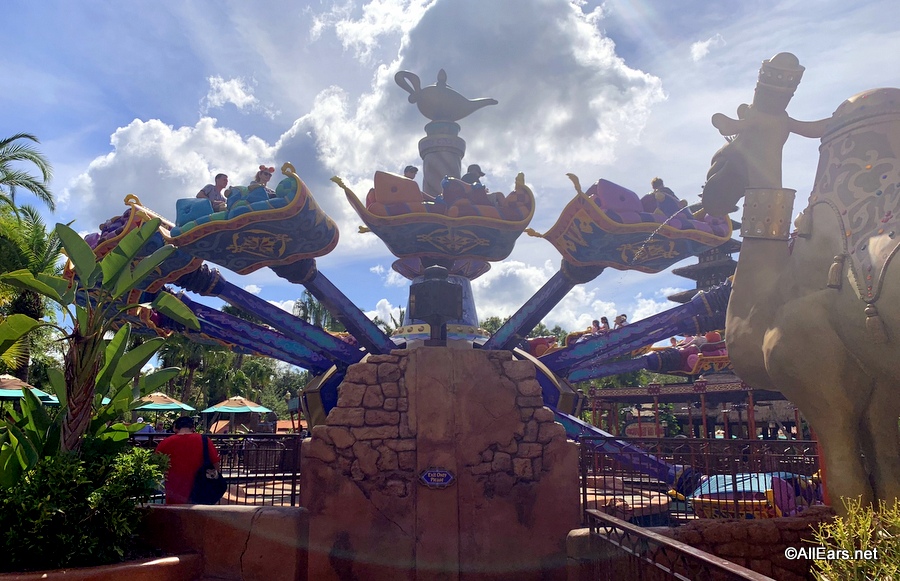 If you're ready to ride, click the AllEars.net YouTube video below!
All that flying and singing really worked up an appetite for another frozen fruit swirl. This time we're heading to Aloha Isle Refreshments. You know what we're having.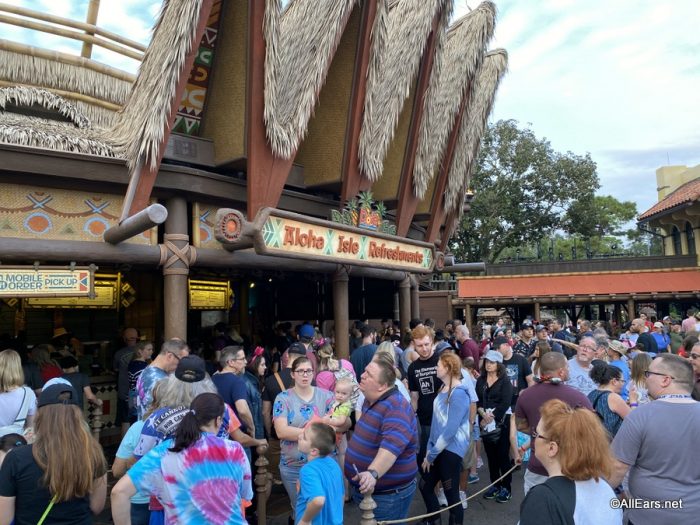 Grab a spoon. And order your own because we don't share. It's Dole Whip time!
Now that we're in a tropical mood, let's head where the birds sing words and the flowers croon: Walt Disney's Enchanted Tiki Room!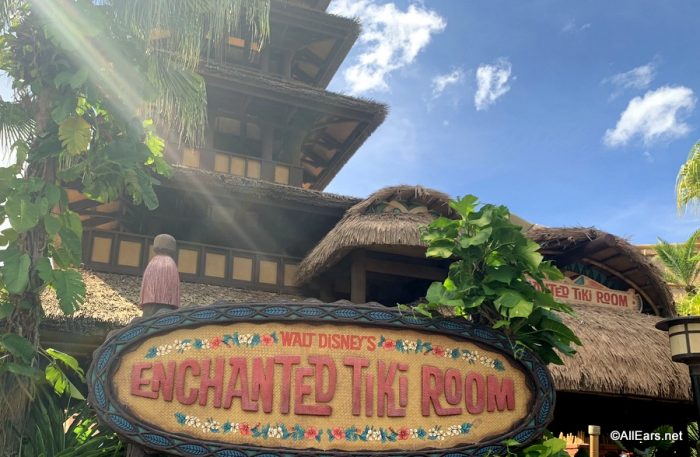 If the song isn't already stuck in your head, check out these Fast Facts!
Head out of the Tiki Room humming that happy little earworm, and make your way down toward Jungle Cruise. This is the punniest ride in the World, so brace yourself for belly laughs!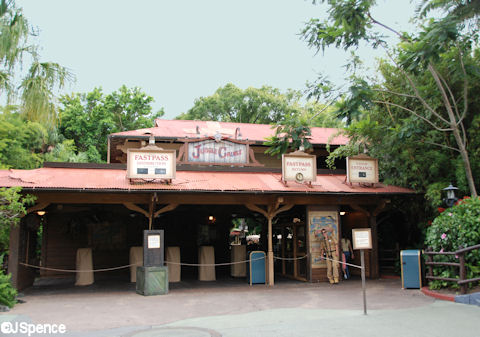 Okay, let's ride! Click below for all the jokes!
Now that we're done navigating the rivers of the world, we must venture deep into the Caribbean for some rollicking fun with pirates!
Time to replace the tiki, tiki, tiki, tiki, tiki room with a good ol' yo ho, yo ho, a pirate's life for me! Click below to ride!
Across from Pirates you'll find Tortuga Tavern, a seasonally-open Quick Service spot featuring entrees like the Jerk-Smoked Brisket Sandwich and World-famous Turkey Leg!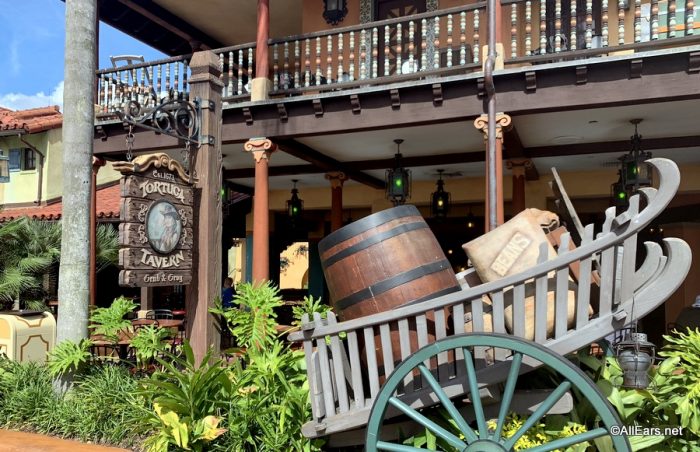 You can munch on your Turkey Leg as you wander back across the path to Pirate's League, the place where Park guests become pirates! But only until July, when Pirate's League will close. So get yer bandanas while ye can!
If you're looking for some free fun inside the Kingdom, you'll also find Pirate's Adventure: Treasures of the Seven Seas here! Join the adventure below!
Wait, we haven't been inside a gift shop in a while. Let's rectify that with a browse in Plaza del Sol Caribe Bazaar, where you can find all your pirate-y needs: plastic hooks, moody clothing, and Minnie ears covered in sequins.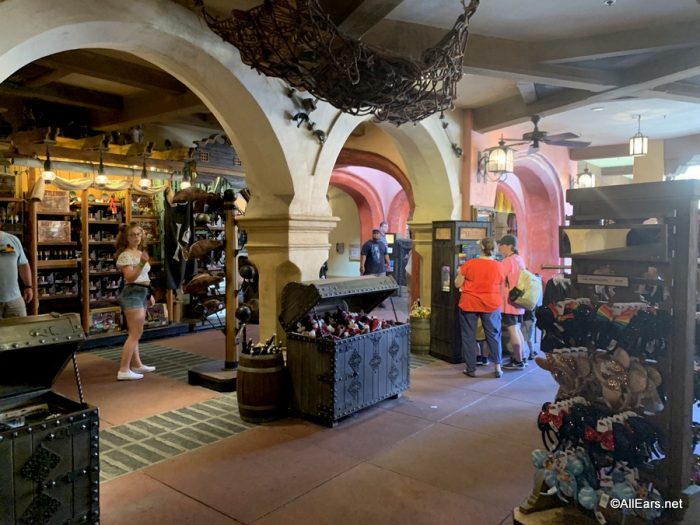 Finally, a pit stop before we leave the land of Adventure and enter the wilds of the old Frontier! These restrooms are a little tucked away in the corner, so if you need a relatively quiet spot to unwind for a bit, head here!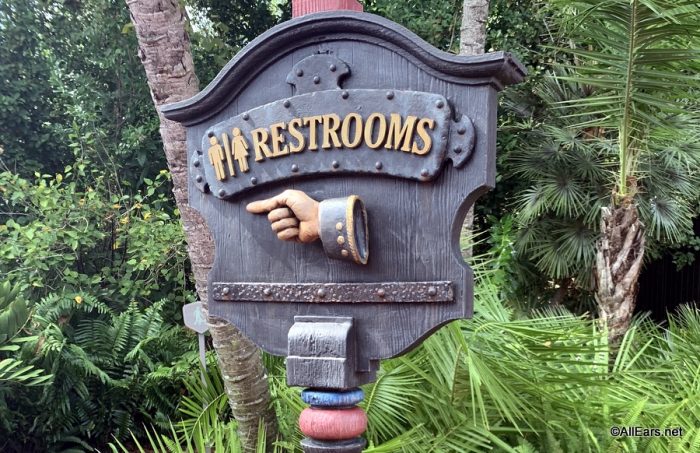 Thanks for joining us on this walk-through tour of Adventureland. Let us know in the comments below which attraction, shop, or eatery is your favorite!